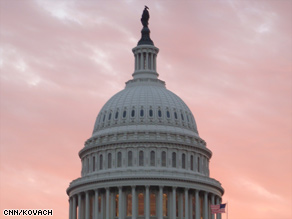 The CNN Washington Bureau's morning speed read of the top stories making news from around the country and the world.
WASHINGTON/POLITICAL
For the latest political news: www.CNNPolitics.com.
CNN: DNC keeps up attacks on Cheney, Gingrich, McCain
The Democratic National Committee criticized the Republican Party in a new Web video released Sunday evening for having former Vice President Dick Cheney, former House Speaker Newt Gingrich and Sen. John McCain serve as the GOP's national spokesmen.
CNN: Gingrich: Pelosi not truthful about waterboarding issue
House Speaker Nancy Pelosi, who has denied she was ever told explicitly that waterboarding had been used on terrorist suspects, "has a lot of explaining to do," former Speaker Newt Gingrich said Sunday.
CNN: Obama pokes fun at Republicans, Clinton, self at annual dinner
President Obama drew big laughs at the annual White House Correspondents' Association dinner Saturday, taking jabs at his administration, his Republican rivals and even himself.
CNN: What's new on Capitol Hill? Motherhood
At 8:30 a.m., Kirsten Gillibrand looks like any other working mom in a minivan dropping off her baby boy at day care and her other son at school.
CNN: I don't think Palin is the future of the GOP, Republican says
Prominent Republican Bill Bennett took issue Sunday with what he called the "media's focus" on Alaska Gov. Sarah Palin.
CNN: King: Bad economy puts more families on the streets
The tears begin and her voice trembles as Ruth Martinez remembers the first few days of her new world.
Washington Post: Health Groups Vow Cost Control
Volunteering to "do our part" to tackle runaway health costs, leading groups in the health-care industry have offered to squeeze $2 trillion in savings from projected increases over the next decade, White House officials said yesterday.
USA Today Op-Ed: Orszag: Administration targets ineffective programs and health care costs
To build a new foundation for economic growth and change for the future, we can't afford to waste taxpayer dollars. That's why the president is taking on the No. 1 driver of our deficit, spiraling health care costs, this year. Make no mistake: Getting health care costs under control is the key to our fiscal future.
Washington Post: Ex-Hospital CEO Battles Reform Effort
The television ads that began airing last week feature horror stories from Canada and the United Kingdom: Patients who allegedly suffered long waits for surgeries, couldn't get the drugs they needed, or had to come to the United States for treatment.
LA Times: For Michael Steele, it's 100 days and counting
Michael S. Steele completed his first 100 days as Republican national chairman this weekend, but the party let the milestone pass without notice.
CBS: Drones: America's New Air Force
Every so often in the history of war, a new weapon comes along that fundamentally rewrites the rules of battle. This is a story about a revolution in unmanned aviation that is doing just that.
LA Times: Memos shed light on CIA use of sleep deprivation
As President Obama prepared last month to release secret memos on the CIA's use of severe interrogation methods, the White House fielded a flurry of last-minute appeals.
USA Today: White House defends 3.5M job forecast
The Obama administration is defending its projection that the economic stimulus plan will save or create 3.5 million jobs in a new report to be released today, saying that the figure is a cautious estimate based on a "relatively conservative rule of thumb" about the national economy.
NYT: Schumer Urges Inquiry of Companies Behind Bogus Auto Warranty Calls
Senator Charles E. Schumer has never struggled to find a reason to hold a news conference on a Sunday. But the inspiration for the one on Mother's Day arrived unexpectedly, when the senator's cellphone rang during a health care meeting on Capitol Hill last week.
NYT Op-ed: Packwood: The G.D.P. Question
PRESIDENT OBAMA'S plan to increase the tax rate on those making more than $250,000 has further fueled a national debate about the virtue of raising taxes on the "rich." But this debate puts the cart before the horse. The real question is not how much we want to tax, but how much we want to spend. After all, the more a government spends, the more it has to tax or borrow.
LA Times: SEIU may be linked to ultimatum on withholding stimulus funds
Officials in the governor's office say a politically powerful union may have had inappropriate influence over the Obama administration's decision to withhold billions of dollars in federal stimulus money from California if the state does not reverse a scheduled wage cut for the labor group's workers.
Chicago Tribune: Political perks: Illinois state legislators' raises, benefits under review
Legislators have racked up pay raises worth 17.7 percent over the last two years, with another one due this summer. Most of them make more than $77,000 a year for what's supposed to be a part-time job. And they still assent to pension windfalls that give retired colleagues thousands a year more than they made in the General Assembly.
Washington Post: Terrorist Traffic Via Syria Again Inching Up
Last October, as the Bush administration was touting a dramatic drop in the number of suicide bombings in Iraq, four young Tunisian men left their homes for Libya and then headed to Syria. There, they were met at the Damascus airport and taken to a safe house.
The Telegraph: Warship of future revealed by US Navy
With a top speed of 50 knots (60 mph), the Littoral Combat Ship (LCS), is a small, fast, manoeuvrable ship equipped to tackle almost any situation.
WSJ: Choosing a New Flower Czar
Nancy Clarke, the longtime chief florist at the White House, plans to retire May 29, but not before she helps Michelle Obama incorporate her personal style into official floral designs.
Newsweek: Daschle: A public plan will reduce costs and improve access
I have baseball on my mind: It is spring, the teams are on the field, the season has begun. It seems to me that winning the health-care debate is a lot like the Chicago Cubs' winning the World Series—it hasn't happened in forever, and some proponents are hearing the same old refrain of "Wait till next year."
NATIONAL
For the latest national news: www.CNN.com.
CNN: Deadly storms rip through Midwest, South
Emergency teams on Sunday were assessing damage from deadly storms that devastated parts of Missouri, Kentucky and West Virginia this weekend - even as the threat of more severe weather continued.
CNN: California fire possibly started by power tool
The wildfire that scorched thousands of acres and destroyed dozens of homes in Southern California this week apparently was started by a power tool clearing brush in the area, fire officials said Sunday.
CNN: Starting Monday, it costs more to mail
Unless you've got a stash of Forever Stamps sitting around, it might be time for a trip to the post office. The price of mailing a letter jumps 2 cents Monday.
CNN: Convicted soldier: 'You probably think I'm a monster'
"You probably think I'm a monster."
NYT: Outbreaks and Recalls Put Worry on the Table
Every few weeks, it seems, deadly germs turn up in the food supply.
NYT: In Schools, a Cautionary Video About America's 'Stuff'
The thick-lined drawings of the Earth, a factory and a house, meant to convey the cycle of human consumption, are straightforward and child-friendly. So are the pictures of dark puffs of factory smoke and an outlined skull and crossbones, representing polluting chemicals floating in the air.
BBC: Men 'suffering recession blues'
Men are struggling to cope with the emotional impact of the recession, a mental health charity has warned.
Financial Times: Shortages stir coffee and sugar prices
Caffeine addicts face higher prices for their daily fix as the wholesale cost of both coffee and sugar rise sharply because of poor crops and robust demand.
WSJ: Utilities Unite to Upgrade Response During Storms
As hurricane season approaches, electric utilities are banding together to use a new communications system designed to help them respond more quickly to customers who lose power.
WSJ: Captain's Training Faulted In Air Crash That Killed 50
The captain of a commuter plane that crashed Feb. 12 near Buffalo, N.Y., had flunked numerous flight tests during his career and was never adequately taught how to respond to the emergency that led to the airplane's fatal descent, according to people close to the investigation.
Business Week: Immigration Amid a Recession
As unemployment rises and the economy sinks further into recession, an old debate has become new again: the question of immigrants' impact on the U.S. economy. On one hand, the chorus of calls to restrict immigration is getting louder. Many U.S. workers are fearful of losing their jobs and want to ensure that the domestic workforce gets priority for new positions, especially for those created by the taxpayer-funded economic stimulus plan. On the other hand, tech, health-care, and other companies warn that tightening restrictions on immigrants will hinder, not help, the economic recovery.
LA Times: Naturalized citizens are poised to reshape California's political landscape
More than 1 million immigrants became U.S. citizens last year, the largest surge in history, hastening the ethnic transformation of California's political landscape with more Latinos and Asians now eligible to vote.
Boston Globe: Still there, foreclosed no longer
Quinn is one of a small but growing group of former owners who are not only staying in foreclosed homes but are buying them back, with the help of nonprofit groups and housing advocates. And in some cases, they are getting their homes at significant discount the second time around, because real estate values have plunged.
Providence Journal: Real estate investing making a comeback
Holland and her husband, Stephen E. Holland, hope to buy the house, which is listed at $174,900, as an investment and rent it as two apartments. Improvements before that can happen could cost $100,000.
Chicago Tribune: American Airlines revamps frequent-flier program
Trying to cash in frequent-flier miles is an exercise in frustration for many airline passengers, who often have no clue why the flights they've selected are rejected by a carrier's Web site.
Denver Post: Rap boosting kids' academics
Math is not Koran Ray's best subject, but the 13-year-old student at Wyatt-Edison has figured out a trick to help him master his multiplication tables: He raps them.
The Wichita Eagle: Wichita State biologist's discovery could help solve infertility
A biologist at Wichita State University has made a breakthrough discovery about human reproductive hormones that scientists say could give women worldwide new hope in solving fertility problems.
Washington Times: One industry still booming: Shoplifting
The "five-finger discount" has a hold on the nation.
INTERNATIONAL
For the latest international news: http://edition.cnn.com/
CNN: Pope Benedict begins visit to Israel
Pope Benedict XVI headed to Israel on Monday on his first visit to the Mideast, aimed at promoting good relations between Muslims and Christians.
CNN: Pakistan: 200 Taliban die in 24 hours
Pakistani forces have killed as many as 200 Taliban militants in the past day in the Swat and Shangla areas, the military said Sunday.
NYT: Shaky Pakistan Is Seen as a Target of Plots by Al Qaeda
As Taliban militants push deeper into Pakistan's settled areas, foreign operatives of Al Qaeda who had focused on plotting attacks against the West are seizing on the turmoil to sow chaos in Pakistan and strengthen the hand of the militant Islamist groups there, according to American and Pakistani intelligence officials.
Bloomberg: Pakistan Kills 700 Taliban in Two-Week Swat Valley Operation
Pakistani troops backed by helicopter gun ships have killed about 700 Taliban militants in the past two weeks as the military tries to seize control of the northwestern region, according to Interior Minister Rehman Malik.
Times of London: King Abdullah of Jordan's ultimatum: peace now or it's war next year
America is putting the final touches to a hugely ambitious peace plan for the Middle East, aimed at ending more than 60 years of conflict between Israel and the Arabs, according to Jordan's King Abdullah, who is helping to bring the parties together.
BBC: Whaling peace talks 'fall short'
Moves to make a peace deal between pro and anti-whaling nations have stalled, with no chance of agreement this year.
LA Times: U.S. gets tough on Canadian border
High above the rugged border, an unmanned Predator B drone equipped with night-vision cameras and cloud-piercing radar has scanned the landscape for signs of smugglers, illegal immigrants or terrorists.
Al Jazeera: Zuma unveils new S Africa cabinet
Jacob Zuma, South Africa's newly elected president, has announced appointments to his cabinet that he said will improve the way the country is run.
BUSINESS
For the latest business news: www.CNNMoney.com.
CNN: Stocks: Trying for week 10
For Wall Street to stretch its spring stock run to a tenth straight week, investors may need a little extra ammunition – and some good news on the consumer front.
CNN: Obama wins business support for health care reform
President Obama will announce Monday that he has secured the commitment of several industry groups to do their part to rein in the growth in health care costs.
WSJ: AIG Sees Long Road Back From the Brink
The turnaround of American International Group Inc. was once hoped to be a quick process. But a new internal memo shows that the insurer and its government owners expect a multiyear roadmap to restructure AIG.
Bloomberg: Cult of Common Encouraged by Geithner Delays Bank Consolidation
As U.S. banks rebound from their worst brush with insolvency in almost three decades, the appreciation of common equity is obscuring the inevitable need to consolidate in a shrinking economy.
NYT: Administration Plans to Strengthen Antitrust Rules
President Obama's top antitrust official this week plans to restore an aggressive enforcement policy against corporations that use their market dominance to elbow out competitors or to keep them from gaining market share.
Financial Times: Micro-payments considered for WSJ website
News Corp is planning to introduce micro-payments for individual articles and premium subscriptions to the Wall Street Journal's website this year, in a milestone in the news industry's race to find better online business models.
In Case You Missed It
To watch the latest interviews and reporting: http://www.cnn.com/video.
CNN: Al-Qaeda 'not in Afghanistan'
Gen. David Petraeus says al-Qaeda is no longer operating in Afghanistan. Watch his full interview with CNN's John King.
CNN: The President's funny side
President Obama mixes serious talk with well-placed humor at the annual White House Correspondents' dinner.
CNN: Staff briefing: Los Angeles
Go behind the scenes with John King as he discusses his trip to L.A., and previews this week's "State of the Union."
CNN: Changing face of homelessness
After becoming homeless and almost losing her job, Ruth Martinez is turning her life around for her son.