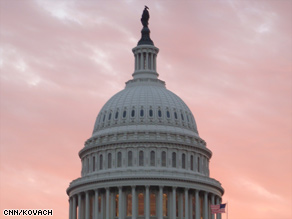 The CNN Washington Bureau's morning speed read of the top stories making news from around the country and the world.
WASHINGTON/POLITICAL
For the latest political news: www.CNNPolitics.com.
CNN: Gates replacing top U.S. commander in Afghanistan
The United States replaced the top allied commander in Afghanistan on Monday, deciding "fresh eyes" are needed to reverse the course of the seven-year-old war there, Defense Secretary Robert Gates said.
CNN: Florida governor to run for Senate, sources say
Florida Gov. Charlie Crist will announce Tuesday he will forgo another bid for governor and instead run for the Senate, two Republican sources tell CNN.
CNN: Romney camp hits back at Steele for Mormonism comments
In an unusual move for the person tasked with being his party's top cheerleader, Republican National Committee chairman Michael Steele is shining a light on the political vulnerabilities of one of the GOP's top figures and a likely frontrunner for the 2012 Republican nomination — former presidential candidate Mitt Romney.
CNN: Cheney ramps up attacks on both sides of the aisle
Far from a secure, undisclosed location, former Vice President Dick Cheney is out in the open and increasing his criticism on the Obama administration and even fellow Republicans.
LA Times: A new U.S. approach expected in Afghanistan
In ousting his top commander in Afghanistan, Defense Secretary Robert M. Gates agreed Monday with growing criticism in military circles that the U.S. war effort has been suffering from stale ideas and inadequate innovation.
Washington Post: Hispanics See Stars Aligned on High Court
Justice David H. Souter's departure from the Supreme Court gives the first African American president a historic opportunity to break another barrier by appointing the first Hispanic to the nation's highest court.
US News & World Report: Sonia Sotomayor Could Be on Obama's Short List for Replacing Souter
President Obama has been vague about what type of jurist he intends to nominate to replace retiring Justice David Souter on the nation's highest court. There's no end of speculation about what the president means when he says he's looking for someone with "heart and empathy" and a keen understanding of "how our laws affect the daily realities of people's lives." But many think that means he intends to diversify the bench.
NYT: Potential Justice Offers a Counterpoint in Chicago
When President Bill Clinton had a rare opportunity in 1995 for a Democratic president to fill a vacancy on the federal appeals court based in Chicago, a bastion of conservative thinking, he received an unusually strong recommendation from Senator Paul Simon.
Washington Post: Nephew Mentioned Rep. Murtha in Dealings as Contractor
Robert C. Murtha Jr. has made a sizable living for years working with companies that rely on Pentagon contracts over which his uncle, Rep. John P. Murtha (D-Pa.), holds considerable sway.
Washington Post: Senators Cut Deal On Credit Card Bill
The top senators on the Senate Banking Committee have reached a compromise on a bill that would protect consumers from abusive credit card industry practices, increasing the likelihood that the Senate will pass it as early as this week.
LA Times: Governor: Budget shortfall could reach $21.3 billion if ballot measures fail
Gov. Arnold Schwarzenegger told legislative leaders Monday the state's annual income tax collections are expected to fall this year for the first time since 1938, punctuating a budget shortfall that he said will reach $21.3 billion if voters reject a slate of ballot measures next week.
LA Times: Healthcare groups join Obama at negotiating table
Welcoming leaders of the hospital, drug and insurance industries to the White House on Monday, President Obama trumpeted their pledge to work together to contain the nation's skyrocketing healthcare tab.
Bloomberg: Boeing Targets $10 Billion Market for Leased Drones
Boeing Co., the second-largest U.S. defense contractor, is leasing drones to government agencies and militaries seeking to bypass years-long purchasing processes, a market the company says may grow to $10 billion in a decade.
BusinessWeek: Health-Care Reform: The Industry Signs On
Insurers, hospital executives, and drugmakers have stuck their finger in the wind and decided they are better off standing with President Barack Obama than against him on health-care reform.
NY Daily News: Obama administration distances itself from Wanda Sykes' 9/11-Rush Limbaugh joke
President Obama smiled at the time, but the White House declared Monday there was nothing funny about comic Wanda Sykes joking about 9/11.
NATIONAL
For the latest national news: www.CNN.com.
CNN: U.S. soldier kills 5 comrades in Iraq, officials say
A U.S. soldier fired on his fellow troops at a counseling center at a base outside Baghdad on Monday, U.S. officials said, killing five people in the worst such attack of the six-year war.
CNN: Demjanjuk deported to Germany
Nazi war crimes suspect John Demjanjuk was deported to Germany on Monday evening after he was removed from his Cleveland, Ohio-area home in the presence of U.S. Immigration and Customs Enforcement officers earlier in the day.
CNN: Postal service: Worker stole $20,000 in stamps for mortgage
Postal authorities say a Michigan postal worker has admitted to stealing some $20,000 worth of first-class stamps since September and trying to sell them to online auction-site customers to help pay his mortgage.
CNN: Astronauts ready for rescue mission they hope never happens
With space shuttle Atlantis on its way to upgrade the Hubble Space Telescope, that leaves one shuttle, Endeavour, at the ready on the other launch pad here.
CNN: Airline defends training of pilot involved in fatal crash
The regional airline involved in a fatal February plane crash outside Buffalo, New York, contested a report Monday alleging the pilot did not have the training to handle the emergency that brought the plane down, and that he might have been fatigued on the night of the crash.
LA Times: U.S. journalist Roxana Saberi had classified Iran document
A copy of a classified Iranian government report about the U.S. war in Iraq in the possession of journalist Roxana Saberi was a key piece of evidence that led to her conviction on espionage charges, one of the Iranian American journalist's lawyers disclosed Monday.
USA Today: New effort helps net potential deportees
In Fairfax County, the U.S. Immigration and Customs Enforcement (ICE) agency has put detainers on 200 of the jail's 1,300 inmates since the program began there March 9, said Capt. Glenda Pfister of the county sheriff's office. "When we have aliens who are serious criminals, they get removed from the county instead of being released to the street," Pfister said.
SF Chronicle: Hairstylist offers work pro bono
Twenty-five years ago, Iranian immigrant Manijeh Kazemi was a single working mom trying to hold onto her waitressing job at Denny's in South San Francisco.
NYT: Hospitals Begin to Move Into Supermarkets
As walk-in clinics at stores like CVS and Wal-Mart offer convenient alternatives to doctors' offices and hospital emergency rooms, some hospitals are fighting back — with walk-in clinics at some of those same retailers.
Denver Post: Infection data spur changes at hospitals
When Colorado passed a law requiring hospitals to publicly reveal their infection rates, lawmakers hoped it would push them to improve surgical hygiene. It seems that it's working.
NYT Op-Ed: Herbert: 'What Color Is That Baby?'
I remember as a young deputy city editor at The Daily News attending my first "sked meeting," a large gathering of editors held every afternoon to consider which stories would go into the next morning's paper and how they would be played.
Washington Post: Prices Fall To Match A New Frugality
The nation's retailers have begun to embrace the new cost-conscious consumer, developing products they can sell at lower prices without driving themselves out of business in the post-splurge era.
WSJ: New Fees for Card Usage Abroad
It's getting more expensive to use your credit cards for overseas purchases.
WSJ: A New Route to Easing Air-Traffic Congestion
U.S. airlines and the FAA are phasing in a new navigation system that has already proved it can reduce weather delays, shave minutes off flight times and reduce noise pollution on the ground.
Miami Herald: A false alarm puts scare into sex victims
Eleven thousand Floridians - many of them recovering victims of sexual assaults - were notified over the weekend that the state would no longer be tracking registered sex offenders whose whereabouts concerned them. As it turned out, the e-mailed notifications were sent out by mistake.
Forbes: Where U.S. Homeowners Are Most In Debt
"Water, wealth, contentment, health" is the motto of Modesto, Calif., a mid-size Central Valley city of 210,000. Problem is, it hasn't been a positive year by any of those measures.
Kansas City Star: Urban chicken movement taking roost in KC area
Chickens could be coming to roost in a backyard near you.
Dallas Morning News: Some Dallas-area schools use state college-prep money elsewhere
State money aimed at helping prepare students for college is in some cases paying for school office supplies and utility bills – and it's perfectly legal.
INTERNATIONAL
For the latest international news: http://edition.cnn.com/
CNN: Analysis: What journalist's release means for Iran, U.S. relations
Iran's Judiciary spokesman Alireza Jamshidi said Monday that journalist Roxana Saberi's sentence was commuted as a gesture of "Islamic mercy" because she expressed regret and cooperated with authorities.
CNN: Politics interrupt pope during Gaza visit
With his visit already bogged down in historical disputes, the pope's message of peace in Gaza was interrupted Monday by an impromptu speaker who fueled the longtime resentment between Palestinians and Israelis.
CNN: Official: More than 1M child prostitutes in India
Around 1.2 million children are believed to be involved in prostitution in India, the country's federal police said Monday.
CNN: China marks earthquake anniversary
China on Tuesday marked the first anniversary of a devastating earthquake that left nearly 90,000 dead or missing one year ago in mountainous Sichuan province.
USA Today: In China's quake zone, pain and anger
From the famous pig that survived under rubble for 36 days, to a water bottle used by Chinese Premier Wen Jiabao as he toured devastated buildings and schools, the Wenchuan Earthquake Museum seems to have it all.
NYT: Journalist's Release Shows Divide Among Iran's Leaders
The release of an Iranian-American journalist imprisoned on charges of spying for the United States removes an obstacle to President Obama's opening to Iran but illustrates the volatility of the Iranian government.
The Guardian: Somali pirates guided by London intelligence team, report says
The Somali pirates attacking shipping in the Gulf of Aden and Indian Ocean are directed to their targets by a "consultant" team in London, according to a European military intelligence document obtained by a Spanish radio station.
NYT: In German Suburb, Life Goes on Without Cars
Residents of this upscale community are suburban pioneers, going where few soccer moms or commuting executives have ever gone before: they have given up their cars.
Times of London: Worst of the recession may be over for Britain, says OECD
Hopes are mounting that the worst of the recession is over for Britain, after influential organisations and investors said that there were clear signs of economic recovery.
BBC: Lawyer accuses Guatemala leader
The Guatemalan government has dismissed allegations which link President Alvaro Colom to the death of a lawyer.
BBC: Children sanitation alert issued
Millions of children's lives are being put at risk each year because aid agencies and governments make wrong choices about health care priorities. This is the conclusion of a new report from the charity WaterAid.
CS Monitor: In Colombia, rape now being prosecuted as weapon of war
Amelia had spent years counseling a woman who was raped by a right-wing warlord and suffered an unwanted pregnancy. So when the woman called her for advice after the warlord threatened to return to take away the child, Amelia rushed to go see her.
BUSINESS
For the latest business news: www.CNNMoney.com.
CNN: Gas prices surge 9%: Don't fear $4
There's plenty of economic pain to go around these days because of the recession. Now there's this: Gas prices have surged nearly 9% over the past two weeks.
CNN: 750,000 stimulus jobs by August – White House
The Obama administration estimates that the economic stimulus plan will create or save 750,000 jobs by early August, a senior administration official said on Monday.
CNN: Chrysler's sorry state revealed
Among the thousands of pages of documents filed in connection with Chrysler's Chapter 11 bankruptcy are affidavits from Chrysler executives that open up a window on the auto business previously closed to outsiders in this intensely competitive business.
NYT: We're Dull, Small Banks Say, but Have Profits
It's unlikely that any group of professionals is happier to highlight the dullness of their work than small-town bankers.
WSJ: Target Believes a Rebound Recipe Is in Grocery Aisle
Target Corp., under pressure from an activist shareholder, is using fresh foods and other recession-proof groceries as the cornerstone of a plan to quiet criticism and reverse a slide in sales.
Bloomberg: Bank of America Said to Sell $7.3 Billion CCB Stake
Bank of America Corp., under pressure from U.S. regulators to raise money, sold a 5.8 percent stake in China Construction Bank Corp. for about $7.3 billion, said two people with knowledge of the matter.
Financial Times: Geffen sets sights on NY Times
David Geffen, the former record executive who made an offer for the Los Angeles Times two years ago, now wants to buy the New York Times, according to people close to the situation.
McClatchy: Deficits soar even with rosy assumptions in new Obama budget
The White House on Monday projected 2009 and 2010 federal budget deficits far higher than it forecast just two and a half months ago, even as it continued to defy most experts and predict that the economy is headed for a strong comeback starting late this year.
Providence Journal: Sharp fall in revenues leads to jump in budget deficit
Rhode Island government's budget deficits have grown by $200 million over the last six months, a massive jump that exacerbates an already-staggering budget hole and intensifies pressure on the General Assembly to raise taxes or slash state spending across a host of popular programs.
In Case You Missed It
To watch the latest interviews and reporting: http://www.cnn.com/video.
CNN: Texting, driving and crashing
More than half the states have or currently are considering a ban on texting while driving. CNN's Bill Tucker reports.
CNN: Cheney center stage for GOP
Candy Crowley reports on Dick Cheney's visible, forceful defense of the GOP.
CNN: Crist makes the jump
Florida governor Charlie Crist is set to make a bid for a U.S. Senate seat. CNN's Jessica Yellin reports.
CNN: Rush vs. Wanda
Wanda Sykes takes on Rush Limbaugh, and some on the right take on Pres. Obama for laughing about it. Jeanne Moos reports.