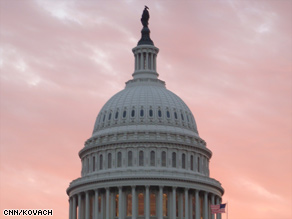 The CNN Washington Bureau's morning speed read of the top stories making news from around the country and the world.
WASHINGTON/POLITICAL
For the latest political news: www.CNNPolitics.com.
CNN: Obama Official Expected to be rejected by Senate Wednesday
The Senate Democratic leadership is preparing to lose a vote Wednesday morning on the confirmation of David Hayes as Deputy Secretary of Interior. If that happens, it would be the first time Congress votes to reject one of President Obama's nominees.
CNN: Crist gives GOP 'big fish' in 2010 Senate elections
Score a big one for John Cornyn.
CNN: Source: Aide told Pelosi waterboarding had been used
A source close to House Speaker Nancy Pelosi now confirms that Pelosi was told in February 2003 by her intelligence aide, Michael Sheehy, that waterboarding was actually used on CIA detainee Abu Zubaydah.
CNN: Changing course in Afghanistan
Just 11 months ago, Defense Secretary Robert Gates selected Gen. David McKiernan to head the war in Afghanistan.
CNN: Commentary: Harry, Louise back at the table
It's hard not to be cynical about the prospects for the passage of serious health care reform.
CNN: Liz Cheney suggests Obama 'siding with terrorists'
Liz Cheney is picking up where her father left off when it comes to taking aim at the Obama administration, saying Tuesday the new commander-in-chief appears to be siding with terrorists.
CNN: Elizabeth Edwards discusses tragedies, strengths
CNN's Larry King sat down with Elizabeth Edwards on Tuesday to discuss her new book, her personal tragedies and the power of resilience.
NYT: U.S. Considers Limits on Financial Pay
Obama Administration officials are contemplating a major overhaul of the compensation practices in the financial services industry, moving beyond banks to include more loosely regulated hedge funds and private equity firms.
USA Today: U.S. warhead disposal in 15-year backlog
President Obama plans deep new cuts in the U.S. nuclear arsenal at a time when the government faces a 15-year backlog of warheads already waiting to be dismantled and a need for billions of dollars in new facilities to store and dispose of the weapons' plutonium.
Washington Post: Officials Knew of AIG Bonuses Months Before Firestorm
As American International Group chief executive Edward M. Liddy returns to Washington to face Congress today, new details are emerging about how long federal officials were aware of the company's recent bonus payments to its executives and of how inflammatory the payments could be.
LA Times: U.S. military, Pakistan carrying out Predator drone missions together
The U.S. military has begun flying armed Predator drones inside Pakistan and has given Pakistani officers significant control over targets, flight routes and decisions to launch attacks under a new joint operation, according to U.S. officials familiar with the program.
WSJ: Idea on Hill: Taxing Health Benefits
The idea of taxing employee health-care benefits to raise money for an overhaul of the health system is gaining strength in Congress, although it drew criticism from Barack Obama when he was campaigning for president.
LA Times: EPA's greenhouse gas ruling criticized within the government
In ruling last month that greenhouse gases posed health and safety risks, the Environmental Protection Agency brushed aside warnings from Bush administration holdovers who said the move was "likely to have serious economic consequences" for small businesses and the economy overall, according to documents obtained Tuesday.
Washington Post: Hesitation at White House On Releasing Abuse Photos
The Obama administration signaled yesterday that it may be rethinking its promise to release several dozen photos depicting abuse or alleged abuse of detainees held in U.S. custody abroad.
NYT: Army Disputes Doctor's Claim in Study of Injured
A former surgeon at Walter Reed Army Medical Center, who is a paid consultant for a medical company, published a study that made false claims and overstated the benefits of the company's product in treating soldiers severely injured in Iraq, the hospital's commander said Tuesday.
WSJ Op-Ed: Frank: Republicans vs. Bureaucrats
Last week, the House Committee on Oversight and Government Reform approved a bill to provide paid parental leave to federal workers and thus make government employment more attractive. The committee's ranking Republican, Rep. Darrell Issa of California, reportedly opposed the measure because he fears, among other things, that rascally federal workers will scam the system, piling up child after child just to claim the four weeks of paid leave.
LA Times: Crist's Senate bid represents ideological struggle for GOP
It is a heated debate in the struggling Republican Party: whether to broaden its ideology or follow the advice of Dick Cheney, Rush Limbaugh and others who argue against deviating from core conservative principles.
Miami Herald: Crist's GOP tent too quick to snub Rubio
Off goes Gov. Charlie Crist to run for the U.S. Senate to replace retiring Sen. Mel Martinez.
NYT Op-Ed: Divoll: Congress's Torture Bubble
JUST four members of Congress were notified in 2002 when the Central Intelligence Agency's "enhanced interrogation techniques" program was first approved and carried out, according to documents released by the agency last week. They were Senators Bob Graham and Richard Shelby and Representatives Porter Goss and Nancy Pelosi, then the chairmen and ranking members of the Senate and House intelligence committees — the so-called "Gang of Four." Each was briefed orally and it was understood that they were not to speak about the program with anyone, including their colleagues on the committees.
Chicago Tribune: White House poetry: Chicago poet Mayda del Valle visits the White House
When Chicago native Mayda del Valle walked into the ornate East Room of the White House on Tuesday evening to recite a newly written poem about a grandmother she barely knew, it took all of her professionalism to disguise her nervousness.
Hartford Courant: House Backs Measure That Aims To Elect President By Popular Vote
In the closest vote of the year, the state House of Representatives voted Tuesday night to allow Connecticut and other states to join an interstate compact to elect the president by the national popular vote.
NATIONAL
For the latest national news: www.CNN.com.
CNN: Man who spent 22 years on death row is cleared
A former death row inmate in Tennessee has been cleared of murder, three years after the Supreme Court raised repeated questions about his conviction.
CNN: ACLU sues over patents on breast cancer genes
Patents on two human genes linked to breast and ovarian cancers are being challenged in court by the American Civil Liberties Union, which argues that patenting pure genes is unconstitutional and hinders research for a cancer cure.
CNN: Office refrigerator stench packs punch, sends seven to hospital
We've all been there: reached for our food in the office refrigerator, only to recoil from the stench from the crammed containers of decomposing food.
USA Today: AAA: Cheaper gas, deals to boost holiday travel
The USA will kick off the summer vacation season with slightly more people taking Memorial Day trips this year than in 2008 as lower gas prices and abundant travel bargains unleash the nation's "pent-up demand" for travel, according to a report from leisure travel organization AAA.
USA Today: Website estimates education's effect on health, crime, income
Researchers have known for decades that rising education levels positively influence a host of social factors: income, health, voting rates and even the likelihood that a person will stay out of prison.
NYT: N.Y. Assembly Passes Gay Marriage Bill
The State Assembly approved legislation on Tuesday night that would make New York the sixth state to allow same-sex marriage — a pivotal vote that shifts the debate to the State Senate, where gay rights advocates and conservative groups alike are redoubling their efforts.
Anchorage Daily News: Assembly to consider gay rights ordinance
A proposed ordinance to ban discrimination against homosexuals in hiring, housing and education will be considered by the Anchorage Assembly next month.
Orlando Sentinel: Kids can learn lessons from recession
When Judith Edmond talks about personal finance at school, it's more than just another academic subject. The recession nearly left her homeless last year. The 18-year-old single mother says her family almost lost its house to foreclosure. To help save the property, she and her 10-month-old son moved in with her aunt so her mother could make extra money renting out Edmond's room.
Bloomberg: Schwarzenegger Tells Lawmakers Deficit May Swell to $21 Billion
California's budget deficit has grown so severe that Governor Arnold Schwarzenegger said he may be forced to release 40,000 prisoners or lay off 51,000 teachers if voters next week reject three budget balancing measures.
Boston Globe: Data breach ensnares many in Mass.
Tens of thousands of Massachusetts consumers have been forced to get new credit or debit cards after cyber thieves hacked one of the nation's largest payment processors and accessed consumers' account information.
Financial Times: FDA warns Cheerios over health claims
The Food and Drug Administration has taken issue with health claims made by Cheerios, America's best-selling breakfast cereal, signalling a new approach to food industry marketing under the Obama administration.
US News & World Report: 10 Not So "Recession-Proof" Industries
According to conventional wisdom, some industries are "recession-proof," poised to ride out even the roughest of downturns. They're thought to be propped up either because they provide sins for the downtrodden to dabble in (like gambling), simply are indispensable (like hospitals), or enjoy a consumer base either so rich or so passionate that no number of frightening figures on the unemployment rate or gross domestic product can keep customers away (like luxury retailers). But as the recession deepens, even those popular doctrines are revealed to be about as reliable as an asset-backed security.
CS Monitor: Soldier rampage hints at stress of repeated deployments
Military police on Tuesday charged Sgt. John Russell, a soldier on a 15-month tour to Iraq – his third deployment to the country – with murder in the shooting deaths of five soldiers at an American base.
Baltimore Sun: Johns Hopkins Hospital at center of identity theft probe
Federal authorities are investigating the theft of patient information, possibly by a former Johns Hopkins Hospital employee, as part of a scheme to make fraudulent Virginia driver's licenses.
SF Chronicle: California's high school dropout rate at 20%
One in five students dropped out of a California high school last year – about the same as the year before, state Superintendent Jack O'Connell announced Tuesday. The graduation rate also held at about 68 percent.
INTERNATIONAL
For the latest international news: http://edition.cnn.com/
CNN: U.S. soldier charged with murder in Iraq shooting deaths
The U.S. soldier who authorities say killed five fellow troops - including a Navy commander - at a stress clinic in Iraq on Monday apparently used a weapon he wrested away from another soldier, a Defense official said.
CNN: Al Qaeda figure who provided link to Iraq reportedly dead in Libya
The accused terrorist who said he was tortured into making a false connection between al Qaeda and Iraq has died in a Libyan prison, human rights monitors said Tuesday.
CNN: Report: Exploited workers lose $20B a year
Suryavathi Rao entered her 40th year in what can be called no man's land.
CNN: U.N. to expand relief efforts in Pakistan
U.N. Secretary-General Ban Ki-moon agreed on the need for additional humanitarian aid after meeting with Pakistani President Asif Zardari on Tuesday.
NYT: Christians in Mideast Losing Numbers and Influence
Christians used to be a vital force in the Middle East. They dominated Lebanon and filled top jobs in the Palestinian movement. In Egypt, they were wealthy beyond their number. In Iraq, they packed the universities and professions. Across the region, their orientation was a vital link to the West, a counterpoint to prevailing trends.
China Daily: Bailout plan for pig farmers as price plummets
Pig farmers are warned to stop expanding their farms after fear of the A(H1N1) flu and a glut of hogs caused China's pork prices to plummet.
Al Jazeera: Zimbabwe court frees journalists
Two senior Zimbabwean journalists detained on charges of publishing false material have been released, a lawyer representing them has said.
Al Jazeera: Indian election enters final phase
Voting has begun in the fifth and final phase of India's month-long general election, with polling under way across nine states and territories.
Times of London: David Miliband: Barack Obama Middle East plan best since Camp David
David Miliband hailed President Obama's efforts to kick-start the Middle East peace process yesterday as a once in a generation opportunity to resolve the 60-year conflict between Palestinians and Israelis.
BBC: Key coral reefs 'could disappear'
The world's most important coral region is in danger of being wiped out by the end of this century unless fast action is taken, says a new report.
Jerusalem Post: Hizbullah confirms broad aid for Hamas
In what seems to be a stark change in policy, Hizbullah now admits to not only providing Hamas with "every type of support," but also to having done so for some time, Sheikh Naim Qassem, the deputy leader of the organization said in an interview published by the Financial Times on Wednesday.
BUSINESS
For the latest business news: www.CNNMoney.com.
CNN: Recession hits Social Security hard
The recession has taken its toll on Social Security. The officials who oversee the program forecast Tuesday that the Social Security trust fund will be exhausted by 2037 - four years earlier than estimated last year.
CNN: For a healthy GM, look overseas
General Motors, the quintessential U.S. company, sold more vehicles in Asia in the first quarter than it did in the United States.
CNN: Can big banks escape the TARP?
With the stress tests behind them, banking regulators now face the potentially thornier issue of deciding which banks, if any, should be allowed to repay government funds.
WSJ: States' Revenue Sinks Amid Income Tax Drop-Off
State tax collections continued to fall in the first quarter as muted consumption, falling incomes and weak profits plunged states into a deeper financial hole, the Nelson A. Rockefeller Institute of Government at the State University of New York said in a report to be released Wednesday.
Forbes: Google Rolls Out New Digital Tools
Google on Tuesday unveiled a series of new offerings for Internet search, from mobility and language translation to spreadsheets that arrange information from multiple Web sites on the fly. What the company is really after, however, is building an Internet that more closely mimics the physical world.
Financial Times: Signs of recovery lift oil and commodity prices
Oil prices rose above $60 a barrel for the first time in six months yesterday, boosted by signs of economic recovery, a weaker US dollar and growing investor appetite for riskier assets such as commodities.