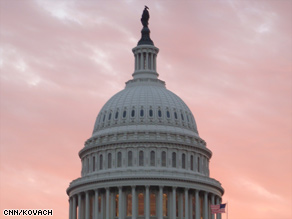 The CNN Washington Bureau's morning speed read of the top stories making news from around the country and the world.
WASHINGTON/POLITICAL
For the latest political news: www.CNNPolitics.com.
CNN: Obama turns controversy into jokes, lesson at commencement
President Obama on Wednesday turned a flap over his commencement speech at Arizona State University into a joke - then a lesson about never being satisfied with one's accomplishments.
CNN: Obama reverses course on alleged prison abuse photos
President Obama said Wednesday he told government lawyers to object to a court-ordered release of additional images showing alleged abuse of detainees because the release could affect the safety of U.S. troops and "inflame anti-American opinion."
CNN: Sources: High court selection process down to finalists
The search for a Supreme Court nominee has been trimmed to about half a dozen candidates by top White House officials, and an announcement may come by month's end, two sources close to the selection process tell CNN.
CNN: Bill Clinton: Cheney should stick to target practice
Bill Clinton jokingly laughed off a question Wednesday about former Vice President Dick Cheney and his recent claims that the country is less safe under the Obama administration.
CNN: Family feud roils Republican Party
President Obama poked fun at the travails of the Republican Party last weekend, telling the party's chairman that no, the GOP does not qualify for a bailout, and conservative radio host Rush Limbaugh does not count as a troubled asset.
WSJ: Obama Considers Detaining Terror Suspects Indefinitely
The Obama administration is weighing plans to detain some terror suspects on U.S. soil - indefinitely and without trial - as part of a plan to retool military commission trials that were conducted for prisoners held in Guantanamo Bay, Cuba.
Telegraph UK: US government renews threat to withdraw intelligence sharing
The High Court agreed to re-open the case last week after lawyers for Mr Mohamed argued that it was unclear if the new government maintained the position of the Bush administration.
Washington Times Exclusive: Choice of shipping exec for post reviewed
The Department of Homeland Security says it is reviewing a last-minute Bush administration appointment of a shipping industry executive and registered lobbyist to serve on a government maritime security board, even as his company faced serious allegations of defrauding the U.S. military in war zones.
LA Times: Supreme Court candidate Elena Kagan has admirers left and right
If there is a Supreme Court candidate with inside connections, it is Elena Kagan, the Harvard Law School dean who was recently named U.S. solicitor general.
NYT: Unease Grows for Democrats Over Security
Congressional Democrats are voicing growing unease over the Obama administration's national security policies, including the seemingly open-ended commitment in Afghanistan and the nettlesome question of what to do with prisoners held at Guantánamo Bay, Cuba.
CS Monitor: Congress inches toward 'truth commission' for torture probe
Congress is in danger of losing control of its own investigations into Bush-era "enhanced interrogation" methods – leading to calls for an independent "truth commission" to resolve the tough, increasingly partisan issues.
Chicago Tribune: Obama and Notre Dame: As commencement nears, debate over President Obama's invitation rages on
Andrew Chronister will graduate from the University of Notre Dame this Sunday, but the theology major from suburban La Grange will not be at his own commencement ceremony, choosing instead to attend a prayer service for the unborn.
Forbes: Obama Takes On Shadow Banking System
The Obama administration is taking its first significant steps to shine a light on the so-called shadow banking system.
Washington Post: Defense Official Charged With Giving Classified Data to China
A Defense Department official has been charged in an espionage conspiracy with providing classified information to a Chinese government agent, including a report on Chinese military power and details about a joint U.S.-Chinese naval exercise, prosecutors announced yesterday.
Washington Post: As Cheney Seizes Spotlight, Many Republicans Wince
Today Cheney is the most visible - and controversial - critic of President Obama's national security policies and, to the alarm of many people in the Republican Party, the most forceful and uncompromising defender of the Bush administration's record. His running argument with the new administration has spawned a noisy side debate all its own: By leading the criticism, is Cheney doing more harm than good to the causes he has taken up and to the political well-being of his party?
WSJ Op-Ed: Rove: Congress and Waterboarding
Someone important appears not to be telling the truth about her knowledge of the CIA's use of enhanced interrogation techniques (EITs). That someone is Speaker of the House Nancy Pelosi. The political persecution of Bush administration officials she has been pushing may now ensnare her.
LA Times: Obama takes risk with reversal on detainee photos
President Obama's decision Wednesday to try to block the court-ordered release of photographs depicting alleged abuse of detainees by U.S. soldiers sets him on a confrontational course with his liberal base. But it is a showdown he is willing to risk - and may even view as politically necessary.
Denver Post: Army calls for retreat on Piñon expansion
The Army has given up attempts to acquire land for expanding the Piñon Canyon training site in the next year, shifting the money that had been allocated for the purpose to other uses, according to congressional and Army sources.
Chicago Tribune: Blago Volumizing Shampoo and Conditioner: 'It's Bleep'n Golden'
Say what you will about disgraced former Gov. Rod Blagojevich, but you can't say he has thin hair.
NATIONAL
For the latest national news: www.CNN.com.
CNN: Hispanic population boom fuels rising U.S. diversity
The nation is becoming even more diverse: More than one third of its population belongs to a minority group, and Hispanics are the fastest-growing segment.
CNN: At least 10 dead after apparent human-smuggling boat capsizes
At least 10 people were killed, and an unknown number remained missing Wednesday, after a boat authorities believe was used for human smuggling capsized off the coast of Florida.
CNN: Ashton Kutcher fulfills promise, pranks CNN
The scene was more reminiscent of a Hollywood production than an elaborate prank by the Punk'd-master himself.
NYT: Killings Away From Combat Deal Sharper Blow to Families of Five Military Men
One was a native of Peru who lived in New Jersey and joined the Army after watching the twin towers fall. Another was a doting young father who followed his older brothers into the military, extending a brave family tradition. Another was a doctor and reservist, based in Baghdad to counsel soldiers through trauma and stress.
USA Today: Gap between Baby Boomers, young minorities grows
The USA is developing a stark generation gap between aging white Baby Boomers and a young, growing minority population, according to U.S. Census data released today.
WSJ: Downturn Slows Growth of Hispanics, Asians in U.S.
The recession has reduced the growth rate of U.S. Hispanic and Asian populations, the Census said Wednesday, slowing the spread of diversity in American suburbs and exurbs.
NYT: For Explorer Scouts, Good Deeds Have Whole New Meaning
The Explorers program, a coeducational affiliate of the Boy Scouts of America that began 60 years ago, is training thousands of young people in skills used to confront terrorism, illegal immigration and escalating border violence — an intense ratcheting up of one of the group's longtime missions to prepare youths for more traditional jobs as police officers and firefighters.
Boston Globe: Graduation, recession style
It's a springtime ritual, one eagerly anticipated by hoteliers and restaurateurs. Each weekend starting this month and through the beginning of June, scores of parents descend upon the region for the college commencement season. In boom times, they rack up hotel bills, splurge on meals, and open their wallets at the shops along Newbury Street.
Washington Post: More Homeowners Getting Aid, but Demand Keeps Rising
In the two months since it launched, the Obama administration's foreclosure prevention plan has outperformed the government's previous attempts, offering more than 50,000 homeowners lower-cost mortgages.
LA Times: 3 California counties will check immigration status as inmates enter jail
Los Angeles, Ventura and San Diego will become the first counties in California to begin checking the immigration status of all inmates booked into jail as part of a national effort to identify and deport more illegal immigrants with criminal records.
Boston Globe: Senate bill cuts about $29m from youth violence programs
In a move that stunned and worried youth advocates, the Senate Ways and Means Committee approved a state budget yesterday that would gut nearly all money for programs aimed at reducing urban youth violence.
Chicago Tribune: Chicago BPA ban: Chicago bans sale of baby bottles, sippy cups with dangerous chemical
The City Council's vote Wednesday to make Chicago the first U.S. city to ban bisphenol A in baby bottles and sippy cups is the latest act in a groundswell of public concern about a widely used chemical that has been linked to cancer, diabetes and other ailments.
INTERNATIONAL
For the latest international news: http://edition.cnn.com/
CNN: Myanmar democracy leader Suu Kyi facing trial
Nobel Peace Prize laureate Aung San Suu Kyi was taken to a prison compound in Myanmar on Thursday, where she was scheduled to stand trial next week for allegedly letting an American stay in her house in violation of her house-arrest terms.
CNN: North Korea sets trial date for American journalists
Two American journalists will be tried in a North Korean court on June 4, Pyongyang's official news agency said Thursday.
CNN: Report: Some at U.S. diplomatic posts earn less than $1 a day
A new State Department report says some local employees hired by U.S. embassies and other posts around the world are so poorly paid they have to cut back to one meal a day or send their children to peddle on the streets.
CNN: U.N., U.S. call for end to Sri Lanka fighting
The U.N. Security Council and U.S. President Barack Obama on Wednesday called for both sides in Sri Lanka's civil war to protect civilians and allow humanitarian aid into the conflict zone, where tens of thousands are trapped.
CNN: Dancer paralyzed in fall, dashing Olympic dreams
Liu Yan, regarded as China's top classical dancer, was to give the performance of a lifetime: She was to dance a solo at the opening ceremony of the 2008 Beijing Olympics.
BBC: Military 'charge Burma's Suu Kyi'
Burmese pro-democracy leader Aung San Suu Kyi has been charged with breaching the conditions of her detention under house arrest, her lawyer has said.
WSJ: U.K. Sailors to Remain in Iraq to Train the Navy
The Iraqi government said Wednesday it was studying a formal agreement to have a few hundred British sailors stay past the end of a mandate that expires in July to train their Iraqi counterparts.
Al Jazeera: India polls predict weak coalition
Early exit polls in India's election suggest the country's next government will be a weak coalition, with the ruling Congress-led alliance only slightly ahead of its rivals.
LA Times: Pakistan's displacement camps: A study in contrasts
At the entrance to the Hazrat Usman camp just south of the Swat Valley, a welcoming committee greets those fleeing violence between the government and militants with a cool glass of water, a meal and a place to sleep with fans and a pharmacy.
NYT Op-ed: Kristof: What a Little Vitamin A Could Do
I'm bouncing across West Africa in the back of a Land Cruiser with the winner of my "win-a-trip" contest, Paul Bowers, a student at the University of South Carolina, talking about wonky ways to tackle global poverty — such as vitamin A capsules.

Times of London: Rape audit to find out why so few win justice
Rape victims are to be asked why they feel that they are being failed by the criminal justice system as new research suggests that Britain has the lowest conviction rates in Europe.
Telegraph UK: Elliot Morley claimed £16,000 for mortgage that did not exist: MPs' expenses
Mr Morley, the ex-agriculture minister, continued claiming for the mortgage interest on his constituency home for more than 18 months after the loan had been repaid.
BUSINESS
For the latest business news: www.CNNMoney.com.
CNN: The rich get richer on Wall Street
The rush to repay government bailout loans is fattening up what's left of Wall Street.
CNN: Religion and money: The price of faith
Ask Abbi Perets about financial pain, and she starts talking about grape juice. Specifically, she's referring to the half-gallon bottles of grape juice that her local grocery sells for $9 each.
CNN: White House on rescue: How we're doing
The Obama administration, issuing its first progress report on the $787 billion stimulus program, said Wednesday that $88 billion has been made available and that it's ahead of schedule in implementing most initiatives.
Bloomberg: Paulson Told Bankers to Take U.S. Taxpayer Aid or Be 'Exposed'
Former Treasury Secretary Henry Paulson, saying nine U.S. banks were "central to any solution" of the credit crisis, told their leaders to take government aid or be forced to by regulators, according to a memo prepared for an October meeting.
NYT: Slow Start to Federal Plan for Modifying Mortgages
The Obama administration's plan to help millions of troubled homeowners avoid foreclosure by reducing the size of their mortgage payments is just getting off the ground.
WSJ: Lehman Considers Spinoff of Remnants
Eight months after its plunge into bankruptcy, Lehman Brothers Holdings Inc. is taking steps to spin off the Wall Street firm's remaining assets - a collection of battered real-estate and private-equity holdings - to investors willing to bet the value will rise as the economy recovers.
Financial Times: This has not been a pure failure of markets
Only the rulers of Cuba, Venezuela, Iran and some ideologues in the west condemn capitalism. Empirically minded people know that there is no good alternative. However, capitalism takes many forms and evolves over time. The questions to ask, then, are "What capitalism?" and "Does the present crisis shed new light on this issue?"
WSJ: SEC Poised to Charge Mozilo With Fraud
The Securities and Exchange Commission staff is readying civil fraud charges against Countrywide Financial Corp. co-founder Angelo Mozilo, in what would be the highest-profile government legal action against a chief executive connected to the financial crisis.
BusinessWeek: Car Dealers are Fighting The Hammer as Chrysler and GM Send Out Pink Slips To Retailers
For all the talk in the last six months about the billions being spent to cushion the U.S. auto companies and suppliers, very little has been said or done to consider the plight of the car dealers who are being told in this process that they will be run out of business with not too many people caring about soft landings.
Bloomberg: Fed Views Jump in Yields as Sign of Better Outlook
The Federal Reserve considers the recent jump in Treasury yields more as a reflection of a better economic outlook than a signal it needs to step up purchases of U.S. government debt, according to central bank officials who declined to be identified.
In Case You Missed It
To watch the latest interviews and reporting: http://www.cnn.com/video.
CNN: Reporters busted for cell phones
A series of ringing cell phones prompts Press Secretary Robert Gibbs to take the phones of two White House reporters.
CNN: $250,000 mistake
A financially struggling single mom discovers more than $250,000 in her bank account. KOMO's Elisa Jaffe
CNN: Blago shampoo
The former Illinois Gov comes clean in the form of a shampoo. Jeanne Moos reports Blago Shampoo is more than a novelty.