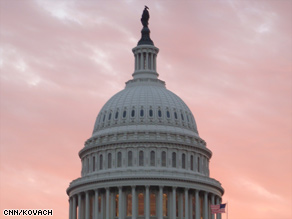 The CNN Washington Bureau's morning speed read of the top stories making news from around the country and the world.
WASHINGTON/POLITICAL
For the latest political news: www.CNNPolitics.com.
CNN: Obama to resurrect military tribunals for terror suspects
In a move that could reignite tensions with liberals in his own party, President Obama is planning on Friday to resume the Bush administration's highly controversial military tribunal system - which Obama suspended his first week in office - for some Guantanamo detainees, according to three administration officials.
CNN: Powell aide says torture helped build Iraq war case
Finding a "smoking gun" linking Iraq and al Qaeda became the main purpose of the abusive interrogation program the Bush administration authorized in 2002, a former State Department official told CNN on Thursday
CNN: Specter primary challenger drops out
U.S. Sen. Arlen Specter received welcome news Thursday evening when the Pennsylvanian's only current primary challenger abandoned a run for the Democratic Senate nomination, two Democratic sources told CNN.
CNN: Prosecutor to question Karl Rove on Friday
Former Bush administration official Karl Rove is scheduled to be interviewed Friday about why a number of U.S. attorneys were fired in 2006, according to an attorney in private practice familiar with the case.
CNN: Hoyer looks to change torture talk back to 'what was done'
The No. 2 Democrat in the House on Thursday dismissed talk of what House Speaker Nancy Pelosi knew or didn't know about the CIA's interrogation techniques.
CNN: CIA denies Cheney request on interrogations
The CIA has rejected former Vice President Dick Cheney's request to declassify records of abusive interrogations of suspected terrorists, a spokesman for the spy agency said Thursday.
CNN: Limbaugh hits back at McCain's mom
Rush Limbaugh responded to Roberta McCain's criticism of his tough radio persona Thursday, joking over the fact "McCain's mother is dumping on me."
NYT: New York City Official Is Obama Pick for C.D.C.
President Obama will announce on Friday that he has chosen Dr. Thomas R. Frieden, the New York City health commissioner, as the next director of the Centers for Disease Control and Prevention, administration officials said Thursday.
Washington Post: Trade Wars Launched With Ruses, End Runs
Is this what the first trade war of the global economic crisis looks like?
WSJ: New Strikes Against Taliban Are Expected
The Obama administration's new Afghanistan commanders are likely to order fresh military strikes against the Taliban as part of a broad push to encourage more militants to join U.S. and Afghan reconciliation efforts, senior defense officials said.
Bloomberg: Republicans Adopt Emanuel's Tactics to Deliver 2010 'Thumpin"
Republicans are getting inspiration on how to rebuild their party in the U.S. Congress from an unlikely source: White House Chief of Staff Rahm Emanuel.
Boston Globe: Health pioneer may get Obama post
Dr. Paul Farmer, the global health crusader who has crafted lifesaving projects from Haiti to Rwanda, has told colleagues privately that he is mulling a possible appointment by the Obama administration to coordinate the United States' growing overseas health initiatives.
NYT: On Abortion, Obama Is Drawn Into Debate He Hoped to Avoid
In nearly four months in office, President Obama has pursued a careful two-pronged strategy on abortion, enacting policies that secure a woman's right to the procedure while vowing to move beyond the culture wars that have divided the nation on the issue for more than three decades.
The Daily Beast: Cheney's Role Deepens
Former NBC News investigative producer Robert Windrem reports that the vice president's office suggested waterboarding an Iraqi prisoner who was suspected of knowing about a relationship between al Qaeda and Saddam.
Washington Post: A Single-Minded Focus on Dual Wars
"The bureaucracy's first impulse was to deny that the demand really existed," said Brad Berkson, who served as director of program analysis and evaluation in the defense secretary's office.
WSJ Op-Ed: Orszag: Health Costs Are the Real Deficit Threat
This week confirmed two important facts - that health-care costs are the key to our fiscal future, and that even doctors and hospitals agree that substantial efficiency improvements are possible in how medicine is practiced.
CS Monitor: To probe detainee abuse, Congress leans toward outsourcing
Congress is on track to punt its toughest investigations – including the hot-button one over harsh and possibly illegal treatment of terrorism suspects – to freshly minted, independent commissions, seen as freer of partisan rancor than the House and Senate.
NATIONAL
For the latest national news: www.CNN.com.
CNN: Three NYC schools closing for week over H1N1 flu
Five new cases of the H1N1 virus in New York City schools will force three schools to close for a week, Mayor Michael Bloomberg said at a news conference Thursday evening.
CNN: Police say they're close to solving triple homicide
Police say they believe they know who killed a 31-year-old Southern Illinois woman and her two young sons, but are waiting for prosecutors to build a strong forensic case against the suspect before disclosing his identity.
CNN: Legal fight brews over 'Farrah's Story'
As Ryan O'Neal walked the red carpet at the premiere of "Farrah's Story," he stopped every few feet to answer reporters' questions about Farrah Fawcett's battle with cancer.
USA Today: Medical grant requests overwhelm agency
Scientists from around the country are scrambling to get a share of new federal stimulus funding designed to enhance innovative research.
LA Times: Kaiser hospital fined $250,000 for privacy breach in octuplet case
California health regulators fined Kaiser Permanente's Bellflower hospital $250,000 Thursday for failing to keep employees from snooping in the medical records of Nadya Suleman, the mother who set off a media frenzy after giving birth to octuplets in January.
Bloomberg: Superfood' Promoted on Oprah's Site Robs Amazon Poor of Staple
Rising U.S. sales of acai, a purple Amazon berry promoted as a "superfood" on Oprah Winfrey's Web site, are depriving Brazilian jungle dwellers of a protein-rich nutrient they've relied on for generations.
Boston Globe: Waits to see Hub doctors grow longer
Despite Boston's abundance of top-notch medical specialists, the waits to see dermatologists, obstetrician-gynecologists, and orthopedic surgeons for routine care have grown longer – to as much as a year for the busiest doctors.
The Economist: The rebirth of news
THE race is crowded, but San Francisco stands a fair chance of becoming the first major American city without a daily newspaper. The San Francisco Chronicle, founded in 1865, is trimming its already pared-down staff in an attempt to avoid closure. And if it does disappear? "People under 30 won't even notice," says Gavin Newsom, the city's mayor.
Lexington-Herald Leader: 8,000 feet under: In Kentucky, quest to bury CO2 is halfway
Beside a cow pasture in Hancock County, scientists are drilling through 8,000 feet of rock, hoping to learn how to lock away forever an invisible gas that threatens Earth's climate and our way of life.
USA Today: Study: Ginger can help reduce nausea after chemotherapy
Ginger capsules can relieve the nausea caused by chemotherapy, a new study shows.
USA Today: Finding help to pay for college: You just need to know where to look
The staff at Scholarship America, the nation's largest scholarship administrator, fielded more phone calls from families this year and noticed a heightened sense of urgency among callers.
INTERNATIONAL
For the latest international news: http://edition.cnn.com/
CNN: Clinton hopeful for detained U.S. journalists
U.S. Secretary of State Hillary Clinton said Thursday that North Korea's announcement of a trial date for two American journalists could signal that their detention will be resolved soon.
CNN: Abuse photos put U.S. in 'double catch-22'
The one-star general almost yells when asked to talk about the infamous Abu Ghraib photos showing U.S. soldiers abusing Iraqi detainees.
CNN: 'Slumdog Millionaire' child star's 'illegal' home demolished
"Slumdog Millionaire" leaves audiences uplifted. But that is hardly how one of its child stars felt on Thursday.
BBC: Pakistan lifts Swat valley curfew
Pakistan's army has temporarily lifted the curfew in large parts of the Swat valley, to allow civilians to flee the intense fighting against the Taleban.
Al Jazeera: Madagascar leader 'will go home'
Madagascar's ousted president has said he is "confident" he will return home and suggested he could use force to achieve that aim.
NYT: Mexican Data Say Migration to U.S. Has Plummeted
Census data from the Mexican government indicate an extraordinary decline in the number of Mexican immigrants going to the United States.
Jerusalem Post Exclusive: IAF revamps security measures following breaches
New security measures have been taken to secure several air force bases across the country after soldiers disguised as civilians managed to breach security in a top-secret base in the South and even steal a computer and codes to war rooms, The Jerusalem Post has learned.
WSJ: Muslim Brotherhood Falters as Egypt Outflanks Islamists
Egypt's Muslim Brotherhood is on the defensive, its struggles reverberating throughout Islamist movements that the secretive organization has spawned world-wide.
Times of London: Silvio Berlusconi attacks press for defamation over unanswered questions
Silvio Berlusconi has launched a fierce attack on La Repubblica, accusing the newspaper of defamation and denigration after it challenged him to explain his relationship with Noemi Letizia, the teenager who calls him Papi.
Business Week: Can China Go Green?
China's unprecedented growth in recent years has come at a terrible price. Two-thirds of its rivers and lakes are too polluted for industrial use, let alone agriculture or drinking. Just 1 in 100 of China's nearly 600 million city dwellers breathes air that would be considered safe in Europe. At a time when arable land is in short supply, poisoned floodwaters have ruined many productive fields. And last year, ahead of most forecasts, China passed the U.S. to become the world's largest source of greenhouse gases.
BUSINESS
For the latest business news: www.CNNMoney.com.
CNN: Next on the block: 2,600 GM dealers
The next auto businesses on the chopping block will be 2,600 General Motors dealerships.
CNN: 55,000 helped by Obama mortgage rescue
More than 55,000 troubled homeowners have received loan modification offers under President Obama's foreclosure prevention program, officials said Thursday.
WSJ: BofA Urged by Regulators to Revamp Board of Directors
Federal officials have pressured Bank of America Corp. to revamp its board by bringing in directors with more banking experience, as regulators place the bank under increasingly heavy government scrutiny.
Financial Times: Treasury plans help for muni bond market
The US Treasury would provide a backstop to stricken states like California, which are struggling to raise debt, under legislation due to be introduced to Congress.
The Economist: Three trillion dollars later...
COULD there be a better time to be a bank? If you have capital and courage, the markets are packed with opportunities—as they well understand at Goldman Sachs, which is once again filling its boots with risk. Governments are endorsing high leverage and guaranteeing huge parts of the financial system, so you get to keep the profits and palm off the losses on the taxpayer.
Financial Times: Toyota plans top-level overhaul
Toyota Motor is planning one of the most drastic management overhauls in its 70-year history next month when Akio Toyoda, grandson of the Japanese car company's founder, takes over as chief executive.