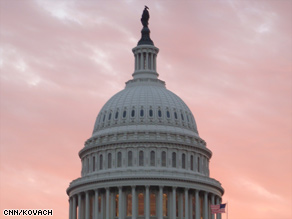 The CNN Washington Bureau's morning speed read of the top stories making news from around the country and the world.
WASHINGTON/POLITICAL
For the latest political news: www.CNNPolitics.com.
CNN: Obama calls for 'common ground' on abortion at Notre Dame
President Obama delved into the abortion debate in a controversial Notre Dame commencement address Sunday, calling for a search for common ground on one of the most divisive issues in American politics.
CNN: Obama girds for Supreme Court fight
President Obama has started arming for the possibility of a major Supreme Court nomination battle, pulling a longtime Democratic power player into the White House to help run the confirmation process, senior administration officials told CNN.
CNN: Iraq war case wasn't built on the waterboard, Liz Cheney says
Waterboarding was not used to produce intelligence that linked Iraq to al Qaeda in the run-up to the war in Iraq, former Vice President Dick Cheney's daughter said Sunday.
CNN: GOP leader on Pelosi's claim: Provide proof or apologize
House Minority Leader John Boehner turned up the heat Sunday in the escalating war of words between House Speaker Nancy Pelosi, congressional Republicans, and the CIA over Pelosi's knowledge of enhanced CIA interrogation techniques including water boarding.
CNN: Obama to visit Ghana in July
President Obama will rack up plenty of frequent flyer miles this summer with planned trips in Africa, Russia and Italy.
CNN: Obama names moderate Republican as envoy to China
President Obama announced Saturday that his choice for U.S. ambassador to China is moderate Republican Utah Gov. Jon Huntsman, who expressed some surprise at the appointment.
NYT: Pakistan Is Rapidly Adding Nuclear Arms, U.S. Says
Members of Congress have been told in confidential briefings that Pakistan is rapidly adding to its nuclear arsenal even while racked by insurgency, raising questions on Capitol Hill about whether billions of dollars in proposed military aid might be diverted to Pakistan's nuclear program.
Washington Post: At Geithner's Treasury, Key Decisions on Hold
The delay is one of many hitches that have slowed a host of important policy actions in the four months since Timothy F. Geithner became Treasury secretary. While Geithner has taken dramatic steps to address flashpoints in the economy, the work of carrying out those policies has bogged down because critical decisions about how to do so aren't being made, interviews with a broad range of federal officials show.
LA Times: Industry is warming up to Obama's climate plan
Sprawling across about 9,000 acres of rolling farmland in southwestern Indiana is one of the world's biggest aluminum smelters, operated by Alcoa Inc. The maze of rectangular buildings and giant smokestacks consumes enough electricity to supply a city of 200,000 - power generated by burning more than 2 million tons of coal a year.
Chicago Tribune: William Ayers, Rev. Jeremiah Wright Jr. headline Mideast peace rally
The day before President Barack Obama was to meet with Israel's prime minister, community activists, clergy and residents marched through Oak Park on Sunday to call for a just solution to the Israeli-Palestinian conflict.
Washington Times Editorial: Intelligence under siege
House Speaker Nancy Pelosi's war with the CIA could not come at a worse time for America's beleaguered intelligence agencies. When the United States needs its intelligence arms the most – to combat terrorism, track Iran's nuclear-weapons program and fend off foreign espionage – they are under assault from many quarters.
BusinessWeek: Obama's Team Sticks to Its To-Do List
Last week was a busy one for Administration watchers, particularly on the financial and economic front, with new announcements or leaks on financial regulation, executive pay, corporate taxes, and more. Except that much of what was announced wasn't all that new after all.
Newsweek: A Highly Logical Approach
In a 30-minute interview aboard Air Force One en route from Washington to Phoenix last Wednesday, President Obama talked with NEWSWEEK's Jon Meacham about Afghanistan, Iran, Israel, Pakistan, Dick Cheney—and Star Trek.
NYT: From Serving in Iraq to Welcoming White House Guests
Have you met Rotus? This is a question President Obama has taken to asking some of his visitors to the White House. In a bureaucratic world awash in abbreviations and acronyms, this one in particular seems to amuse him.
McClatchy: Even with Obama in charge, anti-war Democrats powerless
The anti-war crowd had waited years for this moment, when it could finally use its political muscle to end or at least sharply curtail American involvement in a war that seems endless.
CBS: Bob Gates, America's Secretary Of War
He calls himself the "Secretary of War." Robert Gates, Secretary of Defense for both Presidents Bush and Obama is the man in charge of winding down the war in Iraq and building up the war in Afghanistan.
Real Clear Politics: Bad Cop-Good Cop, Netanyahu Can Help Obama
President Barack Obama and Israeli Prime Minster Benjamin Netanyahu sit down for the first time today as respective heads of state. The U.S. diplomatic class generally believes the conservative Israeli government undercuts Obama's efforts to engage the Arab world. There is to be private confrontation, we are told, of policy and worldview between the two men.
Boston Globe: Northeast trails in race for rail funds
As the Obama administration prepares to hand out $8 billion in seed money for a national network of fast trains, New England finds itself competing against states and regions that have put far more time and money into planning.
NATIONAL
For the latest national news: www.CNN.com.
CNN: New York principal's death linked to flu virus, hospital says
An New York middle school assistant principal who was hospitalized with the H1N1 virus, commonly known as swine flu, died Sunday apparently from flu complications, a hospital spokesman said.
CNN: Electric vehicles offer rides in the green lane
When you think scooter, you might think of something a child would ride.
CNN: Tips for getting insurance when you have a pre-existing condition
Nineteen-year-old Stuart Wald is not likely to grow out of his schizophrenia, bipolar disease and attention-deficit disorder. But he will, with 100 percent certainty, grow out of the health insurance coverage he has through his father's employer - and that day is just a few years away.
NYT: A Hearing Test Made for the Big City
Mr. McCarthy is deaf in his left ear and uses a hearing aid in his right ear. He was one of the first people to try a new audiovisual hearing test tailor-made for a city that by all accounts never shuts up.
Washington Post: Nuclear Cleanup Awards Questioned
A private company was being paid $300 million by the federal government to clean up radioactive waste at two abandoned Cold War plants in Tennessee when an ironworker crashed through a rotted floor. That prompted a major safety review, which ended up forcing work to an abrupt halt, and the project was shut down for months. The delay and a host of other problems caused cost estimates to rise, eventually hitting $781 million.
LA Times: MTA security guards accused of roughing up commuters
Los Angeles commuters have been improperly detained, pushed, choked and struck by Metropolitan Transportation Authority security guards, according to interviews and internal law enforcement memos obtained by The Times.
Business Week: Immigration: When Only 'Geniuses' Need Apply
In the coming weeks, President Barack Obama will begin his push to overhaul the U. S. immigration system, and almost every aspect of the effort will prove controversial. Millions of undocumented, low-skill immigrants and their supporters will square off against groups like the Minutemen, who want to close the border with Mexico and expel people who are in the country illegally. Technology companies such as Microsoft (MSFT), IBM (IBM), and Google (GOOG) will argue to make it easier for high-skill workers to come to the U.S., while tech workers will lobby fiercely to restrict such programs.
WSJ: Children's Use Of Psychiatric Drugs Begins To Decelerate
The growth in antipsychotic-drug prescriptions for children is slowing as state Medicaid agencies heighten their scrutiny of usage and doctors grow more wary of the powerful medications.
LA Times: Phoenix's housing bust goes boom
Phoenix's housing bust has turned into a quasi-boom, a sign that its market may have hit bottom and a sneak preview of what a national housing recovery could look like. More homes are selling than at any time since 2006. Prices are slowly stabilizing. Buyers are once again finding themselves in frantic bidding wars - only this time over foreclosed houses selling at deep discounts rather than ranch homes listing for vast sums.
Denver Post: Drug cards gain favor
With no end in sight to the health-care debate, cities and counties are finding creative ways to pool resources to cut prescription bills. Cities, counties and chambers of commerce throughout Colorado — and the nation — are handing out free discount drug cards to help residents weather the rotten economy.
Washington Post: Poor? Pay Up.
Put it another way: The poorer you are, the more things cost. More in money, time, hassle, exhaustion, menace. This is a fact of life that reality television and magazines don't often explain.
BBC: Keep working 'to avoid dementia'
Keeping the brain active by working later in life may be an effective way to ward off Alzheimer's disease, research suggests.
Anchorage Daily News: Homeless seek truth about rash of deaths
The bodies are among four dead men discovered outdoors in Anchorage in a 10-day span this month, though police say there's no apparent connection among the deaths. The other bodies were found in a tent in a homeless camp off Third Avenue and in the woods along Chester Creek near Sullivan Arena.
Miami Herald: Everglades invaders targeted
Water managers dispatched two experts to Washington, D.C., recently to back a controversial congressional bill targeting an Everglades problem that seems to get bigger every year.
INTERNATIONAL
For the latest international news: http://edition.cnn.com/
CNN Analysis: Hezbollah win could shake Obama Mideast policy
Since the moment Barack Obama took office, he has made a concerted effort to speak directly to the Muslim world.
CNN: Military: Troops kill 3 Tamil Tigers leaders
The Sri Lankan military said Monday that they killed three top leaders of the Tamil Tigers and the son of the rebel group's founder.
CNN: Abuse of child 'witches' on rise, aid group says
Christian Eshiett was a rambunctious pre-teen who spent a lot of time cavorting with his friends in southern Nigeria. He would skip school and run away from home for days, frustrating his grandfather, who oversaw the boy's care.
Jersualem Post: Netanyahu to focus on Iran with Obama, adviser says
The main thrust of Prime Minister Binyamin Netanyahu's comments during his long-awaited meeting with US President Barack Obama on Monday will concern Iran, because of Teheran's consistent progress toward developing nuclear arms, Uzi Arad, Netanyahu's national security adviser, said Sunday.
NYT: W.H.O. May Raise Alert Level as Swine Flu Cases Leap in Japan
The number of swine flu cases in Japan soared over the weekend, raising the likelihood that the World Health Organization will soon have to raise its pandemic alert level to 6, the highest level.
Washington Post: Sri Lankan Rebels Admit Defeat, Vow to Drop Guns
Cornered into a tiny patch of jungle about the size of a football field, the Tamil Tiger rebels - who once operated a shadow state complete with a law school, a tax system, a navy and even traffic police - vowed Sunday to lay down their weapons for good, in a stunning and unprecedented admission of defeat in Asia's longest-running war.
WSJ: Mexico Hunts Prisoners Freed in Raid
Mexican police and soldiers backed by helicopters searched Sunday for 53 inmates who escaped in a daring commando-style raid that underlined how drug traffickers have infiltrated the country's prisons as well as its police forces.
Times of London: Michael Martin tries to save job with reforms on MPs' expenses
Michael Martin will make a last desperate attempt to save his job as Speaker today after both main opposition parties declared his position untenable.
WSJ: China Envoy Brings Deep Skill Set to Job
Utah Gov. Jon Huntsman Jr., President Barack Obama's choice for China envoy, is a former businessman and trade official with a direct understanding of the commercial issues that are likely to color one of the U.S.'s most important bilateral relationships.
BUSINESS
For the latest business news: www.CNNMoney.com.
WSJ: Madoff Victims Investigated
The criminal investigation into who knew about Bernard L. Madoff's massive fraud has expanded to include some of his highest-profile investors, according to people familiar with the matter.
Bloomberg: Toshiba Begins $3 Billion Sale of New Shares, E-Mail Says
Toshiba Corp., Japan's biggest maker of semiconductors, began the sale of more than $3 billion of stock after a record loss wiped out more than half of the company's capital last year.
NYT: New Mood in Antitrust May Target Google
For decades, the nation's biggest antitrust cases have centered on technology companies. And they have all been efforts by the government to deal with powerful companies with far-reaching influence, like AT&T, the telephone monopoly; I.B.M., the mainframe computer giant; and Microsoft, the powerhouse of personal computer software.
Washington Post: Board to Ban Accounting Practice That Helped Lending Proliferate
The end is nearing for an accounting trick destined to be remembered as a hallmark of the housing boom, because it allowed financial firms to conceal a vast expansion in their lending from regulators and investors.
Financial Times: Study finds analyst tips don't move prices
Analysts' "buy" and "sell" tips have almost no effect on share prices, according to research that confounds long-held beliefs over the influence of stock-pickers and calls into question investors' and banks' need to pay for their services.
Washington Post: D.C. Bills Itself as the Capital of Tourism, Too
Rain or shine, summer begins this Memorial Day weekend for the travel industry, and the forecast is cloudy with a strong chance of scattered tourists.
In Case You Missed It
To watch the latest interviews and reporting: http://www.cnn.com/video.
CNN: GOP leader slams Pelosi
House Minority Leader John Boehner weighs in on Rep. Nancy Pelosi's recent claims about the CIA and waterboarding.
CNN: Orszag on health care
White House Budget Director Peter Orszag sits down with CNN's John King to discuss the budget and health care reform.
CNN: Gingrich vs. Pelosi
The controversy ignited thursday and has been a blazing political wildfire since. CNN's Fredricka Whitfield explores.