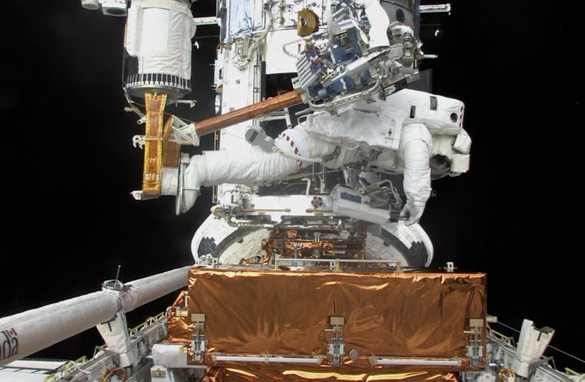 The president spoke Wednesday with the crew of the Space Shuttle Atlantis after the astronauts repaired the Hubble Telescope during several spacewalks. (Photo Credit: NASA)
(CNN) - President Barack Obama beamed up a special message to the crew of the Space Shuttle Atlantis on Wednesday, two days before the astronauts are scheduled to return to Earth.
"I wanted to tell you personally how proud I am," Obama said in a brief phone chat. "I think you're just providing a wonderful example of the kind of commitment to exploration that represents America."
Atlantis launched May 11 for NASA's fifth and final repair visit to the Hubble Space Telescope. It was released back into orbit Tuesday morning.
In space for 19 years, the Hubble can capture clear images that telescopes on Earth cannot, partly because it does not have to gaze through murky atmosphere.
Obama said it was amazing to watch the astronauts do their work and called the Hubble "an iconic symbol of the quest for knowledge."
"By allowing Hubble to continue on its journey, you've really allowed all of us to continue on our journey for growth and exploration."

The shuttle crew took the day off Wednesday but will prepare for its journey back to Earth on Thursday.
They will have a new boss in the near future - the president told the crew he would soon name a new NASA administrator.
"Just so we're sure, the new administrator is not any of us on the flight deck, is it?" joked Mission Commander Scott Altman.
The president refused to give any hints, but did ask if he could get a copy of pictures of Chicago taken from space.
"Did you guys see my house?" Obama asked. "I'm trying to figure out if my lawn is getting mowed."