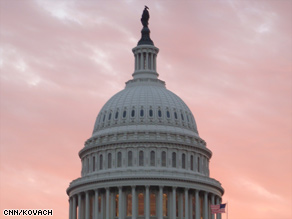 The CNN Washington Bureau's morning speed read of the top stories making news from around the country and the world.
WASHINGTON/POLITICAL
For the latest political news: www.CNNPolitics.com.
CNN: North Korea confirms second nuclear test
North Korea has conducted its second nuclear test, the country's state news agency announced Monday.
CNN: Obama looking for 'common touch' in Supreme Court nominee
President Barack Obama wants intellectual firepower and a common touch in the next Supreme Court justice, and doesn't "feel weighed down by having to choose ... based on demographics."
CNN: Benefits proposed for same-sex partners of U.S. diplomats
The U.S. State Department wants to extend the same benefits to partners of gay and lesbian American diplomats as their heterosexual counterparts enjoy, according to a notice that Secretary of State Hillary Rodham Clinton is preparing to send out to employees.
CNN: Ridge takes aim at Limbaugh
Pennsylvania Republican Tom Ridge is taking direct aim at Rush Limbaugh, telling CNN's John King the conservative talk radio host can be "shrill" and uses language in a way "that offend very many."
CNN: Powell: 'I am still a Republican'
Former Secretary of State Colin Powell struck back Sunday at critics of his decision to support Barack Obama's presidential candidacy last year.
CNN: Rove sides with Limbaugh
In the ongoing war of words between Rush Limbaugh and Colin Powell, top Bush strategist Karl Rove is siding with the popular talk radio host.
CNN: Ridge not ready to back Toomey
He ruled out a bid earlier this month to challenge Pat Toomey for the GOP Senate nomination in Pennsylvania, but Tom Ridge isn't ready to back the conservative former congressman or any other candidate yet.
NYT: In Utah, a National Debate About the G.O.P. Plays Out on a Smaller Stage
Gov. Jon Huntsman Jr. of Utah, a hugely popular Republican from one of the nation's most conservative states, made waves and headlines in recent months by suggesting that his party would need to move toward the center to start winning national elections again.
Washington Post: Justice Dept. Investigates Pa. Contractor Tied to Murtha
In tiny, cash-strapped Monongahela, Pa., the city clerk was stunned when federal investigators arrived this fall with a subpoena seeking information on a crime-fighting grant she'd never heard of. She takes pride in tracking every dollar in the municipal budget.
McClatchy: Florida GOP's all-white ticket for 2010 may be liability
At a time when the Florida electorate is growing increasingly diverse, the Republican party is gearing up to field an all-male, all-white slate in 2010.
NATIONAL
For the latest national news: www.CNN.com.
CNN: Dover 'Old Guard' team shoulders heavy burden
Staff Sgt. Cody Reeves has survived harrowing conditions and stared down enemies on the battlefield during two tours in the military hotspots of Iraq.
CNN: New York City reports 2nd swine-flu-related death
A second New York City resident has died after contracting swine flu, the city's Health Department reported Sunday.
CNN: California landing ends shuttle's Hubble trip
Space shuttle Atlantis landed Sunday at Edwards Air Force Base after rainy weather in Florida precluded a landing at Kennedy Space Center.
CNN: Judge shields Craigslist from prosecution in South Carolina
A South Carolina judge has ordered the state attorney general's office to stop pursuing criminal charges against Craigslist.com while a lawsuit related to prostitution ads on the popular classifieds site makes its way through the courts.
CNN: King: Luck running low in Las Vegas
A search online turns up rooms at Fitzgeralds Casino and Hotel for as low as $26 - a sure sign the recession is taking a toll on Las Vegas and rates are being slashed to attract visitors.
NYT: With Billions at Stake, Trying to Expand the Meaning of 'Renewable Energy'
The definition of renewable energy seems clear cut: The sun continues to shine, so solar energy is renewable. The wind continues to blow, so wind turbines churn out renewable power.
Washington Post: Threats to Judges, Prosecutors Soaring
Threats against the nation's judges and prosecutors have sharply increased, prompting hundreds to get 24-hour protection from armed U.S. marshals. Many federal judges are altering their routes to work, installing security systems at home, shielding their addresses by paying bills at the courthouse or refraining from registering to vote. Some even pack weapons on the bench.
Washington Post: A Life Lost, a Plan Derailed, A Fiancee Left in Limbo
So much now depends on the ring. For Kyle Harper, there are few other signs remaining of the life she should have had with her fiance. For the longest time, she kept the diamond engagement ring on her finger. It proved what the world at times refused to acknowledge: that she had mattered to Sgt. Michael Hullender.
Washington Post: New Rules on Stem Cells Threaten Current Research
When President Obama lifted restrictions on federal funding of human embryonic stem cell research in March, many scientists hailed the move as a long-awaited boost for one of the most promising fields of medical research.
Washington Post: Defense Dept., Industry Join to Protect Data
At 2:42 p.m. one recent Wednesday, on the fourth floor of a squat brick office building under the flight path of jets landing at Baltimore-Washington International Marshall Airport, a Pentagon analyst skilled in parsing malicious computer code e-mailed a threat alert to 28 of the nation's largest defense contractors.
Boston Globe: Remains are lost in race for relics
To the US military, Carter Lutes, a pilot who vanished in Papua New Guinea in April 1944, is one of the lost heroes of World War II. The Pentagon still hopes to recover him. Until then, it considers his jungle crash site a sacred place – and the last known clue to finding him.
LA Times: Realtors are abandoning a listing ship
Marco Huerta and Youngmin Bae bought their Burbank home without ever meeting their real estate agent. Instead, they scoured listings for their favorite neighborhoods, haggled over prices and even wrote their offer using Marco's cellphone.
INTERNATIONAL
For the latest international news: http://edition.cnn.com/
CNN: Hezbollah denies link to Hariri murder
The militia group Hezbollah has dismissed a German magazine report that it was behind the assassination of former Lebanese Prime Minister Rafik Hariri, calling the accusations "fabrications."
CNN: Ex-Taliban claims abuse at Gitmo, Bagram: 'They were beating me'
As one of the right-hand men to Taliban leader Mullah Omar, Mullah Abdul Salam Zaeef was one of the first Taliban leaders arrested when the United States began military operations in Afghanistan.
CNN: Tamil rebels acknowledge leader is dead
Tamil Tiger rebels acknowledged the death of their leader Sunday, nearly a week after the Sri Lankan government said it had recovered the body of Velupillai Prabhakaran and declared victory in the country's 25-year civil war with the rebels.
CNN: Violence hits Austrian Sikh temple
Sixteen people were wounded and a guru was shot to death in an outbreak of violence between rival Sikhs at an Indian temple in Vienna, Austria, police said.
CNN: Refugees survive on food 'cows won't eat'
It's an exodus on an almost biblical scale. And it has produced a mosaic of plastic and canvas that is now home to more than 93,000 people - with more arriving each day.
CNN: U.N. seeks full access to Sri Lankan refugee camps
Shell-shocked and scarred both inside and out, they huddle in tents, water and medicine in short supply - hundreds of thousands of people, civilian victims of Sri Lanka's recently-ended civil war.
NYT: U.S. Captain Hears Pleas for Afghan Detainee
Capt. Kirk Black, who trains the Afghan police in this impoverished province, developed a practiced skepticism about claims of innocence during a decade as a Baltimore police officer.
McClatchy: Former Iraqi insurgent contemplates returning to war
Abu Fatma dresses in suits now. He cuts his hair short and talks like a politician.
BUSINESS
For the latest business news: www.CNNMoney.com.
CNN: Wall Street: Flat is good
Investors will return from the long weekend for what could be a pivotal moment on Wall Street.
NYT: Job Losses Push Safer Mortgages to Foreclosure
As job losses rise, growing numbers of American homeowners with once solid credit are falling behind on their mortgages, amplifying a wave of foreclosures.
NYT: Ad Revenue on the Web? No Sure Bet
For anyone with a crazy idea for a Web business, the way to make it pay was once obvious: get a lot of visitors and sell ads. Since 2004, venture investors have put $5.1 billion into 828 Web start-up companies, and most of them are supported by ads, according to the National Venture Capital Association.
LA Times: Robocall case sheds light on a secretive industry
The despised robocall companies that send out illegal recorded calls nationwide to try and get people to buy car warranties or apply for credit cards are among the most secretive operations outside the CIA.
Financial Times: China stuck in 'dollar trap'
China's official foreign exchange manager is still buying record amounts of US government bonds, in spite of Beijing's increasingly vocal fear of a dollar collapse, according to officials and analysts.
In Case You Missed It
To watch the latest interviews and reporting: http://www.cnn.com/video.
CNN: Push for gay rights
CNN's Randi Kaye talks with Charles Moran of the Log Cabin Republicans about the push for gay rights.
CNN: North Korea's nuclear game
CNN's Morgan Neill reports that North Korea uses nuclear tests to gain concessions from around the world.
CNN: Iraq/U.S. soccer friendly
The U.S. military plays a soccer exhibition with the Iraqi security forces in Baghdad. CNN's Cal Perry reports.
Subscribe to the CNN=Politics DAILY podcast at http://www.cnn.com/politicalpodcast.
And now stay posted on the latest from the campaign trail by downloading the CNN=Politics SCREENSAVER at http://www.CNN.com/situationroom.