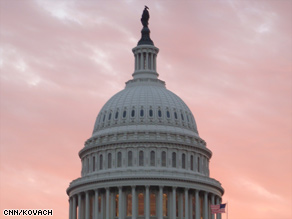 The CNN Washington Bureau's morning speed read of the top stories making news from around the country and the world.
WASHINGTON/POLITICAL
For the latest political news: www.CNNPolitics.com.
CNN: Who is Sonia Sotomayor?
Judge Sonia Sotomayor knew she wanted to go into law from an early age.
CNN: Limbaugh slams Sotomayor: 'Reverse racist'
While Republicans on Capitol Hill appear to be adopting a wait-and-see approach with Supreme Court nominee Sonia Sotomayor, conservative talk radio host Rush Limbaugh is taking direct aim at President Obama's choice for the high court.
CNN: Steele: GOP must be careful on Sotomayor
The head of the Republican Party wants his forces to watch their steps when it comes to Supreme Court hopeful Sonia Sotomayor.
CNN: Judge OKs request for secret Burris tapes
A federal judge on Tuesday approved sending to the U.S. Senate Ethics Committee recordings of secretly taped conversations between Sen. Roland Burris and former Illinois Gov. Rod Blagojevich's brother, which took place before the Burris appointment.
CNN: Partisan confirmation hearings expected for Sotomayor
When Sonia Sotomayor won Senate confirmation to the U.S. Court of Appeals in 1998, all 29 "no" votes were cast by Republicans.
CNN: Obama urges Myanmar to release Aung Sang Suu Kyi
President Obama called Tuesday for the immediate and unconditional release of Myanmar opposition leader Aung San Suu Kyi, who is on trial for subversion.
CNN: Police officers saved by stimulus may still lose jobs
It was a success story the White House was eager to highlight: Earlier this year, President Obama attended the graduation of 25 police recruits in Columbus, Ohio, touting it as a victory for the federal stimulus package.
CNN: Liz Cheney doesn't rule out future run for office
Liz Cheney, the daughter of former Vice President Dick Cheney and a former State Department official, said Tuesday that she isn't planning to run for public office anytime soon, but didn't rule out the possibility for the future.
CNN: Huckabee: Steele immune from 'the racism charge'
Mike Huckabee said over the weekend that Michael Steele is doing "a good job" as chairman of the Republican National Committee — in part because of the color of his skin.
NYT: Antitrust Laws a Hurdle to Health Care Overhaul
President Obama's campaign to cut health costs by $2 trillion over the next decade, announced with fanfare two weeks ago, may have hit another snag: the nation's antitrust laws.
NYT: Weiner Decides to Stay Out of Mayoral Campaign
Representative Anthony D. Weiner, the one-time front-runner in the campaign for mayor who became a frustrated sideline player, has made it official: he is staying out of the race.
NYT: Leadership Mystery Amid N. Korea's Nuclear Work
In dealing with North Korea, American officials are reduced to studying two-month-old photographs of its reclusive leader, Kim Jong-il, to calculate how long he is likely to live. The new administration's North Korea team includes a special emissary who works part time as an academic dean and a State Department official who has yet to be confirmed by Congress.
Washington Post: Once Considered Unthinkable, U.S. Sales Tax Gets Fresh Look
With budget deficits soaring and President Obama pushing a trillion-dollar-plus expansion of health coverage, some Washington policymakers are taking a fresh look at a money-making idea long considered politically taboo: a national sales tax.
USA Today: 'There are Catholics and there are Catholics'
If you like digging for subtexts and spotting thinly-disguised barbs, early reaction among Catholic voices to Judge Sonia Sotomayor's nomination to the U.S. Supreme Court may be catnip for you.
NATIONAL
For the latest national news: www.CNN.com.
CNN: Tyson's daughter dies after accident, police say
The 4-year-old daughter of boxing legend Mike Tyson died Tuesday, a day after she was injured in a treadmill accident at her home, police in Phoenix, Arizona, said.
CNN: Judge orders chemotherapy for 13-year-old cancer patient
A judge Tuesday ordered chemotherapy for the 13-year-old Minnesota boy with cancer whose mother had fled with him rather than comply with a doctor's recommendation that he undergo such treatment.
CNN: California high court upholds same-sex marriage ban
California's Supreme Court has upheld a ban on same-sex marriage that state voters passed in November, but allowed about 18,000 marriages performed before the ban to remain valid.
CNN: What's next for the same-sex marriage debate?
While California's Supreme Court on Tuesday upheld a ban on same-sex marriages that voters voters passed in November, the fight will undoubtedly go forward.
CNN: U.S., Canada gear up for new border ID requirements
Americans and Canadians heading to the United States from Canada on vehicles or cruise ships will face new entry requirements beginning next week, the Homeland Security Department said.
CNN: Former NYPD commissioner Kerik indicted
Former New York police commissioner Bernard Kerik was indicted on charges of making false statements to White House officials vetting him for the secretary's seat at the Department of Homeland Security in 2004, federal prosecutors said Tuesday.
NYT: U.S. Expected to Own 70% of Restructured G.M.
In better times, many employees of General Motors called their company "Generous Motors" because of its rich benefits.
Washington Post: Chrysler on Pace for Swift Finish to Restructuring
When Chrysler filed for bankruptcy April 30, restructuring veterans scoffed at the idea that such a big company could move through the process quickly, and industry veterans warned that the U.S. manufacturing base would be deeply disrupted.
WSJ: Towns Rethink Self-Reliance as Finances Worsen
As the recession batters city budgets around the U.S., some municipalities are considering the once-unthinkable option of dissolving themselves through "disincorporation."
INTERNATIONAL
For the latest international news: http://edition.cnn.com/
CNN: N. Korea: No longer bound by 1953 truce
North Korea threatened military action Wednesday after South Korea joined a U.S.-led effort to limit the trafficking of weapons of mass destruction, the official Korean Central News Agency said.
CNN: Blast destroys police building in Lahore
A well-coordinated attack involving gunmen and an explosives-packed vehicle reduced a police building, with at least 200 people inside, to rubble in the eastern Pakistani city of Lahore on Wednesday.
CNN: Report: N. Korea fires another missile
North Korea has fired another short-range missile, the South Korean Yonhap News Agency reported on Wednesday.
CNN: Pakistan's top court allows Nawaz Sharif to run for political office
Pakistan's Supreme Court overturned its ban on opposition leader Nawaz Sharif and his brother, allowing both men to run for political office, a court representative told CNN Tuesday.
CNN: Secret raids ensnare 10 mayors in Mexico
More than two dozen Mexican public servants, including 10 mayors and several police chiefs, allegedly linked to illicit drugs and organized crime were arrested in simultaneous raids in Michoacan state, its governor said.
CNN: More Somalis flee heavy fighting in capital
Described as the largest single gathering of displaced residents in the world today, tens of thousands of civilians are seeking shelter along the Afgooye corridor outside Mogadishu, according to the United Nations.
CNN: Taliban seek return to peace deal in Pakistan
The Pakistani Taliban - under pressure in fighting with the military - said Tuesday it wants to return to a peace deal that recently collapsed.
CNN: Iranians regain access to Facebook, Twitter
The online networking sites Facebook and Twitter were back in business for Iranians Tuesday, a day after the government banned the country's access to them, a freelance writer said.
Washington Post: Police Arrest 11 Men After Slaying in N. Ireland
Police in Northern Ireland have arrested 11 Protestant men after the slaying Sunday evening of a 49-year-old Catholic man, a brutal reminder of how religion-based violence and tension are still an everyday reality in the province.
McClatchy: Venezuela's economy reels as oil income is cut in half
Prices for home appliances have skyrocketed, pharmacies are reporting shortages of drugs and General Motors is planning to stop car production here next month, as measures by the Venezuelan government to conserve dollars ripple through the weakening economy.
BUSINESS
For the latest business news: www.CNNMoney.com.
CNN: GM bondholders reject offer
General Motors has fallen far short of the bondholder support it needed for its proposed debt-for-stock offer, according to a source familiar with the matter, virtually guaranteeing that the nation's largest automaker will be forced to file for bankruptcy court protection within the week.
CNN: Sotomayor: Important business awaits
Business advocates started scrambling on Tuesday to figure out whether Supreme Court nominee Judge Sonia Sotomayor would be good or bad for companies.
NYT: Russians Spend Big for a Piece of Facebook
A Russian investment firm, Digital Sky Technologies, has invested $200 million in the social networking company Facebook in return for a 1.96 percent stake, the two companies said Tuesday.
Boston Globe: GE says it has reduced greenhouse emissions
Industrial conglomerate General Electric Co. says it has reduced its greenhouse gas emissions and is making a growing amount of money from its environmentally conscious business plan launched in 2005.
In Case You Missed It
To watch the latest interviews and reporting: http://www.cnn.com/video.
CNN: Huge blast in Lahore
A powerful explosion has ripped through buildings in Lahore, Pakistan.
CNN: Smuggling via tunnels
CNN's Paula Hancocks shows us a tunnel under construction that will be used to smuggle goods into Gaza from Egypt.
CNN: Guns and money heading south
Federal agents crack down on guns and cash moving south of the border and into the wrong hands. Ed Lavandera reports.
Subscribe to the CNN=Politics DAILY podcast at http://www.cnn.com/politicalpodcast.
And now stay posted on the latest from the campaign trail by downloading the CNN=Politics SCREENSAVER at http://www.CNN.com/situationroom.