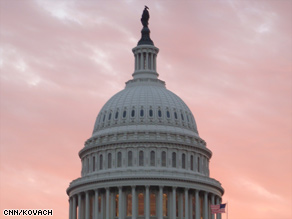 The CNN Washington Bureau's morning speed read of the top stories making news from around the country and the world.
WASHINGTON/POLITICAL
For the latest political news: www.CNNPolitics.com.
CNN: Bush: 'The information we got saved lives'
Former President George W. Bush on Thursday repeated Dick Cheney's assertion that their enhanced interrogation program was legal and garnered valuable information that prevented future terrorist attacks.
CNN: Petraeus says releasing detainee photos would be risky
Releasing images of the alleged abuse of prisoners in U.S. custody could damage Pakistan's efforts to battle Islamic militants as well as increase the risks to American troops in Afghanistan and Iraq, the top U.S. commander in the region has told a federal judge.
CNN: Top Republican calls Limbaugh, Gingrich comments 'terrible'
A top Senate Republican is taking aim at recent statements from conservative commentators Rush Limbaugh and Newt Gingrich suggesting Supreme Court nominee Sonia Sotomayor is a "racist."
CNN: Obama reiterates call for Israel to halt West Bank settlement activity
Israel must halt West Bank settlement activity and the Palestinians need to increase West Bank security to advance the Middle East peace process, President Obama said Thursday after meeting with Palestinian Authority President Mahmoud Abbas.
CNN: Hatch: Sotomayor 'highly likely' to be confirmed, barring surprises
The longest-serving Republican on the Senate Judiciary Committee told CNN Radio on Thursday that, barring any surprises, Sonia Sotomayor is headed for a Supreme Court confirmation.
CNN: Poll: 47 percent give Sotomayor high marks
A poll conducted immediately after President Barack Obama announced his nomination of Judge Sonia Sotomayor to the Supreme Court suggests that nearly half of Americans have a favorable opinion of the president's choice.
CNN: Long-lost Lincoln letter back in federal hands
Few items are more highly prized among collectors of historical artifacts than a handwritten letter from President Lincoln.
CNN: McCain takes a side California governor's race
Sen. John McCain, R-Arizona, will endorse former eBay executive Meg Whitman Friday for governor of California, a Whitman spokesman said.
CNN: House GOP takes aim at Pelosi
House Republicans have launched a coordinated public relations blitz against 17 congressional Democrats that seeks to tie them to House Speaker Nancy Pelosi and her accusations that the CIA misled Congress about the interrogation of terror suspects.
NYT: Pentagon Plans New Arm to Wage Wars in Cyberspace
The Pentagon plans to create a new military command for cyberspace, administration officials said Thursday, stepping up preparations by the armed forces to conduct both offensive and defensive computer warfare.
Washington Post: Abortion Rights Backers Get Reassurances on Nominee
The White House scrambled yesterday to assuage worries from liberal groups about Judge Sonia Sotomayor's scant record on abortion rights, delivering strong but vague assurances that the Supreme Court nominee agrees with President Obama's belief in constitutional protections for a woman's right to the procedure.
Washington Post: Europe Objects Anew to Detainees
The Obama administration's push to resettle at least 50 Guantanamo Bay prisoners in Europe is meeting fresh resistance as European officials demand that the United States first give asylum to some inmates before they will do the same.
Washington Post: Kennedy's Health-Care Measure To Require Employers to Chip In
Sen. Edward M. Kennedy (D-Mass.) is circulating the outlines of sweeping health-care legislation that would require every American to have insurance and would mandate that employers contribute to workers' coverage.
WSJ: Taliban's Foreign Support Vexes U.S.
U.S. officials recently concluded that the Afghan Taliban may receive as much money from foreign donors as it does from opium sales, potentially hindering the Obama administration's strategy to rehabilitate Afghanistan by stopping the country's drug trade.
WSJ: President's Business Ties That Bind
The White House is trying to rev up the economy, pass a big health-care overhaul and change the nation's energy profile. That's pretty obvious.
NATIONAL
For the latest national news: www.CNN.com.
CNN: Ex-soldier apologizes to Iraqi family for raping, killing
A U.S. soldier convicted of murdering an Iraqi family spoke out for the first time Thursday, issuing a public apology for his crimes.
CNN: Obama expected to announce 'cyber czar' position
President Obama is expected to announce Friday the creation of the position of cyber czar, a person who will coordinate the nation's efforts to protect government and private computer systems from hackers, criminal gangs, terrorists and spies, people familiar with the plan said Thursday.
CNN: China quarantines U.S. school group over flu concerns
A group of students and teachers from a Maryland private school have been quarantined in China because of swine flu concerns, a school spokeswoman said Thursday.
CNN: Sully's passengers reunited with items they thought gone forever
It is a boarding pass unlike any other. It's a memory of a day that nearly was his last on earth.
CNN: Priest who broke celibacy vow joins Episcopal Church
Father Alberto Cutie, an internationally known Catholic priest who admitted having a romantic affair and breaking his vow of celibacy, is joining the Episcopal Church to be with the woman he loves, he said Thursday.
CNN: NYC hospital settles with family in waiting room death
The family of a woman who died ignored on an emergency room floor has reached a settlement with Health and Hospital Corp., the family's lawyer and the company's top executive said Thursday.
NYT: Still Working, but Making Do With Less
The Ferrells have cut back on dance lessons for their twin daughters. Vaccinations for the family's two cats and two dogs are out. Haircuts have become a luxury.
Washington Post: Roadless' Forest Areas Now Under Vilsack
Agriculture Secretary Tom Vilsack issued a temporary order yesterday governing development in "roadless" areas of national forests, requiring all new projects to be approved by him personally.
LA Times: A solar plant that's worth its salt
Just past Barstow on Interstate 15, Las Vegas-bound travelers can eye a tower resembling a lighthouse rising out of the desert encircled by more than 1,800 mirrors the size of billboards.
LA Times: Program to refurbish aging nuclear warheads faces setbacks
A decadelong effort to refurbish thousands of aging nuclear warheads has run into serious technical problems that have forced delays and exacerbated concerns about the Energy Department's ability to maintain the nation's strategic deterrent.
WSJ: A Korean Invasion Blindsides the U.S. Army - but in a Good Way
Suk Joon Lee, a South Korean immigrant, feared his days in the U.S. were numbered. His ice-cream shop wasn't doing well, and if it failed, his investor visa could be revoked.
WSJ: Pilots Allege That Gulfstream Falsified Work-Hour Records
Current and former pilots and other employees at Gulfstream International Airlines allege that the company regularly falsified certain flight-time records so pilots could be scheduled to work more hours than permitted under federal safety rules.
INTERNATIONAL
For the latest international news: http://edition.cnn.com/
CNN: U.S. officials headed to Asia for 'intensive' talks on North Korea
A high-level U.S. delegation is going to Asia for "intensive consultations" on what North Korea's increasingly alarming behavior means for U.S. security alliances in the region, senior administration officials tell CNN.
CNN: Deadly blast at Iranian mosque
An explosion rocked a mosque in southeastern Iran on Thursday, killing at least 15 people and wounding more than 50, Iranian news outlets reported.
CNN: South Koreans pay respects to former leader
With their nation under high security alert, South Koreans mourned a former leader at a funeral ceremony Friday morning.
CNN: Honduras earthquake leaves six dead
At least six people were killed Thursday when a powerful earthquake struck off the coast of Honduras, President Jose Manuel Zelaya told CNN en Español Thursday.
CNN: 'Angry' Manchester United fan kills four in bus attack, police say
A man "angered" by Manchester United's defeat to Barcelona in the final of the Champions League killed four people when he drove a minibus into a crowd celebrating the Spanish side's victory, police in Nigeria have told CNN.
CNN: Blasts in northwest Pakistan kill 8, including children
A series of explosions in northwest Pakistan killed eight people Thursday night, and two suspected militants died in a gunbattle with Peshawar police on a rooftop, authorities said.
NYT: Allotting of Iraqi Oil Rights May Stoke Hostility
Sheik Habih Shawqi Hamakan peered through his binoculars on a recent afternoon at a sight he considers, despite the rising columns of black smoke that blot out the sun, pure beauty.
NYT: Misery Hangs Over Gaza Despite Pledges of Help
Dozens of families still live in tents amid collapsed buildings and rusting pipes. With construction materials barred, a few are building mud-brick homes. Everything but food and medicine has to be smuggled through desert tunnels from Egypt. Among the items that people seek is an addictive pain reliever used to fight depression.
Times of London: The hidden massacre: Sri Lanka's final offensive against Tamil Tigers
More than 20,000 Tamil civilians were killed in the final throes of the Sri Lankan civil war, most as a result of government shelling, an investigation by The Times has revealed. The number of casualties is three times the official figure.
WSJ: Debate Over Child Executions Roils Iran's Presidential Vote
The day before two of his young clients were to be hanged, lawyer Mohamad Mostafaei went to a Justice Ministry office here to request a stay of execution.
BBC: New president weeps over dead son
The president-elect of El Salvador has made an emotional statement at a trial for his son's murder in Paris.
BUSINESS
For the latest business news: www.CNNMoney.com.
CNN: GM bankruptcy still likely despite deal
The Treasury Department and a committee of major bondholders at General Motors have reached a deal that could give creditors a larger stake in GM than previously offered. But bankruptcy is still likely in the next few days despite the deal.
CNN: What's driving the great bond freak out
The government is going deeper into hock and that's starting to make people nervous.
CNN: Barbarians at the banking gates
There are plenty of ailing banks out there. But there are also lots of big investors with plenty of cash. So why haven't there been more deals between the two?
CNN: Troubled mortgages hit record high
Despite all the hand-wringing and attempts to contain the foreclosure plague, the problem still spread during the first three months of 2009, as the number of foreclosure actions started hit a record high, according to a quarterly report.
NYT: It's Thankless, but He Decides Madoff Claims
The Ponzi scheme's victims denounce him as cold-hearted, dishonest and just plain wrong.
NYT: Organic Dairies Watch the Good Times Turn Bad
When Ken Preston went organic on his dairy farm here in 2005, he figured that doing so would guarantee him what had long been elusive: a stable, high price for the milk from his cows.
Washington Post: As Overseer And Owner, U.S. Aims For Balance
The owner of a car company can decide how many cars to make, to paint red, to send to Maryland dealerships. The Obama administration, which plans to buy about 70 percent of General Motors, insists it does not want to be that kind of owner.
Washington Post: Geithner to Pursue Practical Goals, Tone in Trip to China
Treasury Secretary Timothy F. Geithner will arrive in Beijing on Sunday touting what appears to be a far more pragmatic approach to America's economic relationship with China than the tougher line administration officials, including President Obama, were outlining only a few months ago.
WSJ: U.S. to Urge China To Shop, Not Save
Treasury Secretary Timothy Geithner heads to Beijing this weekend to urge Chinese leaders to fundamentally alter the export-oriented economy that has created years of trans-Pacific trade tensions.
USA Today: Obama: Now or never for health reform
President Obama warned Thursday that if Congress doesn't deliver health care legislation by the end of the year, the opportunity will be lost, a plea to political supporters to pressure lawmakers to act.
In Case You Missed It
To watch the latest interviews and reporting: http://www.cnn.com/video.
CNN: Rapping on Twitter
British rap musician thinks Twitter could help redesign the landscape of the global record industry. CNN's Don Riddell reports.
CNN: Dragon boat races
Dragon racers take to the water off the southern coast of Hong Kong Island to honor an ancient drowned poet.
CNN: Whack-A-Kitty
"Whack-A-Kitty"? Why not "Whack-A-Reporter?" CNN's Jeanne Moos takes a whack at a new viral video.
Subscribe to the CNN=Politics DAILY podcast at http://www.cnn.com/politicalpodcast.
And now stay posted on the latest from the campaign trail by downloading the CNN=Politics SCREENSAVER at http://www.CNN.com/situationroom.