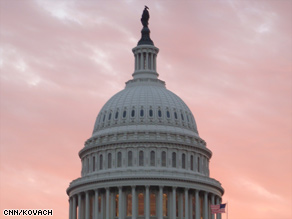 The CNN Washington Bureau's morning speed read of the top stories making news from around the country and the world.
WASHINGTON/POLITICAL
For the latest political news: www.CNNPolitics.com.
CNNMoney: GM to head into bankruptcy
General Motors, the nation's largest automaker and for decades an icon of American manufacturing, stood on the brink of a bankruptcy filing and a de facto government takeover on Monday.
NYT: G.M. to Seek Bankruptcy and a New Start
President Obama will push General Motors into bankruptcy protection on Monday, making a risky bet that by temporarily nationalizing the onetime icon of American capitalism, he can save at least a diminished automaker that is competitive.
WSJ: Potential Conflicts Abound in Government Role
Even after nine months of extraordinary government intervention, the scope and complexity of the General Motors Corp. rescue present a thicket of conflicts unlike any seen before in Washington.
Fortune: Meet the new, government-owned GM
With General Motors poised to enter Chapter 11 reorganization, the question arises: What will the bankrupt company look like and how will it be different?
NYT: Choice of Judge May Aid Obama's Bipartisan Push
Early reviews of Barack Obama's presidency — including his own — agree that he has found more success in altering policy than in transforming the capital's acrimonious culture.
CNN: McConnell: Better things to do than play 'speech police'
Senate Minority Leader Mitch McConnell told CNN Sunday he disagrees with conservative commentators who have labeled Supreme Court nominee Sonia Sotomayor a racist, but said he has better things to do than be "the speech police."
CNN: Sunday Roundup: GOP lawmakers say filibuster unlikely
Leading Senate Republicans indicated Sunday that a filibuster of U.S. Supreme Court nominee Sonia Sotomayor is unlikely, though they also promised not to shy away from what they characterized as a troubling judicial record.
Washington Post: In GOP, Sotomayor's Résumé Takes a Back Seat to Her Words
Republican senators voiced skepticism yesterday about President Obama's choice for the Supreme Court, Judge Sonia Sotomayor, but avoided the name-calling that has come from some conservative activists, notably former House speaker Newt Gingrich and radio host Rush Limbaugh, who have labeled Sotomayor a "racist."
Washington Post: Sotomayor Was a Passionate but Civil Activist
Around Christmas of 1973, a fellow sophomore approached Frank Reed, a leader of Princeton University's Chicano Caucus, to hand him a formal complaint she had typed up and to ask him to support it.
CNN: Treasury chief to meet with Chinese leaders
Treasury Secretary Tim Geithner is set to meet with several high-ranking members of the Chinese leadership this week, marking the Obama administration's first major overture to the powerhouse nation.
CNN: Nevada legalizing domestic partnerships
Nevada is legalizing domestic partnerships, with the state Assembly voting Sunday evening to override a veto by the governor, officials said.
CNN: King: Same-sex marriage debate heats up in New York
As she lobbies members of the New York Senate these days, the politician in Christine Quinn can understand what the gay rights activist in her sometimes cannot.
WSJ: Lawmakers Keep Expenses Off-Line
Lawmakers have demanded greater openness from companies receiving government bailouts but have yet to release online or electronic versions of their own office expenditures - including taxpayer-funded tabs for leased cars and staff retreats at hotels.
WSJ: Army Deploys Old Tactic in PR War
Body counts are back, reigniting the decades-old debate about whether victory in war can be judged by measuring the stack of enemy dead.
NYT: Slumping Economy Puts Test to an Aid System Tied to Jobs
For nearly two decades, Americans have built a safety net that is tough on those who fail to work and rewards those who do.
NYT: The 31-Year-Old in Charge of Dismantling G.M.
WASHINGTON — It is not every 31-year-old who, in a first government job, finds himself dismantling General Motors and rewriting the rules of American capitalism.
Washington Post: Valerie Jarrett: No. 2 Woman in the White House
The framed, inscribed photo of President Obama on a table in her office says it all, more than any fancy title: "The best of friends . . . Thanks for always being there for us. Love, Barack."
NATIONAL
For the latest national news: www.CNN.com.
CNN: Doctor who performed abortions shot to death
Dr. George Tiller, whose Kansas women's clinic frequently took center stage in the U.S. debate over abortion, was shot and killed while serving as an usher at his Wichita church Sunday morning, police said.
Chicago Tribune: A history of violence on the antiabortion fringe
Bombings. Butyric acid attacks. Sniper shootings. Letters filled with fake anthrax. These are some of the tactics used over the years by antiabortion extremists.
LA Times: Thousands rally in support of gay marriage ban
Thousands of supporters of California's ban on same-sex marriage rallied in Fresno and San Diego on Sunday in what organizers described as a celebration of traditional wedlock and a thank-you to the California Supreme Court for upholding their voter-approved measure.
CNN: Last known Titanic survivor dies
Millvina Dean, believed to be the last survivor of the Titanic, has died at 97, her friends confirmed Sunday.
CNN: Prince Harry: New York trip has been 'fantastic'
As Britain's Prince Harry neared the end of his second and final day in New York City on Saturday, he described his experiences as "fantastic."
Washington Post: 46 States, D.C. Plan to Draft Common Education Standards
Forty-six states and the District of Columbia today will announce an effort to craft a single vision for what children should learn each year from kindergarten through high school graduation, an unprecedented step toward a uniform definition of success in American schools.
Washington Post: Astronomers Seek New Home Closer to Home
The nearest Earth out there in space? It might be right next door, galactically speaking.
INTERNATIONAL
For the latest international news: http://edition.cnn.com/
CNN: Air France jet goes missing
An Air France jet bound for Paris from Rio de Janeiro, Brazil, with 216 aboard, is
missing over Atlantic
London Times: Susan Boyle admitted to The Priory suffering from 'exhaustion'
The singer Susan Boyle was rushed to The Priory clinic last night after her shock defeat in the Britain's Got Talent final.
LA Times: North Korea puts long-range missile on launch pad, reports say
Reporting from Seoul — North Korea has positioned its most sophisticated long-range ballistic missile on a launch pad for a test firing that could come within weeks, a newspaper here reported Monday.
NYT: 6 Die as Palestinian Authority Forces Clash With Hamas
Palestinian Authority forces clashed with Hamas militants in the West Bank early on Sunday, leaving six dead in the bloodiest such encounter in two years.
CNN: Israel stages biggest-ever war drill
Israel started its biggest emergency drill in the nation's history Sunday to prepare civilians, soldiers and rescue crews for the possibility of war, the defense force said in a statement.
NYT: Pakistan Continues Its Fight in South Waziristan
Fighting broke out late Saturday between militants and the Pakistani military in South Waziristan, a stronghold region for the Taliban and Al Qaeda that the government has said will be the next front in its offensive, a Pakistani military spokesman said.
Washington Post: Al-Qaeda Seen as Shaken in Pakistan
Drone-launched U.S. missile attacks and Pakistan's ongoing military offensive in and around the Swat Valley have unsettled al-Qaeda and undermined its relative invulnerability in Pakistani mountain sanctuaries, U.S. military and intelligence officials say.
BBC: Pakistan city centre 'destroyed'
The scale of the war damage to the main city in the Swat valley has become clear, as fears are expressed about the humanitarian situation in the region. Taliban rebels were driven out of Mingora on Saturday by Pakistan government troops.
BBC: Cuba accepts US migration talks
Cuba has agreed to resume talks with Washington on immigration by Cubans to the US, the state department says.
London Times: Silvio Berlusconi blocks publication of bikini-girls photographs
Silvio Berlusconi has blocked the publication of potentially embarrassing photographs said to include images of young bikini-clad and topless girls at his villa in Sardinia.
BUSINESS
For the latest business news: www.CNNMoney.com.
NYT: After Many Stumbles, the Fall of an American Giant
It is a company that helped lift hundreds of thousands of American workers into the middle class. It transformed Detroit into the Silicon Valley of its day, a symbol of America's talent for innovation. It built celebrated cars, like Cadillacs, that became synonymous with luxury.
WSJ: New Era in Autos as GM Set for Bankruptcy
General Motors Corp. will file for Chapter 11 bankruptcy early Monday, marking the humbling of an American icon that once dominated the global car industry and setting up a high-stakes gamble for U.S. taxpayers.
WSJ: Filing Has Potential to Lift Economy in Long Term
The General Motors Corp. bankruptcy means months of shedding plants, brands, jobs and dealers just as the recession shows signs of abating. But part of the gamble is that it will prove to be better for the economy than the alternatives.
CNNMONEY: Week ahead: Trying to make sense of economy
Wall Street will return for the first trading day of a new month Monday with the economic outlook still unclear and the bankruptcy of a major American business icon looming large.
CNNMONEY: Ugh! Gas hits $2.50
The price of gas, rising for the 33rd straight day, has reached $2.50 a gallon, motorist group AAA reported Sunday.The spike of more than 20% in a month is hitting Americans in their wallets and causing concern among some experts.
NYT: Even in Crisis, Banks Dig in for Battle Against Regulation
As the financial crisis entered one of its darkest phases in October, a handful of the nation's largest banks began holding daily telephone sessions. Murmurs were already emanating from Washington about the need for a wide-ranging regulatory overhaul, and Wall Street executives girded for a fight.
Washington Post: In Cox Years at the SEC, Policies Undercut Action
The five enforcement officials caught a morning Acela train bound for Washington. Based at the New York office of the Securities and Exchange Commission, the team was seeking agency approval to impose tens of millions of dollars in fines on a drug company, Biovail, which had allegedly used the crash of a truck hauling depression medicine to cover up financial losses.
In Case You Missed It
To watch the latest interviews and reporting: http://www.cnn.com/video.
CNN: Baseball vs. Recession
Baseball, hot dogs and recession. CNN's Richard Roth reports.
CNN: Mr. and Mrs. Obama's night out
Thousands cheer as Mr. and Mrs. Obama arrive at the theater in New York for a night out. CNN's Susan Candiotti reports.
CNN: Iraq's celebrity traffic cop
CNN's Phil Black meets the Baghdad traffic cop who has become a local hero and television celebrity.
CNN: Reality show seeks innovation
CNN's Stan Grant takes a look at a new reality show in the Middle East that encourages entrepreneurism.
Subscribe to the CNN=Politics DAILY podcast at http://www.cnn.com/politicalpodcast.
And now stay posted on the latest from the campaign trail by downloading the CNN=Politics SCREENSAVER at http://www.CNN.com/situationroom.