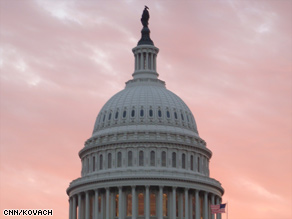 The CNN Washington Bureau's morning speed read of the top stories making news from around the country and the world.
WASHINGTON/POLITICAL
For the latest political news: www.CNNPolitics.com.
CNN: Obama refutes Cheney: He's 'wrong'
President Obama is hitting back at Dick Cheney's string of recent statements declaring the new president has made America more vulnerable to a terrorist attack, flatly telling NPR Monday the former vice president is "wrong."
CNN: Kaine: Texas is the next Virginia
Democratic National Committee Chairman Tim Kaine appears to have his eyes set on Texas, announcing Monday the organization's fall meeting will be held in the Lone Star state.
CNN: Cheney: No link between Saddam Hussein, 9/11
Former Vice President Dick Cheney said Monday that he does not believe Saddam Hussein was involved in the planning or execution of the September 11, 2001, attacks.
CNN: Sotomayor: GOP cries racism, Dems cry foul
During the presidential campaign, then-candidate Barack Obama said that he hoped his administration wouldn't get hung up on matters of race.
CNN: Clinton pledges to fight for gay rights worldwide
Secretary of State Hillary Clinton pledged Monday to fight for gay rights and called on the world to stop discrimination and violence based on sexual orientation.
CNN: Romney slams Obama for 'tour of apology'
Former Republican presidential candidate Mitt Romney took aim at President Obama's foreign and national security policy Monday, criticizing the commander-in-chief's message abroad as a "tour of apology" and calling plans to trim the missile defense budget a "grave miscalculation" that puts the nation at risk in the face of urgent threats like North Korea's nuclear ambitions.
CNN: U.S., allies plan tough U.N. resolution on North Korea
The United States is working with its allies to send a "strong, unified" message to North Korea that its "belligerent" actions have consequences, the State Department said Monday.
CNN: Crucial hearing Monday in Coleman-Franken fight
Nearly seven months after Election Day, the battle between Republican Norm Coleman and Democrat Al Franken for a U.S. Senate seat from Minnesota heads to the state's Supreme Court.
NYT: Administration Is Near a Financial Overhaul Plan
Washington is asking some painful questions about how to prevent the next financial meltdown. Should it reinvent the Federal Deposit Insurance Corporation? Abolish the seemingly feckless overseer of savings and loans? Grant new powers to the Federal Reserve?
Washington Post: McAuliffe's Totals Dwarf Opponents'
Democratic gubernatorial hopeful Terry McAuliffe has amassed far more campaign cash than his rivals, R. Creigh Deeds and Brian Moran, heading into the final frenzied week before next Tuesday's primary.
USA TODAY: Sebelius, DeParle ready to tackle health care overhaul
Kathleen Sebelius and Nancy-Ann DeParle first met at the White House mess in 1997, during the battle for a patients' bill of rights to combat the constraints of managed care. The friendship they forged then could pay big dividends for President Obama now.
Wall Street Journal: Governor Sanford Sees Loss in Stimulus Fight
South Carolina Gov. Mark Sanford, who defied his own state to reject federal stimulus funding for his struggling government, lost a pivotal decision in federal court and said he now expects to be ordered to request the money.
McClatchy: Why'd Obama switch on detainee photos? Maliki went ballistic
President Barack Obama reversed his decision to release detainee abuse photos from Iraq and Afghanistan after Iraqi Prime Minister Nouri al Maliki warned that Iraq would erupt into violence and that Iraqis would demand that U.S. troops withdraw from Iraq a year earlier than planned, two U.S. military officers, a senior defense official and a State Department official have told McClatchy.
NATIONAL
For the latest national news: www.CNN.com.
CNN: Navy investigating missing money after pirate rescue
The Navy is investigating how thousands of dollars went missing in the rescue of the captain of the Maersk Alabama in April, a Pentagon source told CNN.
CNN: Brazilian court rules for New Jersey dad in custody case
The New Jersey man whose efforts to gain custody of his son in Brazil attracted international attention may have finally gotten his wish.
CNN: CIA names fallen officer 6 years after death
When Gregg Wenzel died six years ago in Ethiopia, the obituaries said he was a U.S. Foreign Service officer killed by a drunken driver on the streets of Addis Ababa.
Detroit Free Press: Sad day knocks us down - but we're not out
Once upon a time, General Motors stood strong and mighty, the world at its feet. Today, the world prevails, and GM is on its knees.
NYT: Now a G.M. Owner, U.A.W. Faces Delicate Balancing Act
For decades, the United Automobile Workers had a simple strategy for getting what it wanted from the carmakers — it would go on strike. The tactic proved so successful that the mere threat of a walkout often won better wages, benefits and job security.
Washington Post: Confidence in U.S. Economy Builds Even as Recovery Still Seems Distant
Economists, senior government officials and ordinary consumers are all showing greater confidence in the outlook for the economy.
Washington Post: Slaying Raises Fears on Both Sides of Abortion Debate
As the U.S. Marshals Service moved to protect abortion clinics and doctors nationwide, the fatal shooting of the country's most prominent provider of late-term abortions reignited a national debate about reproductive rights.
USA TODAY: Details of suspect in abortion slaying emerge
The man accused of shooting abortion doctor George Tiller had a history of anti-government activity and was known as a militant opponent of abortion, according to a portrait emerging in interviews and statements by family and law enforcement officials.
Wall Street Journal: Gates Is Confident Alaska Missile Defense Could Stop North Korean Rocket
Defense Secretary Robert M. Gates said Monday he had confidence the Pentagon's Alaska-based missile defense system could knock down an incoming North Korean rocket attack if Pyongyang fired on the U.S. mainland.
LA Times: More Americans turning to Peace Corps
Peace Corps volunteer Alexandra Hodgkins couldn't be farther from her comfort zone here in Panama's Darien jungle: coral snakes, sauna-like heat and, just a few miles east up the Pan-American Highway, marauding Colombian rebels.
INTERNATIONAL
For the latest international news: http://edition.cnn.com/
CNN: Air France: Missing plane probably crashed into Atlantic
The jet carrying 228 people from Rio de Janeiro, Brazil, that disappeared overnight as it entered an area of strong turbulence probably crashed into the Atlantic Ocean, the CEO of Air France said Monday.
CNN: Pakistan: Alleged terrorist detained
One of the three suspects detained Friday in Islamabad has been identified as Fida Ullah, a terrorist who recruited suicide bombers here, police said in a news release.
CNN: Families lobby media before journalists' North Korean trial
After nearly three months of maintaining their silence, the families of two U.S. journalists detained in North Korea are taking to the airwaves this week to lobby for their release as the women go on trial Thursday.
CNN: U.N. human rights investigators enter Gaza
A U.N. team entered Gaza on Monday to investigate possible human rights abuses by Israel and Hamas during a three-week conflict that ended January 18.
NYT: Israel and U.S. Can't Close Split on Settlements
Thirty Israeli couples are on a waiting list to move into the Kfar Tapuah settlement, which teems with children on the hilltops south of Nablus. Some on the list grew up here. But there is not an apartment available for sale or rent, or even a stifling trailer to be had.
NYT: A New Iran Overture, With Hot Dogs
Having sent the Iranian people a video greeting on their New Year, President Obama is now inviting them to help celebrate a quintessentially American holiday, the Fourth of July.
Washington Post: Israeli Minister's Visit Aims To Calm Settlements Dispute
Israeli Defense Minister Ehud Barak began a round of meetings with top U.S. officials yesterday in a bid to head off an increasingly sharp dispute between the United States and Israel over the expansion of Jewish settlements in Palestinian territory.
Wall Street Journal: U.S. and Russia Push Arms-Control Talks Forward
U.S. and Russian arms-control negotiators arrived in Geneva on Monday to accelerate negotiations on the first major nuclear-arms reduction treaty in at least a decade, pressing for a framework agreement ahead of a Moscow summit next month.
Wall Street Journal: Serving in Europe's Parliament Is A Cushy Job, but What's the Point?
Wanted: 736 Europeans to earn $120,000 a year with 12 weeks off, plenty of perks and little accountability.
BUSINESS
For the latest business news: www.CNNMoney.com.
CNN: GM plant closings: 20,000 job cuts
General Motors unveiled plans to close 14 plants and three warehouses Monday in a move that could ultimately slash up to 20,000 workers from its payrolls, as the company undergoes an historic bankruptcy restructuring.
CNN: GM bankruptcy: End of an era
General Motors filed for bankruptcy protection early Monday, a move once viewed as unthinkable that became inevitable after years of losses and market share declines capped by a dramatic plunge in sales in recent months.
CNN: Why the market doesn't care about GM
It finally happened. General Motors has filed for bankruptcy. And like most other bits of bad news that have taken place in the past few weeks, investors didn't even blink.
In Case You Missed It
To watch the latest interviews and reporting: http://www.cnn.com/video.
CNN: Butt prank laid bare
Getting to the bottom of Bruno's butt stunt...real or fake, asks CNN's Jeanne Moos.
CNN: Holding onto dam for dear life
HLN's Chuck Roberts talks to an iReporter who grabbed his video camera to capture the dramatic river rescue of two men
CNN: Obama 'date night' takes heat
White House Press Secretary Robert Gibbs would not reveal how much it cost taxpayers for the Obamas' New York City trip.
Subscribe to the CNN=Politics DAILY podcast at http://www.cnn.com/politicalpodcast.
And now stay posted on the latest from the campaign trail by downloading the CNN=Politics SCREENSAVER at http://www.CNN.com/situationroom.