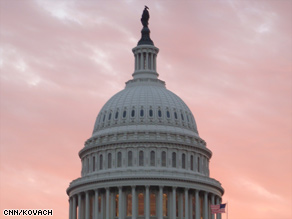 The CNN Washington Bureau's morning speed read of the top stories making news from around the country and the world.
WASHINGTON/POLITICAL
For the latest political news: www.CNNPolitics.com.
CNN: Obama in Egypt reaches out to Muslim world
President Obama delivered his long-awaited and wide-ranging speech Thursday on American and Muslim relations, offering a hand of friendship to Islam and addressing an array of quandaries and conflicts dividing the two cultures.
CNN: Obama's speech draws mixed reviews in Middle East
Israelis and Palestinians had one thing in common Thursday: They hung on every word in President Obama's wide-ranging speech on U.S. and Muslim relations.
CNN: GOP chastises Obama's speech over Israeli-Palestinian issue
President Obama's speech to the Muslim world on Thursday faced mixed reaction abroad - and a very clear directive at home from Republicans and conservatives: The United States cannot ruin its relationship with Israel.
CNN: Buchenwald survivors see Obama as family
A long narrow road winds through a thick forest up a hill called the "Ettesberg," on the outskirts of Weimar in central Germany.
CNN: Palin: Government wants to 'control the people'
Alaska governor Sarah Palin let loose Wednesday on the Obama administration for enacting fiscal policies that "fly in the face of principles" and "defy Economics 101."
CNN: Sotomayor's questionnaire delivered to Senate
A lengthy questionnaire filled out by Judge Sonia Sotomayor was delivered to the Senate Judiciary Committee on Thursday in preparation for Sotomayor's expected U.S. Supreme Court confirmation hearings this summer.
CNN: House Republican leaders float $375 billion in budget cuts
The House Republican leadership upped the ante Thursday in the ongoing debate over the size and scope of the federal budget, unveiling a proposal to cut spending by $375 billion over the next five years.
CNN: Senate health care talks get difficult
The bipartisan leaders of the two Senate Committees in charge of writing a health care reform bill met Thursday afternoon to begin tackling what they said are the more difficult and complicated issues.
NYT: Ailing, Banks Still Field Strong Lobby at Capitol
As he often does, President Obama took the opportunity in a bill-signing ceremony last month to remind Congress "to do what we were actually sent here to do — and that is to stand up to the special interests, and stand up for the American people."
NYT: Rift With Germany Is Next on Diplomatic Agenda
After mending fences with the Muslim world in Cairo on Thursday, President Obama might want to keep his diplomatic tools handy for his stopover here, to repair his increasingly strained relationship with Chancellor Angela Merkel.
Boston Globe: Last weekend Broadway, this weekend Paris
So much for the Obama common touch.
Wall Street Journal: White House Set to Appoint a Pay Czar
The Obama administration plans to appoint a "Special Master for Compensation" to ensure that companies receiving federal bailout funds are abiding by executive-pay guidelines, according to people familiar with the matter.
Wall Street Journal: FDIC Pushes Purge at Citi
The Federal Deposit Insurance Corp. is pushing for a shake-up of Citigroup Inc.'s top management, imperiling Chief Executive Vikram Pandit, people familiar with the matter said.
LA Times: Healthcare overhaul effort moves forward without Kennedy
Senate Democrats and the White House are stepping up preparations to overhaul the nation's healthcare system without the ailing Sen. Edward M. Kennedy (D-Mass.), a politically and emotionally fraught move that could dramatically alter the course of what is expected to be a titanic legislative struggle.
Washington Post: First Lady Replaces Her Chief of Staff
The tightly run, always-on-message East Wing has had its first staff upheaval four months into the Obama administration: First lady Michelle Obama has replaced chief of staff Jackie Norris with White House lawyer Susan Sher.
Washington Post: Firms Tied to Murtha Have Troubled Past
Inside the LBK Ranch, a private game preserve on a scenic hilltop here, guests mingle at a stone lodge after hunting deer and wild boar. Signs posted at intervals along the fence warn: "No Trespassing: U.S. Govt. Testing Facility."
Washington Post: Supreme Leader of Iran: Muslim Nations 'Hate America'
Iran's supreme leader dismissed President Obama's speech at Cairo University Thursday, saying the Muslim world continues to "hate America." And he criticized the United States and its allies for asserting that Iran seeks nuclear weapons, which he insisted are forbidden under Iran's brand of Islam
NATIONAL
For the latest national news: www.CNN.com.
CNN: Investigation finds U.S. military hardware easy to buy, ship
Military hardware that can be used in nuclear devices and ground fighting can be easily purchased In the United States and shipped overseas, a government investigation revealed Thursday.
CNN: South Carolina governor trumped, must take stimulus money
South Carolina's Supreme Court ruled Thursday that Gov. Mark Sanford must accept $700 million in federal stimulus money, ending the only formal effort by a governor to reject funding intended to jump-start an ailing economy.
CNN: Terror trial defendant makes own closing argument
The federal trial of a former Georgia Tech student accused of supporting terrorism came to a close Thursday with the defendant delivering his own closing argument.
CNN: EMT charged with posting photo of corpse on Facebook
A New York City emergency medical technician is facing misdemeanor charges after being accused of taking a picture of a female murder victim and then posting it to his Facebook page.
CNN: David Carradine's manager suspects foul play in actor's death
David Carradine's wife and his manager disputed suggestions that the actor's death was a suicide, while a source in Bangkok, Thailand, said the actor's neck and genitals were found bound with rope.
CNN: Authorities hunt for man charged with threatening Obama
Federal authorities are searching for a man who has at least eight guns registered to him and has threatened to kill President Obama.
NYT: Next Test: Value of $125,000-a-Year Teachers
So what kind of teachers could a school get if it paid them $125,000 a year?
NYT: Time Conspires Against the Search for a War's Fallen
The gray wall of the missing soars high over Omaha Beach, etched with names of lost World War II troops and the melancholy mystery of "comrades in arms whose resting place is known only to God."
NYT: Women Bridging Gap in Science Opportunities
The prospects for women who are scientists and engineers at major research universities have improved, although women continue to face inequalities in salary and access to some other resources, a panel of the National Research Council concludes in a new report.
LA Times: U.S. troop buildup in Afghanistan is in full force
It was the moment every commander dreads most: when a new deployment claims its first casualty.
McClatchy: Older workers muscling out teens for summer jobs
After three years of braving Alaska's minus 50-degree winter temperatures and round-the-clock summer sunshine, architect Victoria Schmitz is taking a break. She's going to summer camp for two months outside Boulder, Colo.
INTERNATIONAL
For the latest international news: http://edition.cnn.com/
CNN: Brazilian air force says debris was not from Air France crash
The Brazilian air force said that debris picked up Thursday near where officials believe Air France Flight 447 crashed Monday into the Atlantic Ocean was not from the plane.
CNN: UK minister quits, calls for Brown's resignation
British Prime Minister Gordon Brown said Thursday he was "disappointed" over the resignation of James Purnell, his work and pensions secretary, who in a scathing letter sent to members of the news media called on Brown himself to resign.
CNN: Web sites release full version of purported bin Laden message
On the same day President Barack Obama delivered a speech to the Muslim world, a full version of a statement believed to be from al Qaeda leader Osama bin Laden appeared on Islamic Web sites.
CNN: N. Korea bars observers at reporters' trial
Observers have been barred from a trial for two American journalists who were detained while covering the plight of North Korean defectors living along the China-North Korea border, a U.S. State Department spokesman said.
CNN: Organizers: 150,000 at Tiananmen vigil in Hong Kong
Tens of thousands of people converged Thursday on a park to mark the 20th anniversary of the bloody crackdown on pro-democracy protesters in Tiananmen Square.
CNN: Ahmadinejad accused of tainting Iran's image in TV debate
In an unprecedented move in Iranian politics, a reformist presidential candidate accused President Mahmoud Ahmadinejad of tainting the country's image by questioning the Holocaust and by wielding a reckless leadership style.
NYT: Taliban Stir Rising Anger of Pakistanis
A year ago, the Pakistani public was deeply divided over what to do about its spreading insurgency. Some saw the Taliban militants as fellow Muslims and native sons who simply wanted Islamic law, and many opposed direct military action against them.
NYT: Clues Point to Speed Issues in Air France Crash
In the first hint that malfunctioning airspeed indicators might have played an important role in the crash of an Air France jet bound for Paris early this week, Airbus issued a warning on Thursday to all its customers to follow established procedures when pilots suspect the devices are not working right.
Wall Street Journal: It's Cold Cash, Not Cold Feet, Motivating Runaway Brides in China
With no eligible women in his village, Zhou Pin, 27 years old, thought he was lucky to find a pretty bride whom he met and married within a week, following the custom in rural China.
Jerusalem Post: US official to 'Post': We can find deal on West Bank settlements
Washington feels "an arrangement that works" can be hammered out with Israel on the settlement issue, a senior administration official told The Jerusalem Post on Thursday, indicating the US recognizes some wiggle room in defining a "settlement freeze."
BUSINESS
For the latest business news: www.CNNMoney.com.
CNN: Countrywide's Mozilo accused of fraud
The Securities and Exchange Commission on Thursday filed securities fraud charges against former Countrywide Chief Executive Angelo Mozilo and two other former executives.
CNN: States propose $24 billion in tax hikes
States are poised to pass as much as $24 billion in tax and fee hikes in coming weeks, as they struggle to balance their budgets amid the worst economic downturn since the Great Depression, a report released Thursday found.
CNN: First look at new Chase rewards program
The credit card industry is on shaky ground right now, with banks fretting over recent legislation that will rein in some of their most abusive practices and a decline in credit card spending on the whole.
NYT: Apple Above, the Pack Below
With its coveted gadgets and resurgent stock price, Apple has cast something of a spell on both consumers and investors.
NYT: Mining Giant Scraps China Deal
The Chinese government's largest investment ever in a Western company, a proposed $19.5 billion stake in the Australian-British mining giant Rio Tinto Group, collapsed early Friday, dealing a blow both to China's global corporate ambitions and to its efforts to gain clout in the natural resources market.
In Case You Missed It
To watch the latest interviews and reporting: http://www.cnn.com/video.
CNN: Reactions to Obama speech
Jews and Muslims in Jerusalem react to President Obama's words about their conflict. CNN's Paula Hancocks reports.
CNN: When China shut down CNN
CNN senior executive producer Alec Miran recounts the events of May 20, 1989, when China pulled the plug on CNN's signal.
Subscribe to the CNN=Politics DAILY podcast at http://www.cnn.com/politicalpodcast.
And now stay posted on the latest from the campaign trail by downloading the CNN=Politics SCREENSAVER at http://www.CNN.com/situationroom.