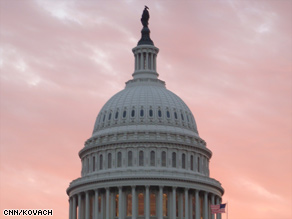 The CNN Washington Bureau's morning speed read of the top stories making news from around the country and the world.
WASHINGTON/POLITICAL
For the latest political news: www.CNNPolitics.com.
CNN: Hillary Clinton: I said no, at first, to secretary of state job
When then-President-elect Barack Obama first asked Hillary Clinton to be his top diplomat, she turned him down and recommended others for the job, the secretary of state said in an interview broadcast Sunday.
CNN: In Iraq, Colbert gets military haircut to show his solidarity
Stephen Colbert left no doubt about his solidarity with American troops when he taped the first of four Comedy Central shows he'll produce in Iraq this week.
CNN: Obama joins WWII vets for D-Day tributes
World leaders gave thanks Saturday to military veterans for their efforts in the D-Day landings of 65 years ago at a ceremony in northwest France, warning that their legacy must not be forgotten as the world faces renewed threats of tyranny.
CNN: Brown slips on 'Obama Beach'
Even in a stirring, somber moment, the president's last name can prove vexing to some.
CNN: Palin: Defense cuts are 'a sign of weakness'
In her strongest public remarks to date on the matter, Sarah Palin admonished the Obama adminstration on Saturday for proposing cuts to Alaska's missile defense network, a move she said would leave her state and the rest of the country vulnerable in the case of a future attack.
CNN: Hard-hit mayors slam partisan bickering in Washington
A trio of mayors whose cities have been hit hard by the troubles of General Motors said Sunday that they were happy the federal government had intervened. But they also faulted politicians in Washington for the partisan bickering over supporting the struggling auto industry.
NYT: U.S. Weighs Intercepting North Korean Shipments
The Obama administration signaled Sunday that it was seeking a way to interdict, possibly with China's help, North Korean sea and air shipments suspected of carrying weapons or nuclear technology.
NYT: Erratic Afghan Forces Pose Challenge to U.S. Goals
The Afghan foot patrol descended a mountain and slipped through a canyon. Then things went wrong. One Afghan soldier insulted another. And there, exposed on dangerous ground, a scuffle erupted.
NYT: U.S. to Propose Wider Oversight of Compensation
The Obama administration plans to require banks and corporations that have received two rounds of federal bailouts to submit any major executive pay changes for approval by a new federal official who will monitor compensation, according to two government officials.
NYT: Obama's Economic Circle Keeps Tensions Simmering
President Obama was getting his daily economic briefing one recent morning when a fly distracted him. The president swatted and missed, just as the pest buzzed near the shoes of Lawrence H. Summers, the chief White House economic adviser. "Couldn't you aim a little higher?" deadpanned Christina D. Romer, the chairwoman of the Council of Economic Advisers.
Washington Post: U.S. Will Let Some Banks Repay Aid
The Obama administration plans to announce as soon as today that some of the nation's largest banks can repay billions in federal aid, but some officials caution that the show of progress is being underwritten by multiple layers of less visible government support.
Washington Post: After Critical Report, State Dept.'s Historian Is Reassigned
The head of the State Department's Office of the Historian has been reassigned after an inspector general's investigation found "serious mismanagement for which the director must be held accountable."
Boston Globe: Obama seeks global uranium fuel bank
As part of a new strategy to stop Iran from obtaining nuclear weapons, President Obama plans to seek the creation of the first-ever international supply of uranium that would allow nations to obtain fuel for civilian nuclear reactors but limit the capacity to make bombs, according to senior administration officials.
McClatchy: Senate poised to vote on sweeping FDA tobacco rules
Sweeping changes in how the government controls tobacco content and marketing are likely to be approved by the U.S. Senate this week, despite a strong last-ditch effort by tobacco interests and skepticism from some experts that smokers won't kick their habit.
USA TODAY: Business groups wary of first draft of health care bill
Business groups reacted warily Sunday to the Senate's first stab at overhauling the nation's health care system, a rift that could complicate President Obama's goal of achieving bipartisan support for his top domestic priority.
NATIONAL
For the latest national news: www.CNN.com.
CNN: Reporters get 12-year terms in N. Korea
Two U.S. journalists who were detained in North Korea while covering the plight of defectors living along the China-North Korea border have been sentenced to 12 years in labor camps, the country's state-run media said Monday.
CNN: New Orleans mayor quarantined in China for possible flu exposure
The mayor of New Orleans, Louisiana, has been quarantined in China after possible exposure to the H1N1 virus, his office said Sunday.
CNN: High court set to rule on appeal over Chrysler sale
The U.S. Supreme Court on Monday is expected to decide whether a group of shareholders can continue attempts to block Chrysler LLC's sale of top assets to Italian automaker Fiat.
CNN: Somali teen from Minnesota reportedly killed in homeland
A Somali teen who left Minnesota to return to his native country last November has been reported killed.
CNN: Allegations against U.S. contractors false, son says
Allegations that five U.S. contractors detained inside Baghdad's Green Zone were somehow involved in the death of another American contractor last month are "completely false," a son of one of the detainees told CNN Sunday.
CNN: King: Sense of community lost in nation's housing crisis
Neal Williams carefully picked his house 14 years ago with his wife and children in mind.
Washington Post: Antiabortion Efforts Move to the State Level
Twelve women sat gloomily in a windowless conference room as Joseph Booker, M.D., recited the instructions required by the state of Mississippi before he can perform an abortion.
Washington Post: Stowaway From Ethiopia Found at Dulles
A stowaway who apparently hid aboard a flight from Ethiopia to Washington was found in the plane's baggage hold by workers at Dulles International Airport, authorities said last night.
USA TODAY: Pilots in crashes had failed multiple tests
In nearly every serious regional airline accident during the past 10 years, at least one of the pilots had failed tests of his or her skills multiple times, according to an analysis of federal accident records.
Chicago Tribune: Vehicle fraud cases heat up amid economic downturn
Motorists unable to afford payments on pricey cars and gas-guzzling sport utility vehicles in this recession are turning to a time-tested financing solution: matches.
INTERNATIONAL
For the latest international news: http://edition.cnn.com/
CNN: Hamas: 5 killed in attack on Israeli forces
Five militants died early Monday as they attempted to carry out an attack against Israeli forces, near Nachal Oz Crossing in northern Gaza, Hamas security sources said.
CNN: 17 bodies found from lost Air France plane
Seventeen bodies have been recovered from last week's crash of an Air France jetliner off the South American coast, Brazil's military said Sunday.
CNN: Hariri claims win in Lebanon
Saad Hariri, the leader of Lebanon's Sunni-dominated "March 14 coalition," claimed victory hours after the polls closed in Sunday's crucial election.
CNN: 18 killed in clash between Mexican army, gunmen
Eighteen people, including two soldiers, were killed Saturday in a gunbattle between the Mexican army and organized-crime suspects in the Mexican resort town of Acapulco, the Mexican Ministry of Defense said Sunday.
NYT: In Iran, Harsh Talk as Election Nears
The leading candidates are accusing each other of corruption, bribery and torture. The wife of the strongest challenger to President Mahmoud Ahmadinejad has threatened to sue him for defaming her. And every night, parts of the capital become a screaming, honking bacchanal, with thousands of young men dancing and brawling in the streets until dawn.
NYT: China and U.S. Seek a Truce on Greenhouse Gases
For months the United States and China, by far the world's two biggest emitters of greenhouse gases, have been warily circling each other in hopes of breaking a long impasse on global warming policy.
BBC: European voters punish the left
Centre-right parties have done well in elections to the European Parliament at the expense of the left.
BUSINESS
For the latest business news: www.CNNMoney.com.
CNN: Can the 3-month long stock rally continue?
Stocks have been on the best three-month tear since 1982 - and there's little in the week ahead to interrupt the flow.
Wall Street Journal: U.S. Foresees a Thinner Cushion of Coal
Every year, federal employee George Warholic calculates America's vast coal reserves the same way his predecessors have for decades: He looks up the prior year's coal-reserve estimate, subtracts the year's nationwide production and arrives at a new official tally.
Financial Times: Doubts mount over US toxic asset plan
The controversial US toxic asset clean-up plan, aimed at clearing bad loans from US banks' books to enable them to raise capital and lend freely, has fallen behind schedule, and may never be fully implemented.
Forbes: There Will Be Gas
The rumble of drilling rigs and trucks has arrived in forlorn northwest Louisiana, bringing the promise of wealth to an impoverished population who for generations have measured success in a ledger of the Lord's blessings, be it a new grandchild, calf or football championship.
In Case You Missed It
To watch the latest interviews and reporting: http://www.cnn.com/video.
CNN: Teen: 'Mandela smells wise'
CNN's Robyn Curnow meets a lucky group of New York teenagers who traveled to South Africa to meet Nelson Mandela.
CNN: Japan's 'herbivorous men'
A new generation of Japanese men is changing the country's image of masculinity. CNN's Morgan Neill reports
CNN: First Iraq, now Yosemite
British Army Maj. Phil Packer survived an Iraqi roadside attack. Now he's climbing mountains. ITN's Phil Reay-Smith reports
Subscribe to the CNN=Politics DAILY podcast at http://www.cnn.com/politicalpodcast.
And now stay posted on the latest from the campaign trail by downloading the CNN=Politics SCREENSAVER at http://www.CNN.com/situationroom.