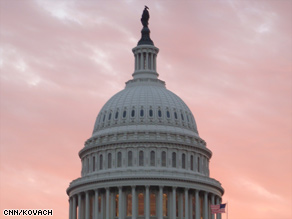 The CNN Washington Bureau's morning speed read of the top stories making news from around the country and the world.
WASHINGTON/POLITICAL
For the latest political news: www.CNNPolitics.com.
CNN: GOP has self-esteem issues, poll suggests
The Republican Party is in need of a leader and boost in its self-esteem, a new poll suggests.
CNN: Palau to take Uighur detainees from Gitmo
The Pacific island nation of Palau has agreed to take in 17 Chinese Muslims held at the U.S. prison camp at Guantanamo Bay, Cuba, the country's ambassador to the United States said Wednesday.
CNN: Nagin released from flu quarantine
New Orleans, Louisiana, Mayor Ray Nagin, who was quarantined in China after possible exposure to the H1N1 virus, was released Wednesday to continue an economic development trip.
CNN: U.N. Security Council condemns N. Korea
The five permanent members of the U.N. Security Council condemned North Korea's recent nuclear test "in the strongest terms" in a draft resolution passed Wednesday.
CNN: Co-ops plan emerging as possible key to health-care compromise
A proposal to create privately operated health-insurance cooperatives as an alternative to a government-run health plan is gaining steam in the Senate, several key senators said Wednesday.
CNN: Republicans write letter to Sotomayor, ask for more information
As time ticks down to July 13 — the recently announced date for the start of Judge Sonia Sotomayor's confirmation hearings — Republicans on the Senate Judiciary Committee are asking Sotomayor for more information about her lengthy legal career that includes almost two decades on the federal bench.
CNN: Wright: 'Them Jews' won't let Obama talk to me
The Rev. Jeremiah Wright, the former Chicago pastor whose racially-charged sermons threatened to implode President Obama's primary bid last year, is again making waves over recent comments about his current relationship with the commander-in-chief.
CNN: Steele: Limbaugh, Gingrich, Cheney not getting in the way
Republican National Committee Chairman Michael Steele brushed aside suggestions fellow Republicans Rush Limbaugh, Newt Gingrich, and Dick Cheney are hampering his efforts to put a new face on the party.
NYT: Doctors' Group Opposes Public Insurance Plan
As the health care debate heats up, the American Medical Association is letting Congress know that it will oppose creation of a government-sponsored insurance plan, which President Obama and many other Democrats see as an essential element of legislation to remake the health care system.
USA TODAY: Antipsychotics get tentative OK for kids
With varying degrees of enthusiasm, a Food and Drug Administration advisory committee Wednesday concluded that three newer antipsychotic drugs already widely used "off-label" in children and teens are "acceptably safe" and effective in treating them for schizophrenia and bipolar disorder.
NATIONAL
For the latest national news: www.CNN.com.
CNN: Guard killed during shooting at Holocaust museum
A rifle-wielding white supremacist entered Washington's Holocaust museum on Wednesday afternoon, fatally shooting a security guard before being wounded himself by return fire from other guards, authorities said.
CNN: Law center: Shooting suspect has 'long history' with neo-Nazis
An 88-year-old Maryland man with a long history of ties to white supremacist groups is the suspect in Wednesday's shooting at the U.S. Holocaust Memorial Museum, two law enforcement officials told CNN.
CNN: Witness: 'There was blood everywhere'
All 19-year-old Maria Hernandez wanted to do was escort her grandparents, visiting from Puerto Rico, through a museum whose displays had so impressed her during her previous visit.
CNN: 24 indicted in theft of Native American artifacts
Federal authorities indicted 24 people Wednesday on charges of selling, buying or exchanging archaeological artifacts stolen from Native American lands - part of what Secretary of the Interior Ken Salazar called a crackdown on smugglers of such relics.
CNN: Miss California USA Prejean dethroned
Carrie Prejean has been dethroned as Miss California USA for "contract violations," including missing scheduled pageant events, according to a state pageant official.
CNN: Ex-Georgia Tech student convicted on terrorism charge
A federal judge found former Georgia Tech student Syed Haris Ahmed guilty Wednesday of conspiring to provide material support to terrorism in the United States and abroad.
CNN: Stimulus funds finally headed to South Carolina schools
Federal education stimulus dollars are headed to South Carolina schools after a state Supreme Court decision settled months of heated political arguments, but educators say the money will have little impact on their budget woes.
NYT: More Leeway for New U.S. Commander in Afghanistan
The new American commander in Afghanistan has been given carte blanche to handpick a dream team of subordinates, including many Special Operations veterans, as he moves to carry out an ambitious new strategy that envisions stepped-up attacks on Taliban fighters and narcotics networks.
NYT: U.S. Takes On the Insular Culture of G.M.
Fiat will set a new direction at Chrysler, which finished its tour through bankruptcy court Wednesday, completing its deal to join forces with the Italian automaker.
Washington Post: Grief, Shock After a 'Gentle Giant' Loses His Life in the Line of Duty
Colleagues called Stephen T. Johns "Big John," for he was well over 6 feet tall. But mostly friends recalled the security guard's constant courtesy and friendliness.
Washington Post: Mountaintop Mining To Get More Scrutiny
The Obama administration will announce plans today to tighten scrutiny of mountaintop coal mining, in an effort to reduce environmental damage from operations that shear off peaks and fill Appalachian valleys, federal officials said.
USA TODAY: More students on free lunch programs
Nearly 20 million children now receive free or reduced-price lunches in the nation's schools, an all-time high, federal data show, and many school districts are struggling to cover their share of the meals' rising costs.
LA Times: Executives draw huge salaries at L.A. nonprofit drug treatment center
In an industrial zone a few blocks off the 101 Freeway, the Tarzana Treatment Center relies on government contracts and nonprofit tax status to serve drug addicts in poverty or trouble with the law.
LA Times: Paparazzi 'buffer zone' around preschools is considered
They show up with lunch sacks and stuffed bears, an occasional doll. On Wednesday morning, most simply walked up the sidewalk with their parents in tow to the green, wrought-iron gate.
INTERNATIONAL
For the latest international news: http://edition.cnn.com/
CNN: 'Black box' could hold answer to plane crash mystery
The "black box" is actually an orange cylinder - about 13 pounds of metal wrapped around a stack of memory chips and designed to withstand the force of being slammed high-speed into a brick wall.
CNN: U.S. dad's custody case returns to Brazilian appeals court
Brazil's highest court said Wednesday it does not have jurisdiction over who should have custody of a U.S.-born 9-year-old boy - his Brazilian stepfather or his father in the United States.
CNN: Mexico removes official who oversaw day-care center
Mexico's Institute of Social Security, which oversaw the day-care facility where 44 children died in a fire last week, removed its director in the state where the tragedy occurred, the state-run news agency Notimex reported.
CNN: Visiting Gadhafi stokes protests in Rome
Libyan leader Moammar Gadhafi arrived in Rome Wednesday for a historic - and controversial - first visit to the capital of Italy, Libya's former colonial master.
CNN: Air crash bodies arrive at DNA lab
The first bodies to be recovered from the crash of Air France 447 arrived at a Brazilian Air Force base in Recife, Brazil, Wednesday, the air force announced.
CNN: Tel Aviv search for mattress containing $1M life savings
It was supposed to be a pleasant surprise, but turned into the shock of a lifetime.
CNN: One woman's fear in the fight against corruption in Guatemala
It was Anabella De León's frail 86-year-old mother who answered the door when the men came knocking. "They told her, 'say to Anabella that we are going to kill her very soon,'" De León told CNN. The visit left her mother crying, anxious and shocked.
NYT: In Iran Race, Ex-Leader Works to Oust President
In a makeshift campaign war room in north Tehran, two dozen young women clad in head scarves and black chadors are logging election data into desktop computers 24 hours a day, while men rush around them carrying voter surveys and district maps.
BBC: UN set for swine flu crisis talks
UN health officials have called an emergency meeting to discuss swine flu, amid rumours that the first global flu pandemic in 40 years will be declared.
BUSINESS
For the latest business news: www.CNNMoney.com.
CNN: Emails show Fed strong-armed BofA
Bank of America CEO Ken Lewis heads to Capitol Hill on Thursday, and he's likely to be grilled by lawmakers about the government's role in ensuring that the bank complete its controversial merger with Merrill Lynch.
CNN: White House proposes new pay legislation
The Obama administration moved forward Wednesday on curbing runaway corporate pay practices, proposing new legislation aimed at giving shareholders a greater voice on executive pay and appointing a new so-called "pay czar."
CNN: Taxpayers gain $2.7B on bailout 'investment'
The government bailout of banks, lenders, Bear Stearns and AIG brought in billions of dollars to the Federal Reserve in the first quarter of 2009.
CNN: U.S. budget deficit nears $1 trillion
The federal budget deficit surged in May, bringing the total shortfall for this fiscal year to nearly $1 trillion, government figures showed Wednesday.
WSJ: Rate Rise Clouds Recovery
Rising interest rates threaten to dim prospects for a housing recovery and choke off a refinance wave that was a major plank of the Obama administration's economic-stimulus efforts.
In Case You Missed It
To watch the latest interviews and reporting: http://www.cnn.com/video.
CNN: From orphanage to World Cup
South Africa's less fortunate get a taste of World Cup glory. CNN's Nkepile Mabuse reports.
CNN: Honoring veterans
CNN.com's Wayne Drash joins Nicole Lapin to talk about a very personal project in which veterans were honored for sacrifices to their country.
CNN: $1M in mattress thrown away
A mattress stuffed with $1 million is accidentally thrown away and a bird attacks innocent pedestrians.
Subscribe to the CNN=Politics DAILY podcast at http://www.cnn.com/politicalpodcast.
And now stay posted on the latest from the campaign trail by downloading the CNN=Politics SCREENSAVER at http://www.CNN.com/situationroom.