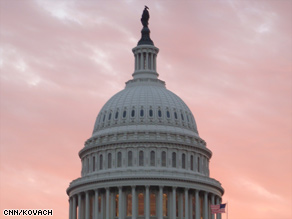 The CNN Washington Bureau's morning speed read of the top stories making news from around the country and the world.
WASHINGTON/POLITICAL
For the latest political news: www.CNNPolitics.com.
CNN: Senate passes bill increasing FDA power over tobacco products
A bill that increases the power of the Food and Drug Administration to regulate the manufacturing, marketing and sale of tobacco products cleared the Senate on Thursday.
CNN: Sotomayor says she was 'perfect affirmative action baby'
Supreme Court nominee Judge Sonia Sotomayor years ago said she was a "product of affirmative action" when she was admitted to prestigious universities, but defended the contributions she offered as a Hispanic woman to classroom and workplace diversity.
CNN: Uyghur Gitmo detainees resettle in Bermuda
Four Chinese nationals of Uyghur ethnicity who had been held at the U.S. military's Guantanamo Bay, Cuba, detention facility have been resettled in Bermuda, officials said Thursday.
CNN: Lawmakers drop detainee photo provision from war-funding bill
Senate and House negotiators tasked with finalizing a compromise on a $105 billion bill to fund the wars in Iraq and Afghanistan rejected a provision Thursday night that would have prohibited the release of photos showing alleged detainee abuse.
CNN: Letterman says Palin joke in 'poor taste'
Late night comedian David Letterman, responding to criticism his recent joke about a member of Sarah Palin's family crossed the line, said on his show Wednesday night he is guilty of "poor taste."
CNN: Obama takes health care plan to the people
President Obama took his health care reform push on the road Thursday, saying in Green Bay, Wisconsin, that those concerned with high costs and rising deficits should be proponents of change to an ailing system.
CNN: Wright revisits 'them Jews' remark
The Rev. Jeremiah Wright is looking to calm this week's firestorm over remarks termed anti-Semitic by critics, saying Thursday he meant to say "Zionists" instead of "them Jews" when referring to people in Washington who do not want President Obama speaking with him.
Wall Street Journal: Miranda Issues Cloud Gitmo Cases
A Pentagon decision to not advise Guantanamo Bay prisoners of their rights during questioning that began in 2006 could prove a legal stumbling block in trials.