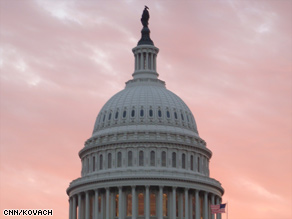 The CNN Washington Bureau's morning speed read of the top stories making news from around the country and the world.
WASHINGTON/POLITICAL
For the latest political news: www.CNNPolitics.com.
CNN: Senate passes bill increasing FDA power over tobacco products
A bill that increases the power of the Food and Drug Administration to regulate the manufacturing, marketing and sale of tobacco products cleared the Senate on Thursday.
CNN: Sotomayor says she was 'perfect affirmative action baby'
Supreme Court nominee Judge Sonia Sotomayor years ago said she was a "product of affirmative action" when she was admitted to prestigious universities, but defended the contributions she offered as a Hispanic woman to classroom and workplace diversity.
CNN: Uyghur Gitmo detainees resettle in Bermuda
Four Chinese nationals of Uyghur ethnicity who had been held at the U.S. military's Guantanamo Bay, Cuba, detention facility have been resettled in Bermuda, officials said Thursday.
CNN: Lawmakers drop detainee photo provision from war-funding bill
Senate and House negotiators tasked with finalizing a compromise on a $105 billion bill to fund the wars in Iraq and Afghanistan rejected a provision Thursday night that would have prohibited the release of photos showing alleged detainee abuse.
CNN: Letterman says Palin joke in 'poor taste'
Late night comedian David Letterman, responding to criticism his recent joke about a member of Sarah Palin's family crossed the line, said on his show Wednesday night he is guilty of "poor taste."
CNN: Obama takes health care plan to the people
President Obama took his health care reform push on the road Thursday, saying in Green Bay, Wisconsin, that those concerned with high costs and rising deficits should be proponents of change to an ailing system.
CNN: Wright revisits 'them Jews' remark
The Rev. Jeremiah Wright is looking to calm this week's firestorm over remarks termed anti-Semitic by critics, saying Thursday he meant to say "Zionists" instead of "them Jews" when referring to people in Washington who do not want President Obama speaking with him.
Wall Street Journal: Miranda Issues Cloud Gitmo Cases
A Pentagon decision to not advise Guantanamo Bay prisoners of their rights during questioning that began in 2006 could prove a legal stumbling block in trials.
Politico: Senators fly high on taxpayers' dime
Sens. John Cornyn and Chuck Schumer each spent more than $140,000 in taxpayer money on travel in the first half of the fiscal year — roughly 10 times as much as some of their thriftier colleagues.
BBC: Row erupts over Guantanamo deal
A diplomatic spat has broken out over Bermuda's acceptance of four Chinese Muslim Uighurs released from the US detention centre at Guantanamo Bay.
NATIONAL
For the latest national news: www.CNN.com.
CNN: Army: Suicide rate among soldiers continues on record pace
The suicide rate among U.S. Army soldiers jumped in May - continuing a four-month upward trend and on a record pace for a second straight year, according to Army statistics released Thursday.
CNN: 'Elaborate' drug tunnel found along Mexico border
Authorities have found a massive underground drug smuggling tunnel snaking through the U.S.-Mexican border, and law officers are marveling over its sophistication.
CNN: Slain officer remembered as a 'gentle giant'
After stints as a guard in the jails of Washington, D.C., and on the streets of post-Katrina New Orleans, Stephen Tyrone Johns had settled in to a job he liked at the U.S. Holocaust Memorial Museum, family members said.
CNN: Ex-housemate says accused killer talked of going out with a bang
A former housemate of the man accused of killing a black security guard Wednesday in the U.S. Holocaust Memorial Museum in Washington described the suspect as an avowed racist who had threatened to "go out with a bang," but someone he had not considered capable of carrying out such an attack.
CNN: Fake military veteran hid under 'ocean of lies'
Richard Strandlof said he survived the 9/11 attacks on the Pentagon. He said he survived again when a roadside bomb went off in Iraq killing four fellow Marines. He'd point to his head and tell people he had a metal plate, collateral damage from the explosion.
CNN: Schwarzenegger: No borrowing to keep California running
Unless lawmakers agree on how to close the budget gap, California Gov. Arnold Schwarzenegger says he refuses to borrow money to keep the state running in the face of a $24.3 billion budget deficit and a new fiscal year on the horizon.
CNN: Hate groups riled up, researchers say
Hate groups have intensified their rhetoric in recent months, but this new energy hasn't necessarily translated to an increase in the rate of hate crimes in the U.S., according to some researchers.
NYT: Door to Door as Missionaries, Then as Salesmen
Six days a week, in fair weather and foul, two-dozen door-to-door salesmen, all of whom live clustered together in an apartment complex in this suburb west of Chicago, pile into S.U.V.'s and cars and head into the big city, bent on sales of home security systems.
Washington Post: Executives Unruffled by Proposed Compensation Rules
Corporate executives breathed a sigh of relief Thursday after examining the fine print on broad new executive compensation rules and proposals put forth by the Obama administration.
Washington Post: Calls Resume for Single Banking Regulator
The Obama administration is facing new pressure from key Democratic and Republican lawmakers to centralize banking oversight in a single regulator, a proposal the White House had seriously considered before shelving it as widespread opposition grew.
Wall Street Journal: Data-Driven Schools See Rising Scores
Last fall, high-school senior Duane Wilson started getting D's on assignments in his Advanced Placement history, psychology and literature classes. Like a smoke detector sensing fire, a school computer sounded an alarm.
McClatchy: 15 months after Iraq bloodbath, young veteran takes his life
On March 7, 2007, Army Spc. Trevor Hogue was inside his barracks in Baghdad, describing his morning on the battlefield.
INTERNATIONAL
For the latest international news: http://edition.cnn.com/
CNN: Source: N. Korea may be preparing for new nuclear test
North Korea may be preparing for a new atomic bomb test a month after its last test, a U.S. official said Thursday.
CNN: Iran election race tightens
The day before polls open in Iran's presidential election, the streets are suddenly quiet again as official campaigning comes to an end, and voters prepare for what is expected to be a record turnout.
CNN: Petraeus: Afghanistan attacks at high
The top U.S. general, David Petraeus, painted a bleak picture of Afghanistan's immediate future, saying insurgent attacks have risen to record levels not seen since 2001.
CNN: U.N.: Sudan letting some aid groups return after expulsion
After expelling aid organizations in March, the government of Sudan is letting some back in the country, the United Nations humanitarian chief said Thursday.
CNN: Air France CEO: Don't assume sensors caused crash
There should be no assumed link between on-board speed sensors and the crash of Air France Flight 447 into the Atlantic Ocean last week, the airline's chief executive said Thursday.
NYT: Some in Qaeda Leave Pakistan for Somalia and Yemen
American officials say they are seeing the first evidence that dozens of fighters with Al Qaeda, and a small handful of the terrorist group's leaders, are moving to Somalia and Yemen from their principal haven in Pakistan's tribal areas. In communications that are being watched carefully at the Pentagon, the White House and the Central Intelligence Agency, the terrorist groups in all three locations are now communicating more frequently, and apparently trying to coordinate their actions, the officials said.
NYT: Russian Military Cuts Leave Soldiers Adrift
Next to a parking lot here is an orphan of a building that could be mistaken for a large toolshed. It was once used as a flophouse by transient workers who put up nearby apartments, but was then deemed by health inspectors to be unfit for humans. Mold coats the walls like graffiti, ceilings are crumpling and rats skulk about.
NYT: Protesters Gird for Long Fight Over Opening Peru's Amazon
Faced with a simmering crisis over dozens of deaths in the quelling of indigenous protests last week, Peru's Congress this week suspended the decrees that had set off the protests over plans to open large parts of the Peruvian Amazon to investment. Senior officials said they hoped this would calm nerves and ease the way for oil drillers and loggers to pursue their projects.
Washington Post: For Pakistanis, a Fight Against Their Own
The body of Mohammed Sajad lies buried in the sandy soil of the village cemetery, beneath a lonely Pakistani flag that flies crisply in the sweltering air.
BBC: Venezuela bans sale of Coke Zero
Venezuela has banned the sale of the calorie-free Coke Zero, calling it harmful to people's well-being.
BUSINESS
For the latest business news: www.CNNMoney.com.
CNN: Investors bet on Detroit housing market
As Detroit home prices in Detroit crash, sales are heating up. But with all of the plant closings and layoffs, who's buying? Investors - some of whom are snapping up five and 10 houses at a time.
CNN: Americans' wealth drops $1.3 trillion
Americans saw $1.3 trillion of wealth vaporize in the first quarter of 2009, as the stock market and home values continued to decline, according to a government report released Thursday.
CNN: Gasoline prices and taxes by state
Prices at the pump can vary widely among states, due in large part to vastly different levels of gasoline tax.
NYT: U.S. Recovery Could Outstrip Europe's Pace
There was more evidence Thursday that the United States economy might be stabilizing, if not rebounding, even as economic reports in Europe remained gloomy.
Washington Post: Spike in Interest Rates Could Choke Recovery
Rising long-term interest rates are making it more expensive for home buyers, corporations and the U.S. government to borrow money, threatening to further stifle an already weak economy.
In Case You Missed It
To watch the latest interviews and reporting: http://www.cnn.com/video.
CNN: Iraq's first spaceman?
CNN's Phil Black reports from Baghdad on the man who dreams of being the first Iraqi in space.
CNN: Blackbird attacks
A dive-bombing feathery fiend terrorizes and amuses pedestrians. CNN's Jeanne Moos has the scoop on swoops.
CNN: Bubonic plague in New Mexico
New cases of the bubonic plague are reported in New Mexico. What is it, and how dangerous is it?
Subscribe to the CNN=Politics DAILY podcast at http://www.cnn.com/politicalpodcast.
And now stay posted on the latest from the campaign trail by downloading the CNN=Politics SCREENSAVER at http://www.CNN.com/situationroom.