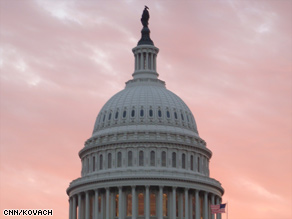 The CNN Washington Bureau's morning speed read of the top stories making news from around the country and the world.
WASHINGTON/POLITICAL
For the latest political news: www.CNNPolitics.com.
CNN: King: Falling between health care cracks in Orlando
Mary Yates has high blood pressure, high cholesterol and a nagging, sore hip. And no health insurance.
CNN: Pence: Obama should speak out in favor of Iranian reformers
On the same day that Vice President Biden said he had doubts about the validity of the Iranian election results, Indianan Republican Rep. Mike Pence urged President Obama to speak out in favor of the forces of reform in the Middle Eastern country.
CNN: Biden expresses 'doubts' about Iranian election
Vice President Joe Biden expressed doubts Sunday about the validity of Iran's presidential election, but said it will take time to analyze the results.
CNN: White House monitoring 'reports of irregularities' in Iran
The White House is watching closely the results of the Iranian election, White House press secretary Robert Gibbs said Saturday.
CNN: Bill Clinton: Global cooperation needed for mankind's survival
Former President Bill Clinton urged people to accept themselves and others in a world system that is "unstable, unequal and unsustainable."
CNN: Health care costs choking small businesses
Maryland auto shop owner Brian England offers health care coverage to his 18 employees, including part-time staff. He calls it "the right thing to do," and besides, he knows taking care of his employees makes good business sense.
Washington Post: Obama Is Pressed to Tax Health Benefits
The White House is caught in a battle within its own party over how to finance a comprehensive overhaul of America's health-care system, as key Democrats advocate a tax plan that could require President Obama to break his campaign pledge not to raise taxes on the middle class.
Washington Post: CIA Fired Firms Aiding Questioning
Weeks after President Obama took office, the CIA extended its contract with a firm run by two psychologists who helped introduce waterboarding and other harsh methods to the agency's interrogation techniques, according to a news report.
Washington Post: Riding Herd on the Message
Word went out from the White House even before the first rhetorical shots had been taken at Sonia Sotomayor: Keep your powder dry.
Washington Post: Democrats Struggling for Consensus on Climate Bills
Democratic allies remain at odds over provisions of a House climate bill and a Senate energy bill, even as congressional leaders and Obama administration officials are pressing to complete work on the legislation.
USA TODAY: CIA chief: Cheney almost 'wishing' for U.S. attack
CIA Director Leon Panetta says former Vice President Dick Cheney's criticism of the Obama administration's approach to terrorism almost suggests "he's wishing that this country would be attacked again, in order to make his point."
Seattle Times: At UW graduation, Secretary Gates urges life of public service
Public service is never easy, but in a time of war and economic crisis, there may never have been a more urgent time for it, Defense Secretary Robert Gates told thousands of newly minted University of Washington graduates Saturday.
NATIONAL
For the latest national news: www.CNN.com.
CNN: Going, going, gone digital - with a few exceptions
Phones at help centers across the country rang Saturday, a day after broadcasters halted the transmission of analog signals long depended on by many people without cable or satellite television.
CNN: U.S. Persian Gulf forces cautioned on Iran
U.S. military commanders in the Middle East were sent a message reminding American forces to maintain discipline and prudence if they encounter any Iranian military forces during potential unrest surrounding Iran's presidential election, CNN has learned.
CNN: Iraq transfers American contractors to U.S. custody
Two American contractors being held by Iraqi authorities were handed over to U.S. custody on Sunday, the U.S. Embassy said.
CNN: Man charged in museum shooting expected to survive, feds say
The man charged with killing a security officer at the U.S. Holocaust Memorial Museum is expected to survive his subsequent shooting by other security officers, the FBI said in a statement released Saturday.
NYT: Plan for Dozens of Salvation Army Centers Falters
At her death in 2003, Joan B. Kroc, the widow of the founder of the McDonald's Corporation, left a grand idea and $1.8 billion to make it happen. She wanted the Salvation Army to build some 30 lavish community centers around the nation, like the $87 million complex she paid for in San Diego, with three swimming pools, an indoor ice skating arena and a 600-seat theater.
NYT: On a Furlough, but Never Leaving the Cubicle
Wendy Roberson, a state employee in California, founded the Fun Furlough Fridays Club partly as a joke, but also because she honestly believed that she would be having long-weekend-type fun on her forced time off.
NYT: $431,000 Paid for Envelope and Its Stamp
An envelope from an 1873 letter bearing a scarce 90-cent stamp with Abraham Lincoln fetched more than $431,000 at an auction in New York City on Saturday.
NYT: Out of Guantánamo, Uighurs Bask in Bermuda
Almost exactly seven years after arriving at Guantánamo in chains as accused enemy combatants, and four days after their surprise predawn flight to Bermuda, four Uighur Muslim men basked in their new-found freedom here, grateful for the handshakes many residents had offered and marveling at the serene beauty of this tidy, postcard island.
Washington Post: Demand for Vegetable Seeds Is Rooted in Recession
In 1784, an Englishman named David Landreth opened a seed store in downtown Philadelphia, confident that newly independent Americans would also want the freedom of growing their own food.
Washington Post: Justice Dept. Focusing On Indian Country Crime
Justice Department leaders, responding to pleas from lawmakers and community groups, are training their attention on efforts to reduce crime and substance abuse on land controlled by the nation's roughly 560 Native American tribes.
USA Today: Weapons makers look overseas as DoD cuts back
Foreign governments looking to kick the tires of fighter jets and cargo planes at this week's air show in Paris will likely hear a clear message from U.S. defense contractors: We need your business now more than ever.
Wall Street Journal: FBI Seeks to Target Lone Extremists
The recent killings of a U.S. Holocaust Memorial Museum guard and a Kansas abortion doctor came a few months after the Federal Bureau of Investigation stepped up efforts to pre-empt violence committed by just such political extremists working alone.
INTERNATIONAL
For the latest international news: http://edition.cnn.com/
CNN: Tehran tense as Iran's supreme leader endorses vote outcome
Iran's supreme leader gave his blessing to the outcome of the country's presidential election Sunday despite widespread allegations of fraud, calling the results "a divine miracle," the official Islamic Republic News Agency reported.
CNN: Clashes in Iran reveal deep divide
A group of 20 to 30 men, carrying clubs and metal pipes, banged on the door of an apartment building in a Tehran neighborhood.
CNN: Hatred, chaos and savage beatings in Tehran
He was surrounded and pleading for them to stop but six men with clubs, batons and metal rods kept battering a young Iranian man with ruthless force. The swing that keeps replaying in my head was the black baton that smashed the man in the skull behind his left ear.
CNN: Tear gas and Twitter: Iranians take their protests online
Iranian protesters have found a new outlet to mobilize and take action. The presidential election has proved how much opposition supporters can demand change without necessarily taking to the streets. Just give them a computer and an Internet connection and watch what they can do.
CNN: Ahmadinejad: No guarantee on rival's safety
Iranian President Mahmoud Ahmadinejad declined Sunday to guarantee the safety of his defeated rival Mir Hossein Moussavi in response to a question from CNN Chief International Correspondent Christiane Amanpour.
CNN: Israel PM calls for demilitarized Palestinian state
Israeli Prime Minister Benjamin Netanyahu said Sunday that Israel could accept a peace agreement with a "demilitarized Palestinian state" as its neighbor.
CNN: Poll: Half of Israelis back bombing if needed to stop Iran nukes
Roughly half of Israelis support bombing Iran's nuclear facilities if international efforts fail to stop the Islamic republic from developing nuclear weapons, according to a Hebrew University poll released Sunday.
NYT: North Korea's Heir Apparent Remains a Mystery
There is only one photograph available outside North Korea thought to be that of the man South Korean officials believe will inherit the world's most unpredictable regime, one that is armed with nuclear weapons. In that picture, the man, Kim Jong-un, a son of the ailing North Korean leader, Kim Jong-il, is an 11-year-old.
Washington Post: Pakistan To Pursue Taliban Leader
Pakistani officials announced Sunday night that security forces will launch a military operation against Baitullah Mehsud, a feared Taliban leader who has asserted responsibility for numerous suicide bombings across the country and who is believed to have ordered the assassination of former prime minister Benazir Bhutto in late 2007.
Wall Street Journal: Walls Around Rio's Slums Protect Trees But Don't Inspire Much Hugging
Luis Carlos da Silva is helping construct a 10-foot cinder-block wall around Dona Marta, the slum he calls home.
BBC: Internet chat 'dupes Castro son'
A Cuban exile blogger from Miami says he used a female internet alter ego to gain access to a member of the usually impervious family of Fidel Castro.
BUSINESS
For the latest business news: www.CNNMoney.com.
CNN: Showdown over auto dealer cuts
These are hard times for car dealers. Across the nation, General Motors and Chrysler dealerships are pulling down their big roadside signs and closing their doors.
Fortune: Unemployed in Elkhart
Even as Chuck Stouder campaigned for then-Senator Barack Obama last fall, the Elkhart, Ind., man was facing a personal crisis: His long career in the RV industry was coming to a close. He's since lost his job. Now, Stouder, 58 years old, tells his story:
Washington Post: Carlyle Sets Its Sights on Battered Banks
With the leveraged-buyout business on life support, major private-equity firms such as the Carlyle Group are taking a closer look at the battered banking sector as a way to make money for their clients.
In Case You Missed It
To watch the latest interviews and reporting: http://www.cnn.com/video.
CNN: Behind the scenes at CNN
A package for the top of the show didn't make its time slot. We took the cameras over to the edit bay to find out why.
CNN: Uyghurs 101
CNN's Jaime Florcruz visits a very distinct Muslim minority community in China.
CNN: Moussavi supporters beaten
Samson Desta, CNN producer, reports on the latest violence in Iran in response to the election results.
Subscribe to the CNN=Politics DAILY podcast at http://www.cnn.com/politicalpodcast.
And now stay posted on the latest from the campaign trail by downloading the CNN=Politics SCREENSAVER at http://www.CNN.com/situationroom.