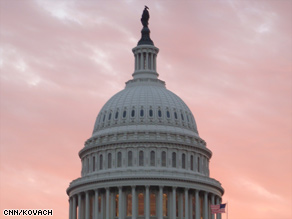 The CNN Washington Bureau's morning speed read of the top stories making news from around the country and the world.
WASHINGTON/POLITICAL
For the latest political news: www.CNNPolitics.com.
CNN: Obama 'deeply troubled' by Iran protests
President Barack Obama said Monday he was "deeply troubled" by the violent protests that have followed Iran's disputed presidential election, but said it was up to Iranians to choose their own leaders.
CNN: Obama makes case for universal coverage, end of medical red tape
Health care reform should mean all Americans can get coverage while allowing doctors to heal patients instead of being bureaucrats, President Obama told the American Medical Association on Monday.
CNN: High court won't intervene in border fence dispute
The Supreme Court has rejected for now a look at the legality of a 700-mile fence along the Mexican border, an ongoing state-federal dispute triggered by the politically sensitive issue of illegal immigration.
CNN: U.S., Canada keeping close eye on Iran's election outcome
The White House remained neutral on the re-election of Iranian President Mahmoud Ahmadinejad, praising the spirited debate among voters, but joined Canada on Saturday in saying it is monitoring reports of irregularities.
CNN: Tea Party organizer launches Senate bid
The Tea Party movement appears to have produced its first official candidate for national office.
CNN: Obama solicits help for Creigh Deeds in Virginia
Thousands of Virginia Democrats got an email from President Barack Obama on Monday afternoon asking them to get involved in Creigh Deeds' campaign for governor — an appeal sure to help the cash-strapped Democrat raise money after his victory last week in an expensive three-way primary.
CNN: McCain calls Iran vote result 'corrupt'
Arizona Sen. John McCain responded sharply Monday to the disputed election result in Iran showing victory for Iranian President Mahmoud Ahmadinejad, calling the whole process "corrupt" and questioning the legitimacy of the current investigation into the matter.
NYT: U.S. to Confront, Not Board, North Korean Ships
The Obama administration will order the Navy to hail and request permission to inspect North Korean ships at sea suspected of carrying arms or nuclear technology, but will not board them by force, senior administration officials said Monday.
NYT: Administration Plans to Move Top Iran Expert to White House
With the White House assuming a more central role in dealing with Iran, the Obama administration plans to move its senior Iran policy maker, Dennis B. Ross, to the National Security Council from the State Department, two administration officials said Monday.
Wall Street Journal: Audit Finds That U.S. Overpaid Blackwater
A government audit found that the State Department overpaid the contract-security firm once known as Blackwater Worldwide by tens of millions of dollars because the company failed to properly staff its teams in Iraq.
LA Times: Detainee says he lied to CIA in harsh interrogations
Self-proclaimed Sept. 11 mastermind Khalid Shaikh Mohammed told U.S. military officials that he had lied to the CIA after being abused, according to documents made public Monday. The claim is likely to intensify the debate over whether harsh interrogation techniques generated accurate information.
Washington Post: CIA Mistaken on 'High-Value' Detainee, Document Shows
An al-Qaeda associate captured by the CIA and subjected to harsh interrogation techniques said his jailers later told him they had mistakenly thought he was the No. 3 man in the organization's hierarchy and a partner of Osama bin Laden, according to newly released excerpts from a 2007 hearing.
CS Monitor: Does Obama still want to engage Iran?
Continuing strife in Iran over the legitimacy of President Mahmoud Ahmadinejad's declared re-election victory has stoked debate in Washington over the wisdom of President Obama's pursuit of engagement with Tehran.
NATIONAL
For the latest national news: www.CNN.com.
CNN: Space shuttle launch now set for Wednesday
NASA has rescheduled the launch of space shuttle Endeavour for 5:40 a.m. ET Wednesday, pushing back the planned launch of a separate lunar mission.
CNN: Passenger trust is crucial, officials say at air safety summit
Regaining the public's confidence in air travel, on every plane at every airport, is imperative, Transportation Secretary Ray LaHood said Monday as he kicked off an air-safety summit.
CNN: Teen charged in Miami's 19 serial cat killings
A teenager is being held on 19 counts of animal cruelty linked to a month-long killing spree of pet cats in the Miami area, police said.
CNN: U.S. may help train Mexican customs agents under pact
An agreement signed Monday by U.S. and Mexican officials some day may mean travelers headed into Mexico will see Mexican customs officials - trained and equipped with the help of the U.S. government.
NYT: For Some in Illinois, Talk of Reform Was Just That
If anything good was going to come out of the arrest and removal of Gov. Rod R. Blagojevich, it was supposed to be in the stack of legislation now awaiting the signature of the new governor.
NYT: A Suicide at 102 Unites a City in Thanks for a Man's Life
When Isadore E. Millstone jumped off a bridge and killed himself, the people of St. Louis mourned his loss even before his body was found in the Missouri River early this month.
Washington Post: Calif. Aid Request Spurned By U.S.
The Obama administration has turned back pleas for emergency aid from one of the biggest remaining threats to the economy - the state of California.
Washington Post: Study Shows Possible Link Between Deaths and ADHD Drugs
Children taking stimulant drugs such as Ritalin to treat attention-deficit hyperactivity disorder are several times as likely to suffer sudden, unexplained death as children who are not taking such drugs, according to a study published yesterday that was funded by the Food and Drug Administration and the National Institute of Mental Health.
USA TODAY: Family time eroding in U.S. as Internet use soars
Whether it's around the dinner table or just in front of the TV, U.S. families say they are spending less time together.
INTERNATIONAL
For the latest international news: http://edition.cnn.com/
CNN: 7 killed in attack on military post as Iran braces for fresh protests
Seven people were killed in central Tehran after they reportedly attacked a military post, Iranian state media said Tuesday.
CNN: Would an Iran with Moussavi at the helm look different?
He's been labeled by many as the "reformist," a man who can take Iran beyond the truculent anti-Western rhetoric of President Mahmoud Ahmadinejad.
CNN: Q & A: Was the Iranian election rigged?
As protests continue over the disputed presidential elections in Iran, we asked two analysts to explain the background to the controversy.
CNN: North Koreans have made nuclear progress, experts say
The U.S. intelligence community believes that North Korea tested a nuclear device last month with an explosive yield of several kilotons, considerably more powerful than its first test nearly three years ago.
CNN: Anti-war campaigners slam 'secret' Iraq probe
Anti-war protesters have criticized a decision by the UK government to hold an investigation into Britain's involvement in the Iraq war behind closed doors.
CNN: Russia vetoes U.N. mission in Georgia
The rift between Russia and Western powers over Georgia burst back into full view on the U.N. Security Council when Russia vetoed a resolution that would have extended the U.N. observer mission in Georgia.
TIME: Could Ayatullah Khamenei Be Vulnerable?
The news that Iran's Supreme Leader Ali Khamenei has ordered an investigation into charges of voter fraud in his country's presidential elections has been greeted with skepticism by many in the West. After all, it was Ayatullah Khamenei, who holds the ultimate authority in the theocratic nation, who rushed to embrace incumbent President Mahmoud Ahmadinejad as the victor long before the ballots were counted. But his order to the Guardian Council, the powerful watchdog of the Iranian constitution, to start an investigation may not be as cynical as it appears.
NYT: Tough Battle in Stronghold of Pakistan Insurgency
Pakistan has been fighting militants for weeks in a green valley north of the capital. Even as that battle is fought, it is now gearing up for the most decisive test of the war, in the rugged western mountains that are the Taliban's prime sanctuary.
Washington Post: Seeking Truth and Trust in Pakistan
U.S. envoy Richard C. Holbrooke, red-faced and sweaty, sat on the dirt floor of a stifling tent as Aslam Khan, a 38-year-old laborer, spoke haltingly of his family's panicked flight from a Pakistani army offensive against Taliban forces in their mountain village, three hours north of here.
NYT: Poll Shows Drop in Support of Karzai as Afghan Leader
Support for President Hamid Karzai has dropped sharply since his election in 2004, with fewer than a third of Afghans supporting his re-election, according to the results of a poll released Monday.
BUSINESS
For the latest business news: www.CNNMoney.com.
CNN: Recession fears cripple stocks
Stocks slumped Monday as weaker oil prices and more geopolitical unrest raised worries that the recession may not be waning as soon as some had hoped.
CNN: Improving access to health insurance: $1 trillion
Two key proposals to improve access to health insurance could reduce the ranks of the uninsured but cost $1 trillion over 10 years, according to preliminary estimates released Monday by the Congressional Budget Office.
NYT: Credit Issuers Slashing Card Balances
The banks were bailed out last fall, the automobile companies last winter. For Edward McClelland, a writer in Chicago, deliverance finally arrived a few days ago.
In Case You Missed It
To watch the latest interviews and reporting: http://www.cnn.com/video.
CNN: Protests in Iran
CNN's Christiane Amanpour reports on the massive protest in Iran that follows elections.
CNN: Iran's cyber voices
CNN's Octavia Nasr reports on reactions in cyberspace to Iran's controversial election results.
CNN: Obama on Iranian elections
President Obama addresses elections in Iran saying democratic process should be respected.
Subscribe to the CNN=Politics DAILY podcast at http://www.cnn.com/politicalpodcast.
And now stay posted on the latest from the campaign trail by downloading the CNN=Politics SCREENSAVER at http://www.CNN.com/situationroom.