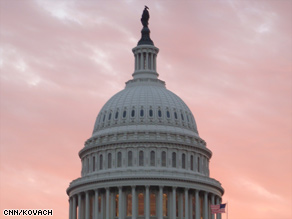 The CNN Washington Bureau's morning speed read of the top stories making news from around the country and the world.
WASHINGTON/POLITICAL
For the latest political news: www.CNNPolitics.com.
CNN: Republicans take issue with Obama on Iran
A top congressional Republican on Thursday joined critics of the White House's response to Iran's disputed presidential election, saying the United States has a "moral responsibility" to condemn attacks on protesters.
CNN: Kerry on Iran: Don't 'make this about America'
Sen. John Kerry defended President Obama Thursday for staying out of the controversy over the elections in Iran, telling CNN this was an "Iranian moment" and saying it would be an "enormous mistake" for the president to get involved.
CNN: Bush takes aim at Obama policies
In his most critical comments to date of the Obama administration's policies, former President George Bush Wednesday warned against the nationalization of healthcare, government overreach in the country's financial system, and the potential effects of closing the terrorist detention center at Guantanamo Bay.
CNN: White House fires back at Bush comments: 'We won'
A day after former President George W. Bush seemed to criticize the Obama administration for departing from a number of his anti-terrorism policies, White House Press Secretary Robert Gibbs fired back.
CNN: Polls: Obama being judged for actions, not promises
Three new national polls suggest that President Barack Obama is more popular than his policies. And two of those surveys, by NBC-Wall Street Journal and CBS-New York Times, also indicate that concerns over the massive federal deficit are growing.
CNN: Senate approves funds for Iraq, Afghanistan wars
The U.S. Senate on Thursday passed a $106 billion spending bill that includes about $80 billion for the wars in Iraq and Afghanistan, sending the bill to the White House for President Obama's signature.
CNN: What you need to know about health care reform
Five years from now, there's an excellent chance you won't have the same health insurance you have (or don't have) right now. That's because members of Congress are gearing up to reform the U.S. health care system, and unlike in 1993 when then-first lady Hillary Clinton tried her hand at changing the medical system, this time the important players - doctors, insurance companies, pharmaceutical manufacturers - seem to be on board. You heard a lot about health care reform this week, and you'll be hearing even more in the months to come.
NYT: Democrats Scramble to Cut Costs From Health Plan
The high cost of securing health insurance for all Americans, the top domestic priority of President Obama, has Congressional Democrats scrambling to scale back their proposals or find ways to trim tens of billions of dollars a year from existing health programs.
NYT: Obama's Pledge on Donations Faces Reality
When President Obama arrived at the Mandarin Oriental hotel for a fund-raising reception on Thursday night, the new White House rules of political purity were in order: no lobbyists allowed.
Washington Post: Judge Questions Justice Dept. Effort to Keep Cheney Remarks Secret
A federal judge yesterday sharply questioned an assertion by the Obama administration that former Vice President Richard B. Cheney's statements to a special prosecutor about the Valerie Plame case must be kept secret, partly so they do not become fodder for Cheney's political enemies or late-night commentary on "The Daily Show."
Wall Street Journal: White House Looks to Include Same-Sex Unions in Census Count
The White House said Thursday it was seeking ways to include same-sex marriages, unions and partnerships in 2010 Census data, the second time in a week the administration has signaled a policy change of interest to the gay community.
Washington Post: Facebook Taps Privacy Hawk as Lobbyist
Facebook's newly minted lobbyist used to be one of the company's most formidable adversaries.
NATIONAL
For the latest national news: www.CNN.com.
CNN: Texas billionaire Stanford arrested in U.S.
Texas billionaire Allen Stanford was taken into custody Thursday night on a fraud-related charge in Stafford, Virginia, the FBI said.
CNN: Child porn on museum suspect's computer, FBI says
The FBI says it found child pornography on a computer used by the man charged with the fatal shooting of a security guard at the U.S. Holocaust Memorial Museum June 10.
CNN: Woman illegally downloads 24 songs, fined to tune of $1.9 million
A federal jury Thursday found a 32-year-old Minnesota woman guilty of illegally downloading music from the Internet and fined her $80,000 each - a total of $1.9 million - for 24 songs.
CNN: NASA orbiter on way to explore the moon
Humans are a step closer to returning to the moon after NASA launched a lunar orbiter Thursday to provide a comprehensive survey of our nearest celestial neighbor.
CNN: DNA tests show Michigan man is not 1955 missing toddler
DNA test results reveal that a Michigan man is not a Long Island, New York, boy who went missing 54 years ago, according to the FBI.
CNN: Trans-Atlantic passenger jet lands safely after pilot dies
The pilot of Continental Flight 61 died Thursday as the plane flew from Brussels, Belgium, to Newark, New Jersey, the Federal Aviation Administration and Continental Airlines said.
CNN: Study shows Americans' devotion to the Internet
Americans would rather keep their Internet connections than keep their cell phone or television service, a new study found.
NYT: After 90 Years, the Wolverine (Just One) Returns to Colorado
The last time wolverines were known to live in Colorado, Theodore Roosevelt had just died and women had not yet won the right to vote. But now, 90 years later, researchers using radio tracking devices have followed a wolverine into the state.
NYT: For Colleges, Small Cutbacks Are Adding Up to Big Savings
College life may look different in the not-so-distant future: Students squinting out dirtier windows, faculty offices with full wastebaskets and no phones, sporting events in which opponents never meet, and paper course catalogs existing only as artifacts of the wasteful old days.
Washington Post: Court Limits Access to DNA Evidence
Prisoners do not have a constitutional right to DNA testing after their conviction, the Supreme Court ruled yesterday, even though the technology provides an "unparalleled ability both to exonerate the wrongly convicted and to identify the guilty."
USA Today: Alcohol abuse by GIs soars since '03
The rate of Army soldiers enrolled in treatment programs for alcohol dependency or abuse has nearly doubled since 2003 — a sign of the growing stress of repeated deployments in Iraq and Afghanistan, according to Army statistics and interviews.
Wall Street Journal: U.S. Fortifies Hawaii to Meet Threat From Korea
The U.S. is moving ground-to-air missile defenses to Hawaii as tensions escalate between Washington and Pyongyang over North Korea's recent moves to restart its nuclear-weapon program and resume test-firing long-range missiles.
LA Times: Zen in their bedside manner
It was 8 a.m., and the subject was death. A 55-year-old man was wasting away from lungcancer and cirrhosis. His weight was plummeting and his brain was swelling. But he was in denial, refusing to discuss hospice care or consider a "do not resuscitate" order.
INTERNATIONAL
For the latest international news: http://edition.cnn.com/
CNN: Cries in the dark: 'God is great'
Even sequestered by government order in our hotel, we could still hear the sounds of protests in the night.
CNN: Iran's supreme leader delivers crisis speech
Iran's supreme leader called for "peace and tranquility" Friday in his first public address since the outcome of last week's presidential election sparked the country's worst unrest in three decades.
CNN: Ahmadinejad says remarks taken out of context
Six days after official election results awarded him victory in Iran's presidential elections and four days after he compared the putative losers to fans of a losing soccer team, unleashing a wave of fury in his country, Mahmoud Ahmadinejad said in a broadcast aired Thursday his remarks had been taken out of context.
CNN: Iran's supreme leader once a student revolutionary himself
Iranian Supreme Leader Ayatollah Ali Khamenei was once a student revolutionary himself, perhaps not much different from the thousands of protesters who this week have taken to the streets in Iran.
CNN: U.S. official: N. Korean ship may be moving weapons, technology
The U.S. military is tracking a North Korean ship believed to be carrying illicit weapons or technology, a senior U.S. official said Thursday.
CNN: Groups: Mekong faces 'devastating' threat from proposed dams
It is the life blood for tens of millions of people - but the mighty Mekong River in southeast Asia is now facing a "devastating" threat from not one, but 11 proposed dams.
CNN: Somali security minister killed
Somalia's internal security minister was killed Thursday in a massive suicide car bombing in central Somalia, the country's president said.
CNN: Myanmar's Suu Kyi turns 64 in prison
Myanmar pro-democracy figure Aung San Suu Kyi turned 64 in prison Friday, while a judge considers when to hear her appeal to allow more witnesses at her subversion trial.
NYT: Shadowy Iranian Vigilantes Vow Bolder Action
The daytime protests across the Islamic republic have been largely peaceful. But Iranians shudder at the violence unleashed in their cities at night, with the shadowy vigilantes known as Basijis beating, looting and sometimes gunning down protesters they tracked during the day.
NYT: In East Germany, a Decline as Stark as a Wall
In this, the 20th year since the fall of the Berlin Wall, Chancellor Angela Merkel's government is preparing for a host of celebrations and commemorations leading to the November anniversary. The official story of an eastern revival was reinforced by President Obama's recent visit to Dresden in all its reconstructed glory.
Washington Post: U.S. Pursues a New Way To Rebuild in Afghanistan
The idea to transform a vacant tract near the Afghan city of Mazar-e Sharif into a sprawling commercial farm, with miles of strawberry fields and thousands of cashmere goats, began with an entreaty from President George W. Bush to the billionaire chairman of Dole Foods at a 2006 Republican Party fundraiser.
BUSINESS
For the latest business news: www.CNNMoney.com.
CNN: A new economy, a new career
I am a general contractor in San Francisco specializing in multi-family residential buildings. I was in a pretty comfortable place, I was building substantial buildings and I'd been doing it for years. But, this segment of the market virtually disappeared over night.
CNN: Bewitched, bothered and bewildered by stocks
Hop on your favorite broom. Let out your best cackle. Cuddle up with a black cat and twitch your nose like Samantha. Quadruple witching day is almost here!
NYT: Cutting Off Mom & Pop Credit
Louis Licata has shelved plans to hire three more employees for his Cleveland law firm. Jeannie Macone, of Florida, is cutting back on inventory for her trinket and home décor business. In Ohio, Patrick Allen has slashed employee travel and begun paying cash for work dinners with clients of the marketing firm that he started from scratch.
NYT: A Move to Put the Union Label on Solar Power Plants
When a company called Ausra filed plans for a big solar power plant in California, it was deluged with demands from a union group that it study the effect on creatures like the short-nosed kangaroo rat and the ferruginous hawk.
Boston Globe: Advantage, renters
It's a good time to be a renter in and around Boston. Apartment vacancy rates in the metro area are climbing to new highs, pushing down rents after nearly a decade of increases. The shift is tilting the balance of power, and now landlords are chasing after prospective renters, showering them with deals.
In Case You Missed It
To watch the latest interviews and reporting: http://www.cnn.com/video.
CNN: The slum
Gregory David Roberts revisits the poverty-stricken areas of Mumbai, India where he lived for much of the 1980s.
CNN: NASA launches rocket to moon
Humans are a step closer to returning to the moon, as NASA launches a lunar orbiter.
Subscribe to the CNN=Politics DAILY podcast at http://www.cnn.com/politicalpodcast.
And now stay posted on the latest from the campaign trail by downloading the CNN=Politics SCREENSAVER at http://www.CNN.com/situationroom.