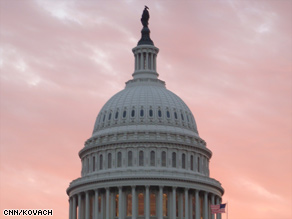 The CNN Washington Bureau's morning speed read of the top stories making news from around the country and the world.
WASHINGTON/POLITICAL
For the latest political news: www.CNNPolitics.com.
CNN: Deal reached to cut Medicare drug costs
In a sign of progress in overhauling health care, the nation's pharmaceutical industry has agreed to a deal that will reduce drug costs for elderly Americans.
CNN: King: Cleveland Clinic pushes into future
As he walks the halls of the Cleveland Clinic, Dr. Steven Nissen makes the next generation of health care in America sound quite simple.
CNN: Senators raise doubts about health care reform
For the second time in as many weeks, leading senators on both sides of the aisle are raising doubts about the viability of President Obama's ambitious plans to reform the nation's health care system.
CNN: Feinstein: U.S. not meddling in Iran
A top senator with responsibility for overseeing U.S. intelligence activities said Sunday that the United States is not interfering with Iran's internal politics.
CNN: McCain: Obama has done well, but hasn't been bipartisan
You can't call John McCain a sore loser. Seven months after Barack Obama defeated him in the U.S. presidential election, the Republican senator from Arizona said Sunday he thinks his former Senate colleague is making things happen in the White House.
CNN: Obama takes on criticism of proposed new agency
President Obama fought back against criticism of his plan for a Consumer Financial Protection Agency Saturday, telling Americans that the new department would prevent them from being confused or deceived by lenders.
CNN: Wolfowitz: U.S. should reach out to Moussavi
President Obama should reach out to Iranian opposition leader Mir Hossein Moussavi as tensions in Iran over the disputed presidential elections continue to heighten, a former Bush administration official told CNN Sunday.
Washington Post: McConnell Carefully Chooses His Battles
When he was fighting campaign finance reform a decade ago, Sen. Mitch McConnell (R-Ky.) was dubbed Darth Vader by his critics. He embraced the nickname, even announcing "Darth Vader has arrived" at a news conference.
Washington Post: Tensions Precede Merkel Visit
President Obama may be the most popular politician in Germany. But that hasn't won him any favors from the German government.
Washington Post: AARP to Endorse Offer Of Drugmaker Price Cuts
AARP, the nation's largest seniors lobby, will give its blessing today to an offer by drug manufacturers to contribute $80 billion over the next decade to reduce the cost of comprehensive health reform, in part by discounting the price of Medicare prescriptions.
USA TODAY: Funds going to districts of key lawmakers
Most of the $2.2 billion in economic stimulus money for Army Corps of Engineers construction projects will be spent in the home districts of members of Congress who oversee the corps' funding, a USA TODAY analysis found.
USA TODAY: 'Green' claims by marketers go unchecked
The federal watchdog that's supposed to crack down on product labels that make false environmental claims has taken almost no enforcement action over the last decade, even as "green" marketing claims have exploded, agency records show.
McClatchy: Agents say DEA is forcing them illegally to work in Afghanistan
As the Obama administration ramps up the Drug Enforcement Administration's presence in Afghanistan, some special-agent pilots contend that they're being illegally forced to go to a combat zone, while others who've volunteered say they're not being properly equipped.
Politico: Death penalty decisions loom for Barack Obama
For the first time in his career, President Barack Obama may soon confront one of the most weighty and unsavory decisions that a chief executive must make, whether to put a murder convict to death.
NATIONAL
For the latest national news: www.CNN.com.
CNN: Suspect in Craigslist slaying indicted
A Massachusetts grand jury late last week indicted a 23-year-old medical student on seven counts, including first-degree murder, in the fatal shooting of one woman and the robbery of another in Boston hotels.
CNN: Passenger says TSA agents harassed him
Steve Bierfeldt says the Transportation Security Administration pulled him aside for extra questioning in March. He was carrying a pocket edition of the U.S. Constitution and an iPhone capable of making audio recordings. And he used them.
CNN: Four-story building collapses in Brooklyn
A four-story residential building collapsed Sunday in the Fort Greene neighborhood of Brooklyn, and at least four people suffered minor injuries, according to the New York City Fire Department.
Wall Street Journal: Numbers On Welfare See Sharp Increase
Welfare rolls, which were slow to rise and actually fell in many states early in the recession, now are climbing across the country for the first time since President Bill Clinton signed legislation pledging "to end welfare as we know it" more than a decade ago.
NYT: U.S. Toughens Airstrike Policy in Afghanistan
The new American commander in Afghanistan said he would sharply restrict the use of airstrikes here, in an effort to reduce the civilian deaths that he said were undermining the American-led mission.
NYT: States Turning to Last Resorts in Budget Crisis
In Hawaii, state employees are bracing for furloughs of three days a month over the next two years, the equivalent of a 14 percent pay cut. In Idaho, lawmakers reduced aid to public schools for the first time in recent memory, forcing pay cuts for teachers.
NYT: Education Chief to Warn Advocates That Inferior Charter Schools Harm the Effort
The Obama administration has made opening more charter schools a big part of its plans for improving the nation's education system, but Education Secretary Arne Duncan will warn advocates of the schools on Monday that low-quality institutions are giving their movement a black eye.
Washington Post: Recovery's Missing Ingredient: New Jobs
Despite signs that the recession gripping the nation's economy may be easing, the unemployment rate is projected to continue rising for another year before topping out in double digits, a prospect that threatens to slow growth, increase poverty and further complicate the Obama administration's message of optimism about the economic outlook.
USA TODAY: 'Magic mint' hallucinogen under fire in U.S.
Saturnino Allende crouches beside a mountain path and gently puts his fingers around the stem of a plant with rough, tongue-shaped leaves.
INTERNATIONAL
For the latest international news: http://edition.cnn.com/
CNN: 'Neda' becomes rallying cry for Iranian protests
"RIP NEDA, The World cries seeing your last breath, you didn't die in vain. We remember you."
CNN: Iran media: Council rejects claims of voting irregularities
Iran's election authority has rejected claims of voting irregularities by a defeated presidential candidate, while acknowledging that the number of ballots cast in dozens of cities exceeded the number of eligible voters there, state-run TV reported Monday.
CNN: Iran: BBC journalist expelled, news bureau shut
Iran has expelled a BBC journalist who had been based in the capital of Tehran, the network said Sunday.
CNN: Zakaria: 'Fatal wound' inflicted on Iranian regime's ideology
The decisive margin of Iranian President Mahmoud Ahmadinejad's victory in the June 12 election stunned many observers and angered his opponents' supporters, who in the ensuing days took to the streets in protest by the hundreds of thousands.
CNN: Young woman describes beating at hands of paramilitary
A 19-year-old woman who was wounded by Iranian paramilitary forces with clubs escaped with her camera and shared her photos with CNN - after tricking a paramilitary soldier into thinking she had given him the images on a disk.
CNN: Oil pipelines in Nigeria attacked, company says
Three attacks were made on Royal Dutch Shell oil facilities in Nigeria on Sunday, according to a company spokesman who said details were not immediately available.
CNN: Iraq: Death toll from huge suicide blast soars
The death toll from Saturday's suicide truck bombing in northern Iraq - the deadliest single attack this year - has risen to 80, a police official said.
CNN: New York Times reporter escapes Taliban
A New York Times reporter who was held by the Taliban for seven months has escaped, the newspaper reported Saturday.
Wall Street Journal: Iran's Web Spying Aided By Western Technology
The Iranian regime has developed, with the assistance of European telecommunications companies, one of the world's most sophisticated mechanisms for controlling and censoring the Internet, allowing it to examine the content of individual online communications on a massive scale.
Wall Street Journal: Taliban Chief Extends Control Over Insurgency
Mullah Omar, supreme leader of the Taliban, is reasserting direct control over the militant group's loose-knit insurgency in Afghanistan, ordering attacks and shuffling field commanders in preparation for the arrival of thousands of additional U.S. troops, according to U.S. officials and insurgents in Afghanistan.
NYT: Former Iran President at Center of Fight Between Classes of the Political Elite
Even before his daughter and four other relatives were briefly detained on Sunday, one of the big mysteries to envelop Iran since the disputed presidential election has been the role of former president Ali Akbar Hashemi Rafsanjani.
NYT: In Iran Battle, Both Sides Seek to Carry Islam's Banner
Ayatollah Ali Khamenei, Iran's supreme leader, ended his prayer sermon in tears on Friday, invoking the name of a disappeared Shiite prophet to suggest that his government was besieged by forces of evil out to destroy a legitimate Islamic government.
NYT: Laws Lag in Iraq, as Patience Wears Thin
Popular support for Iraq's democratic institutions is being undermined steadily by official corruption, yet the country has no comprehensive anticorruption law.
NYT: Fondly, Greenland Loosens Danish Rule
The thing about being from Greenland, said Susan Gudmundsdottir Johnsen, is that many outsiders seem to have no clue where it actually is.
Washington Post: A Personal Touch in Taliban Fight
The father arrived at the gate of Capt. Michael Harrison's base earlier this month cradling the limp body of his 9-year-old daughter.
Washington Post: A Tense Calm on Streets of Tehran
The Iranian government and opposition leader Mir Hossein Mousavi stepped up their war of words Sunday after at least 10 people were killed in clashes on Saturday, while an uneasy calm prevailed on the streets of Tehran on Sunday for the first time since Iran's worst political crisis in 30 years began a week ago.
USA TODAY: U.S. withdrawal date approaches in Iraq
While out on patrol here one recent night, Army Sgt. Andrew Frame kept hearing the same message from Iraqis: Please don't leave yet.
LA Times: Europe trains' history of intrigue isn't over
Like many spy tales in fiction and reality, "Background to Danger" begins in a train station.
BUSINESS
For the latest business news: www.CNNMoney.com.
CNN: Wall Street looks to refuel rally
After three months of rallying, the stock market seems to have hit the wall. Bets that the recession is waning have turned to concerns that growth remains elusive, leaving stocks in wait-and-see-mode. But the week ahead brings a bevy of reports that could help get the market moving again.
Fortune: Best advice: Gates on Gates
It's certainly a unique father-son relationship. The man who created one of the largest fortunes in history, now in his second career as a philanthropist, has his dad working for him as co-chair of the world's largest charitable organization - the $27.5 billion Bill & Melinda Gates Foundation. Actually, this is a second act for both men.
Fortune: How the bailout bashed the banks
They were rescued from a crisis of their own making, but the political thrashing has left bad blood between business and government. An inside look at the trouble with TARP.
NYT: Small Carmakers Benefit From Detroit's Woes
As if Detroit didn't have enough worries.
NYT: Paramount Bets Its Summer Largely on One Producer
On Tuesday, Lorenzo di Bonaventura was in Moscow. Before that, it was Amsterdam, then Rome. And by Friday, he was back here, to prep for a Westwood film premiere, even as management at his home base, Paramount Pictures, was in disarray again.
USA TODAY: T-Mobile plans July launch of new Google phone
Following huge introductions of the Palm Pre and new iPhone 3G S, T-Mobile on Monday announces July availability of MyTouch 3G, the second phone on Google's Android operating system.
In Case You Missed It
To watch the latest interviews and reporting: http://www.cnn.com/video.
CNN: Female Iranian protesters
Women are on the front lines of Iranian protests. CNN's Ivan Watson talks to a female demonstrator
CNN: Images from Tehran clashes
CNN's Ralitsa Vassileva on Sunday talks with a young woman who was a witness to Saturday clashes on Tehran streets.
CNN: Iranian student dies
An Iranian student dies during one of the protests in Isfahan, Iran.
Subscribe to the CNN=Politics DAILY podcast at http://www.cnn.com/politicalpodcast.
And now stay posted on the latest from the campaign trail by downloading the CNN=Politics SCREENSAVER at http://www.CNN.com/situationroom.