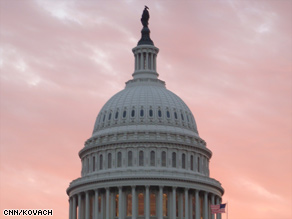 The CNN Washington Bureau's morning speed read of the top stories making news from around the country and the world.
WASHINGTON/POLITICAL
For the latest political news: www.CNNPolitics.com.
CNN: Obama spokesman: President 'moved' by Iran protest images
Images of Iran's crackdown on street protests have "moved" President Obama, his spokesman said Monday.
CNN: Mystery solved: South Carolina governor taking a hike
A mystery surrounding the whereabouts of South Carolina Gov. Mark Sanford was apparently solved late Monday when a Sanford spokesman said he was hiking along the Appalachian Trail.
CNN: Negotiations over health care co-ops at impasse
Negotiations between key Democrats and Republicans in the Senate over health insurance co-ops as an alternative to a government-run health plan were at an impasse Monday over how much federal government involvement there should be in the creation and running of the co-ops, according to senators and aides involved in the talks.
CNN: Obama signs bill putting tobacco products under FDA oversight
President Obama signed landmark legislation Monday giving the Food and Drug Administration new power to regulate the manufacturing, marketing and sale of tobacco.
CNN: Obama signs anti-tobacco bill
Acknowledging his own struggle with smoking, President Obama signed a sweeping anti-tobacco bill into law Monday.
CNN: Slight majority approves of Obama's handling of Iran
As the aftermath of the Iranian election continues to unfold, a new national survey out Monday shows a slim majority of Americans approve of how President Obama is handling the situation there.
CNN: Nursing elbow, Clinton cancels trip to Italy, Greece
Secretary of State Hillary Clinton canceled a planned trip to Greece and Italy this week because she is still recovering from surgery to repair her fractured elbow.
CNN: Styx visits White House
It's a smaller stage than they're use to standing on but the band Styx stopped by the White House briefing room Monday and posed for pictures behind the podium as well as with reporters who are fans of the group.
Washington Post: Confidence in Stimulus Plan Ebbs, Poll Finds
Barely half of Americans are now confident that President Obama's $787 billion stimulus measure will boost the economy, and the rapid rise in optimism about the state of the nation that followed the 2008 election has abated, according to a new Washington Post-ABC News poll.
Washington Post: The Schoolhouse Flunks
Seven years ago, a rally at the Department of Education promoted one of then-President George W. Bush's most significant domestic achievements - the No Child Left Behind law. The backdrop: a red schoolhouse.
Washington Post: Emanuel's Mastery Of Reading Reporters
For Chuck Todd, getting calls from Rahm Emanuel is a staple of covering the White House. But they dwell as much on what the NBC correspondent knows as what he can get the president's top aide to divulge.
Washington Post: Report Criticizes Nuclear Detectors
The Department of Homeland Security spent three years pushing for a costly nuclear detection system that does not work as billed, while neglecting to upgrade existing equipment that could have helped improve security, according to a new U.S. Government Accountability Office review and an interview with one of the authors.
NATIONAL
For the latest national news: www.CNN.com.
CNN: Death toll rises to 9 in D.C. Metro crash
The death toll climbed to nine in a rush-hour collision between two Metro trains in Washington on Monday, with scores more injured, CNN affiliates reported.
CNN: Likely fallout from cookie-dough illnesses: more than 200 layoffs
A Nestle plant linked to an outbreak of illness has been shut temporarily, and the company said Monday that it expects to lay off more than 200 workers as a result.
CNN: People on terrorist watch list allowed to buy guns
When people on the government's terrorist watch list have tried to buy guns or explosives in recent years, the government has let them the vast majority of the time.
CNN: A generation born with HIV/AIDS defies the odds
No one expected them to live long.
CNN: Sexual assaults on the high seas come under scrutiny
It's the midst of peak cruising season, and millions of travelers are eagerly embarking on exotic vacations without thinking they could ever fall victim to a crime at sea.
NYT: Mexican Cartels Lure American Teens as Killers
When he was finally caught, Rosalio Reta told detectives here that he had felt a thrill each time he killed. It was like being Superman or James Bond, he said.
LA Times: Eastman Kodak to discontinue Kodachrome
Paul Simon can kiss his Kodachrome goodbye: Eastman Kodak Co. is discontinuing the storied 74-year-old color film.
INTERNATIONAL
For the latest international news: http://edition.cnn.com/
CNN: Fighting tears, shah's son calls crisis a 'moment of truth'
The son of the former shah of Iran called Monday for solidarity against Iran's Islamic regime, warning that the democratic movement born out of the election crisis might not succeed without international support.
CNN: Riot police confront protesters in Tehran, witnesses say
A defiant and chaotic protest sprouted in and around a public square Monday despite a warning by Iran's Revolutionary Guard against the kind of street demonstrations that have roiled Iran for more than a week, witnesses said.
CNN: Feared Basij militia has deep history in Iranian conflict
They may wear a uniform, or ordinary street clothes. Their numbers are unclear. They rush the streets with brute strength.
CNN: Fighting tears, shah's son calls crisis a 'moment of truth'
The son of the former shah of Iran called Monday for solidarity against Iran's Islamic regime, warning that the democratic movement born out of the election crisis might not succeed without international support.
CNN: French president: Burkas not welcome here
French President Nicolas Sarkozy condemned the wearing of burkas on Monday, saying the traditional Muslim garment that covers women from head to toe was a "sign of subservience" and was not "welcome in France."
CNN: Kenya rejects call for military help in Somalia
Somalia's transitional government has the right to request military help from its neighbors against armed militants, the African Union said Monday, but Kenya was quick to reject the idea of sending troops and suggested the AU should spearhead such a move.
CNN: World Bank: Poor nations hit hard by fall in global trade
Worldwide trade will plummet by nearly 10 percent this year, and output will fall by 2.9 percent, the World Bank predicted in a report released Monday.
CNN: Wave of bombings kill at least 22 in Baghdad
A series of five bombings killed at least 22 people and wounded dozens of others Monday in Baghdad, the Iraqi Interior Ministry said.
NYT: U.S. Scrambles for Information on Iran
As President Obama and his advisers watch the drama unfolding in Tehran, they are having to cope with a frustrating lack of reliable information — about the clashes between the police and protesters, about the strength of the opposition movement and, most of all, about the divisions within the ranks of Iran's powerful clerics.
Washington Post: Palestinian Premier Sets 2-Year Statehood Target
Palestinian Prime Minister Salam Fayyad on Monday called for the establishment of a Palestinian state within two years, a timeline he said is possible if Israel upholds its existing commitments and Palestinians "roll up their sleeves" and concentrate on building government and civic institutions.
BUSINESS
For the latest business news: www.CNNMoney.com.
CNN: Recession: I'm lovin' it!
O.J. and Dana Flowers were right in the center of the latest real estate bust: They were loan officers at the California bank IndyMac.
CNN: 401(k) cuts now mean pain later
Whether or not the 401(k) is the nation's best-designed retirement savings vehicle, for most people, it's the only retirement plan they've got.
CNN: Will Madoff ever leave prison alive?
Convicted Ponzi scammer Bernard Madoff will probably spend the rest of his life in jail.
Washington Post: World Bank Sees Slow Growth for Economy
The world economy is headed into an era of slower growth, according to a World Bank report released yesterday, with developing nations bearing the brunt of a stubborn credit crunch.
NYT: Apple's Secrecy on Products and Top Executives
Apple is one of the world's coolest companies. But there is one cool-company trend it has rejected: chatting with the world through blogs and dropping tidbits of information about its inner workings.
WSJ: Ford, Nissan Among First to Tap Loans for Retooling
The Obama administration is expected to disclose that Ford Motor Co., Tesla Motors Inc. and Nissan Motor Co. will be among the first beneficiaries of a $25 billion loan program created by Congress to help auto makers retool their factories to produce advanced-technology vehicles.
In Case You Missed It
To watch the latest interviews and reporting: http://www.cnn.com/video.
CNN: Sisters in arms
Afghan women train to be police officers in Afghanistan. ITN's Mark Austin reports.
CNN: UK fights Afghan insurgents
ITN repoerter Geraint Vincent is embedded with UK soldiers fighting insurgents in Afghanistan.
CNN: Afghan oasis in a warzone
Afghanistan's first national park opens up and calls for tourists. CNN's Atia Abawi visits the Band-E-Amir Park.
Subscribe to the CNN=Politics DAILY podcast at http://www.cnn.com/politicalpodcast.
And now stay posted on the latest from the campaign trail by downloading the CNN=Politics SCREENSAVER at http://www.CNN.com/situationroom.