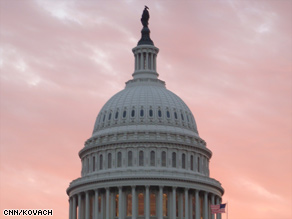 The CNN Washington Bureau's morning speed read of the top stories making news from around the country and the world.
WASHINGTON/POLITICAL
For the latest political news: www.CNNPolitics.com.
CNN: U.S. to send ambassador back to Syria
President Obama has decided to send a U.S. ambassador back to Syria, a dramatic sign of reconciliation between the two countries, senior administration officials tell CNN. The announcement is expected to be made this week.
CNN: Obama toughens his talk on Iran
President Obama sharpened his language on Iran and stressed the urgency of overhauling the health care system at a news conference Tuesday.
CNN: Form for student loans will become shorter
One of the great headaches of the American dream is about to get less painful.
CNN: Borger: Obama tries to reset the table
Even a popular president who still seems to enjoy the general goodwill of the American public can have a bad week.
CNN: Ensign apologizes to GOP colleagues for affair
Less than a week after admitting to an affair with a staff member, Sen. John Ensign, R-Nevada, apologized to his Republican colleagues for his actions, which have already caused him to step down from his party leadership post and could threaten his Senate career.
CNN: Nixon to Bush 41: Find 'attractive' women
President Richard Nixon believed one way to shore up the GOP in 1973 was by recruiting "attractive" women, but not because he was "for women," according to audio tapes released Tuesday.
CNN: Poll of Polls: Obama more popular than his policies
An average of the most recent national polls indicates that six in 10 Americans approve of the job Barack Obama's doing as president.
CNN: Gov. returning to S.C. after worries over whereabouts
Gov. Mark Sanford will return to his office Wednesday following widespread confusion over his whereabouts, a spokesman for the South Carolina Republican said.
CNN: First on the CNN Ticker: RNC slams Obama in first TV ad
The Republican National Committee slams President Obama's plan to reform the nation's health care system in a new television ad that is set to air Wednesday on national cable television.
NYT: Behind the Scenes, Fed Chief Advocates Bigger Role
During the debate over financial regulation, the Federal Reserve chairman, Ben S. Bernanke, has been surprisingly quiet.
NYT: Come to Order! Not a Chance, if It's Albany
New York did not have one State Senate on Tuesday. It had two.
NYT: Baucus Grabs Pacesetter Role on Health Bill
As President Obama's effort to overhaul the health care system seems to hit one roadblock after another in Congress, he is counting on Senator Max Baucus, a political shape-shifter and crafty deal maker who is not fully trusted by either party, to help him clinch his top domestic priority.
NYT: Energy Bill Unfinished, but Vote Nears
The House is moving toward a vote Friday on energy and climate change legislation, with several significant issues still unresolved but with Democratic leaders expressing confidence that they will muster the votes to pass it.
NYT: Cheney to Publish His Memoir
As widely expected, Vice President Dick Cheney has signed a deal with an imprint of Simon & Schuster to write a memoir about his life in politics and his service in four presidential administrations.
Washington Post: DHS to Cut Police Access to Spy-Satellite Data
Homeland Security Secretary Janet Napolitano announced yesterday that she will kill a controversial Bush administration program to expand the use of spy satellites by domestic law enforcement and other agencies.
Washington Post: White House Boosts Effort to Salvage North-South Peace in Sudan
The Obama administration stepped up its efforts yesterday to salvage a four-year-old peace accord for Sudan, convening officials from 32 countries and international organizations amid fears that Africa's longest-running civil war could resume.
Washington Post: SEC Would Tighten Reins on Money Markets
The Securities and Exchange Commission plans to propose tighter restrictions today for money-market mutual funds, which promise customers easy access to their cash with interest rates better than ordinary savings accounts, according to people who have been briefed.
CS Monitor: Illegal immigrants netted by local police could be released
Some undocumented immigrants swept up on minor charges such as fishing without a license won't face federal detention. Instead, they'll be released on their own recognizance under an Obama administration directive to a Nashville, Tenn., sheriff who charged 6,000 people with immigration crimes over the past 2-1/2 years.
Washington Times: U.S. contacted Iran's ayatollah before election
Prior to this month's disputed presidential election in Iran, the Obama administration sent a letter to the country's supreme leader, Ayatollah Ali Khamenei, calling for an improvement in relations, according to interviews and the leader himself.
NATIONAL
For the latest national news: www.CNN.com.
CNN: Man killed in D.C. Metro crash ordered jets above Capitol on 9/11
A former commanding general of the District of Columbia National Guard - who ordered jets over the Capitol amid the September 11, 2001, terror attacks - was among those killed in a transit train crash in Washington this week, authorities said Tuesday.
CNN: Longtime friends: McMahon was a 'rock' and 'a star in his own right'
When it came to second bananas, Ed McMahon was second to none.
CNN: Doctor rescued from Antarctica in 1999 dies at 57
Nearly a decade after she was rescued from a remote Antarctic research station after diagnosing herself with breast cancer, Dr. Jerri Nielsen died early Tuesday, her brother said. She was 57.
CNN: Stars and Stripes accuses U.S. military of censorship in Iraq
Stars and Stripes, the newspaper that receives U.S. military funding to help it cover and get distributed free to American forces in war zones, complained Tuesday of censorship by military authorities in Iraq.
CNN: New law to help in paying back college loans
As a graduate from Syracuse University with a master's degree in international relations, Jana Morgan was hoping to help victims of human rights violations caused by resource wars.
CNN: New program yet to help buyers land homes
Thirty-year-old Lisa Locascio is walking through what she hopes will soon be her new living room.
NYT: M.T.A. Sells Naming Rights to Subway Station
Selling the name of a subway station has been a goal of the Metropolitan Transportation Authority for nearly five years. But interest has been low, even for a piece of real estate so recognizable to the public.
Washington Post: Red Line Train Operator Used Brakes In Failed Bid to Stop Six-Car Train
The operator of the Metro train that slammed into a stationary train in front of it apparently had activated the emergency brakes in a failed effort to stop before the accident, federal officials said yesterday as they searched for the cause of Monday's Red Line wreck that killed nine and injured 80.
USA TODAY: Recession generation? Young adults brace for simpler lifestyle
At age 26, Angela Trilli doesn't think she's one of those so-called materialistic Millennials she has heard about — young people who are absorbed with themselves and their consumption.
INTERNATIONAL
For the latest international news: http://edition.cnn.com/
CNN: Clerics join Iran's anti-government protests
A photo showing Iranian clerics prominently participating in an anti-government protest speaks volumes about the new face of Iran's opposition movement.
CNN: Opposition candidate Karroubi assails Iran's state-run media
As Iran extended the deadline Tuesday to file complaints about the disputed presidential election, one candidate lashed out at the hardline government while another went the opposite direction and withdrew his accusations.
CNN: Iranian women stand up in defiance, flout rules
A young Iranian woman named Neda is gunned down in one of the most iconic images of the last week. Another walks down the street, defiantly showing off her hair and body in a revealing dress. And still another woman says she's not scared of paramilitary forces - no matter how many times she gets beaten.
CNN: Who was Neda? Slain woman an unlikely martyr
The young woman who last weekend emerged as a powerful symbol of opposition to the Iranian government embraced life in many ways, but there was little about her that would have led her friends to predict she would become a martyr, one of them told CNN.
CNN: Ambassador visits jailed U.S. journalists in North Korea
The Swedish ambassador met with two imprisoned American journalists in Pyongyang on Tuesday, a state department spokesman said, their first visit with him since a North Korean court handed down their 12-year sentence.
CNN: Arrest warrants issued in Mumbai attacks
An Indian court has issued arrest warrants for 22 Pakistanis wanted in connection with last year's terror attacks in Mumbai.
NYT: Spate of Attacks Tests Iraqi City and U.S. Pullout
Falluja was supposed to be a success story, not a cautionary tale.
NYT: Deep in Bedrock, Clean Energy and Quake Fears
Markus O. Häring, a former oilman, was a hero in this city of medieval cathedrals and intense environmental passion three years ago, all because he had drilled a hole three miles deep near the corner of Neuhaus Street and Shafer Lane.
BBC: Ex-detainees allege Bagram abuse
Allegations of abuse and neglect at a US detention facility in Afghanistan have been uncovered by the BBC.
BBC: Chinese activist formally charged
One of China's most prominent political activists has been formally charged with inciting subversion.
BUSINESS
For the latest business news: www.CNNMoney.com.
CNN: Stay-at-home mom, six-figure salary
Desperate for a job? How does CEO with a six-figure salary and flexible hours sound?
CNN: Twitter whacks 'Mafia' opportunity
A new Mafia video game has presented Twitter with an offer, but it's one that Twitter thinks it can refuse.
CNN: Beware 'Cash for Clunkers' scams
President Barack Obama hasn't even signed the "Cash for Clunkers" legislation into law yet, but already criminals and some unscrupulous car dealers are using it to dupe consumers.
NYT: Citigroup Has a Plan to Fatten Salaries
After all those losses and bailouts, rank-and-file employees of Citigroup are getting some good news: their salaries are going up.
NYT: Despite Recession, High Demand for Skilled Labor
Just as the recession began, Chris McGrary, a manager at the Cianbro Corporation, set out to hire 80 "experienced" welders. Only now, 18 months later, is he completing the roster.
WSJ: Big Oil Ready for Big Gamble in Iraq
Next week, Iraqi officials plan a welcome-back party for Big Oil.
In Case You Missed It
To watch the latest interviews and reporting: http://www.cnn.com/video.
CNN: Kenya's safari rugby
Kenya's rugby team have gone from minnows to matchwinners. CNN's David McKenzie reports.
CNN: Henry VIII crowned 500 yrs ago
It was 500 years ago today when Henry VIII was crowned King of England. CNN's Ayesha Durgahee reports.
CNN: Rural India to the rescue
The global slowdown isn't affecting rural India, which didn't win during boom times either. CNN's Mallika Kapur reports.
Subscribe to the CNN=Politics DAILY podcast at http://www.cnn.com/politicalpodcast.
And now stay posted on the latest from the campaign trail by downloading the CNN=Politics SCREENSAVER at http://www.CNN.com/situationroom.