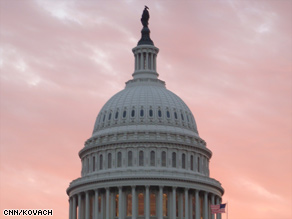 The CNN Washington Bureau's morning speed read of the top stories making news from around the country and the world.
WASHINGTON/POLITICAL
For the latest political news: www.CNNPolitics.com.
CNN: South Carolina Gov. Sanford admits extramarital affair
South Carolina Gov. Mark Sanford, just back from a secret trip to Argentina unknown to his staff or his wife, admitted Wednesday he has carried on an extramarital affair with a woman in Buenos Aires, Argentina.
CNN: Sanford e-mail to mistress: Situation 'hopelessly impossible'
South Carolina Gov. Mark Sanford told the woman with whom he was having an affair they were "in a hopelessly impossible situation of love" last year when he was thought to be under consideration for the Republican vice presidential nomination, according to e-mails obtained by The State newspaper.
CNN: Sanford took state-funded trip to Argentina last June
South Carolina Gov. Mark Sanford visited Argentina exactly one year ago as part of a state-funded trade mission, according to a copy of the trip itinerary obtained by CNN.
CNN: Health care battle intensifies for Obama, Congress
The struggle over health care reform reached a fever pitch Wednesday as sharp partisan lines were drawn over the politically explosive question of a possible government-funded public plan competing with private insurers' plans.
CNN: House Democrats unsure of global warming bill's passage
House Democratic leaders are furiously lobbying their members and moderate Republicans to support a landmark energy bill in the face of resistance from some conservative members of their own party, and staunch opposition from the GOP — roadblocks that are making it difficult to find the 218 votes necessary to pass the measure, according to Democratic leadership aides.
CNN: GOP senators challenge Sotomayor's commitment to Bill of Rights
Republican senators on Wednesday made public their strategy for combating the Supreme Court nomination of appellate Judge Sonia Sotomayor, questioning whether she believes the Bill of Rights applies to all Americans.
CNN: Palin to take overseas trip to visit troops
Alaska Gov. Sarah Palin will head overseas to visit troops serving in the National Guard, her office said Wednesday.
First on the CNN Ticker: Barbour to head RGA
Mississippi Gov. Haley Barbour has assumed the chairmanship of the Republican Governors Association, CNN has learned.
NYT: G.O.P. to Paint Bernanke as Ally of Big Government
In a peculiar role reversal, Republican lawmakers are mounting a ferocious attack on the Republican chairman of the Federal Reserve, while Democrats are coming to his defense.
Washington Post: A First Lady Who Demands Substance
For weeks, Michelle Obama had been telling her staff and closest confidantes that she wasn't having the impact she wanted. She is a woman of substance, with a background in law, public policy and management, who found herself relegated to role model in chief. The West Wing of the White House - the fulcrum of power and policy - had not fully integrated her into its agenda. She wanted more.
Washington Post: U.S. Sends Weapons to Help Somali Government Repel Rebels Tied to Al-Qaeda
The United States has sent a shipment of weapons and ammunition to the government of Somalia, according to a U.S. official who said the move signals the Obama administration's desire to thwart a takeover of the Horn of Africa nation by Islamist rebels with alleged ties to al-Qaeda.
NATIONAL
For the latest national news: www.CNN.com.
CNN: 'Anomalies' discovered in Metro track control circuit
Transportation investigators Wednesday discovered "anomalies" in an essential control circuit of a track where a fatal crash between two Washington subway trains killed nine people.
CNN: U.S. dismisses latest missile provocation by North Korea
U.S. officials are downplaying any imminent threat of a North Korean missile strike or confrontation between the two countries at sea.
CNN: Blogger Hal Turner accused of death threats against judges
A blogger and Internet radio talk-show host in New Jersey was arrested Wednesday for allegedly threatening to kill three federal appeals court judges in Chicago, Illinois.
CNN: Doctors, health care executives accused of Medicare fraud
More than 50 doctors and health care executives have been indicted and dozens of them arrested by the FBI in a $50 million Medicare fraud case centered in Michigan, law enforcement officials said Wednesday.
CNN: Trial date set for ex-astronaut accused of parking lot attack
An ex-astronaut accused of assaulting a romantic rival in a Florida parking lot will stand trial December 7, a judge ruled.
CNN: Economic fears expected to cut into July Fourth travel
The number of Americans traveling over the Fourth of July weekend is expected to dip 1.9 percent from 2008, the AAA said Wednesday.
NYT: An Astronaut Goes From Walking on the Moon to Painting It
It has been nearly 40 years since Alan L. Bean walked on the moon as an Apollo astronaut, but he still wrestles with the experience every day, trying to recapture what he and other astronauts saw and felt in the medium of paint.
Washington Post: Limits on Emissions Have Wide Support
Three-quarters of Americans think the federal government should regulate the release into the atmosphere of greenhouse gases from power plants, cars and factories to reduce global warming, according to a new Washington Post-ABC News poll, with substantial majority support from Democrats, Republicans and independents.
USA TODAY: U.S. eugenics legacy: Ruling on Buck sterilization still stands
Paul Lombardo hadn't planned on a three-decade detour when he stopped at a greasy-spoon restaurant for breakfast in February 1980. Lombardo, then a graduate student at the University of Virginia, picked up a newspaper to read as he ate his bacon and eggs.
CS Monitor: Emergency response to Metrorail crash shows post-9/11 gains
First responders' effective handling of Monday's rail accident in Washington, coupled with the smooth rescue after a Hudson River plane crash in January, may indicate that the post-9/11 demand for better, faster emergency response is being met – at least in some of the nation's big cities.
Miami Herald: South Florida hospitals suffering from declines in investments
The past year has been brutal for South Florida hospitals - and this year is likely to be worse.
INTERNATIONAL
For the latest international news: http://edition.cnn.com/
CNN: Obama sent letter to Iran leader before election, sources say
U.S. President Obama sent a direct message to Iran's Supreme Leader Ayatollah Ali Khamenei weeks before this month's disputed election, Iranian sources said Wednesday.
CNN: Iran says Neda's death may be tied to 'terrorist' group
Iran said the gunman who killed Neda Agha-Soltan may have mistaken her for the sister of an Iranian "terrorist," the Islamic Republic News Agency reported Wednesday.
CNN: Violence flares again in Tehran
Security forces wielding clubs and firing weapons beat back hundreds of would-be demonstrators who had flocked to a square in the capital on Wednesday to continue protests against an election they have denounced as fraudulent, witnesses told CNN.
CNN: Wife fears for safety of detained Iranian activist
The wife of an Iranian pro-reformist activist detained as he tried to leave the country last week says she is "deeply concerned" for his safety.
CNN: Reports: Iranian football stars 'retired' after match protest
Four Iranian footballers have been "retired" from the national side after protesting against the contested election result in the country during a match against South Korea, according to media reports.
CNN: Obama administration rescinds July Fourth invite to Iranians
The Obama administration has decided to rescind invitations to Iranian diplomats for July Fourth celebrations overseas because of violent crackdowns against protesters in Iran, the White House said Wednesday.
CNN: Berlusconi: 'I've never paid a woman'
Italian Prime Minister Silvio Berlusconi has refuted allegations that he paid prostitutes to attend parties he hosted at his various homes.
McClatchy: In a makeshift Afghan teahouse, Iranian truckers debate election
Amid the tire irons and crowbars in a disabled Russian armored personnel carrier-turned Afghan teahouse, Iranian truck drivers Wednesday debated allegations that their government rigged Iran's June 12 presidential elections — and whether it did so by the thousands or by the millions.
NYT: In the Andes, a Toxic Site Also Provides a Livelihood
Claudia Albino, a washerwoman who earns about $3 a day and lives in a one-room hovel with her family in this bleak town high in the Andes, might seem at first to have nothing to do with Ira Rennert, the reclusive New York billionaire who built one of the largest homes in the United States, an Italianate mansion sprawling over more than 66,000 square feet in the Hamptons.
NYT: Afghan Leader Outmaneuvers Election Rivals
With a nationwide election only weeks away, the paradox of President Hamid Karzai has never seemed more apparent: he is at once deeply unpopular and likely to win.
NYT: U.S. Victory Was a Miracle on Grass
The stunning 2-0 victory by the United States over Spain — the best team in the world — is probably the greatest victory by the men's national soccer team.
NYT: Arab States Aligned With U.S. Savor Turmoil in Iran
The rancorous dispute over Iran's presidential election could turn into a win-win for Arab leaders aligned with Washington who in the past have complained bitterly that President Mahmoud Ahmadinejad was destabilizing the region and meddling in Arab affairs, political analysts and former officials around the region said.
NYT: Strike Reportedly Missed Chief of Pakistani Taliban by Hours
A United States drone strike on a funeral in Pakistan's tribal areas missed the leader of the Pakistani Taliban, Baitullah Mehsud, by hours on Tuesday, a Pakistani security official said Wednesday.
Boston Globe: A need for music even in cave era
We all knew that Stone Age humans were hunters and gatherers. But sculptors and flutists?
BBC: US objects to China's net filter
The US has called on China to scrap its plan to put net-filtering software on all its computers.
BUSINESS
For the latest business news: www.CNNMoney.com.
CNN: Indian automakers aim to eat Detroit's lunch
It wasn't too long ago that the thought of buying a reliable car from Korea seemed laughable. Today, Korean vehicles are common fare and automakers from India are getting ready to invade the U.S. market.
CNN: Fed sees signs of hope
The Federal Reserve kept its key interest rate near zero Wednesday, and said in a statement that although the U.S. economy remains weak, there are signs of a recovery.
CNN: State shutdowns loom as deadlines near
One week and counting. An unprecedented number of states have only days left to pass their fiscal 2010 budgets.
Wall Street Journal: Unemployed Hit the Road to Find Jobs
After seven months without a paycheck, Tim Ryan turned into a werewolf.
In Case You Missed It
To watch the latest interviews and reporting: http://www.cnn.com/video.
CNN: Governor butt of jokes
Don't cry for him, Argentina. CNN's Jeanne Moos follows the extramarital 'hike' of an unfaithful Governor.
CNN: Buzz Aldrin: Let's go to Mars
Apollo 11 astronaut Buzz Aldrin speaks to CNN's John Roberts about the future of space exploration.
CNN: Harlem kids give Congo help
Teens at a school in Harlem, New York, give back to their peers in Congo. Richard Roth reports.
Subscribe to the CNN=Politics DAILY podcast at http://www.cnn.com/politicalpodcast.
And now stay posted on the latest from the campaign trail by downloading the CNN=Politics SCREENSAVER at http://www.CNN.com/situationroom.