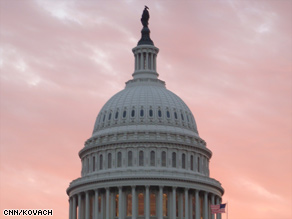 The CNN Washington Bureau's morning speed read of the top stories making news from around the country and the world.
WASHINGTON/POLITICAL
For the latest political news: www.CNNPolitics.com.
CNN: Iraqi troops ready to secure major cities, top U.S. general says
Despite some high-profile bombings in recent days, Iraq's security forces are ready to take over for U.S. forces this week to stabilize the nation's major cities, the U.S. commander in Iraq told CNN on Sunday.
CNN: Pawlenty: GOP's 'clearly' been damaged
With two prominent Republicans falling prey to sexual scandals in as many weeks, Minnesota Gov. Tim Pawlenty candidly conceded Sunday that his party is in trouble.
CNN: Sanford's mistress mum on affair, e-mail
The woman with whom South Carolina Gov. Mark Sanford had an affair broke her silence Sunday long enough to say she wouldn't discuss her relationship with the now-embattled governor.
WSJ: New Rift Opens Over Rights of Detainees
The Justice Department has determined that detainees tried by military commissions in the U.S. can claim at least some constitutional rights, particularly protection against the use of statements taken through coercive interrogations, officials said.
USA Today: Fewer civilian deaths crucial in Afghanistan
The U.S.-led war in Afghanistan enters a critical phase this summer under a new commander whose goal will be to reduce the number of civilian casualties and restrict the ability of insurgents to attack freely, the chairman of the Joint Chiefs of Staff said in an interview.
Washington Post: How a Loophole Benefits GE in Bank Rescue
General Electric, the world's largest industrial company, has quietly become the biggest beneficiary of one of the government's key rescue programs for banks.
LA Times: Obama champions energy bill but not its tariffs
President Obama on Sunday called a House-passed energy bill "an extraordinary first step" toward halting global warming and reducing the use of fossil fuels, but he expressed reservations about a controversial provision that would slap tariffs on imports from countries that do not similarly crack down on greenhouse gas emissions.
NYT: South Carolina Politics Looks Past Affair to Its Effects on Governor Race
The future of Gov. Mark Sanford's political career after his secret trip to Argentina and admission of an extramarital affair may now depend on something more complicated than even the human heart: the wild and woolly politics of South Carolina.
NYT Op-Ed Krugman: Betraying the Planet
So the House passed the Waxman-Markey climate-change bill. In political terms, it was a remarkable achievement.
Washington Post: Will Obama Follow Bush Or FDR?
Soon after the Sept. 11, 2001, attacks, the Bush administration faced a fateful choice about terrorist detainees: Should it get Congress on board, or go it alone? President George W. Bush bypassed the legislature and for seven years based U.S. detention policy on his own constitutional authority, Congress's general authorization for the war against al-Qaeda and its affiliates, and the international laws of war. Working with Congress would be hard, administration officials reasoned; the legislature might constrain executive flexibility; and the president had powerful arguments that he didn't need additional legislative support.
WSJ Op-Ed: Kyl & Perle Our Decaying Nuclear Deterrent
A bipartisan congressional commission, headed by some of our most experienced national security practitioners, recently concluded that a nuclear deterrent is essential to our defense for the foreseeable future. It also recommended that urgent measures be taken to keep that deterrent safe and effective.
WSJ: Democrats Present Hurdles for Obama
As Congress tackles President Barack Obama's top two domestic priorities - climate change and health care - he faces some of his most serious challenges from fellow Democrats.
LA Times: Obama's curiously close labor friendship
They led the most powerful forces in healthcare - the trade groups representing doctors, insurance companies, hospitals and drug makers. Any one of them could stall, if not derail, President Obama's hopes of overhauling the U.S. healthcare system.
Boston Globe: Kerry becomes a bridge-builder
But the Kerry who returned to the Senate from the presidential trail was a different man, many colleagues noted, and now, with his presidential ambitions behind him and the senior colleague who long dominated his state sidelined by cancer, Kerry is experiencing what fellow lawmakers describe as a midcareer metamorphosis.
Newsweek: Will It Be 1972 Forever?
The question to which the Supreme Court recently gave a mistaken answer was: Has the revolution in race relations since enactment of the 1965 Voting Rights Act rendered the act's Section 5 anachronistic and hence unconstitutional as a no-longer defensible encroachment on the rights of the affected jurisdictions? The court's 8–1 ruling to preserve Section 5 is a reminder how misguided are conservatives' indiscriminate denunciations of "judicial activism."
Anchorage Daily News: Administration backs gas line, official says
Beyond its $30 billion cost, there are thousands of steps on the path to the proposed pipeline that will take North Slope natural gas 1,700 miles through Alaska and Canada
NATIONAL
For the latest national news: www.CNN.com.

CNN: Law firm: Jackson had slight pulse when doctor found him
Michael Jackson's father says he is concerned about the last moment's of his son's life and about the personal physician who found pop icon unconscious at the singer's estate.
CNN: Great-grandmother donates 200th pint of blood
Margaret Delfino donated her 200th pint of blood last week, bringing her total to to more than 25 gallons.
CNN: Billy Mays, OxiClean pitchman, found dead
Infomercial pitchman Billy Mays died at his Tampa, Florida, home Sunday morning, authorities told CNN.
CNN: Metro driver called a hero who saved lives in crash
The head of Washington's mass transit system praised as a "hero" the driver who was killed in Monday's crash when her train struck another that was parked on the tracks.
USA Today: Thousands still in FEMA trailers
Four years since the devastation of Hurricane Katrina, there are still nearly 3,000 mobile homes and trailers across the Gulf Coast housing victims of that disaster.
NYT: A Plan to Stem Foreclosures, Buried in a Paper Avalanche
Somewhere on earth, there must be a more difficult task than this: persuading American mortgage companies to lower payments for homeowners who can no longer afford their loans. But as Karina Montenegro struggles to accomplish this feat for a troubled borrower, she strains to imagine a more futile pursuit.
The Economist: The end of retirement
Now retirement is for everyone, and often as long as whole lives once were. In some European countries the average retirement lasts more than a quarter of a century. In America the official pension age is 66, but the average American retires at 64 and can then expect to live for another 16 years. Average spending on public pensions across the OECD is now the equivalent of more than 7% of GDP (they cost America just 0.2% back in 1935). In some countries the current figure could double by 2050, to say nothing of the cost of private pensions and extra spending on health and long-term care.
NYT: In Uncertain Times, Valedictorians Look Ahead
CALL them members of the Obama generation: Seven of New York City's valedictorians, invited to discuss the future — theirs, the city's, the world's — could not help circling back to themes resonant from President Obama's historic campaign: diversity, globalization, cooperation, hope.
WSJ: States Consider Gas and Oil Levies
Cash-strapped states are considering raising taxes on oil production to plug yawning budget gaps, but they face strong resistance from oil companies, which warn the moves could lead to lost jobs and higher energy prices.
USA Today: Your Health: When does not wasting food sacrifice safety?
Times are tough and food is expensive. So a lot of us are standing in front of refrigerators or pantries these days asking the age-old question: Should I toss it or eat it?
Washington Post: Saving Species No Longer a Beauty Contest
Are we ready to start saving ugly species?
LA Times: LAPD names its first Islamic chaplain
American Muslims have never been much of a presence in the Los Angeles Police Department, accounting for less than 1% of its nearly 10,000 officers. But now, with department leaders eager to improve relationships with local Muslims, top brass have named the force's first Islamic chaplain: a Pakistani-born spiritual leader who has spent much of the last decade trying to build bridges between law enforcement and Los Angeles County's diverse Muslim communities.
Boston Globe: 'Tweets' on the menu are a sweet deal
What can you do with 140 characters or less, the length of each tweet? A lot, restaurants are discovering – everything from posting daily specials to luring followers with offers of free appetizers to offering a glimpse of kitchen life. It's all good for business.
Miami Herald: Keys ill-prepared for rising sea
Some 35 miles west of Key West, in 45 feet of water under a five-foot layer of dense mud lay an 8,500-year-old shoreline not unlike today's coast of the Florida Keys. There were well-preserved mangroves, pine cones and pine tree pieces, some amazingly still fragrant when brought to the surface.
INTERNATIONAL
For the latest international news: http://edition.cnn.com/
CNN: Thousands demonstrate silently in Tehran
Watched closely by police, several thousand protesters moved slowly down a major Tehran thoroughfare Sunday in the first demonstration over the country's disputed presidential election that authorities have allowed in days.
CNN: Honduran Congress names provisional president
Hours after the sitting president was deposed by a military-led coup, a new president of Honduras was sworn in Sunday.
CNN: Brazil survive U.S. scare to win Confed Cup
Five-time world champions Brazil needed to come from two goals down to beat underdogs the United States 3-2 in the final of the Confederations Cup in South Africa on Sunday night.
Washington Post: Crackdown In Iran Puts Mousavi in Tight Spot
With the opposition visibly weakening in Iran amid a government crackdown, President Mahmoud Ahmadinejad and his supporters have begun to use his disputed victory in this month's election to toughen the nation's stance internationally and to consolidate control internally.
BBC: Argentine leader eyes poll loss
Early partial results in Argentina's mid-term legislative elections suggest President Cristina Fernandez's party has lost seats in Congress.
LA Times: Pakistanis begin to rebuild lives
Nearly two months after Taliban militants expanded from their stronghold in the Swat Valley into neighboring Buner district, touching off an army offensive to remove them, there are early signs here that life is slowly returning to normal.
NYT: Exiled to Russia's Far Reaches: Casinos and Jobs
One of the largest mass layoffs in recent Russian history is to occur on Wednesday, and the Kremlin itself is decreeing it, economic crisis or not.
LA Times: U.N. fact-finding commission faces skepticism in Gaza
A novel approach toward injecting international justice into the Israeli-Palestinian conflict got underway Sunday in this embattled enclave, but it left neither side particularly satisfied.
Financial Times: North Korean 'bright leader' visits China
The son and heir apparent to North Korean leader Kim Jong-il joined a delegation of senior military officials for a top-secret, week-long visit to China in mid-June in spite of Beijing's claims that no such trip occurred.
McClatchy: Flood of Afghan heroin fuels drug plague in Russia
Young men with sores on their arms shuffled up the stairs of a dark, underground shopping arcade and into the daylight to plop dingy wads of rubles into the drug dealers' hands. The dealers casually reached into their pockets or plastic shopping bags and handed over tablets of synthetic morphine, a type also used as a horse tranquilizer, and paper packets that appeared to contain heroin.
BUSINESS
For the latest business news: www.CNNMoney.com.
CNN: Here comes the second half
Investors barrel into the second half of the year in a holiday-shortened trading week that's loaded with key economic news.
CNN: Madoff's day of reckoning comes
Bernard Madoff, the mastermind behind the largest and most sweeping Ponzi scheme ever, on Monday faces the possibility of spending the rest of his life behind bars.
CNN: Gas prices hold steady as July 4 nears
Despite travelers taking to the road for vacations and the Independence Day weekend coming up, gasoline prices in the United States are unchanged from two weeks ago, according to a survey published Sunday.
WSJ: At Saturn, a Split Over Relying on the Penske Name
General Motors Corp.'s Saturn unit is set to be sold to a new owner later this year, but any road to recovery for the slumping brand will be challenging.
NYT: A Plan to Stem Foreclosures, Buried in a Paper Avalanche
Somewhere on earth, there must be a more difficult task than this: persuading American mortgage companies to lower payments for homeowners who can no longer afford their loans. But as Karina Montenegro struggles to accomplish this feat for a troubled borrower, she strains to imagine a more futile pursuit.
Financial Times: Madoff prepares to learn his sentence
His victims have called him a "monster" and a "devil" and want him jailed for the rest of his life. On Monday, Bernard Madoff, architect of the world's biggest financial fraud, a $65bn "Ponzi" scheme that ruined thousands of investors, will learn his fate.
WSJ: Companies Cope With Twitter Imposters
Twitter users have caused an uproar by impersonating celebrities on the popular micro-blogging service. Businesses, too, are targets of fake Twitter profiles - sometimes from competitors.
LA Times: Steve Jobs set to return to Apple
With the intense - some would say obsessive - scrutiny of Steve Jobs and his health, what is sometimes overlooked is the company he founded and built: Apple Inc.
Business Week: U.S. Companies Seek New Tax Havens
For years the archipelago, along with its Caribbean siblings the Cayman Islands and British Virgin Islands, has played host to companies seeking favorable tax treatment. But rising concerns about a U.S. crackdown on tax havens have a growing number of companies rolling up their beach blankets and decamping to far less sunny shores.
In Case You Missed It
To watch the latest interviews and reporting: http://www.cnn.com/video.
CNN: Matalin, Carville on health care
Watch as political spouses Mary Matalin, a Republican, and James Carville, a Democrat weigh in on health care reform.
CNN: Pawlenty to Obama: Stop spending
Minnesota Gov. Tim Pawlenty, a Republican, had strong words for the president's approach to health care reform.
CNN: Ohio's GOP comeback
John King visits Ohio, where Republicans see two faces from the past as critical to a GOP future.