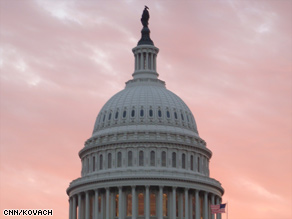 The CNN Washington Bureau's morning speed read of the top stories making news from around the country and the world.
WASHINGTON/POLITICAL
For the latest political news: www.CNNPolitics.com.
CNN: Will recent GOP sex scandals affect upcoming races?
It has been a rocky couple of weeks for the Republican Party as high-profile, traditional-values politicians have faced embarrassing sex scandals.
CNN: Obama holds gay pride reception, vows to overturn 'unjust laws'
President Obama honored Lesbian, Gay, Bisexual and Transgender Pride Month with a White House reception Monday where he likened the struggle for gay rights with the struggle of African-Americans for civil rights.
CNN: Cheney says GOP presidential bench still strong
Extramarital affairs have sidelined two potential Republican presidential hopefuls in recent weeks, but former Vice President Dick Cheney said the 2012 GOP bench remains strong.
First on the CNN Ticker: Calls mount for Sanford to step down
Three more Republicans in the South Carolina state legislature spoke out against Mark Sanford on Monday and said the best thing for the governor to do in the wake of last week's scandal is resign.
NYT: U.S. Resumes Surveillance Flights Over Pakistan
As Pakistan escalates military operations against a top Taliban leader, the United States has resumed secret military surveillance drone flights over the country's tribal areas to provide Pakistani commanders with a wide array of videos and other information on militants, according to American and Pakistani officials.
Washington Post: No Peril Seen for Sotomayor
The Supreme Court's rejection of a decision against white firefighters endorsed by Judge Sonia Sotomayor gives Republicans a renewed chance to attack her speeches and writings but is not expected to imperil her confirmation to the high court, political and legal sources said yesterday.
Washington Post: More Intelligence Oversight Advised
The House Permanent Select Committee on Intelligence has approved legislation intended to strengthen congressional oversight of sensitive intelligence matters, including covert operations.
WSJ: U.S. and Europe Jointly Establish Cyber-Crime Force
The U.S. Secret Service plans to unveil Tuesday plans for a pan-European task force charged with preventing identity theft, computer hacking and other computer-based crime.
NYT: Former Aide to Edwards Will Write Tell-All Book
A man who was one of former Senator John Edwards's closest aides has a deal to write a book claiming that Mr. Edwards said he "would be taken care of for life" in return for falsely claiming he was the father of the baby carried by Mr. Edwards's mistress, Rielle Hunter.
McClatchy: Scalia breaks ranks, slams Bush officials on bank regulation
In a rebuke of the Bush administration, the Supreme Court ruled Monday that a federal bank regulator erred in quashing efforts by New York state to combat the kind of predatory mortgage lending that triggered the nation's financial crisis.
Washington Times: Cheney fears U.S. troop pullout
Former Vice President Dick Cheney on Monday expressed concern that the pending pullout of U.S. troops from Iraq's cities could reverse the military progress made by American and Iraqi forces there since the George W. Bush administration's 2007 surge.
The State: Lt. Gov. Bauer: Let's move forward
When Andre Bauer was a teenager, he would scavenge golf courses with his sister for stray golf balls, only to clean and repackage them in egg cartons to sell in the parking lot.
NATIONAL
For the latest national news: www.CNN.com.
CNN: High court backs firefighters in reverse discrimination suit
The U.S. Supreme Court sided Monday with white firefighters in a workplace discrimination lawsuit, a divisive case over the role race should play in job advancement.
CNN: Michael Jackson's mom gets kids, estate control for now
Michael Jackson's three children asked to see their father's body in the UCLA emergency room after they were told he was dead, according to the lawyer for Jackson's personal doctor.
CNN: FDA sources: Proof of E. coli bacteria found at Nestle plant
Federal investigators at the Nestle USA plant in Danville, Virginia, have found evidence of E. coli bacteria in an unopened package of raw chocolate chip cookie dough, two sources at the Food and Drug Administration told CNN Monday.
LA Times: States brace for shutdowns
Indiana is one of five states - along with Arizona, California, Mississippi and Pennsylvania - bracing for possible shutdowns this week as time runs out for lawmakers to close billion-dollar gaps in their fiscal 2010 budgets.
Washington Post: Blood Samples Raise Questions of Privacy
Matthew Brzica and his wife hardly noticed when the hospital took a few drops of blood from each of their four newborn children for routine genetic testing. But then they discovered that the state had kept the dried blood samples ever since - and was making them available to scientists for medical research.
WSJ: Chlamydia, the Silent STD That Can Cause Infertility
One of the biggest frustrations in public-health circles today involves a tiny bacterium called Chlamydia trachomatis.
Bloomberg: Jobs Travel to Transplant Mecca Shows System Flaws
Steve Jobs, Apple Inc.'s chief executive officer, got a liver transplant quickly because of a U.S. system that favors patients with the means to rush to geographic areas where there is less competition for organs.
McClatchy: Chinese makers of shoddy goods rarely face U.S. sanctions
Chinese manufacturers made more than half of the goods that the U.S. Consumer Product Safety Commission recalled last year, but few of them paid any price for producing defective wares.
Bradenton Herald: Data suggest more moving out of Fla.
Once the dream of many a retiree and young person seeking to live in paradise, the prospect of living in Florida seems to be less attractive in the current economic downturn.
USA Today: Bath in diluted bleach relieves kids' eczema
Though most people reserve bleach for removing stains from clothing, a study in the journal Pediatrics says it also may offer relief to children who have the skin disease eczema.
Boston Globe: A lifeline for those who aided US
A former US government official in Iraq, Johnson, 28, has spent the last two years trying to save Iraqis who worked for the United States as interpreters, embassy workers, subcontractors, and in other jobs, and as a result were forced into hiding, tortured, raped, or killed by insurgents and militia. His passion to protect those targeted for death is so fierce he's been compared to Oskar Schindler, the German businessman who saved Jews from Nazi death camps.
INTERNATIONAL
For the latest international news: http://edition.cnn.com/
CNN: Rescuers spot wreckage of plane that crashed with 154 aboard
Rescuers on Tuesday spotted the wreckage of a Yemeni plane that crashed in the Indian Ocean off the island nation of Comoros, Comoros Vice President Idi Nadhoim said.
CNN: Iran's election authority: Partial recount shows election valid
Saying it had completed an investigation into alleged voter irregularities, Iran's election authority on Monday stood by its findings that gave hardline President Mahmoud Ahmadinejad an overwhelming victory and sparked more than two weeks of chaos in the streets.
CNN: Reputed Afghan drug lord held for trial in U.S.
A reputed drug lord described as one of the biggest heroin suppliers in eastern Afghanistan - with suspected ties to the Taliban - appeared in federal court in Washington Monday, where he was ordered detained pending his expected drug trial.
BBC: Man held over China ethnic clash
Chinese police have detained a man who they say sparked a deadly ethnic clash at a toy factory in southern China.
Washington Post Op-Ed: Bolani: Iraq: Mission Not Yet Accomplished
Today is the deadline by which U.S. troops are to withdraw from major Iraqi cities. This clear line in the sand must provide some relief to many Americans, whose sacrifice has been extraordinary. But as the United States shifts its attention from Iraq to Afghanistan and other issues of grave importance, none of us can be lulled into believing that Iraq is a "mission accomplished." That sense of security is simply false. June 30 is not an historical endpoint to be celebrated by political philosophers; it is the beginning of a highly uncertain chapter in Iraqi democracy and self-governance.
Times of London: Thirteen dead in Italy train explosion
Thirteen people were killed and at least 30 injured when a freight train exploded in the middle of an Italian town on Monday night.
Washington Post: In the West Bank, Suburb or Settlement?
Chaim Hanfling knows a lot about this settlement's population boom. Six of his 11 siblings have moved here from Jerusalem in recent years to take advantage of the lower land prices, and at age 29, he has added four children of his own.
NYT: Russian in Extradition Battle Says U.S. Agents Violated Law
Viktor Bout, a Russian businessman suspected of arms trafficking who faces possible extradition to the United States, is pursuing what his lawyer calls a rare legal procedure that accuses American officials of overstepping their jurisdiction in a sting operation here last year.
BUSINESS
For the latest business news: www.CNNMoney.com.
CNN: Madoff sentenced to 150 years
A federal judge sentenced Bernard Madoff, the convicted mastermind of the largest and most sweeping Ponzi scheme ever, to the maximum sentence of 150 years in federal court Monday.
CNN: Honda's new hybrid disappoints
Honda's new hybrid-only Insight, touted as a low-cost competitor to the Toyota Prius was dealt a major blow Monday after it failed to get a thumbs up from the influential magazine Consumer Reports.
WSJ: Street to Log Best Quarter Since Crisis
The securities firms still standing on Wall Street are about to close the most lucrative quarter since the credit crisis erupted.
WSJ: Layoffs Allow Small Firms to Attract Big-Company Refugees
As major corporations lay off employees, small businesses are benefiting from an unexpected windfall: Displaced talent that is now knocking at the door.
Washington Post: Uncertainty Clouds Recovery of U.S. Investment in GM
If a new General Motors emerges from bankruptcy as planned, U.S. financial aid for the company will expand to nearly $50 billion, but neither the government nor the company is forecasting how much of the public money will be repaid.