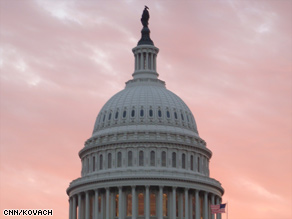 The CNN Washington Bureau's morning speed read of the top stories making news from around the country and the world.
WASHINGTON/POLITICAL
For the latest political news: www.CNNPolitics.com.
CNN: GOP targets freshman Democrat in new ad
House Republicans will target freshman Rep. Tom Perriello in a new television
commercial that criticizes the Virginia Democrat for his recent vote in favor of controversial energy reform legislation.
CNN: S.C. Attorney General to review Sanford's travel records
The attorney general of South Carolina on Tuesday asked the state law enforcement division to review Gov. Mark Sanford's travel records after the governor admitted to more visits with his mistress than previously disclosed.
CNN: Al Franken: Where he stands on the issues
Next week Al Franken comes to the nation's capital to take his seat as his state's junior U.S. senator. So where does the Minnesota Democrat stand on some of the major issues the Senate will be grappling with this year?
CNN: Franken 'thrilled' after court declares his Senate victory
Democrat Al Franken said Tuesday evening he is "thrilled and humbled" the Minnesota Supreme Court ruled him the winner of a contentious Senate race that played out in court over several months.
CNN: Borger: Jenny Sanford becomes the new political paradigm
After years of watching those wives stand (sadly) by their men, there was something refreshing - and real - about Jenny Sanford's decision to be far, far away from the governor's apology tour.
Washington Post: Term Saw High Court Move to The Right
For the Supreme Court, it was the year of living on the verge. On the verge of declaring the key provision of the Voting Rights Act unconstitutional, but then stepping back. Looking hard at whether some protections of minorities amount to violations of the Constitution, then leaving the topic for another day. Appearing sympathetic to school officials for their decision to strip-search a 13-year-old student, but shielding them only from any liability for their actions.
Washington Times: Clinton urged Obama to talk tough on Iran
Secretary of State Hillary Rodham Clinton urged President Obama for two days to toughen his language on Iran before he did so, and then was surprised when he condemned Iran's crackdown on demonstrators last week, administration officials say.
Bloomberg: Kennedy Seeks Public Health Insurance Plan That Finances Self
Senator Edward M. Kennedy's committee will propose creating a government-backed alternative to private insurance designed to pay for itself after getting federal start-up money.
Washington Post: After Call From Senator's Office, Small Hawaii Bank Got U.S. Aid
Sen. Daniel K. Inouye's staff contacted federal regulators last fall to ask about the bailout application of an ailing Hawaii bank that he had helped to establish and where he has invested the bulk of his personal wealth.
WSJ: Franken Heads to Senate, Bolsters Democrats' Hand
The Minnesota Supreme Court cleared the way for Democrat Al Franken to become Minnesota's new U.S. senator, ending a festering eight-month election dispute and giving the Democrats a 60-seat voting majority in the Senate.
Minneapolis Star Tribune: At last, a second senator for Minnesota
Al Franken, a satirist known for his biting political humor, is headed to the U.S. Senate, the survivor of an epic legal struggle that opponent Norm Coleman finally conceded he couldn't win.
Washington Post: Obama Presents Bill to Create Consumer-Finance Watchdog
The Obama administration sent a detailed proposal to Congress yesterday for creating an agency to oversee nearly all facets of consumer lending, but the breadth of its powers is setting the stage for a fierce clash on Capitol Hill.
Bloomberg: Climate Bill Helps Utilities More Than Oil Companies
The climate-change bill that passed the U.S. House on June 26 would set up a "cap-and-trade" market for greenhouse gases that cushions the cost for power producers, manufacturers and farmers while limiting aid to oil companies.
McClatchy: Sanctions on North Korean firms indirectly target Iran
The Obama administration on Tuesday slapped financial sanctions on two North Korean firms, including one based in Iran, as part of a crackdown on North Korea's ballistic missile and nuclear weapons programs following a May nuclear test blast and a series of provocative missile launches.
McClatchy: Social Security audit finds dead people getting checks
The Social Security Administration has continued to pay millions of dollars in benefits to dead Americans, and other elderly U.S. residents are at risk of losing badly needed aid because they're improperly recorded as deceased, federal investigators warn in a new report.
CNN: Palin confident she can outrun Obama
Alaska Gov. Sarah Palin is confident Barack Obama can be beaten — in a long distance run.
Runner's World Magazine: I'M A RUNNER: SARAH PALIN
The former Vice Presidential candidate opens up about her running life and explains why she's still on the trail.
Washington Times: GOP: EPA hid global warming memo
Republican lawmakers, coming off a loss Friday in their attempt to block passage of a massive climate bill, have seized on a global warming memo they say was suppressed by the Obama administration.
LA Times: 11th-hour votes on state budget fail
With a day to go until a cash crisis would force the state to stop paying its bills, lawmakers and Gov. Arnold Schwarzenegger worked into the night Tuesday but failed to reach a budget agreement.
NATIONAL
For the latest national news: www.CNN.com.
CNN: National Guard: Gay Iraq veteran must leave service
A panel of New York National Guard officers has recommended that an Iraq war veteran who acknowledged his homosexuality must leave the service, his supporters said Tuesday.
CNN: FDA advisers vote to take Vicodin, Percocet off market
A government advisory panel voted Tuesday to recommend eliminating prescription drugs that combine acetaminophen with narcotics - such as Vicodin and Percocet - because of their risk for overdose and for severe liver injury.
CNN: Jackson's public viewing set amid speculation on cause of death
More than two dozen television satellite trucks lined the narrow, two-lane road leading to Neverland Ranch early Wednesday, jostling to reserve space for a public viewing of pop icon Michael Jackson's body that won't happen for two more days.
CNN: Police: Duke University official offered adopted son for sex
A Duke University official is accused of offering his 5-year-old adopted son for sex on the Internet, according to the FBI and court documents in the case.
NYT: Many With Insurance Still Bankrupted by Health Crises
Health insurance is supposed to offer protection — both medically and financially. But as it turns out, an estimated three-quarters of people who are pushed into personal bankruptcy by medical problems actually had insurance when they got sick or were injured.
USA Today: Middle class may be developers' 2nd shot
Cities that have high housing costs are trying to make lemonade out of real estate lemons: turning failed developments into affordable housing for the shrinking urban middle class.
NYT: Study Dismisses Protein's Role in Heart Disease
A blood protein that only a short time ago was thought by some to be more important than cholesterol in heart disease now appears to be little more than a bystander.
WSJ: Cities Grow at Suburbs' Expense During Recession
U.S. cities that for years lost residents to the suburbs are holding onto their populations with a mix of people trapped in homes they can't sell and those who prefer urban digs over more distant McMansions, according to Census data released Wednesday.
LA Times: Autism patients' treatment is denied illegally, group says
State regulators are violating mental health and other laws by allowing health insurers to deny effective treatment for children with autism, consumer advocates contend.
Forbes: What's North Dakota's Secret?
As the country has tipped into a deep recession over the past two years, North Dakota, under the leadership of the nation's longest-serving governor, John Hoeven, has bucked every trend. In 2008, North Dakota's economy grew 7.3%, twice as fast as any other state except Wyoming, which grew 4.4%. By this point, many states in the industrial Midwest, and housing-bubble states like Arizona, Nevada and Florida, were already shrinking.
Boston Globe: State draws zones for coast wind farms
Dozens of wind turbines could sprout within sight of the Massachusetts shoreline under a first-of-its-kind state blueprint with the promise of generating both electricity and controversy.
BBC: Vegetarians 'avoid more cancers'
Vegetarians are generally less likely than meat eaters to develop cancer but this does not apply to all forms of the disease, a major study has found.
USA Today: Panel pinpoints 100 areas to yield most bang for health-care buck
A report out today lists the top 100 areas of medicine in which research is needed to determine which treatments or preventive measures work best.
Miami Herald: Prescription drug overdose deaths soar in Florida
Florida continues to see a rapid rise in fatal overdoses caused by prescription-drug abuse - a trend fueled by a cottage industry of cash-only pain clinics - while deaths from illegal drugs wane, according to a report from the state's medical examiners released Tuesday.
INTERNATIONAL
For the latest international news: http://edition.cnn.com/
CNN: Ousted president vows to return to Honduras
A new stand-off was brewing in Honduras as the country's recently deposed president vowed to return, while the new provisional government said it would arrest him if he set foot back in the country.
CNN: Al Qaeda threatens France for perceived anti-burqa stance
Al Qaeda threatened to "take revenge" on France "by every means and wherever we can reach them" because of a debate in France over whether the burqa, a traditional Islamic woman's covering, violates French law, according to a statement posted on radical Islamist Web sites.
BBC: North Korean ship 'turned around'
A North Korean ship being tracked by the United States Navy on suspicion of transporting weapons to Burma has turned around, US officials have said.
BBC: Iran leader cancels Africa visit
Iranian President Mahmoud Ahmadinejad has cancelled his trip to an African Union summit in Libya, officials in Tehran say.
Al Jazeera: Girl survives Yemeni plane crash
A 14-year-old girl has survived after a Yemeni airliner with 153 people on board crashed in the Indian Ocean.
LA Times: Pakistan militants turn fruit juice bars into a front line
They are considered risque dens of iniquity and have been bombed simply for providing a place where men and women can (gasp) talk to each other.
BUSINESS
For the latest business news: www.CNNMoney.com.
CNN: New Orleans: Fastest growing city
The Big Easy is making a big comeback. New Orleans has steadily won back some of the population it lost in the wake of Hurricane Katrina in 2005, according to a government report released Wednesday.
CNN: Battle lines over Obama consumer agency
In the debate over how to prevent the next financial crisis, the first fight has already erupted - and it's over a proposal to create a new agency to protect consumers.
Financial Times: Citi raises card rates on millions
Citigroup has sharply increased interest rates on up to 15m US credit card accounts just months before curbs on such rises come into effect, in a move that could fuel political anger at the treatment of consumers by bailed-out banks.
WSJ: Wal-Mart Backs Drive to Make Companies Pay for Health Coverage
In a major break with most other large companies, Wal-Mart Stores Inc. Tuesday told the White House that it supports requiring employers to provide health insurance to workers, a centerpiece of President Barack Obama's effort to provide near-universal coverage to Americans.
WSJ: Stores Anxiously Watch Back-to-School Sales
Retailers that spent the last six months slashing inventories are now anxiously awaiting the back-to-school shopping season for clues that customers aren't turned off by the slim selections in stores.
Bloomberg: China Manufacturing Expands a Fourth Month, PMI Shows
China's manufacturing expanded for a fourth month as a 4 trillion yuan ($585 billion) stimulus plan and record bank lending revive the world's third-largest economy.
Business Week: Job Losses Lessen, but Recovery Remains Far Off
Sure, unemployment keeps getting worse. But look at the bright side: The rate of deterioration isn't as bad as it was a few months ago.
In Case You Missed It
To watch the latest interviews and reporting: http://www.cnn.com/video.
CNN: Obama recognizes CNN Hero
President Obama today recognized CNN Hero Alfa Demmellash for helping low-income "mon-and-pop" businesses.
CNN: Pressure on immigration reform
Hispanic leaders are demanding President Obama make good on his campaign promise of immigration overhaul.
CNN: Obama eyes 2011 for Iraq exit
President Obama says the transfer of military power in Iraq is the first step in removing all troops by the end of 2011.