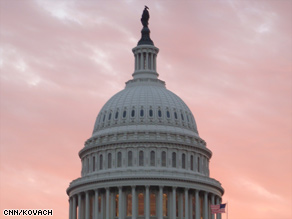 The CNN Washington Bureau's morning speed read of the top stories making news from around the country and the world.
WASHINGTON/POLITICAL
For the latest political news: www.CNNPolitics.com.
CNN: U.S. launches 'major operation' in Afghanistan
U.S. troops have launched a "major operation" against Taliban fighters in southern Afghanistan, U.S. military officials announced in Afghanistan early Thursday.
CNN: Obama assails 'scare tactics' by health care opponents
President Barack Obama used a town hall meeting Wednesday to urge Americans to reject what he called fear-mongering by those who oppose fixing the nation's ailing health care system this year.
CNN: White House releases staff salary list
Top-level staff members of the Obama White House earn the same amount as their predecessors in the Bush administration, according to a report submitted to Congress Wednesday. The president announced the pay freeze on his first full day in office for White House employees earning more than $100,000.
CNN: White House plans flu summit next week
CNN has learned that the Obama administration is planning to convene a "flu summit" next week to make preparations for the fall, as officials in Argentina declare a health emergency because 35 people have died in the Latin American nation from swine flu.
CNN: Call for Sanford resignation grows louder in South Carolina
South Carolina Republican Party Chairwoman Karen Floyd seemed to suggest Wednesday that the time had come for GOP Gov. Mark Sanford to consider resigning from office.
CNN: Release of CIA interrogation report delayed
The Justice Department has once again delayed the release of the CIA's internal investigation of its controversial interrogation and detention program.
NYT: Sotomayor's Recusals Suggest Caution
Judge Sonia Sotomayor, a Supreme Court nominee, has recused herself at least 141 times since becoming a judge in 1992. In many of those cases, she has told Senate investigators, her withdrawals were prompted by simple reasons: one of the lawyers was a friend; a former law clerk was involved; or she had represented a party in private practice.
WSJ: Sotomayor Helped Push Minority Cases
Supreme Court nominee Sonia Sotomayor helped lead an advocacy group that pushed legal theories about employment and race much like the one scotched by the Supreme Court Monday, according to documents released Wednesday as part of her confirmation process.
Washington Post: No Limit in Place for Pending Request on Troops in Afghanistan
The nation's top military officer said yesterday that no limits have been placed on the number or types of troops the new U.S. commander in Afghanistan can request as he seeks to carry out a counterinsurgency strategy there.
McClatchy: Poll: Pakistanis worried about terrorists, wary of U.S.
In a reversal of public opinion, most Pakistanis now consider terrorist groups a "critical threat" to their country and support their government in its fight against the Taliban in Swat valley, according to a survey released Wednesday.
Bloomberg: Senate May Pass U.S. Climate Bill, Reject Treaty, Kerry Says
The U.S. Senate may pass legislation to slow climate change and then fail to approve a global treaty that commits nations to do so, Senator John Kerry said.
Washington Post: ACLU Says Government Used False Confessions
The American Civil Liberties Union yesterday accused the Obama administration of using statements elicited through torture to justify the confinement of a detainee it represents at the U.S. military prison in Guantanamo Bay, Cuba.
WSJ: Congress's Travel Tab Swells
Spending by lawmakers on taxpayer-financed trips abroad has risen sharply in recent years, a Wall Street Journal analysis of travel records shows, involving everything from war-zone visits to trips to exotic spots such as the Galápagos Islands.
Financial Times: Obama enters decisive phase of presidency
Barack Obama is gearing up for the most decisive phase of his presidency when the fate of his core legislative proposals will show whether he is capable of taming Washington or whether Washington will tame him.
WSJ: Two Centuries On, a Cryptologist Cracks a Presidential Code
For more than 200 years, buried deep within Thomas Jefferson's correspondence and papers, there lay a mysterious cipher - a coded message that appears to have remained unsolved. Until now.
Vanity Fair: It Came from Wasilla
Despite her disastrous performance in the 2008 election, Sarah Palin is still the sexiest brand in Republican politics, with a lucrative book contract for her story. But what Alaska's charismatic governor wants the public to know about herself doesn't always jibe with reality. As John McCain's top campaign officials talk more candidly than ever before about the meltdown of his vice-presidential pick, the author tracks the signs—political and personal—that Palin was big trouble, and checks the forecast for her future.
Washington Post Op-Ed: Bolton: Time for an Israeli Strike?
With Iran's hard-line mullahs and the Islamic Revolutionary Guard Corps unmistakably back in control, Israel's decision of whether to use military force against Tehran's nuclear weapons program is more urgent than ever.
WSJ Op-Ed: Rove: A Family's Valor, a Nation's Freedom
At a dinner last week in California, I was reminded of the debt we owe to those who have, for 233 years, sustained our freedom and independence. One remarkable family in particular exemplifies the best in the American spirit of courage and sacrifice.
Anchorage Daily News: Ethics investigations cost state $296,000
Ethics complaints against Gov. Sarah Palin and top members of her administration have cost the state personnel board nearly $300,000 over the past year, almost two-thirds of which appear to be from the Troopergate investigation of the governor.
Washington Times: EXCLUSIVE: Colombian prisoners strain D.C. Jail
Two of the District's top law enforcement officials are warning that dozens of federal prisoners with ties to Colombian rebel groups and international drug rings are a threat to security at the D.C. Jail and pose a risk of escape into the surrounding neighborhood.
NATIONAL
For the latest national news: www.CNN.com.
CNN: Obama awards WWII-era women pilots congressional medal
President Obama on Wednesday signed a measure awarding the 300 surviving Women Airforce Service Pilots from World War II the Congressional Gold Medal.
CNN: Two anti-smoking drugs to carry mental-health warnings
Two popular anti-smoking drugs will now carry warnings about the risk of severe mental health problems, the Food and Drug Administration announced Wednesday.
CNN: Family: Michael Jackson viewing won't happen at Neverland
Michael Jackson's family will not hold a public or private viewing of his body at the Neverland Ranch, a spokesman for the family said Wednesday.
CNN: Jackson's will answers some questions, raises more
The will and the wake.
CNN: Staten Island Ferry crash injures 10
A Staten Island Ferry lost power and hit a pier Wednesday at full speed, resulting in one serious injury and nine minor injuries, a Coast Guard spokesman said.
Washington Post: Staffer at SEC Had Warned Of Madoff
An investigator at the Securities and Exchange Commission warned superiors as far back as 2004 about irregularities at Bernard L. Madoff's financial management firm, but she was told to focus on an unrelated matter, according to agency documents and sources familiar with the investigation.
LA Times: Hiring might not rebound in an economic recovery
Even as the nation's economy begins clawing its way out of the worst recession in 60 years, there are growing signs that this recovery could come with an unsettling twist: The wheels of commerce may begin to turn again without any substantial boost in jobs.
Forbes: The Jobless Decade
When the Bureau of Labor Statistics reports employment figures Thursday morning, economists expect the U.S. to take a big step toward an ugly milestone.
Boston Globe: Consumers likely to find increased bank costs
An array of government-created insurance agencies – which have long charged bargain-rate premiums to banks, credit unions, and brokerages – are seeking to make up for massive shortfalls in their insurance funds by raising fees and premiums, many of which are likely to be passed on to consumers.
WSJ: To Fix Health Care, Some Study Developing World
When doctors running the AIDS clinic at the University of Alabama at Birmingham wanted to increase the number of patients who showed up for treatment, they turned to an unusual place for help: southern Africa.
NYT: Nuns in the U.S. Are Facing Scrutiny by the Vatican
The Vatican is quietly conducting two sweeping investigations of American nuns, a development that has startled and dismayed nuns who fear they are the targets of a doctrinal inquisition.
NYT: Facing Deficits, Some States Cut Summer School
Nearly every school system in Florida has eviscerated or eliminated summer school this year, and officials are reporting sweeping cuts in states from North Carolina and Delaware to California and Washington. The cuts have come as states across the country are struggling to approve budgets, and California's governor, Arnold Schwarzenegger, declared a fiscal state of emergency on Wednesday.
USA Today: 4th arrives amid shift in driving habits
The nation heads into the Independence Day holiday weekend amid the longest and steepest decline in driving since the invention of the automobile.
USA Today: Study could ease concerns over hiring ex-offenders
A study funded by the Justice Department concludes that over time accused robbers, burglars and batterers pose no greater risk to employers than job candidates in the general population.
LA Times: L.A. employers face immigration audits
Federal officials Wednesday notified more than 650 businesses around the country, including nearly 50 in Los Angeles, that their records will be audited as part of a widening effort to find companies that hire illegal immigrants.
Financial Times: Kmart offers discounts to jobless
In an unusual move by a US national retailer, Kmart has launched a discount programme for unemployed people. The plan applies to Michigan, which has the highest unemployment rate of any US state – 14.1 per cent in May, compared with a national average of 9.4 per cent. The Detroit metropolitan area has the highest unemployment rate of any US city, at 14.9 per cent.
INTERNATIONAL
For the latest international news: http://edition.cnn.com/
CNN: Teen plane crash survivor 'didn't feel a thing'
The father of a teenage girl who remarkably survived a plane crash off the Comoros islands has described how his daughter was ejected from the plane into the Indian Ocean.
CNN: Ousted Honduran leader delays return till deadline passes
Ousted Honduran President Jose Manuel Zelaya said Wednesday he will not return to his home country until at least Saturday, after a three-day international deadline to reinstate him.
Washington Times: Taliban buying children for suicide bombers
Pakistan's top Taliban leader, Baitullah Mehsud, is buying children as young as 7 to serve as suicide bombers in the growing spate of attacks against Pakistani, Afghan and U.S. targets, U.S. Defense Department and Pakistani officials say.
Washington Post: Honduras Targets Protesters With Emergency Decree
The new Honduran government clamped down on street protests and news organizations Wednesday as lawmakers passed an emergency decree that limits public gatherings following the military-led coup that removed President Manuel Zelaya from office.
BUSINESS
For the latest business news: www.CNNMoney.com.
CNN: Electronic health records: A checkup
Getting an electronic health record system in place by 2014? Tough.
CNN: Manhattan home prices plunge
The housing bust has finally clobbered super-pricey Manhattan home prices.
Bloomberg: European, U.S. Stock Futures Retreat Before Employment Report
European and U.S. stock-index futures fell before a report that may show unemployment in America climbed to the highest level since 1983.
Business Week: Will Tax Breaks Boost Jobs?
With the economy slumping and unemployment approaching 10%, states are kicking corporate tax incentives into overdrive. In the past year they've doled out a record $50 billion to spur job growth. Cash-strapped locales are depending indirectly on federal aid to fund the tax-break bonanza.
WSJ: Big Pay Packages Return to Wall Street
Business is back on Wall Street. If the good times continue to roll, lofty pay packages may be set for a comeback as well.
WSJ: Car Makers See End to Sales Slide
The three biggest car makers in America called a bottom to the long decline in U.S. auto sales as the industry reported its smallest monthly sales drop this year.
WSJ: Electronics Firms Fight State Recycling Programs
Small electronics makers are struggling with - and fighting against - new state laws mandating they pay for electronic recycling programs for consumers.
Bloomberg: GM Plans 'Garage Sale' for Toxic Plants, New Jersey Golf Course
As General Motors Corp. prepares to sell its best assets to a streamlined new entity, the worst of what it owns will be auctioned off in bankruptcy court, including contaminated factory sites, parking lots in Flint, Michigan, and a nine-hole golf course in New Jersey.