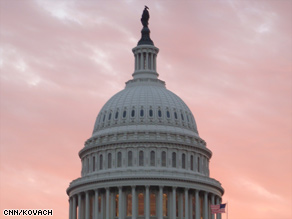 Anchorage Daily News: FBI says Palin isn't under investigation
The FBI is taking the unusual step of declaring Gov. Sarah Palin is not under investigation, as Palin herself left for Western Alaska and communicated to the world through her Twitter account.
CNN: Reality Check: Canada's System
Canadians dispute Sen. Mitch McConnell's assertions about their government-run health-care system. Dana Bash takes a look.
CNN: Stimulus money needs to be spent faster, Dems say
A leading congressional Democrat and Republican both expressed disappointment Sunday with the pace of the government's economic stimulus program, but offered differing views on whether it was a good idea.
LA Times: Paying for healthcare overhaul may fall unevenly on states
Reporting from Washington - When Congress decides how to pay for President Obama's signature healthcare initiative, some of his strongest political bastions may be footing a heavy bill. And in a political irony, states that went for Obama's Republican rival, Sen. John McCain of Arizona, in 2008 are among those likely to benefit most from Democratic healthcare policies.
Washington Times: BREITBART: New York Times Barbie strikes again
What a shock that Maureen Dowd devoted her New York Times column Sunday to attack Sarah Palin. It did not so much criticize Alaska's governor for prematurely stepping down from her official duties as to finish off what sister snipers Katie Couric and Tina Fey began last fall. The assassination of Sarah Palin – by media.
Boston Globe: Municipal complaint? There's an app for that
City officials will soon debut Boston's first official iPhone application, which will allow residents to snap photos of neighborhood nuisances – nasty potholes, graffiti-stained walls, blown street lights – and e-mail them to City Hall to be fixed. City officials say the application, dubbed Citizen Connect, is the first of its kind in the nation. It was designed as an extension of the city's 24-hour complaint hotline for the younger set, making the filing of complaints quicker and easier for iPhone users.