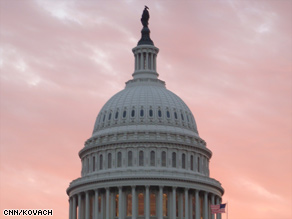 Anchorage Daily News: FBI says Palin isn't under investigation
The FBI is taking the unusual step of declaring Gov. Sarah Palin is not under investigation, as Palin herself left for Western Alaska and communicated to the world through her Twitter account.
CNN: Reality Check: Canada's System
Canadians dispute Sen. Mitch McConnell's assertions about their government-run health-care system. Dana Bash takes a look.
CNN: Stimulus money needs to be spent faster, Dems say
A leading congressional Democrat and Republican both expressed disappointment Sunday with the pace of the government's economic stimulus program, but offered differing views on whether it was a good idea.
LA Times: Paying for healthcare overhaul may fall unevenly on states
Reporting from Washington - When Congress decides how to pay for President Obama's signature healthcare initiative, some of his strongest political bastions may be footing a heavy bill. And in a political irony, states that went for Obama's Republican rival, Sen. John McCain of Arizona, in 2008 are among those likely to benefit most from Democratic healthcare policies.
Washington Times: BREITBART: New York Times Barbie strikes again
What a shock that Maureen Dowd devoted her New York Times column Sunday to attack Sarah Palin. It did not so much criticize Alaska's governor for prematurely stepping down from her official duties as to finish off what sister snipers Katie Couric and Tina Fey began last fall. The assassination of Sarah Palin – by media.
Boston Globe: Municipal complaint? There's an app for that
City officials will soon debut Boston's first official iPhone application, which will allow residents to snap photos of neighborhood nuisances – nasty potholes, graffiti-stained walls, blown street lights – and e-mail them to City Hall to be fixed. City officials say the application, dubbed Citizen Connect, is the first of its kind in the nation. It was designed as an extension of the city's 24-hour complaint hotline for the younger set, making the filing of complaints quicker and easier for iPhone users.
Politico: Washington Democrats try to bail out Chris Dodd
With Sen. Chris Dodd (D-Conn.) facing an uphill battle to win reelection next year after a series of Washington scandals battered his popularity back home, President Obama and other national Democrats are sparing no effort to help him.
Roll Call: Senate's Health Timeline May Slip
Senate Democratic leaders' hopes of approving health care reform before adjourning for the August recess appear all but dead, with the prospect of meeting President Barack Obama's demand for a bill on his desk by Oct. 15 looking increasingly difficult.
Washington Post: Familiar Players in Health Bill Lobbying; Firms Are Enlisting Ex-Lawmakers, Aides
The nation's largest insurers, hospitals and medical groups have hired more than 350 former government staff members and retired members of Congress in hopes of influencing their old bosses and colleagues, according to an analysis of lobbying disclosures and other records.
NYT: In Maine, Two Sides on Health Care Step Up Competition for Senators' Votes
The rally outside Senator Olympia J. Snowe's district office here last week was small but heartfelt: a handful of locals describing health insurance nightmares and calling for full-blown change, fast.
Roll Call: The Rose Garden: White House Enlists Troops From K Street
Months after instituting tough new rules designed to limit the influence of lobbyists on the administration, the White House has a growing and thriving relationship with K Street, though not one that appears to violate promises that President Barack Obama made to curtail influence peddling.
CNN: Looking forward to Obama
CNN's Jill Dougherty asks University students in Moscow what they expect from President Obama's upcoming visit to Russia.
CNN: Reliable Sources Web Exclusive: Pitney v. Milbank, the aftermath
Watch as CNN's Howard Kurtz follows up on a recent dust-up between the Huffington Post's Nico Pitney and the Washington Post's Dana Milbank.
Politico: Obama bashers see literary gold
As much as both men might hate to admit it, Barack Obama has been very, very good to Mark Levin. Levin is living the talk-radio dream: His three-hour broadcast is aired on more than 150 stations to more than 5 million listeners a day.
Roll Call: GOP Pushing Malpractice Reform
Republicans see the debate over health care reform as their latest opportunity to reform the medical malpractice system — but they hold out little hope that this will occur.
Politico: Biden, Mullen split on Israel and Iran?
Admiral Mike Mullen, Chairman of the Joint Chiefs of Staff, said he was concerned about the unintended consequences of an Israeli military strike against Iran's nuclear facilities.
CNN: Mullen on North Korea
A day after reported short-range missile tests by North Korea, one of President Obama's top military adviserS said it was possible the regime could be preparing to test longer range missiles capable of reaching the United States.
CNNMoney.com: GM bankruptcy plan approved
Plan for nation's No. 1 automaker to emerge from protection seen by as 'only available means' to continue business.
CNNMoney.com: Mich. Gov: Media hard on Detroit
Governor Jennifer Granholm grades media coverage of Detroit and says automakers are the largest roadblock to recovery.
CNNMoney.com: Wall Street's reality check
A second-quarter rally has given way to what could be a rocky third quarter as investors contend with quarterly results, economic reports.
NYT: Job Retraining May Fall Short of High Hopes
...Tens of thousands of laid-off workers like Mr. Hutchins have turned to retraining as a lifeline. Yet for all the popularity of these government-financed programs, there are questions about whether they actually work, even as President Obama's stimulus plan directs $1.4 billion more to retraining and other services for people who have lost their jobs.
CNN: Conservatives taken aback by Palin's decision to resign
Astounding. Risky. Quitter. And that's what fellow conservatives had to say Sunday about Alaska Gov. Sarah Palin and her decision to step down with 18 months left in her term.
CNN: Palin attorney warns media over 'defamatory' charges
As Gov. Sarah Palin blasted the media Saturday in a tough Facebook post, her attorney delivered a strong warning to news outlets that they should not report any stories that allege the Alaska governor is leaving office because she is under any kind of federal investigation.
CNN: State of the Union: Did Palin make the right move?
Three of CNN's political contributors weighed in Sunday as pols and pundits alike continued to try to digest the implications of Alaska Gov. Sarah Palin's surprise announcement that will she will step down later this month.
Washington Post: Karzai's Challengers Skirt Thorny Issues, Face Huge Odds in Afghan Campaign
As U.S. Marines launched a major offensive against Taliban insurgents in southern Helmand province, the presidential campaign unfolding in more peaceful parts of northern and eastern Afghanistan last week seemed to be taking place on another planet.
Washington Post: Financial Agency IGs Say Bill Threatens Independence
Inspectors general at five financial regulatory agencies are objecting to legislation that would elevate their positions to the presidential-appointment level, arguing that the move would compromise their ability to conduct independent investigations.
WSJ: Electronic Outreach Tests House Rules
House members are spending millions in taxpayer funds on email and other electronic outreach to voters, often in ways that avoid their traditional rules on constituent communications. During the nine months ended March 31, which included the run-up to the last election, House members spent about $3.5 million from their office accounts on electronic outreach, according to a Wall Street Journal review of expense records.
CNN: Queen Noor: We are approaching a nuclear tipping point
On the eve of one-on-one talks between President Obama and Russian President Dmitry Medvedev at the Kremlin, one of the founders of Global Zero, an initiative aimed at ridding the planet of nuclear weapons, said the time was now to do away with the weapons.
CNN: D.C.'s Marion Barry arrested again
Former D.C. mayor, now Washington councilman, Marion Barry has been arrested again. On July 4, the U.S. Park Police arrested Barry and charged him with misdemeanor stalking.
Washington Post: In Hubby's Time Of Trouble, She Can't Be Bothered
It is only a detail in an outlandish story of adultery, lies, political death and narcissism that knows no bounds, but there is something splendidly defiant in the wardrobe Jenny Sanford, the wife of Gov. Mark Sanford, has been wearing the past few days.
Washington Post: Woods, Obama Are Making Plans for a Very Powerful Pairing in Washington
After winning the AT&T National yesterday at Congressional Country Club, Tiger Woods has done just about everything he wants to in the Washington area. He has played in, and won, Presidents Cups.
CNN: Life on Capitol Hill – This Week's Episode
What's it like to be a new member of the world's most powerful legislature? Rep. Jared Polis of Colorado and Rep. Jason Chaffetz of Utah share their stories.
Washington Post: Electric Rates Still a Contentious Issue as O'Malley Looks to Reelection
As rallying cries go, it was a Democratic candidate's dream: Martin O'Malley, the big-city mayor fighting for working families, would stop a 72 percent jump in utility rates for customers around Baltimore and some of the Washington suburbs.
Washington Post: Gay Activist Works to Build Broad-Based Political Party
Popping out of an auto rickshaw, Manohar Elavarthi unloaded a backpack stuffed with protest posters. Soon he would be rushing to a street demonstration, one that would bring together low-caste Dalit activists, Gandhians, cross-dressers and members of domestic workers unions.