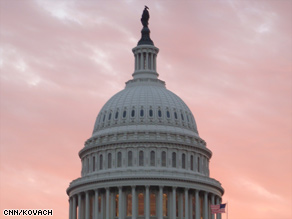 CNN: Palin says she is not a quitter
Sarah Palin's not a quitter, she wants the public to know. "I am not a quitter. I am a fighter," Palin told CNN on Monday while on a family fishing trip, on the heels of her Friday bombshell announcement that she was resigning as Alaska's governor.
CNNMoney.com: Will Bernanke keep his job?
Obama will have to make a big decision: Whether to reappoint the Fed chair. Bernanke has detractors on the Hill. Right now at least, odds are he'll hang on.
CNN: South Carolina GOP votes to censure Sanford
After nearly four hours of deliberation and multiple rounds of balloting, the South Carolina Republican Party voted Monday night to censure Mark Sanford for secretly traveling overseas to visit his mistress — but stopped short of calling on the governor to resign.
Washington Times: EXCLUSIVE: Israel fears U.S. would foil Iran strike
Prime Minister Benjamin Netanyahu and his top deputies have not formally asked for U.S. aid or permission for possible military strikes on Iran's nuclear program, fearing the White House would not approve, two Israeli officials said.
Washington Post: The Post Begins Reviews of Events to Avoid Ethics Conflicts
The Washington Post initiated internal reviews yesterday to ensure that its business practices do not compromise its journalistic ethics when the newspaper organizes conferences or private events funded by sponsors.

Washington Post: Hospitals Reach Deal With Administration; $155 Billion in Health Savings Offered
The nation's hospitals agreed last night to contribute $155 billion over 10 years toward the cost of insuring the 47 million Americans without health coverage, according to two industry sources.
Washington Post: Push and Pull in Senate May Recast Climate Bill
President Obama's climate-change legislation begins a daunting march through the Senate this week, with supporters acknowledging they are as many as 15 votes shy of victory and well aware that deals to attract more votes could erode the bill's environment-friendly objectives.
NYT: China Locks Down Restive Region After Deadly Clashes
URUMQI, China — The Chinese government locked down this regional capital of 2.3 million people and other cities across its western desert region on Monday and early Tuesday, imposing curfews, cutting off cellphone and Internet services and sending armed police officers into neighborhoods after clashes erupted here on Sunday evening between Muslim Uighurs and Han Chinese.
Politico: More votes equals more stress for Harry Reid
Oh, the burdens of a Democratic supermajority. After eight months in limbo, Al Franken is poised to be sworn in as the 60th Democratic senator — cause for celebration among party activists, the lefty blogosphere and his fellow Democrats planning to give him a hero's welcome at Tuesday's caucus lunch.
Politico: President Obama coverage pays for networks
For all the talk of liberal media bias, there may be a more prosaic reason for all the airtime the networks shower on President Barack Obama: He's good for their bottom line.
Politico: New U.S.-Russia tone proves elusive
President Barack Obama's efforts to "reset" relations with Russia were in full view Monday in his joint news conference with Russian President Dmitri Medvedev — but if their first summit is any indication, the two leaders are going to have to hit control-alt-delete a few more times.
CNNMoney.com: Stimulus: Progress or broken promise?
As the economy continues to get worse, many wonder if stimulus is big and fast enough. But the White House says it's too early to judge.
Washington Post: Key Senator Backs Telecom Probe
A senior senator yesterday demanded a federal probe of alleged anti-competitive practices in the wireless industry, escalating recent congressional concern that too much power is concentrating in the hands of a few carriers.
NYT: Health Co-op Offers Model for Overhaul
As Dr. Harry J. Shriver III examined 70-year-old Eleanor L. Riley one recent morning, he seemed in no hurry. He asked about her phlebitis and her gall bladder, and whether her gout was acting up. They discussed her blood pressure readings and whether she was getting any exercise.
Washington Post: CFTC Floats Rules Aimed at Speculation; Wall Street Gears Up to Fight Curbs
The Commodity Futures Trading Commission will consider new measures to curb speculation in the markets for energy and other commodities, the agency is set to announce today.
Washington Times: States struggle to comply with sex offender database
Congress found it easy enough to pass guidelines for a national Internet database of sex offenders. Individual states are finding it far more difficult to comply with those guidelines.
NYT: Social Security Numbering System Vulnerable to Fraud, Experts Say
The nation's Social Security numbering system has left millions of citizens vulnerable to privacy breaches, according to researchers at Carnegie Mellon University, who for the first time have used statistical techniques to predict Social Security numbers solely from an individual's date and location of birth.
NYT: Both Sides in Honduras Reach Out to the U.S.
The spotlight on Honduras's political crisis began to shift away from Latin America's leaders and onto the United States on Monday, as both sides in the face-off over Honduras's deposed president turned to the Obama administration to take charge of broad diplomatic efforts that have so far failed to resolve the situation.
Washington Post: Rules on Stem Cell Research Are Eased; More Lines Eligible For Federal Funding
Hundreds of embryonic stem cell lines, whose use in the United States had effectively been curtailed by the Bush administration, can be used to study disorders and develop cures if researchers can show the cells were derived using ethical procedures, according to new rules issued by the federal government yesterday.
CNN: Al Franken: From satirist to senator
Ten years ago, Al Franken wrote a satirical book detailing his fictitious race for the White House. In "'Why Not Me?" Franken trounces former House Speaker Newt Gingrich to win the election, but after countless scandals, a mental breakdown and a cloning incident, President Franken is forced to resign.
CNN: Palin's strength lies in the grassroots
While Marjorie Dannenfelser acknowledges that Alaska Gov. Sarah Palin's decision to resign from office "defies conventional wisdom," it hasn't dampened the enthusiasm this mother of five has for Palin to run for president in 2012.
CNN: Virginia and NJ Republicans non-committal on Palin
When Alaska Gov. Sarah Palin announced Friday that she was resigning from office, Republican National Committee chairman Michael Steele issued a statement saying that she "will be very helpful to the Party this year as we wage critical campaigns in Virginia and New Jersey."
Politico: The life of Robert McNamara
In photos.
CNN: Alec Baldwin interested in congressional run
Emmy Award winner Alec Baldwin is eyeing a post-acting career that could take him off a Hollywood soundstage into the halls of Congress.
CNN: Congressman slams Jackson
New York Congressman Peter King slams the media for "glorifying" Michael Jackson and calls him a "pervert." CNN's Mary Snow reports.
CNN: Jackson fans rally against Peter King
Angry at Rep. Peter King's sharp criticism of Michael Jackson, a fan of the late pop icon is trying to raise money to defeat the nine-term Republican from New York in 2010.
Bloomberg: Carville to Advise Karzai Challenger in Afghan Election Contest
Democratic strategist James Carville, who ran Bill Clinton's presidential bid in 1992, is helping another challenger: a U.S.-educated rival of Afghan President Hamid Karzai.
Washington Post: Scandals Swirl Around Summit Host; Italian Prime Minister's Well-Known Libido Has Drawn Negative Attention Lately
The good news for Prime Minister Silvio Berlusconi is that Italians are no longer quite so obsessed with his wife's demand for a divorce or his flirtations with an 18-year-old model. The bad news is that now they are fixated on his parties with paid escorts and the high-priced hooker who has told Italian media that she spent a night with him.
Washington Post: Canceled Trip Started Barry's Bad Day
They didn't even make it to the Bay Bridge before the argument started.