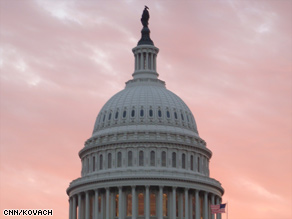 CNN: Rove deposed in US attorney probe
A House Judiciary Committee spokesman confirms that former Bush advisor Karl Rove was deposed by committee lawyers today. The spokesman declined to provide further detail.
CNN: House Majority Leader open to second stimulus bill
House Majority Leader Steny Hoyer said Tuesday he would consider supporting a second economic stimulus bill, but said people need to give the package that passed in February more time to work.
Washington Post: Obama Stands to Be Judged on Economic Recovery
Nothing may be more important to public assessments of President Obama's leadership than the state of the economy, and at this point there are political warning lights flashing.
CNN: Congressional Dems eye health care funding options
Senate negotiators are searching for new ways to pay for an overhaul of the U.S. health insurance system after recent polls showed many Americans oppose funding it through taxes on employer-provided health insurance, a key senator said Tuesday.
CNN: Obama: U.S. not giving Israel green light to attack Iran
The United States is "absolutely not" giving Israel a green light to attack Iran, U.S. President Barack Obama told CNN Tuesday.
USA TODAY: Report: States aren't using stimulus funds as intended
Under pressure to spend stimulus money quickly, many states are using the federal funds for short-term projects and to fill budget gaps rather than spending on long-term improvements, according to a report by congressional investigators.
Washington Post: Pope Criticizes World Economic System, Urges Social Responsibility
Pope Benedict XVI criticized the international economic system yesterday and called for a new global structure based on social responsibility, concern for the dignity of the worker and a respect for ethics.
CNN: Analysis: Is Palin the next GOP 'kingmaker'?
Alaska Gov. Sarah Palin caught the political world by surprise when she announced that she will resign at the end of July. Her decision has not only rankled political pundits and observers in Alaska and across the country, it has, oddly enough, united Democrats and Republicans in confusion.