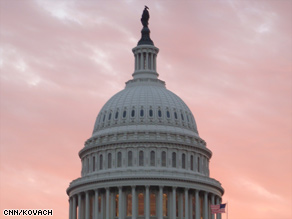 CNN: Rove deposed in US attorney probe
A House Judiciary Committee spokesman confirms that former Bush advisor Karl Rove was deposed by committee lawyers today. The spokesman declined to provide further detail.
CNN: House Majority Leader open to second stimulus bill
House Majority Leader Steny Hoyer said Tuesday he would consider supporting a second economic stimulus bill, but said people need to give the package that passed in February more time to work.
Washington Post: Obama Stands to Be Judged on Economic Recovery
Nothing may be more important to public assessments of President Obama's leadership than the state of the economy, and at this point there are political warning lights flashing.
CNN: Congressional Dems eye health care funding options
Senate negotiators are searching for new ways to pay for an overhaul of the U.S. health insurance system after recent polls showed many Americans oppose funding it through taxes on employer-provided health insurance, a key senator said Tuesday.
CNN: Obama: U.S. not giving Israel green light to attack Iran
The United States is "absolutely not" giving Israel a green light to attack Iran, U.S. President Barack Obama told CNN Tuesday.
USA TODAY: Report: States aren't using stimulus funds as intended
Under pressure to spend stimulus money quickly, many states are using the federal funds for short-term projects and to fill budget gaps rather than spending on long-term improvements, according to a report by congressional investigators.
Washington Post: Pope Criticizes World Economic System, Urges Social Responsibility
Pope Benedict XVI criticized the international economic system yesterday and called for a new global structure based on social responsibility, concern for the dignity of the worker and a respect for ethics.
CNN: Analysis: Is Palin the next GOP 'kingmaker'?
Alaska Gov. Sarah Palin caught the political world by surprise when she announced that she will resign at the end of July. Her decision has not only rankled political pundits and observers in Alaska and across the country, it has, oddly enough, united Democrats and Republicans in confusion.
WSJ: Jobless Feel Effects of States' Stimulus Rejection
Latunga Childers lost her $8-an-hour job as a McDonald's manager in April. Soon after, she opened an envelope from Alabama unemployment officials expecting to find a check. Instead, there was a letter declaring her ineligible for benefits. Behind that letter was a complicated fight over the federal stimulus and the strings that come with it.
CNN: Obama in Russia
CNN's Ed Henry sits down with President Obama in Moscow to discuss his visit to the Kremlin. See the interview here:
CNN: Obama: U.S. wants strong, peaceful Russia
A strong Russia is good for the United States, President Obama said in a speech in Moscow, where he is visiting in an effort to "reset" the countries' relations.
CNN: Poll: President Obama's numbers drop in crucial state
A new poll suggests that Barack Obama's approval rating is dropping rapidly in Ohio, a crucial battleground in the race for the White House, and a state with a U.S. Senate seat and governorship up for grabs next year.
NYT: In Russia, Obama's Star Power Does Not Translate
Let other capitals go all weak-kneed when President Obama visits. Moscow has greeted Mr. Obama, who on Tuesday night concluded a two-day Russian-American summit meeting, as if he were just another dignitary passing through.
NYT: Family Night for Obamas Miffs Some in Moscow
The decision to brush off the Russians on one of his two nights here miffed some in the Moscow government who did not understand why he would not devote the scarce time to his hosts. Mr. Obama had dinner with President Dmitri A. Medvedev on Monday and lunch with him on Tuesday. But with the second dinner slot unavailable, he ended up having breakfast Tuesday with Prime Minister Vladimir V. Putin, a known night owl not given to American-style early morning business meals.
Washington Post: In Retooled Health-Care System, Who Will Say No?
The question came from a Colorado neurologist. "Mr. President," he said at a recent forum, "what can you do to convince the American public that there actually are limits to what we can pay for with our American health-care system? And if there are going to be limits, who . . . is going to enforce the rules for a system like that?" President Obama called it the "right question" - then failed to answer it.
Washington Post: Leaders Who Succeeded - and Those Who Didn't
A Harvard researcher, along with the government consulting firm Booz Allen Hamilton, interviewed more than 250 people and reviewed agency budgets, congressional testimony and other documents to produce "What it Takes to Change Government."
NYT: As Iran Calms, a Struggle for Political Power Intensifies
In postelection Iran, there is growing unease among many of the nation's political and clerical elite that the very system of governance they rely on for power and privilege has been stripped of its religious and electoral legitimacy, creating a virtual dictatorship enforced by an emboldened security apparatus, analysts said.
WSJ: Gordon Brown and Nicolas Sarkozy: Oil Prices Need Government Supervision
It is a thorny issue, but complex markets need not be volatile or damaging to the wider global economy. We are convinced that producers and consumers alike would benefit from greater transparency, greater stability and greater consensus on the market fundamentals. After two years of destructive price volatility, the time has come for both sides to work together to build on our common interest.
Washington Post: Bribery Plea in Probe of Firm With Murtha Ties
A former executive of a Pennsylvania defense firm with close ties to Rep. John P. Murtha (D-Pa.) has agreed to plead guilty to taking bribes from a partner defense company and is cooperating in a federal investigation of Pentagon contracting, records show.
CNN: Biden swears Franken in on Senate floor
Satirist-turned-politician Al Franken was sworn in as the newest member of the U.S. Senate Tuesday, officially closing the books on one of the longest post-election recount struggles in recent American political history.
AP: Sotomayor critics step up rhetoric before hearing
Conservatives stepped up their criticism of Supreme Court nominee Sonia Sotomayor on Tuesday, but it was unclear how far Senate Republicans were willing to go to create bumps in what appears to be a smooth road to confirmation for President Barack Obama's first high-court choice.
CNN: South Carolina's Sanford waits for storm to pass
It was late December 2007, and all eyes were on South Carolina. As the state's Republican presidential primary neared, a crowded field of contenders sought the backing of their party's rising star, but Gov. Mark Sanford pledged to stay neutral in what was then a wide-open GOP race.
AP: Jury sees videos of La. congressman accepting cash
A federal jury has seen video of a former Louisiana congressman accepting a suitcase filled with $100,000 in cash outside a northern Virginia hotel. The videos played Tuesday are a key piece of evidence in the bribery trial of William Jefferson, a Democrat who represented parts of New Orleans. He's accused of accepting more than $400,000 in bribes to broker business deals in Africa.
AP: Marion Barry hired girlfriend while the two dated
City records show that former D.C. mayor Marion Barry hired his former girlfriend soon after they began dating. Citing documents, The Washington Post reports that 40-year-old Donna Watts-Brighthaupt was hired in October to work for Barry, who is a D.C. Council member. She was paid at least $10,000 from Barry's taxpayer-funded budget.
CNN: Poll: Palin decision doesn't change minds
Four days after Sarah Palin announced that she will step down later this month as governor of Alaska, a new national poll by USA Today/Gallup indicates that seven in 10 Americans say Palin's decision had no affect on their opinion of her.
CNN: New Hampshire Democrats using Palin in fundraising appeal
National Democrats wasted no time in accusing Sarah Palin of abandoning her state after the Alaska governor revealed Friday that she was resigning from office.
CNN: Commentary: The politics of self destruction
I'm sure Republican strategists look at their bench and think of what Casey Stengel said of the 1962 Mets: "Can't anybody here play this game?"
CNN Guest Commentary: Racial progress is far from finished
America was proud of itself for electing Barack Obama. The pride was not just partisan and ideological; it was also specifically and clearly racial.
NYT: In California, Even the I.O.U's Are Owed
The only thing worse than being issued an i.o.u. rather than a check from the State of California may be not getting the i.o.u. at all — at least in time to meet the deadline of your bank.
CNN: Senate hearing probes fairness of Bowl Championship Series
A Senate subcommittee Tuesday tackled one of the most contentious issues in U.S. sports — the fairness of the Bowl Championship Series that decides the top college football team each season.
Washington Post: Utes Play Huskers in the Orrin Bowl
If you're an ordinary college football fan and your team gets passed over for a national championship game, you probably hurl a few choice words at the Bowl Championship Series, the group that sets the bowl pairings.
Washington Post: Jeez, Louise: When Did We Annex Canada?
The committee's home page featured a beckoning photo of a spectacular vista in that mountain range. One problem, though: It was of Lake Louise, which happens to be in the Canadian Rockies.