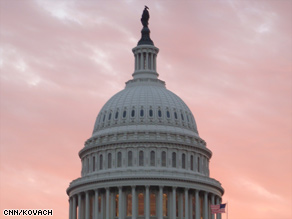 CNN: House Democrats: Panetta testified that CIA misled Congress
CIA Director Leon Panetta recently testified to Congress that the agency concealed information and misled lawmakers repeatedly since 2001, according to a letter from seven House Democrats to Panetta made public Wednesday.
AP: Tehran governor: new protests will be smashed
The governor of Tehran province is warning that security forces will "smash" any attempt at protests amid calls for new opposition marches Thursday. Supporters of opposition leader Mir Hossein Mousavi have called for new demonstrations in Tehran and several other cities, the first in more than a week after a heavy crackdown suppressed mass street protests over Iran's disputed June 12 election.
USA TODAY: Billions in aid go to areas that backed Obama in '08
Billions of dollars in federal aid delivered directly to the local level to help revive the economy have gone overwhelmingly to places that supported President Obama in last year's presidential election. That aid — about $17 billion — is the first piece of the administration's massive stimulus package that can be tracked locally. Much of it has followed a well-worn path to places that regularly collect a bigger share of federal grants and contracts, guided by formulas that have been in place for decades and leave little room for manipulation.
CNN: Baucus: Lawmakers $320 billion short for health care plan
After huddling Wednesday with Democrats on the Senate Finance Committee, Chairman Max Baucus told reporters that lawmakers still need to come up with $320 billion over the coming decade in taxes to pay for the health care plan.
Washington Post: Senate Democrats Still Seeking GOP Support; Balance of Power Not Changed Much By Supermajority
Senate Democrats spent their first full day holding 60 votes just as they have spent the previous 2 1/2 years without such a supermajority: scrambling to find Republican support for their key initiatives in order to choke off potential filibusters.
CNN: Obama plans nuclear summit
President Barack Obama revealed to G-8 colleagues at a dinner Wednesday that he's planning a nuclear security summit in Washington for next March, according to senior administration officials.
Washington Times: Bloated deficits endanger dollar's global status
Worries about burgeoning U.S. budget deficits are weighing on the dollar and undermining its status as the world's pre-eminent reserve currency.
NYT: Iran Releases Protesters, but Still Holds 500
Iranian officials said Wednesday that they had released 2,000 people who were arrested for participating in demonstrations after the nation's disputed presidential election, but continued holding an additional 500 prisoners who would be put on trial, according to the state-run Press TV news service.
Politico: Despite President Obama, G-8 drags feet on Iran
If the outcome of the G-8 summit is any indication, President Barack Obama's hopes of winning a tougher global stance against Iran's nuclear program have met with only limited success.
USA TODAY: Roadside bomb attacks in Afghanistan shatter record
Roadside bomb attacks on coalition forces in Afghanistan are blowing past previous records, causing a rising number of wounded as U.S. troops are waging a major offensive to stop growing violence from Afghan insurgents.
CNN: GOP slams Obama stimulus as ineffective, wasteful
Congressional Republicans tore into the Obama administration over its implementation of the economic stimulus plan Wednesday, arguing that the White House is mishandling the distribution of the money while dramatically overstating the ability of the package to create jobs
Politico: John Boehner: Joe Biden's lying about stimulus
Vice President Joe Biden is invading House Minority Leader John Boehner's back yard tomorrow to tout the success of the stimulus package, but Boehner is redoubling his attacks, accusing the vice president of lying about the economy.
CNN: Dems push back hard on GOP stimulus attacks
The war of words between House Minority Leader John Boehner and the Democratic Party over the impact of President Obama's stimulus plan escalated Wednesday — with each side accusing the other of lying to the American people.
CNN: Stimulus propping up cash-strapped states
Fiscally-stressed states are using their stimulus dollars to satisfy immediate needs rather than undertake longer-term reforms, according to a government report released Wednesday.
NYT: Cities Lose Out on Road Funds From Federal Stimulus
Two-thirds of the country lives in large metropolitan areas, home to the nation's worst traffic jams and some of its oldest roads and bridges. But cities and their surrounding regions are getting far less than two-thirds of federal transportation stimulus money.
CNN: Report: Senator tried to stop colleague's affair
Oklahoma Sen. Tom Coburn was part of a group of Washington-based intermediaries that confronted fellow Sen. John Ensign in an effort to convince him to end an extra-marital affair, according to a report published on the Web site of the Las Vegas Sun.
Politico: Jeb: Obama couldn't have campaigned on 'secret plan'
Jeb Bush gave a loose, interesting interview to Tucker Carlson for Esquire, lamenting his party's failures with Hispanics and outlining his critique of Obama
CNN: Analysis: Sotomayor quietly prepares for high court confirmation hearings
Judge Sonia Sotomayor's world these days is a tiny, plain office in the Eisenhower Office Building next door to the West Wing of the White House.
Washington Post: Uncommon Detail Marks Rulings by Sotomayor
Supreme Court nominee Sonia Sotomayor's opinions show support for the rights of criminal defendants and suspects, skepticism of corporations, and sympathy for plaintiffs alleging discrimination, an analysis of her record by The Washington Post found.
CNNMoney.com: 9 firms to run toxic assets program
Among those selected: BlackRock and Invesco. Program will be kickstarted with $30 billion government investment.
CNNMoney.com: California on brink of fresh budget talks
The state has been doling out IOUs ever since negotiations over the $26.3 billion budget gap stalled between the legislature and Gov. Arnold Schwarzenegger.
CNN: G-8 leaders have ambitious environmental goals
Leaders of the world's most powerful economies pledged to seek huge cuts in their greenhouse gas emissions at a summit in Italy on Wednesday.
CNN: Emanuel faces liberal pressure over 'trigger' comments
The president's health care reform package — which has faced resistance from conservatives who oppose a public insurance option — came under attack from liberals yesterday, with most of the fire focused on White House Chief of Staff Rahm Emanuel.
CNN: Vet-turned-congressman: End 'don't ask, don't tell'
Rep. Patrick Murphy, an Iraq war veteran, kicked off a push Wednesday to persuade Americans that the president should repeal "don't ask, don't tell," the policy that prevents openly gay troops from serving in the U.S. military.
CNN: Massachusetts takes aim at federal definition of marriage
The Commonwealth of Massachusetts filed a lawsuit filed in federal court Wednesday challenging the federal Defense of Marriage Act's ("DOMA's") definition of marriage as "only a legal union between one man and one woman as husband and wife."
NYT: Pick to Lead Health Agency Draws Praise and Some Concern
President Obama on Wednesday nominated Dr. Francis S. Collins, a pioneering geneticist who led the government's successful effort to sequence the human genome, as head of the National Institutes of Health.
CNN: Sister hears from journalist held in N. Korea
After weeks of silence, the sister of one of the two American journalists imprisoned in North Korea finally got a phone call.
AP: Stalking charges dropped against Marion Barry
Federal prosecutors have dropped charges against former Washington Mayor Marion Barry, who was accused of stalking his ex-girlfriend. U.S. Park Police arrested the current D.C. councilman on Saturday on a stalking charge after they said a woman complained she was being stalked.
Washington Post: For Barry, a Familiar Script Takes an Unfamiliar Twist
It started with an arrest, as it often does. There was a woman involved, as there usually is. And there were the denials, controversial behavior by the police and extraordinary news conferences that feed a local media obsessed with Marion Barry.
Washington Post: Timeline of events before and after Barry's arrest
Washington Times: Deeds vs. McDonnell: Tweets don't fail now
One Twitters his music playlist. The other Twitters multiplatform requests for money and supporters.
CNN: Director takes blame over lax security at federal buildings
A contrite head of the Federal Protective Service took the blame Wednesday for security lapses that allowed covert investigators to sneak bomb components into 10 federal government buildings.
CNN: Ex-AG Gonzales lands Texas Tech job
Nearly two years after being pushed out of office by a scandal surrounding the firing of federal prosecutors, former Attorney General Alberto Gonzales has taken a job at Texas Tech University, the school announced Tuesday.
CNN: Blagojevich former aide pleads guilty
A former chief of staff to Rod Blagojevich pleaded guilty Wednesday to a single count of participating in a scheme to commit wire fraud related to the former Illinois governor's alleged efforts to profit off of his appointment of a replacement to fill the Senate seat vacated by Barack Obama.
Roll Call: Youth Is Served in Senate GOP
For an institution that cherishes its reputation as "the world's most deliberative body," change can be hard to swallow — particularly for Senate Republicans.
CNN: Deposed Honduran leader: I'm listening, not negotiating
Deposed Honduran President Jose Manuel Zelaya arrived Wednesday in Costa Rica a day ahead of planned discussions with the man who ousted him and the host country's president. and He vowed he has no plans to negotiate.
CNN: Mayor's office: Michael Jackson memorial cost L.A. $1.4 million
The memorial service for singer Michael Jackson cost the city of Los Angeles $1.4 million, the mayor's office said Wednesday.
CNN: Woman tells lawmakers about son's bullying, suicide
Eleven-year-old Carl Joseph Walker-Hoover liked football, basketball and playing video games with his little brother.
Washington Post: Va. Governor Uses 1½ Days Of Workweek For DNC Job
Timothy M. Kaine said he has been spending a day and a half of each workweek handling fundraising and policy matters for the Democratic National Committee, a departure from his pledge to conduct most of his national party work by phone and fax and restrict it largely to evenings and weekends while he is governor of Virginia.