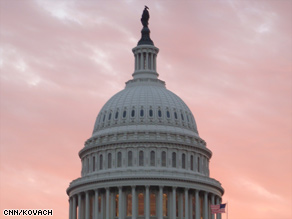 AP: Internet drug purchases included in spending bills
The Senate dealt a blow to the drug lobby Thursday by voting to permit people in the United States to order lower-cost drugs from Canada over the Internet.
CNN: Statement: Ensign's parents give mistress' family $96K
The story of Sen. John Ensign's affair with a former staffer took a new twist Thursday with the revelation by Ensign that his parents gave the woman's family $96,000 as a gift.
CNN: Coburn: 'I will never reveal' what I told Ensign
Sen. Tom Coburn — who confronted fellow Sen. John Ensign in an effort to convince him to end an extramarital affair — denied allegations Thursday he'd suggested Ensign pay off the husband of the woman he was having an affair with, telling reporters on Capitol Hill that he would not berevealing the content of his conversations with the Nevada senator.
NYT: C.I.A. Reviewing Its Process for Briefing Congress
The Central Intelligence Agency is conducting an internal review of how it briefs Congress on secret programs, intelligence officials said on Thursday, as Democrats and Republicans traded barbs over an admission by the agency's director that the C.I.A. failed for eight years to inform the Intelligence Committees of one unidentified program.
Washington Post: Congress Targets Wealthiest Earners for Health Reform Funds
House and Senate negotiators are looking to wealthy individuals to pay much of the $1 trillion price tag for their plan to reform health care, though they are struggling to agree on the most viable option for obtaining that new revenue.
Washington Post: SAIC Case Sheds Needed Light on World of Government Contracting
Science Applications International Corp. is not only one of the federal government's largest contractors - with more 17,000 Washington area employees, it is the region's fourth-largest private employer.

Washington Post: Value of Bank Repayments Draws Scrutiny
The banks participating in the federal bailout program could end up repaying the government as much as $2.1 billion less than taxpayers are entitled to under a plan being implementing by the Obama administration, according to a new congressional oversight report.
Washington Times: EXCLUSIVE: Career diplomats save share of postings
The White House, unaware of historic norms, had been on track to give more than the usual 30 percent of ambassadorial jobs to political appointees until objections from career diplomats forced it to reconsider, administration officials say.
CNN: Steele: Sanford, Ensign affairs 'old news, old school'
Republican National Committee Chairman Michael Steele dismissed recent extramarital affairs by two prominent members of his party as "old news, old school" at a GOP dinner in Indianapolis on Wednesday night.
Washington Post: In Argentina, Sanford Sought Light Agenda; Governor Visited His Mistress on Trip
South Carolina Gov. Mark Sanford used a team of state employees and U.S. Embassy officials to set up trade-related meetings for him in Buenos Aires in June 2008, but he repeatedly emphasized his desire to keep a "low-key" and light schedule during his three days there.
CNN: Embattled senator will not run in 2010
Sen. Roland Burris, D-Illinois, is expected to announce Friday that he will not run for a full six year term next year, a well-placed Democratic source tells CNN.
CNN: Specter: Sestak a 'flagrant hypocrite'
Pennsylvania Sen. Arlen Specter called his fellow Democrat, Rep. Joe Sestak, a "flagrant hypocrite" and accused his rival of registering as a Democrat "just in time to run for Congress."
CNN: DNC blasts Kyl in new web video
The Democratic National Committee released a new Web video Thursday criticizing Sen. Jon Kyl, R-Arizona, for saying in a statement Monday that he wants to "cancel the rest of the stimulus spending.
CNN: Iowa GOP to Palin: Come to Des Moines
Who wouldn't want a big name to headline a major fundraiser? And the Iowa Republican Party is going after one of the biggest draws right now, Sarah Palin.
NYT: Kurds Defy Baghdad, Laying Claim to Land and Oil
BAGHDAD — With little notice and almost no public debate, Iraq's Kurdish leaders are pushing ahead with a new constitution for their semiautonomous region, a step that has alarmed Iraqi and American officials who fear that the move poses a new threat to the country's unity.
CNN: Stories from inside Iran
Get as close as a still photo can take you.
NYT: Qaeda Branch Steps Up Raids in North Africa
WASHINGTON — Al Qaeda's affiliate in North Africa has carried out a string of killings, bombings and other lethal attacks against Westerners and African security forces in recent weeks that have raised fears that the terrorist group may be taking a deadlier turn.
NYT: Americans Release Iranian Detainees to Iraq
The American military here unexpectedly released five Iranians on Thursday after holding them for more than two years on suspicion of orchestrating deadly attacks in Iraq. Iraqi officials promised to turn them over to the Iranian Embassy in Baghdad after Prime Minister Nuri Kamal al-Maliki met with them in his office.
Washington Post: Fewer New Households Formed in Recession
The number of people setting up their own households has fallen to some of the lowest levels in a generation, a trend that threatens to prolong the recession. Government data suggest that the recession has helped push down household formation.
CNN: Analysis: What effect would Sotomayor have on high court?
If Sonia Sotomayor fulfills her long-held dream to sit on the Supreme Court, she would have the prestige of joining the highest court in the land, lifetime job security and a public forum as the first Hispanic on that bench.
NYT: To Get to Sotomayor's Core, Start in New York
A daughter of the Bronx, Sonia Sotomayor claims the Brooklyn Bridge as her power-walking trail, the specialty shops of Greenwich Village as her grocery store, and the United States Court House as the setting for her annual Christmas party, where judges and janitors spill into the hallway.
USA TODAY: Hispanics have eye on GOP senators' Sotomayor vote
Efforts to rivet the attention of the Hispanic community on Supreme Court nominee Sonia Sotomayor's confirmation hearings next week could complicate Republicans' political ambitions for next year.
CNN: Jeb Bush: 'I don't know' if Obama is a socialist
Former Florida Gov. Jeb Bush told an interviewer that he could not say whether or not President Barack Obama is a socialist, and that the president would not have been elected if he had been honest with Americans about his agenda.
AP: NY Senate gets to work after resolving roadblock
New York's Senate stalemate ended Thursday as it started 31 days ago, with a freshman Democrat convulsing the 62-seat house by switching sides and getting a powerful leadership post in the majority.
Politico: 50 politicos to watch
Given the name of this publication, we sometimes get asked a good question: What exactly is a politico? There are a lot of definitions that fit, but here's one that seems to work well: A politico is a participant in and/or an especially avid devotee of the theater of politics.
Washington Post: Probe Set On Barry's Hiring of Girlfriend
D.C. Council Chairman Vincent C. Gray will enlist an independent law firm to investigate the $60,000 contract that council member Marion Barry awarded to his then-girlfriend, sources said.
CNN: Crist announces big fundraising haul
Even in a slumping economy, Charlie Crist is justifying his reputation as a master fundraiser. The Florida governor raised an average of $86,000 a day since jumping into the race for Mel Martinez's Senate seat in May, his campaign reported Thursday.
CNN: Pelosi: House won't take up Michael Jackson resolution
The House of Representatives will not take up a resolution honoring the late entertainer Michael Jackson, Speaker Nancy Pelosi, D-Calif., said Thursday.
CNN: Altered photos removed from New York Times Web site
All the news that's fit to print - the motto of The New York Times - does not necessarily apply to photos. The newspaper published an editor's note Thursday stating that pictures used in a photo essay in its most recent Sunday Magazine were digitally manipulated without the paper's knowledge.