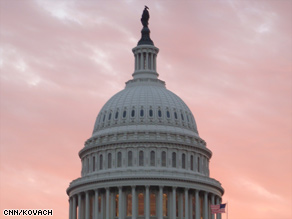 The CNN Washington Bureau's morning speed read of the top stories making news from around the country and the world.
WASHINGTON/POLITICAL
For the latest political news: www.CNNPolitics.com.
CNN: Bush-era distractions may weigh down Obama's agenda
As President Obama tries pressing ahead with his domestic agenda focused on health care and energy reform, several potential investigations threaten to steal the focus in Washington.
CNN: Family hails Sonia Sotomayor's Puerto Rican roots
Supreme Court nominee Sonia Sotomayor may not have been born in Puerto Rico, but friends and relatives say she is Puerto Rican through and through.
CNN: Cheney getting 'bum rap' on CIA program, ex-officials say
Former Vice President Dick Cheney is getting a "bum rap" over reports that he ordered the CIA to withhold information about a secret counterterrorism program from Congress, two former U.S. intelligence officials told CNN Monday.
CNN: Sotomayor pledges 'fidelity to the law'
U.S. Supreme Court nominee Sonia Sotomayor said Monday that her hotly disputed judicial philosophy is, in fact, quite simple: Remain faithful to the law.
CNN: Clinton: Vetting process for administration jobs 'a nightmare'
Secretary of State Hillary Clinton showed a rare flash of frustration Monday — calling the vetting process for Obama administration nominees "ridiculous" and "a nightmare."
CNN: Palin PAC raises $730K in six months
Just over a week after announcing her intention to resign as governor of Alaska, Sarah Palin's political action committee reports raising close to $730,000 in the first six months of the year.
CNN: 'I know I have a lot to learn from each of you,' Franken says
Sen. Al Franken, fresh off a win in a contentous Senate race in Minnesota, found himself at the center of the national political stage Monday as confirmation hearings began for Supreme Court nominee Judge Sonia Sotomayor.
CNN: Homeless stand in for lobbyists on Capitol Hill
Once he roamed the streets, moving from shelter to shelter. Now, Oliver Gomes rubs shoulders with Washington's elite.
CNN: Dr. Regina Benjamin is surgeon general choice
President Obama announced Monday his choice for surgeon general - Dr. Regina Benjamin, a 52-year-old family practice doctor who has spent most of her career tending to the needs of poor patients in a Gulf Coast clinic in Alabama.
CNN: Interviewing President Obama in Ghana
Interviewing the President is always a difficult prospect. There are so many questions you want to ask, but you only have a limited amount of time.
Washington Post: Holder Faces Avalanche Of Work, and Scrutiny
July cannot be counted as the warmest of months for Eric H. Holder Jr. The attorney general clashed with Congress over national security policy, fielded complaints from federal judges upset with bungled evidence and, in the most painful indignity, cracked his tooth.
Wall Street Journal: GOP's Grassley Key to Senate Hopes for a Bipartisan Deal on Health Care
Democrats now have a supermajority in the Senate. But their top priority, a health-care overhaul, may well need the blessing of a veteran Republican, Iowa's Chuck Grassley, if it has any hope of becoming law.
NATIONAL
For the latest national news: www.CNN.com.
CNN: Fourth suspect arrested in killing of Gulf Coast couple
A fourth suspect has been arrested in the shooting deaths of a Gulf Coast couple known for adopting special-needs children, authorities said late Monday.
CNN: Jet makes landing with football-sized hole
A Southwest Airlines jet made an emergency landing in Charleston, West Virginia, on Monday after a football-sized hole in its fuselage caused the cabin to depressurize, an airline spokeswoman said.
CNN: Shuttle launch postponed for third straight day
Weather forced NASA on Monday to scrub a launch of space shuttle Endeavour, marking the spacecraft's third takeoff postponement in three days and fifth since mid-June.
CNN: Somali-American's family: Who sent son to die?
The family of a Somali-American man who died in Somalia have said they want to know who is responsible for recruiting him to join an al Qaeda-linked Islamist insurgency.
CNN: Minnesota men charged in Somali recruiting
A federal grand jury has indicted two Minnesota men in connection with the recruitment of Somali immigrants to fight with Islamic insurgents in their home country.
CNN: LaToya Jackson makes stark allegations in brother's death
Michael Jackson's sister, LaToya Jackson, told a London newspaper she suspects her brother was "murdered" in a conspiracy by "a shadowy entourage."
CNN: African-Americans in New York hit harder by recession, data show
New York City's African-American community is being devastated by the recession at an alarming rate, according to a report released Monday by the city comptroller
NYT: Illnesses Afflict Homes With a Criminal Past
The spacious home where the newly wed Rhonda and Jason Holt began their family in 2005 was plagued by mysterious illnesses. The Holts' three babies were ghostlike and listless, with breathing problems that called for respirators, repeated trips to the emergency room and, for the middle child, Anna, the heaviest dose of steroids a toddler can take.
NYT: Airlines, Already Suffering, Brace for Further Woes
The airline industry is in the midst of one of its most wrenching summers ever. And the fall and winter may be even worse — unless people start to fly again.
INTERNATIONAL
For the latest international news: http://edition.cnn.com/
CNN: Ousted Honduran president gives ultimatum
Deposed Honduran President Jose Manuel Zelaya on Monday gave the interim government that ousted him an ultimatum: if ongoing negotiations do not restore him to power, he will consider the talks failed and resort to other means.
CNN: U.N. chief urges Myanmar to hold 'fair' election
United Nations Secretary-General Ban Ki-moon warned Myanmar authorities that they must deliver on a "free and fair" election in 2010.
CNN: Two Uyghurs shot dead by Chinese police
Police shot and killed two ethnic Uyghurs and wounded another in a Chinese region that has seen violent ethnic strife in recent weeks, state media reported Monday.
CNN: Alleged Nazi guard Demjanjuk charged in Germany
Alleged Nazi camp guard John Demjanjuk was formally charged Monday with being an accessory to about 27,900 murders during World War II.
CNN: Ex-Peruvian president's embezzlement trial opens
Former Peruvian President Alberto Fujimori admitted he gave his one-time spy chief $15 million from government coffers, but the money was returned and no crime was committed, his attorneys said at the opening of an embezzlement trial Monday in Peru.
NYT: Iraq Suffers as the Euphrates River Dwindles
Throughout the marshes, the reed gatherers, standing on land they once floated over, cry out to visitors in a passing boat.
NYT: Iraqis Cheer for a Team That Again Is at Home
The score did not matter so much — well, it mattered some. More important was that Iraq's itinerant national soccer team, displaced for years by war, finally returned to Baghdad on Monday night to play a home match at home.
NYT: Niger Senses a Threat to Its Scrap of Democracy
Stubbornness crops up in harsh environments like that of this desert's-edge capital, in the stoicism of grilled meat vendors in 110-degree heat or the patience of camels bearing heavy reed mats through the dusty streets.
Wall Street Journal: The U.N.'s 'Invisible Man'
As the Obama administration implements a new U.S. strategy toward the United Nations, it's working with a U.N. secretary-general, Ban Ki-moon, who is struggling to prove himself on the world stage.
Times of London: Charles Taylor on trial for murder, rape, slavery, pillage and conscripting children
A terrifying image has come to symbolise the dark heart of Africa: glazed-eyed, ten-year-old boys in football shirts with grenade launchers on their shoulders, ready to kill their elders on command.
McClatchy: With one bat and no uniforms, Iraq's baseball team hits field
They've only got a five year-old softball bat, a threadbare cap, three scuffed balls and nine second-hand gloves from a flea market. They train on a college soccer field. And there's not a uniform among them. However, they love America's pastime as much as Crash Davis of "Bull Durham" ever did.
BUSINESS
For the latest business news: www.CNNMoney.com.
CNN: Big banks try to extend winning streak
Will the big banks do it again?
CNN: Uncle Sam is $1 trillion in the hole
The federal budget deficit increased in June as spending surged and tax receipts sunk, pushing the total budget shortfall to over $1 trillion in the first 9 months of the fiscal year, according to a government report released Monday.
CNN: Rattner leaves auto task force
Steve Rattner, the Obama administration's point man on negotiations with General Motors and Chrysler through their bailout and bankruptcy process, is leaving the Treasury Department's auto task force and returning to the private sector.
NYT: Exxon to Invest Millions to Make Fuel From Algae
The oil giant Exxon Mobil, whose chief executive once mocked alternative energy by referring to ethanol as "moonshine," is about to venture into biofuels.
LA Times: Microsoft plans free, online version of Office
Everyone predicted Microsoft Corp. wouldn't take long to fire back against Google Inc.'s latest foray into its home turf.
In Case You Missed It
To watch the latest interviews and reporting: http://www.cnn.com/video.
CNN: Sotomayor inspires Bronx
Bronx residents watch Sonia Sotomayor's first day hearings. An older generation is proud, the younger is inspired.
CNN: Shark bites boat captain
He's paid to take people fishing, but Saturday he felt more like the bait. WSVN's Don Guevara reports.
CNN: Texting teen falls into hole
A teen who was text messaging while walking down a New York street falls into a manhole. WABC's NJ Burkett reports.
Subscribe to the CNN=Politics DAILY podcast at http://www.cnn.com/politicalpodcast.
And now stay posted on the latest from the campaign trail by downloading the CNN=Politics SCREENSAVER at http://www.CNN.com/situationroom.