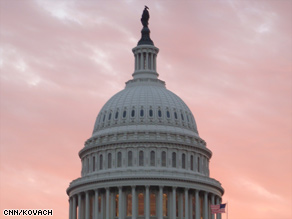 The CNN Washington Bureau's morning speed read of the top stories making news from around the country and the world.
WASHINGTON/POLITICAL
For the latest political news: www.CNNPolitics.com.
CNN: Health care overhaul clears divided Senate committee
One of several proposals to overhaul the U.S. health care system passed a Senate committee Wednesday, with its ailing chairman praising the $600 billion plan as a step toward his longtime goals.
CNN: Commentary: Sebelius: Health care can't wait
Today in Washington, some politicians like to suggest that the many challenges we face as a nation mean we shouldn't tackle health care reform.
CNN: 'Blue Dog' Democrats may block health care bill
A leader of the conservative "Blue Dog" Democrats told CNN Wednesday he and other group members may vote to block House Democrats' health care bill from passing a key committee if they don't get some of the changes they want.
CNN: Sotomayor criticizes wording but defends point of 'wise Latina'
Sonia Sotomayor strongly asserted her adherence to the law while dodging questions about her personal beliefs on the third day of her Supreme Court confirmation hearing before the Senate Judiciary Committee.
CNN: Is Secretary Clinton being back-benched?
Secretary of State Hillary Clinton delivers a major foreign policy speech and some Washington political observers ask: "Is she trying to get back in the spotlight?"
CNN: Obama's political team targets Democrats
President Obama's political operation will begin running television ads Wednesday targeting fellow Democrats and centrist Republicans urging them to support the president's call for health care reform this year.
CNN: Huckabee warns Palin: Don't leave GOP
Former Arkansas Gov. Mike Huckabee has a warning for Sarah Palin: Don't abandon the Republican Party.
CNN: Franken gets a (temporary) shift to the chairman's seat
It's only his first Senate hearing, but Sen. Al Franken took the chairman's seat at the Judiciary Committee Wednesday.
CNN: Cuomo outraises Paterson by 2 to 1 margin
New York Governor David Paterson was outraised by a two to one margin by a state Attorney General Andrew Cuomo, a possible challenger in next year's Democratic Party primary.
CNN: Capitol Police shoot, kill man near Capitol campus
U.S. Capitol Police shot and killed a man Wednesday afternoon, near the Capitol campus, a Capitol Hill Police spokeswoman said.
Washington Post: CIA Assassin Program Was Nearing New Phase
CIA officials were proposing to activate a plan to train anti-terrorist assassination teams overseas when agency managers brought the secret program to the attention of CIA Director Leon Panetta last month, according to two U.S. officials familiar with the matter.
Washington Post: Watergate Hotel to Go on Auction Block Tuesday
The Watergate Hotel will be auctioned Tuesday, five years after a developer bought it with hopes of restoring it to its glory days as a Washington icon.
Washington Post: A Publics Figure
Keith Ellison is what he is - the first Muslim elected to Congress, the first African American to represent Minnesota - while trying not to be too much of what he is. But not too little, either.
POLITICO: Rangel paid lawyers $928k in last year
Embattled House Ways and Means Committee Chairman Charles Rangel, facing a multi-pronged investigation by the House ethics committee, shelled out nearly $280,000 to four different law firms over the last quarter, according to his newest campaign disclosure report.
LA Times: CIA was a long way from Jason Bourne
In movies, the CIA has so many prolifically lethal assassins roaming the world that the main problem often seems to be reining them in.
NATIONAL
For the latest national news: www.CNN.com.
CNN: Eighth person arrested in Florida couple's shooting deaths
Authorities are charging an eighth person in the slaying of a Florida couple who adopted special-needs children, an official said Wednesday night.
CNN: Childless man freed after serving time for child support violations
Frank Hatley spent the past year in jail for being a deadbeat dad. But there's one problem - Hatley doesn't have any children. And the "deadbeat" label doesn't fit the 50-year-old either, his supporters say.
CNN: Us magazine posts video of Michael Jackson's hair on fire
A previously unreleased video of Michael Jackson's hair catching fire while filming a Pepsi commercial in 1984 was posted online by Us magazine Wednesday.
CNN: Boast leads to arrest in N.Y. Starbucks bombing
A man who allegedly set off a small bomb at a Starbucks coffee shop was arrested after he made the mistake of bragging about his exploit to friends, police said Wednesday.
CNN: Glitch hits Visa users with more than $23 quadrillion charge
A technical snafu left some Visa prepaid cardholders stunned and horrified Monday to see a $23,148,855,308,184,500 charge on their statements.
CNN: DEA might tighten restrictions on sedative propofol
The Drug Enforcement Administration said Wednesday it's considering tighter restrictions on propofol, a drug reportedly found after Michael Jackson's death in the Holmby Hills, California, mansion he rented.
CNN: Pentagon: Troops won't lose their war-zone smokes
The defense secretary will not ban smoking by troops in war zones despite a recommendation to do so by a Pentagon-commissioned study.
CNN: Fiery tanker crash in Michigan causes overpass to collapse
At least one tanker truck crashed Wednesday on Interstate 75 just north of Detroit, Michigan, sending billowing flames and clouds of smoke into the air and causing an overpass to collapse.
NYT: College Athletes Stuck With the Bill After Injuries
After years of concerns about inadequate health coverage for college athletes, the National Collegiate Athletic Association started requiring universities to make sure their athletes had insurance before competing.
NYT: Launching of Shuttle Is Marred by Falling Debris
As the space shuttle Endeavour lifted off into orbit Wednesday evening, several pieces of debris fell off the external fuel tank, and at least one hit the orbiter.
NYT: The Children at the Judge's Bronx School
The hardwood floor was shiny yet scuffed, from the tiny chairs and desks that have rubbed against it for generations. The open windows let in a cool breeze. The pencil sharpener on the window sill sat at attention, as did Dorothy Faustini's fourth- and fifth-grade math students.
San Francisco Chronicle: Hacker steals Twitter's confidential documents
A computer hacker stole confidential documents from Twitter and then sent the material to at least two Web sites that subsequently published excerpts.
INTERNATIONAL
For the latest international news: http://edition.cnn.com/
CNN: Report claims Israelis used Palestinians as human shields
A report from an Israeli advocacy group based on what it says is the testimony of several unnamed Israeli soldiers accuses the Israeli military of intentionally putting Palestinian civilians at risk during its recent operation in Gaza.
CNN: Russian human rights activist kidnapped, killed
A leading human rights activist was abducted and killed in Russia Wednesday, the organization she worked for told CNN.
CNN: Swine flu threatens Muslim Hajj season
Two Hajj pilgrims from Iran have contracted the H1N1 virus, according to reports from the country's official news agency.
CNN: Crashed Iranian airliner 'disintegrated into pieces'
An Iranian airliner that crashed Wednesday, killing all 168 passengers and crew, plunged into the ground and disintegrated on impact, according to a security official.
CNN: Kids TV praises Gaza mom's suicide bombing
It's meant to be a children's program, but the "Young Pioneers" show on Hamas-run al Aqsa television is well-known for pushing the boundaries of what most people would deem suitable content for children.
CNN: Resignation a possibility, interim Honduran leader says
Provisional Honduran President Roberto Micheletti told reporters Wednesday that he would be willing to step down as long as ousted President Jose Manuel Zelaya ceases his claims to the presidency.
CNN: Iran crackdown 'shifted' prospects for U.S. talks, Clinton says
Iran's crackdown on protests after its disputed presidential election has "shifted" its prospects for direct talks with the United States, but they remain on the table, Secretary of State Hillary Clinton said Wednesday.
NYT: Retailer Knockoffs Abound in India
Retailers are flocking to India, thanks to an economy that is still growing and a young population eager to gobble up new brand names.
NYT: Kenya's Bill for Bloodshed Nears Payment
The envelope, please — those are the words on many Kenyans' lips.
NYT: At a Factory, the Spark for China's Violence
The first batch of Uighurs, 40 young men and women from the far western region of Xinjiang, arrived at the Early Light Toy Factory here in May, bringing their buoyant music and speaking a language that was incomprehensible to their fellow Han Chinese workers.
Washington Post: Who Will Succeed Kim Jong Il?
In August 1998, as famine reached a terrible climax in North Korea, the destitute Asian nation enrolled a shy teenager in a Swiss state school. He arrived with a fake name, a collection of genuine, top-of-the-line Nike sneakers and a passion for American basketball.
Washington Post: At Jail in Bagram, A Detainee Protest
The prisoners at the largest U.S. detention facility in Afghanistan have refused to leave their cells for at least the past two weeks to protest their indefinite imprisonment, according to lawyers and the families of detainees.
BUSINESS
For the latest business news: www.CNNMoney.com.
Fortune: CIT: No bailout for us
Cash-starved small business lender CIT Group said Wednesday evening that it has been told it won't be getting a government bailout anytime soon.
CNN: GM's Lutz: Now the gloves are off
General Motor's Vice-Chairman Bob Lutz is back and he's ready for a fight.
CNN: Bad news and good news from the Fed
The unemployment rate could top 10% later this year, the Federal Reserve said Wednesday, but the central bank also said it believes the end of the recession could be in sight.
NYT: Card Fees Pit Retailers Against Banks
The most profitable item at Patricia Orzano's 7-Eleven store on Long Island is coffee. Slurpees are a distant second.
Washington Post: Once-Trendy Crocs Could Be on Their Last Legs
Crocs were born of the economic boom. The colorful foam clogs appeared in 2002, just as the country was recovering from a recession. Brash and bright, they were a cheap investment (about $30) that felt good and promised to last forever. Former president George W. Bush wore them. Aerosmith lead singer Steven Tyler wore them. Your grandma wore them. They roared along with the economy, mocked by the fashion world but selling 100 million pairs in seven years.
In Case You Missed It
To watch the latest interviews and reporting: http://www.cnn.com/video.
CNN: Obama's 'mom jeans'
Fashionistas accuse President Obama of wearing "mom jeans," and everyone's playing pants pundit. CNN's Jeanne Moos reports.
CNN: What does Rick's mom think?
A "wise Latina woman" weighs in on Sonia Sotomayor's SCOTUS nomination.
CNN: Jackson Pepsi ad fire
Never-before-seen video of when Michael Jackson's hair caught fire during the taping of a Pepsi ad.
Subscribe to the CNN=Politics DAILY podcast at http://www.cnn.com/politicalpodcast.
And now stay posted on the latest from the campaign trail by downloading the CNN=Politics SCREENSAVER at http://www.CNN.com/situationroom.