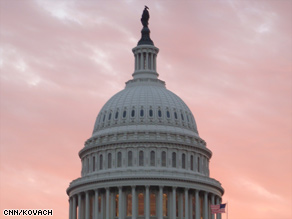 The CNN Washington Bureau's morning speed read of the top stories making news from around the country and the world.
WASHINGTON/POLITICAL
For the latest political news: www.CNNPolitics.com.
CNN: King: GOP sees fertile ground in taxes, pocketbook issues
What the country could easily see this week was a major success story for the Obama White House: A confirmation drama featuring Judge Sonia Sotomayor that left even Republican critics predicting an easy path to confirmation.
CNN: Real battle over health care reform about to begin
As President Obama presses the House and Senate to finalize their own versions of health care reform, the real battle over the issue is just heating up - and it's about to get very personal.
CNN: Pelosi: Health care surtax could be lowered, not eliminated
Speaker Nancy Pelosi said Thursday she would willing to lower the amount of a new surtax on wealthy Americans to pay for health care legislation if more savings from proposed reforms can cover the cost of the bill.
CNN: Senate Dem criticizes Obama opposition to taxing health benefits
President Barack Obama's opposition to taxing employer-provided health benefits has slowed progress on passing a health care reform bill, the chairman of the Senate Finance Committee complained Thursday.
CNN: Clinton: 'I broke my elbow, not my larynx'
The cast on her elbow is finally off, and Secretary of State Hillary Clinton wasted no time Thursday swinging back at media reports that she is being sidelined by the White House in shaping U.S. foreign policy.
CNN: Obama to NAACP: Progress made but much still to accomplish
President Obama commended the progress of African-Americans in a speech on the 100th anniversary of the NAACP, but said there was still much work to be done.
CNN: Tracking Michelle Obama's slave roots
In many places across the South you can walk in the footsteps of slaves, and if you understand the history, it is not a happy journey. The same is true at Friendfield Plantation outside Georgetown, South Carolina.
CNN: GOP homes in on controversial Sotomayor speeches
Questions surrounding Judge Sonia Sotomayor's past speeches generated more controversy in the final day of her Supreme Court confirmation hearings Thursday, as Democrats again called her a mainstream jurist and Republicans portrayed her as a liberal activist likely to legislate from the bench.
CNN: Clinton again rips into vetting process
Behind the scenes they're tearing out their hair.
CNN: Steele: 'Wait to see' what Palin does
Republican National Committee Chairman Michael Steele defended Alaska Gov. Sarah Palin's decision to step down from her post, saying Thursday that he admired her decision to "focus on her family," adding that the "brain trust here in Washington" should "wait to see what she does."
CNN: Poll shows tight race for 2012 GOP nomination
The Republican presidential primary process doesn't kick off for more than two years, but perhaps it's never too early to take a measure of where a race that's far from starting stands.
CNN: A Marine One first: An all-female crew
The woman that shattered Marine One's glass rotors, got a special honor on the last day of her rotation as pilot: an all female crew.
NYT: Democrats Drop Key Part of Bill to Assist Unions
A half-dozen senators friendly to labor have decided to drop a central provision of a bill that would have made it easier to organize workers.
NYT: New Fund-Raising Reality for New Jersey Governor
Of all the gloomy economic indicators since the Wall Street collapse, perhaps the most startling one seen by New Jersey residents is this: Gov. Jon S. Corzine with his hand out.
NYT: Kennedy's Absent Voice on Health Bill Resonates
As a divided Senate tangles over health care legislation, there is bipartisan consensus on one point: Ted Kennedy could make a big difference, if only he were here.
Washington Post: Graham Exchanges Among Most Watched
Perhaps it is because Sen. Lindsey O. Graham is the only Republican on the Senate Judiciary Committee who said openly that he was considering supporting Judge Sonia Sotomayor. Perhaps it is because he said that only a "meltdown" would stand between her and a seat on the Supreme Court. Perhaps it is because he said that some of the speeches she has given "bugged the hell out of me."
Washington Post: Biden Fires Back At Stimulus Critics
The debate over the effectiveness of the government's massive stimulus act hit a fever pitch yesterday, as Vice President Biden took the White House message straight to the district of Rep. Eric Cantor (R-Va.), a leading critic of the president's economic policies.
Politico: Success on health care still a long way off
For a brief moment Thursday, Senate Democrats could celebrate. Finance Committee Chairman Max Baucus suggested for the first time publicly he was hoping for a bipartisan deal to pay for health care reform by the end of the day.
Politico: Sarah Palin tweets ode to mama grizzlies
Following a visit with wildlife biologists in Alaska on Wednesday, GOP Gov. Sarah Palin typed out a quick tribute to mama bears on her Twitter account.
LA Times: Interior Department drops Bush plan to allow more logging
Interior Secretary Ken Salazar on Thursday scrapped a plan, authorized in the last days of the Bush administration, to nearly quadruple the allowable logging on federal lands in western Oregon - including many prized old-growth stands - and open up protected northern spotted owl habitat across Oregon, Washington and Northern California to timber companies.
NATIONAL
For the latest national news: www.CNN.com.
CNN: Pamphlets aid search for U.S. soldier missing in Afghanistan
The U.S. military is distributing pamphlets in eastern Afghanistan in an effort to find a soldier who has been missing for more than two weeks, the military said Thursday.
CNN: Visitation held for slain Florida couple
Thousands paid their respects Thursday to a Florida couple slain during what police said was a home invasion robbery.
CNN: NASA not 'overly concerned' with dings on shuttle
NASA is not "overly concerned" about three small dings on the side of space shuttle Endeavour caused when foam debris fell from its fuel tank following liftoff, a shuttle manager said Thursday.
CNN: 5 cops wounded in New Jersey shootout; 2 suspects killed
A gunman wearing "priest clothing" sparked a shootout with police in Jersey City, New Jersey, early Thursday that ended with five officers wounded and the shooter and another suspect dead, authorities said.
CNN: Former Boeing engineer convicted of spying for China
A former engineer for Rockwell International and Boeing was convicted Thursday of economic espionage and acting as an agent of China, authorities said.
CNN: Alzheimer's gene may impair middle-aged memory
People with a gene variant that sharply increases the risk of Alzheimer's disease in old age may show memory impairment earlier than thought - sometimes well before their 60th birthday, according to new study in the New England Journal of Medicine.
CNN: Husband charged with killing wife on cruise
A Los Angeles-area man has been charged with murder in the death of his wife while on a cruise along the Mexican coast, An FBI spokesman told CNN sister network HLN.
CNN: FDA scrutinizing safety of asthma drug Xolair
The Food and Drug Administration announced Thursday it is conducting a safety review of the asthma drug Xolair after data from an ongoing study suggested an increased number of heart attacks and strokes among patients who use it.
NYT: In Push for Cancer Screening, Limited Benefits
"Don't forget to check your neck," says an advertising campaign encouraging people to visit doctors for exams to detect thyroid cancer.
USA TODAY: 40 years after Apollo 11: What's our next step?
Forty years ago Monday, Neil Armstrong made his "giant leap for mankind." Since that triumphant moment, astronauts in the U.S. space program have gone no farther.
USA TODAY: Sears' name is gone but still towers over icon
The sleek black building that looms over this city's skyline has for 36 years been instantly recognizable as the Sears Tower. Until now.
Wall Street Journal: For Mars Rover, Really Remote Roadside Assistance
On Mars, NASA's robot rover Spirit is spinning its wheels on the soft shoulder of planetary exploration, up to its axles in silt millions of miles away from tense engineers who are struggling to extricate it by remote control.
INTERNATIONAL
For the latest international news: http://edition.cnn.com/
CNN: Deadly blasts hit two hotels in Jakarta
Explosions tore through two luxury hotels Friday morning in south Jakarta, Indonesia, killing at least eight people, a presidential spokesman said.
CNN: Man must choose between selling kidney or child
Mohammed Iqbal said he has been told by his landlord to pay up on debts and is left with a choice facing others in this impoverished corner of Pakistan: Sell your children or a kidney.
CNN: Black boxes 'damaged' in Iran air disaster
A day after an Iranian passenger plane crashed in flames killing all 168 people on board, aviation officials were Thursday examining the aircraft's damaged flight data recorders to try to determine the cause of the disaster.
CNN: Somali prime minister reports speaking with French hostage
Somalia's interim prime minister said Thursday that he has spoken to one of two French hostages seized earlier this week by gunmen who stormed their hotel in Mogadishu.
CNN: Russian leader accused over activist's death
The head of a leading Russian human rights group accused the presidents of Russia and Chechnya of complicity in murdering their top activist in Chechnya.
CNN: Report: Iran's nuclear chief resigns
The commander of Iran's nuclear program for more than a decade has resigned, Iran Student News Agency reported Thursday.
NYT: Signs of Hope Emerge in the West Bank
The first movie theater to operate in this Palestinian city in two decades opened its doors in late June. Palestinian policemen standing beneath new traffic lights are checking cars for seat belt violations. One-month-old parking meters are filling with the coins of shoppers. Music stores are blasting love songs into the street, and no nationalist or Islamist scold is forcing them to stop.
NYT: Peeling Back Pavement to Expose Watery Havens
For half a century, a dark tunnel of crumbling concrete encased more than three miles of a placid stream bisecting this bustling city.
NYT: In Tehran, a Symbol Is Ready to Reappear
The Iranian opposition leader, Mir Hussein Moussavi, will attend Friday Prayer at Tehran University, his Web site said, in a widely anticipated event that will be his first official appearance since last month's disputed presidential election.
NYT: Insurgent Groups Will 'Share' Men Taken in Somalia
The two most dangerous radical Islamist groups in Somalia have agreed to "share" the two French hostages kidnapped this week, an Islamist leader said Thursday.
Wall Street Journal: Russia Hopes To Join WTO By Next Year
Russia could join the World Trade Organization by mid-2010 if the U.S. delivers the backing it has publicly promised to Moscow's long-delayed bid, First Deputy Prime Minister Igor Shuvalov said.
LA Times: China's detention of an Australian mining exec threatens the countries' trade relationship
Beyond triggering a growing chorus of international criticism, China's detention of an Australian mining executive is a reminder that doing business here carries risks not found in other major economies.
The Guardian: Pepper-spray defence means South Africa robbers face loss of balance at cash machines
Cash machines offer an ever-growing menu of services beyond merely dispensing money. For tampering criminals, this now includes a squirt of pepper spray in the face .
BUSINESS
For the latest business news: www.CNNMoney.com.
Fortune: CIT and its borrowers in limbo
CIT and its many borrowers are in limbo. A day after the cash-strapped small business lender had its bailout hopes deflated, CIT Group (CIT, Fortune 500) appeared headed for a bankruptcy filing.
CNN: Google sees signs of stabilization
Google said Thursday it was seeing signs of stabilization in what has been a very rough advertising environment.
NYT: Two Giants Emerge From Wall Street Ruins
A new order is emerging on Wall Street after the worst crisis since the Great Depression — one in which just a couple of victors are starting to tower over the handful of financial titans that used to dominate the industry.
In Case You Missed It
To watch the latest interviews and reporting: http://www.cnn.com/video.
CNN: School finally integrates prom
High school students talk about attending their school's first integrated prom, which is the subject of a documentary.
CNN: Wise Latinas on Sotomayor
Latinas talk about Supreme Court nominee Sonia Sotomayor. Adriana Hauser reports.
Subscribe to the CNN=Politics DAILY podcast at http://www.cnn.com/politicalpodcast.
And now stay posted on the latest from the campaign trail by downloading the CNN=Politics SCREENSAVER at http://www.CNN.com/situationroom.