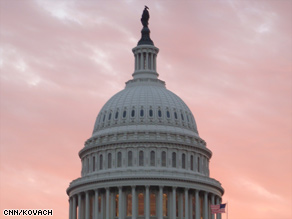 The CNN Washington Bureau's morning speed read of the top stories making news from around the country and the world.
WASHINGTON/POLITICAL
For the latest political news: www.CNNPolitics.com.
CNN: King: GOP sees fertile ground in taxes, pocketbook issues
What the country could easily see this week was a major success story for the Obama White House: A confirmation drama featuring Judge Sonia Sotomayor that left even Republican critics predicting an easy path to confirmation.
CNN: King: Will health care reform reach rural America?
Carl Walls speaks softly and humbly. "If life and death depended on money, I'd just have to die," is how he sees things. "You would be dead now," his wife, Elizabeth, chimed in.
CNN: Senators urge slowdown in health care reform push
Six key senators – three Democrats, one independent and two moderate Republicans – sent a letter to Senate leaders calling for a slowdown in the push for a health care overhaul, in light of the Congressional Budget Office's assessment that the Democratic plan currently being considered would not cut medical costs.
CNN: Sebelius: Possible tax on rich for healthcare
More work is needed on proposed health care legislation to make sure that it doesn't add to the budget deficit, Health and Human Services Secretary Kathleen Sebelius said Sunday.
CNN: Orszag: 'We've stepped back' from economic 'free fall'
White House Budget Direct Peter Orszag said Sunday that the struggling economy has backed away from the precipice it was teetering on late last year but a return to economic growth has not occurred yet.
CNN: Sanford, 'humbled and broken,' makes vow to state
Embattled South Carolina Governor Mark Sanford tried a new tack Sunday to win forgiveness after admitting to an affair and being incommunicado while he left the state for several days.
CNN: Leahy on Sotomayor: 'Stop the racial politics'
The Chairman of the Senate Judiciary Committee said Sunday that Supreme Court nominee Sonia Sotomayor should be judged on the merits of her 17-year judicial record and the week of confirmation hearings that just ended rather than on suspicions about her racial allegiances.
CNN: Obama going to Martha's Vineyard in August
The first family is heading to Massachusetts next month for some rest and relaxation.
Washington Post: Poll Shows Obama Slipping on Key Issues
Heading into a critical period in the debate over health-care reform, public approval of President Obama's stewardship on the issue has dropped below the 50 percent threshold for the first time, according to a new Washington Post-ABC News poll.
Washington Post: President Is Set to 'Take the Baton'
Six months into his presidency, Barack Obama may have no greater test of his ability to translate personal popularity into a successful legislative agenda than the upcoming two weeks.
Las Vegas Review Journal: New poll reveals Ensign's status sinking
Sen. John Ensign's status in the eyes of his constituents has further eroded in the last month, as revelations about his extramarital affair with a former staffer have continued to trickle out, according to a new poll by the Las Vegas Review-Journal.
New York Times: Governors Fear Medicaid Costs in Health Plan
The nation's governors, Democrats as well as Republicans, voiced deep concern Sunday about the shape of the health care plan emerging from Congress, fearing that Washington was about to hand them expensive new Medicaid obligations without money to pay for them.
New York Times: For Democrats, an Issue That Goes to the Roots
To understand the Democratic Party and its reflexes on health care, look no further than Senator Christopher J. Dodd of Connecticut.
USA TODAY: Palin: Alaska tour is thanks, not goodbye
She was greeted like a rock star in Unalakleet, a fishing village on the Bering Sea. She danced with Eskimos in Kotzebue. And she watched grizzlies at a wildlife sanctuary on the Kenai Peninsula.
Wall Street Journal: Democrats' New Worry: Their Own Rich Voters
A group of Democrats elected in recent years from some of the country's richest congressional districts have emerged as a stumbling block to raising taxes on the wealthy to pay for President Barack Obama's ambitious health-care overhaul just as the plan has begun to meet increasing resistance over its cost.
NATIONAL
For the latest national news: www.CNN.com.
CNN: U.S. soldier captured by Taliban: 'I'm afraid'
A United States soldier captured by the Taliban says in a video posted on the Internet he is "scared I won't be able to go home."
CNN: Frank McCourt, author of 'Angela's Ashes,' dead at 78
Author Frank McCourt, whose tragic childhood became creative grist for his first book, the Pulitzer Prize-winning "Angela's Ashes," died Sunday, according to the Web site of his publisher, Simon & Shuster. He was 78.
CNN: 44 hurt after rail cars collide in San Francisco
Two light rail transit cars collided Saturday in San Francisco, causing multiple injuries, but none appeared life-threatening, a rail system spokesman said.
CNN: Tennessee police: Suspect's wife, her relatives among 6 slain
The wife of a man suspected of killing five people in Tennessee and one in Alabama was among the victims found in southern Tennessee, along with her son, father and brother, police said Sunday.
CNN: Swine flu a worry for summer camps
Parents who send their children to summer camps have the added concern of swine flu this season.
LA Times: LAX parking lot is home away from home for airline workers
For about 15 days a month, Alaska Airlines pilot Jim Lancaster lives in a motor home in Parking Lot B near the southernmost runway at Los Angeles International Airport.
New York Times: In Purchase of School, Hopes of Saving a Neglected Monument
The classrooms are haunting in their dusty silence.
New York Times: Food Stamps, Now Paperless, Are Getting Easier to Use at Farmers' Markets
Natasha Smilansky comes to the farmers' market here each Thursday because she enjoys ripe tomatoes and cucumbers. Now there is the added benefit of using food stamps for her purchases.
Washington Post: Chemicals That Eased One Woe Worsen Another
This is not the funny kind of irony: Scientists say the chemicals that helped solve the last global environmental crisis - the hole in the ozone layer - are making the current one worse.
Wall Street Journal: As Boom Times Sour in Vegas, Upward Mobility Goes Bust
Drew Johnson and his wife, Tina had the life many Americans only dream of: A big house in a swanky suburb, a backyard hot tub, and a $100,000 deposit on a new condo with views of the Las Vegas Strip and 24-hour concierge service.
INTERNATIONAL
For the latest international news: http://edition.cnn.com/
CNN: Honduras' interim government rejects Zelaya's proposed return
Honduras' interim government on Sunday rejected a proposal to reinstate ousted President Jose Manuel Zelaya, ending a round of negotiations aimed at resolving the country's political crisis.
CNN: Aziz declares win in Mauritania vote, contender claims fraud
Mohamed Ould Abdel Aziz, who came to power last year after a military coup, claimed victory Sunday in Mauritania's presidential election - though one of his main challengers claimed fraud marred the polls.
CNN: India resists hard limits on emissions during Clinton visit
U.S. Secretary of State Hillary Clinton praised India's efforts to reduce carbon emissions Sunday, but India's environment minister said the country won't agree to "legally binding" limits on greenhouse gases.
CNN: Japanese fishermen brace for giant jellyfish
Giant jellyfish descend on the Sea of Japan, causing untold devastation to coastal villages and leaving a trail of destruction and human misery behind.
CNN: Report: Iran opposition candidate blasts 'clear lies'
An opposition candidate in Iran's disputed presidential election blasted what he called the "thoughtless and clear lies" of the country's security forces Sunday, while students mounted new demonstrations at a university in Shiraz.
CNN: What is man's greatest achievement?
Fire, the wheel and even cup noodles were among the varied answers to the question posed by CNN: "What is man's greatest achievement?"
New York Times: Pentagon Seeks Prison Overhaul in Afghanistan
A sweeping United States military review calls for overhauling the troubled American-run prison here as well as the entire Afghan jail and judicial systems, a reaction to worries that abuses and militant recruiting within the prisons are helping to strengthen the Taliban.
New York Times: Why Japan's Cellphones Haven't Gone Global
At first glance, Japanese cellphones are a gadget lover's dream: ready for Internet and e-mail, they double as credit cards, boarding passes and even body-fat calculators.
New York Times: Netanyahu's Talk of Peace Finds Few True Believers
In the weeks since Israel's prime minister, Benjamin Netanyahu, finally accepted the principle of a Palestinian state, with qualifications, there has been deep skepticism about his sincerity.
New York Times: South Africa Is Seen to Lag in H.I.V. Fight
Young men have flocked by the thousands to this clinic for circumcisions, the only one of its kind in South Africa. Each of them lies down on one of seven closely spaced surgical tables, his privacy shielded only by a green curtain.
USA TODAY: Space station toilet floods
The bathroom lines at the already crowded space shuttle and space station complex got a lot longer Sunday because of a flooded toilet.
LA Times: U.S. increasing counter-narcotics efforts in Afghanistan
The U.S. government is deploying dozens of Drug Enforcement Administration agents to Afghanistan in a new kind of "surge," targeting trafficking networks that officials say are increasingly fueling the Taliban insurgency and corrupting the Afghan government.
BUSINESS
For the latest business news: www.CNNMoney.com.
CNN: Health reform bills won't reduce costs
The health reform bills released so far would increase government spending on health care without sufficiently reining in health care costs.
CNN: CIT close to a second chance
The fate of CIT Group was still unclear Sunday evening, though the Wall Street Journal reported that the cash-strapped lender was close to securing a deal with key bondholders for $3 billion in funding.
New York Times: Cashing In, Again, on Risky Mortgages
From the ninth floor of a downtown office building on Wilshire Boulevard, Jack Soussana delivered staggering numbers of mortgages to homeowners during the real estate boom, amassing a fortune.
In Case You Missed It
To watch the latest interviews and reporting: http://www.cnn.com/video.
CNN: Sounds of Sunday
CNN's John King highlights comments made on the Sunday news shows, and previews what to expect in the week ahead.
CNN: Is Afghanistan worth it?
After a deadly month for NATO, two experts examine whether troops in Afghanistan hurt U.S. interests in the region.
Subscribe to the CNN=Politics DAILY podcast at http://www.cnn.com/politicalpodcast.
And now stay posted on the latest from the campaign trail by downloading the CNN=Politics SCREENSAVER at http://www.CNN.com/situationroom.