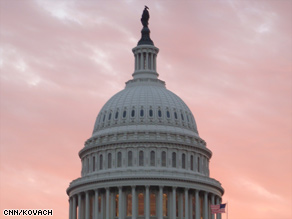 The CNN Washington Bureau's morning speed read of the top stories making news from around the country and the world.
WASHINGTON/POLITICAL
For the latest political news: www.CNNPolitics.com.
CNN: Obama administration delays Guantanamo report
In a move already drawing fire from liberal activists, aides to President Barack Obama acknowledged the administration will miss its own Tuesday deadline to submit a report detailing its policy on detaining terror suspects.
CNN: One wheelchair - one lesson of problems in health care reform
Debbie Brown used to process medical and dental forms for a living before a debilitating illness forced her into early disability retirement and left her in a simple, no-frills wheelchair - a rented wheelchair that has cost taxpayers about $1,200.
CNN: Pelosi weighs limiting new surtax to million-dollar households
An aide to House Speaker Nancy Pelosi confirms to CNN that, in attempt to quell a revolt among conservative Democrats, she is considering changing House Democrats' health care bill so that it only taxes families making $1 million or more.
CNN: TARP cop: Get tough on banks
The top cop tracking the $700 billion bailout program said Monday that he's concerned federal officials are ignoring his proposals for preventing tax dollars from being wasted or pilfered.
CNN: Obama hails heroism of Apollo 11 astronauts
President Obama on Monday hailed the Apollo 11 astronauts who made it to the moon 40 years ago as "genuine American heroes" and "the touchstone for excellence in exploration and discovery."
CNN: Stimulus goes to summer jobs, but critics raise questions
Twenty-year-old Sean Branch searched for eight months for a job with no success. "I go everywhere from big-time places to just mom-and-pop shops, and nobody's hiring," Branch said.
CNN: Defense secretary to add up to 22,000 troops to U.S. Army
Defense Secretary Robert Gates announced Monday that he plans to increase the size of the U.S. Army by up to 22,000 troops.
CNN: Commentary: How many Gitmo prisoners return to fight?
As President Obama awaits formal recommendations this month on issues surrounding the U.S. military prison at Guantanamo Bay, Cuba, it is crucial that policymakers and the public have an accurate picture of the threat to the United States posed by those detainees already released.
CNN: Commentary: Middle East is changed forever
Whatever the end result of the current electoral crisis in Iran, the dramatic rise of national politics has already cast a long and enduring shadow over the geopolitics of the region. No country can go back to business as usual. The climate has changed - for good.
New York Times: Lobbies Adopt Tone of Accord With President
Top lobbyists for the banking industry were gathered in a war council. The Obama administration had proposed big changes in financial industry oversight, including a consumer protection commission and regulation of some executives' paychecks. The lobbyists listened to presentations from big Washington public affairs firms ready to deploy arsenals including television commercials and direct-mail campaigns.
New York Times: Obama's Strategy to Reverse Manufacturing's Fall
If the Obama administration has a strategy for reviving manufacturing, Douglas Bartlett would like to know what it is.
Washington Post: GOP Focuses Effort To Kill Health Bills
Emboldened by divided Democrats and polls that show rising public anxiety about President Obama's handling of health care and the economy, Republicans on Monday launched an aggressive effort to link the two, comparing the health-care bills moving through Congress to what they labeled as a failed economic stimulus bill.
Washington Post: Industry Cash Flowed To Drafters of Reform
As liberal protesters marched outside, Sen. Max Baucus sat down inside a San Francisco mansion for a dinner of chicken cordon bleu and a discussion of landmark health-care legislation under consideration by his Senate Finance Committee.
Washington Post: CIA Committed Fraud, Judge Writes in Ruling
A federal judge has ruled that government officials committed fraud while defending a lawsuit brought by a former DEA agent who accused a CIA operative of illegally bugging his home.
Wall Street Journal: Bernanke Heads to Congress Battling Calls to Tame the Fed
Federal Reserve Chairman Ben Bernanke helped steer the economy away from what he calls "Depression 2.0." Now he's trying to defend the Fed itself.
McClatchy: Groups grow impatient with Obama on fate of detainees
Six months after President Barack Obama ordered the closing of the military prison at Guantanamo Bay, Cuba, his administration is still slogging through the cases and policies and will need more time to complete interim reports due on Tuesday.
Huffington Post: Obama Calls On Bloggers To Keep Health Care Pressure On Congress
In a reflection of a legislative strategy that has left no stone unturned, President Barack Obama on Monday called on like-minded bloggers to help his administration keep the heat on lawmakers to pass health care reform.
NATIONAL
For the latest national news: www.CNN.com.
CNN: Schwarzenegger, lawmakers reach agreement on budget
Gov. Arnold Schwarzenegger and California legislators announced a tentative deal to eliminate a $26 billion deficit Monday evening, with state agencies looking at billions of dollars in cuts as part of the plan.
CNN: Four U.S. troops killed in Afghanistan
Four U.S. troops were killed in eastern Afghanistan on Monday in what NATO's International Security Assistance Force said was a roadside bombing, according to a senior U.S. official there.
CNN: Documents: Florida slaying victims knew suspect
A man police believe organized the slaying of a Florida couple earlier this month told authorities he knew the victims and received financial support from them for a martial arts studio, according to court documents released Monday.
CNN: FBI: Top 10 fugitive captured in Mexico
An alleged gang member who was on the FBI's Top 10 List of most wanted fugitives and sought in connection with a 2000 attack on two Los Angeles, California, officers was captured in Mexico, authorities said Monday.
CNN: Tyler Perry sending rebuffed day-care kids to Disney World
Tyler Perry, the star, writer and producer of films such as "Madea Goes to Jail" and the television show "House of Payne," could be adding philanthropist to his growing list of credits.
CNN: Cancer cancels Beastie Boys' tour, postpones album
The Beastie Boys canceled all scheduled concerts and delayed their next album release while member Adam "MCA" Yauch is treated for a cancerous tumor in a salivary gland, Yauch says in a video statement to fans.
New York Times: U.S. Withheld Data on Risks of Distracted Driving
In 2003, researchers at a federal agency proposed a long-term study of 10,000 drivers to assess the safety risk posed by cellphone use behind the wheel.
Washington Post: The Space Business: Still in Earth's Orbit
Forty years after the crew of Apollo 11 landed on the moon, the business of space has yet to experience the renaissance many once thought possible.
USA TODAY: S.C. case looks on child obesity as child abuse. But is it?
Jerri Gray was doing all she could to help her son lose weight, her attorney says. But something had gone terribly wrong for the boy to hit the 555-pound mark by age 14.
USA TODAY: Flu vaccine for fall won't protect against swine virus
The Food and Drug Administration approved a seasonal flu vaccine on Monday, in plenty of time to protect people against the three standard flu strains expected to spread this fall.
INTERNATIONAL
For the latest international news: http://edition.cnn.com/
CNN: Serb cousins guilty of burning Muslims alive
A U.N. tribunal convicted two Serb cousins Monday of having burned alive more than 100 Muslims in what the presiding judge called a part of the "wretched history of man's inhumanity to man."
CNN: U.S. offers up to $50 million for Mexican cartel members
U.S. authorities have ratcheted up pressure on one of Mexico's most notorious drug cartels, releasing new details about the so-called Gulf Cartel's operations and offering up to a $50 million reward for the arrest of its leaders.
CNN: Iran's supreme leader issues warning to opposition
Iran's supreme leader warned the political opposition Monday not to "direct the society toward insecurity."
CNN: Alleged Berlusconi tapes released
An Italian newspaper and magazine published excerpts of what they said were audio recordings of Prime Minister Silvio Berlusconi talking with an escort at the center of a corruption probe.
CNN: Ex-Peruvian president sentenced for giving spy chief $15 million
Former Peruvian President Alberto Fujimori was sentenced Monday to seven and a half years in prison for paying his one-time spy chief a $15 million bonus out of the government treasury.
CNN: Venezuela's role in drug transit increases, report says
Venezuela's role as a transit point for South American cocaine bound for the United States and Europe has significantly expanded in recent years, according to a U.S. government report released Monday.
New York Times: Hard-Line Force Extends Grip Over a Splintered Iran
As Iran's political elite and clerical establishment splinter over the election crisis, the nation's most powerful economic, social and political institution — the Islamic Revolutionary Guards Corps — has emerged as a driving force behind efforts to crush a still-defiant opposition movement.
New York Times: Why China Will Keep Investing Abroad
Overshadowed by a sparkling economic report card for the second quarter, the leap in China's official currency reserves last week is yet one more reason to bank on a transformative surge in the country's investments abroad.
New York Times: A State in Grip of Kidnappers and the Family of Hugo Chávez
Stretching over vast cattle estates at the foothills of the Andes, Barinas is known for two things: as the bastion of the family of President Hugo Chávez and as the setting for a terrifying surge in abductions, making it a contender for Latin America's most likely place to get kidnapped.
New York Times: Cambodia Court Cases Mount Against Opposition
Cambodia's courts have been busy in recent weeks with cases of defamation, disinformation and incitement brought by the government in what critics say is part of a broad assault on civil liberties.
Washington Post: Japan PM dissolves parliament, calls elections
Japanese Prime Minister Taro Aso dissolved the powerful lower house of parliament Tuesday, setting the stage for national elections next month that could transform the country's political power structure.
Wall Street Journal: U.S. Troops Complain of Limits in Iraq
Tensions are rising between the U.S. and Iraqi governments over Baghdad's push to restrict American military operations in Iraq, with some U.S. officers complaining their forces are being constrained beyond what is called for in their agreement to withdraw from cities.
BUSINESS
For the latest business news: www.CNNMoney.com.
CNN: Rally's new tune: Don't worry, be happy
Call it the Bobby McFerrin market. Investors are no longer worried. They're happy.
CNN: The commercial real estate time bomb
There's a new main character moving to center stage in the great real estate meltdown. Underwater homeowners vying to refinance or score a loan modification have grabbed much of the headlines (and bailout attention) to date. But now commercial real estate is moving into the spotlight as the next potential body slam for the economy.
New York Times: Stores Go Dark Where Buyers Once Roamed
Among the marks of Manhattan's prosperity in recent years were the thousands of restaurants and shops that opened to meet an ever-growing demand. Confident in the appetite for spending — on expensive shampoo at 24-hour drugstores, cheese plates at sleek wine bars and clothes at minimalist boutiques — store owners signed high-rent leases with little haggling.
In Case You Missed It
To watch the latest interviews and reporting: http://www.cnn.com/video.
CNN: New vaccine targets HIV
New trial AIDS vaccine uses DNA to battle the HIV strain common in South Africa. CNN's Nkepile Mabuse reports.
CNN: Joe Jackson denies abuse
Jackson family patriarch, Joe Jackson talks about his grandkids and alleged abuse of Michael.
Subscribe to the CNN=Politics DAILY podcast at http://www.cnn.com/politicalpodcast.
And now stay posted on the latest from the campaign trail by downloading the CNN=Politics SCREENSAVER at http://www.CNN.com/situationroom.