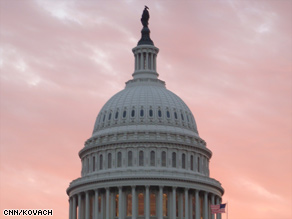 The CNN Washington Bureau's morning speed read of the top stories making news from around the country and the world.
WASHINGTON/POLITICAL
For the latest political news: www.CNNPolitics.com.
CNN: Obama rips GOP in health care forum
President Obama took his health care offensive on the road Thursday, accusing top Republicans of playing politics with his top domestic legislative priority.
CNN: No health care vote before August break, top Democrat says
The top Democrat in the U.S. Senate said Thursday the chamber won't vote on a health care reform bill until after the August recess.
CNN: Obama says health care delay is OK 'to get it right'
President Barack Obama said Thursday that he is willing to accept a temporary delay in the passage of health care reform legislation if Congress ultimately approves a satisfactory bill.
CNN: Obama stands by 'acted stupidly' comment
President Obama is standing by his comment Wednesday night that a Massachusetts police officer 'acted stupidly' when he arrested Harvard Professor Henry Louis Gates, Jr.
First on the CNN Ticker: GOP questions Obama's police criticism
Senate Republicans will place a national Web ad Thursday calling into question President Obama's decision to criticize a Massachusetts police department for arresting a Harvard professor at his own home.
CNN: North Korea: Clinton 'funny lady, by no means intelligent'
North Korea launched a scathing personal attack on U.S. Secretary of State Hillary Clinton on Thursday after she likened the leadership in Pyongyang to "small children and unruly teenagers and people who are demanding attention."
CNN: Palin's resignation hardly a curtain call
Last August, then-Republican presidential nominee John McCain introduced to the nation his surprise pick for vice president, Alaska Gov. Sarah Palin.
CNN: Analysis: Is Palin the next GOP 'kingmaker'?
Alaska Gov. Sarah Palin caught the political world by surprise when she announced that she will resign at the end of July.
CNN: Commentary: Time to move past Palin distraction
It shouldn't have surprised anyone that Gov. Sarah Palin would surprise everyone by announcing that she was quitting her job by the end of July.
CNN: Doctor-patient talk could cut costs, ethicists say
Neither of Dr. Arthur Kellerman's parents wanted to die in a hospital. His father had metastatic cancer and his mother had had multiple strokes, and Kellerman wanted to respect their wishes about the ends of their lives.
CNN: Obama's 'green-jobs' guru: from activist to environmentalist
Van Jones defies environmentalist stereotypes. He's not the earthy-crunchy, Birkenstock-wearing type. Nor is he a contemporary and corporate version - a hedge fund-fueled entrepreneur looking to make millions by building wind farms and solar-powered corporate headquarters.
CNN: Obama to announce $4.35 billion in stimulus for schools
President Obama plans to announce the next phase of education funding Friday as one round of stimulus money filters through state governments and into school districts.
Washington Post: Bush Official Sees Peril in Health Plan
The man who helped oversee Medicare in the last administration describes the nation's biggest government-run health plan as a fiscal disaster, and he says reform proposals that would build on it are a prescription for failure.
Washington Post: Pelosi Puts Onus on Industry
House Speaker Nancy Pelosi said Thursday that she doesn't feel bound by the $235 billion in deals that the White House and the Senate Finance Committee cut with hospital and pharmaceutical companies to defray costs of a new health-care plan, stating that she thinks the industries could do more.
Washington Post: Palin Favorability Rating Dips As She Nears Exit, Poll Finds
As Alaska Gov. Sarah Palin prepares for the next stage of her political career, a majority of Americans hold an unfavorable view of her, and there is broad public doubt about her leadership skills and understanding of complex issues, according to a new Washington Post-ABC News poll.
USA TODAY: Lobbyists get power access via caucuses
Lobbyists and businesses that employ them donated $5.8 million last year to foundations affiliated with congressional groups, a USA TODAY analysis of federal lobbying data shows.
POLITICO: Former NFL coach Sam Wyche mulls House run in South Carolina
Sam Wyche, the longtime National Football League coach who led the Cincinnati Bengals to a Super Bowl, is now looking to pursue a career in congressional politics.
NATIONAL
For the latest national news: www.CNN.com.
CNN: Cambridge top cop stands by department after Harvard arrest
The commissioner of the Cambridge, Massachusetts, police department said Thursday he "deeply regrets" the arrest of prominent black Harvard University professor Henry Louis Gates Jr., but stands by the procedures followed by his department.
CNN: New Yorker says he would have been suicide bomber
A New York man who pleaded guilty in January to charges of aiding al Qaeda was ready to be a suicide bomber for the organization, but was told he needed more religious instruction, according to a document obtained by CNN on Thursday.
CNN: Report slams FEMA on health hazard in emergency housing
In the wake of hurricanes Katrina and Rita, the Federal Emergency Management Agency was slow to address early signs of formaldehyde problems in emergency housing and overstated actions it was taking to address the problem, according to a report released Thursday by a federal inspector general.
CNN: Items taken from Michael Jackson's doctor's buildings listed
Texas authorities released court documents Thursday detailing the items seized from the medical office and storage unit of Dr. Conrad Murray, the cardiologist who was with Michael Jackson when he fell ill and died on June 25.
CNN: Federal agents apprehend fugitive after 15 years
Federal agents have apprehended accused child molester Edward Eugene Harper, who was on the FBI's 10 Most Wanted Fugitives list, an FBI official said Thursday.
CNN: Official: Joint chiefs chairman 'infuriated' about detainee abuse
Images of detainee abuse at the hands of U.S. troops, which President Obama has barred from public view, so "infuriated" the nation's highest-ranking military officer he demanded leaders ensure continued training of troops to prevent abuse, according to a senior Pentagon official.
CNN: Commentary: Race and the American dream
I've given nearly two dozen speeches across the country since Barack Obama was elected the 44th president of the United States.
New York Times: Jobless Checks for Millions Delayed as States Struggle
Years of state and federal neglect have hobbled the nation's unemployment system just as a brutal recession has doubled the number of jobless Americans seeking aid.
New York Times: In New Jersey Case, Nervous Jokes and a Cereal Box of Cash
Illegal sales of body parts. Furtive negotiations in diners, parking lots, and boiler rooms. Nervous jokes about "patting down" a man who turned out to indeed be an informant. And, again and again, piles of cash being passed along — once in a box of Apple Jacks cereal stuffed with $97,000.
Washington Post: Removal Of Cho's File Called Accidental
The former director of the Virginia Tech college counseling center took the mental health records of Seung Hui Cho from his office accidentally when he changed jobs more than a year before the university massacre and reported them promptly when he located them in his home last week, his attorney said Thursday.
LA Times: At 65, Smokey Bear is still fighting fires
He's a war hero who became a media mogul, celebrity pitchman, pop icon and philanthropist. He's so famous he was given his own ZIP Code, 20252, to handle the fan mail. He is 65 years old but has no intention of retiring. In fact, he looks fitter than ever.
INTERNATIONAL
For the latest international news: http://edition.cnn.com/
CNN: Report: Senior cleric issues fatwa against VP selection
Iranian President Mahmoud Ahmadinejad's recent pick for the country's top vice president continued to draw fire Thursday, with a senior cleric issuing a fatwa against the appointment, a leading reformist newspaper reported Sunday.
CNN: How robot drones revolutionized the face of warfare
Barely an hour's drive from the casinos of Las Vegas, a group of unassuming buildings have become as important as the trenches were to WWI. The big difference? Today's warriors are fighting without getting in harm's way, using drones to attack targets in Afghanistan and Pakistan.
CNN: Cable makes big promises for African Internet
An undersea cable plugging East Africa into high speed Internet access went live Thursday, providing an alternative to expensive satellite connections.
CNN: Ousted President Zelaya begins caravan back to Honduras
Behind the wheel of a sport utility vehicle, deposed Honduran President Jose Manuel Zelaya on Thursday started his journey from Managua, Nicaragua, to the country's border with Honduras.
CNN: Report: Moussavi's brother-in-law detained
The wife of Iranian opposition leader Mir Hossein Moussavi spoke publicly about her brother's detention for the first time Thursday, accusing the Islamic government of fueling false allegations about him, according to media report.
CNN: N. Korea: Clinton 'funny lady, by no means intelligent'
North Korea launched a scathing personal attack on U.S. Secretary of State Hillary Clinton on Thursday after she likened the leadership in Pyongyang to "small children and unruly teenagers and people who are demanding attention."
CNN: NASA Earth pictures show extent of eclipse
NASA has released new pictures of the Earth showing the vast extent of Wednesday's spectacular solar eclipse.
New York Times: Hamas Shifts From Rockets to Public Relations
Seven months after Israel started a fierce three-week military campaign here to stop rockets from being fired on its southern communities, Hamas has suspended its use of rockets and shifted focus to winning support at home and abroad through cultural initiatives and public relations.
New York Times: Serious Challenger Emerges in Afghan Race
When Dr. Abdullah Abdullah, the main election challenger to President Hamid Karzai, arrived here to campaign last weekend, thousands of supporters choked the six-mile drive from the airport. Cars were plastered with his posters. Motorbikes flew blue banners. Young men wearing T-shirts emblazoned with his face leapt aboard his car to embrace him to ecstatic cheers.
New York Times: Memoirs of British Spy Offer No Apology
After keeping it sealed in a steel container for 25 years, the British Library made public on Thursday a 30,000-word memoir in which Anthony Blunt, one of Britain's most renowned 20th-century art historians, described spying for the Soviet Union, beginning in the mid-1930s, as "the biggest mistake of my life."
Wall Street Journal: Chinese Scientists Reprogram Cells to Create Mice
Two teams of Chinese researchers working separately have reprogrammed mature skin cells of mice to an embryonic-like state and used the resulting cells to create live mouse offspring.
BUSINESS
For the latest business news: www.CNNMoney.com.
CNNMoney: Watchdog criticizes Obama mortgage plan
A government watchdog raised questions about the Obama administration's estimate that up to four million people could be helped by the president's mortgage modification program.
CNNMoney: State budgets walloped again
The bad news about state budgets just keeps getting worse. Only three weeks into the new fiscal year, gaps are already opening up. And the shortfalls are only expected to grow.
CNNMoney: June home sales rise, but prices plummet
Sales of existing homes disappointed again in June, coming in at a seasonally adjusted annualized rate of 4.89 million, up just 3.6% compared with May, according to a monthly report from the National Association of Realtors.
New York Times: Traders Profit With Computers Set at High Speed
It is the hot new thing on Wall Street, a way for a handful of traders to master the stock market, peek at investors' orders and, critics say, even subtly manipulate share prices.
In Case You Missed It
To watch the latest interviews and reporting: http://www.cnn.com/video.
CNN: London's cycling woes
CNN's Errol Barnett shows what it's like to ride through London and whether the city is ready for more cyclists.
CNN: Swine flu fears for Hajj
Arab Health Ministers held an emergency summit in Cairo in order to prevent the spread of swine flu during the Hajj.
Subscribe to the CNN=Politics DAILY podcast at http://www.cnn.com/politicalpodcast.
And now stay posted on the latest from the campaign trail by downloading the CNN=Politics SCREENSAVER at http://www.CNN.com/situationroom.