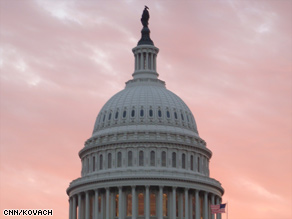 The CNN Washington Bureau's morning speed read of the top stories making news from around the country and the world.
WASHINGTON/POLITICAL
For the latest political news: www.CNNPolitics.com.
CNN: King: What will triumph in health care push - reform or recess?
Something old and something new to watch this week: The continuing - some say languishing - health care debate, and the launch of the "Cash for Clunkers" program designed to improve the nation's fuel efficiency, not to mention Detroit's bottom line.
CNN: King: Uninsured 23-year-old battles leukemia, medical bills
To begin with, Gregory Rose didn't have health insurance. Plus, it was finals week. So his first instinct was to ignore the pain.
CNN: GOP ratchets up health care reform debate
As Democrats continue to splinter over President Obama's proposed health care reform plan, Republicans are taking the opportunity to home in on a key argument: A good bill deserves more time and deliberation.
CNN: Conrad: Dems lack votes to pass health care reform on their own
A key Democratic senator in health care reform negotiations said Sunday that his party lacks the votes to pass a bill through Congress on its own.
CNN: Palin steps down as Alaska governor
Former vice presidential candidate Sarah Palin gave her final speech as Alaska's governor Sunday before stepping down from her post, telling a Fairbanks crowd that she is resigning "to chart a new course to advance the state."
CNN: Palin's second picnic draws supporters, few dissenters
Alaska Gov. Sarah Palin was met with a fairly warm reception at a picnic in Anchorage on Saturday, a day before she steps down as the state's governor.
CNN: Republican: Palin is another Huckabee
It looks like Alaska Gov. Sarah Palin may have one less fan.
CNN: Clinton: Obama has proven his toughness, international savvy
Hillary Clinton is convinced. After questioning Barack Obama's international savvy and toughness while campaigning against him last year, the secretary of state said Sunday she has seen plenty of both from the president so far.
CNN: Reliable Sources: Gates comments overshadow health care
The controversy surrounding the arrest of Professor Henry Louis Gates Junior dominated the Sunday morning talk shows, with Obama administration officials re-explaining the president's comments during Wednesday's primetime news conference. Obama's primetime news conference was supposed to push his health care agenda to the forefront of the news cycle, but his comments about the Cambridge police department took center stage on nearly all media outlets.
New York Times: Reach of Subsidies Is Critical Issue for Health Plan
The major health care bills moving through Congress would require nearly all Americans to have health insurance. But as lawmakers struggle to achieve the goal of universal coverage, a critical question is whether the plans will be affordable to those who are currently uninsured.
New York Times: Competing Brands of Republicanism
In this uncertain moment for the party of Lincoln, behold the jaunty, robust specimen of Republican centrism.
Washington Post: Infectious Diseases Study Site Questioned
The Department of Homeland Security relied on a rushed, flawed study to justify its decision to locate a $700 million research facility for highly infectious pathogens in a tornado-prone section of Kansas, according to a government report.
Washington Post: Amid Scrutiny, Yoo Pushes Back
Some public figures, if their judgment and ethics come under fire, retreat into solitude. Then there is John C. Yoo.
NATIONAL
For the latest national news: www.CNN.com.
CNN: Report: Suspects in border agent's killing arrested in Mexico
Mexican authorities on Saturday arrested four men in connection with last week's shooting death of a U.S. Border Patrol agent in San Diego County, California, Mexico's state-run news agency Notimex reported.
CNN: Police: 8 killed in highway crash outside New York
A three-vehicle crash north of New York killed eight people, including four children, state police said on Sunday.
CNN: Two deputies killed in Oklahoma shooting
An Oklahoma man is accused of shooting two sheriff's deputies who were trying to arrest him on domestic assault charges Sunday, authorities said. He's facing murder charges in the deaths.
CNN: Body found in Grand Canyon park believed to be missing hiker
Search teams combing the Grand Canyon National Park in Arizona found a body on Saturday believed to be that of a missing 20-year-old hiker, the National Park Service said.
New York Times: Uranium Contamination Haunts Navajo Country
It was one year ago that the environmental scientist showed up at Fred Slowman's door, deep in the heart of Navajo country, and warned that it was unsafe for him to stay there.
New York Times: As Charter Schools Unionize, Many Debate Effect
Dissatisfied with long hours, churning turnover and, in some cases, lower pay than instructors at other public schools, an increasing number of teachers at charter schools are unionizing.
New York Times: Backers of Gay Marriage Rethink California Push
Discouraged by stubborn poll numbers and pessimistic political consultants, major financial backers of same-sex marriage are cautioning gay rights groups to delay a campaign to overturn California's ban on such unions until at least 2012.
New York Times: Recession Shadowing Chicago Bid for Games
On a recent afternoon, Mayor Richard M. Daley delivered his annual speech on the condition of the city he has run for 20 years. Revenues may fall $250 million short. Some city workers must take 15 unpaid days this year, including Mr. Daley. More than 400 workers were laid off that very afternoon, after talks with two unions collapsed.
USA TODAY: Dealers crave cash-for-clunkers buyers; what qualifies?
Sales-starved automakers have begun an ad blitz to coincide with the kick-off of the so-called cash-for-clunkers program that gives government rebates to people who trade in older vehicles for new ones that get better mileage.
USA TODAY: Ancient and fading group settles in Mass.
Suha Abdula walks through the streets of her new country, acutely aware that no one notices her.
Boston Globe: Illegal status gives Harvard grad few options
Back in the concrete suburb of Los Angeles where he grew up, they call him "Harvard.'' He is the pride of a neighborhood of children who grew up just like he did, bouncing from one crowded apartment to the next, sleeping on sofa cushions on the floor, wired to the constant threat of violence.
LA Times: Boom in hydropower pits fish against climate
The Rocky Reach Dam has straddled the wide, slow Columbia River since the 1950s. It generates enough electricity to supply homes and industries across Washington and Oregon.
INTERNATIONAL
For the latest international news: http://edition.cnn.com/
CNN: Iran opposition leaders request OK to commemorate dead
Iranian opposition leader Mir Hossein Moussavi and a fellow presidential candidate are requesting a permit to hold a commemoration ceremony for those killed in the fallout after the June 12 elections, according to a post on Moussavi's Web site Sunday.
CNN: Reports: Ahmadinejad may face confidence vote in parliament
Iranian President Mahmoud Ahmadinejad fired two members of his cabinet, and may have to face a vote of confidence in parliament for the final few days of his current term, two semi-official Iranian news agencies reported Sunday.
CNN: Visit to Syria starts week of U.S. diplomacy in Middle East
A week of U.S. diplomatic maneuvering in the Middle East began Sunday with special envoy George Mitchell meeting with Syrian President Bashar al-Assad before heading to Israel and Egypt.
CNN: London marks three years until Olympics
Three years from Monday, the eyes of the world will be on London for the opening ceremony of the 2012 Olympic Games.
CNN: Jews protest Arab construction in Israel
More than 1,000 police officers were deployed to the southern Israeli Bedouin town of Rahat on Sunday morning as two dozen Jewish right-wing extremists protested what they said was unlawful Arab construction on neighboring hilltops.
CNN: Sarkozy hospitalized after jogging scare
French President Nicolas Sarkozy became faint while jogging late Sunday morning and was taken to a hospital, the presidential office said.
CNN: Castro calls for tight finances in Cuba
Sunday was a day of commemoration in Cuba - the 56th anniversary of the start of the Cuban Revolution - but the message from President Raul Castro was not all celebratory.
CNN: Hubble reawakens, snaps image of Jupiter scar
In an unusual step, NASA scientists interrupted testing of the refurbished Hubble Space Telescope to aim the orbiter's camera at Jupiter and capture an image of the planet's mysterious new scar.
New York Times: Files Vanished, Young Chinese Lose the Future
For much of his education, Xue Longlong was silently accompanied from grade to grade, school to school, by a sealed Manila envelope stamped top secret. Stuffed inside were grades, test results, evaluations by fellow students and teachers, his Communist Party application and — most important for his job prospects — proof of his 2006 college degree.
New York Times: Back Home in Pakistan, but Feeling Under Siege
Ahmad Shah imagined a triumphant return home after nearly three months of being displaced by the Pakistani Army's offensives against the Taliban here in the most populous city of the Swat Valley.
New York Times: In 2 West Bank Settlements, a Sign of Hope for a Deal
Seen from afar, this fast-growing settlement embodies everything that the Obama administration wants to address through its demand for a freeze on settlement building: it sits on land captured by Israel in the 1967 Middle East war and, with 45,000 residents and 60 births a week, it is the largest and fastest-growing Jewish community in the West Bank.
Washington Post: Worries About A Kurdish-Arab Conflict Move To Fore in Iraq
Louis Khno is a city councilman whose city is beyond his control. In his barricaded streets are militiamen - in baseball caps and jeans, wielding Kalashnikov rifles, with the safeties switched off. They answer to someone else. Leaders of his police force give their loyalty to their ethnic brethren - be they Kurd or Arab. Clergy in the town pledge themselves to the former. Khno and his colleagues to the latter.
Washington Post: Two Ministers Forced to Leave Iranian Cabinet
Iranian President Mahmoud Ahmadinejad fired his intelligence minister and his culture minister resigned under pressure Sunday as further rifts emerged in his camp with just days to go until his controversial inauguration for a second term.
Christian Science Monitor: Maliki teams with US universities to rebuild Iraqi education
Aiming to restore the once renowned prestige of its devastated education system, Iraq plans to send up to 50,000 students abroad for advanced studies over the next five years, Iraqi Prime Minister Nouri al-Maliki told a group of educators gathered Saturday in Washington.
BBC: Curfew after Nigeria gun battles
A curfew has been imposed in the north-eastern Nigerian city of Bauchi, after violence on Sunday in which at least 39 people were killed.
BUSINESS
For the latest business news: www.CNNMoney.com.
CNNMoney: Bernanke: Economy to bounce back stronger
Federal Reserve Chairman Ben Bernanke said Sunday that lessons learned from the recession and the financial crisis will help make the economy stronger than it was before the crisis.
CNNMoney: Wall Street: Here comes the hard part
Can a recharged stock market rally withstand the biggest week of corporate profit reports yet?
CNNMoney: Helping the unemployed pay their mortgages
As a growing number of jobless Americans default on their mortgages, the Obama administration is considering new ways to help them avoid foreclosure.
In Case You Missed It
To watch the latest interviews and reporting: http://www.cnn.com/video.
CNN: Beijing breathes easier
An Olympic legacy and fiscal ills combine to give Beijing, China, the best air in nine years. CNN's John Vause reports
CNN: Warfare by remote
CNN's Nic Robertson reports on how unmanned aerial vehicles are revolutionizing war.
Subscribe to the CNN=Politics DAILY podcast at http://www.cnn.com/politicalpodcast.
And now stay posted on the latest from the campaign trail by downloading the CNN=Politics SCREENSAVER at http://www.CNN.com/situationroom.