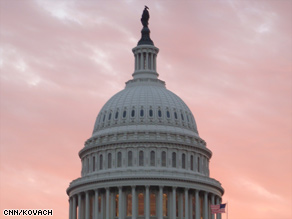 The CNN Washington Bureau's morning speed read of the top stories making news from around the country and the world.
WASHINGTON/POLITICAL
For the latest political news: www.CNNPolitics.com.
CNN: House Democratic leaders: No health vote before August recess
House Democratic leaders conceded Monday that concerns raised by fiscally conservative Democrats known as Blue Dogs will prevent the chamber from voting on a health care reform bill before its August recess begins at the end of the week.
CNN: New CBO study: Public health care option won't dominate system
House Democrats on Monday hailed a new report by the non-partisan Congressional Budget Office that they said proves Republicans are misinforming the public about the effects of health care reform.
CNN: Spokesman: Kennedy talking health care with Obama
Ailing Senator Ted Kennedy, trying to help push health care reform as he recovers at his Massachusetts home from brain cancer, is talking to President Obama about the legislation.
CNN: Bunning announces he won't seek re-election, takes shot at GOP
Sen. Jim Bunning, R-Kentucky, announced Monday he would not run for re-election in 2010, blaming GOP leaders for his campaign's struggle to gain traction and its poor fundraising performance over the last year.
First on the CNN Ticker: RNC commits nearly $1 million on health care campaign
The Republican National Committee will spend nearly $1 million on campaign activities over the next month in an effort to cast doubt on President Obama's proposal to reform health care, a GOP official tells CNN.
CNN: Obama to meet Thursday with professor, officer
A senior administration official said Henry Louis Gates Jr. and Sgt. James Crowley of the Cambridge, Massachusetts, Police Department will be visiting the White House Thursday.
CNN: Stepping aside, Palin vows to 'fight even harder'
As Sarah Palin handed over the Alaska governorship this weekend, the wear, tear and resentments of a year on the big stage were evident for the former GOP vice presidential candidate.
CNN: 'Don't ask, don't tell' to get Senate committee review
A key U.S. Senate committee will hold a hearing on the military's controversial "don't ask, don't tell" policy on gays and lesbians, according to Sen. Kirsten Gillibrand, a New York Democrat.