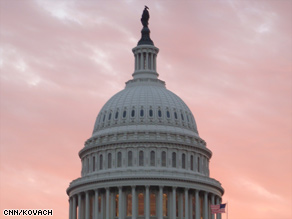 The CNN Washington Bureau's morning speed read of the top stories making news from around the country and the world.
WASHINGTON/POLITICAL
For the latest political news: www.CNNPolitics.com.
CNN: House Democratic leaders: No health vote before August recess
House Democratic leaders conceded Monday that concerns raised by fiscally conservative Democrats known as Blue Dogs will prevent the chamber from voting on a health care reform bill before its August recess begins at the end of the week.
CNN: New CBO study: Public health care option won't dominate system
House Democrats on Monday hailed a new report by the non-partisan Congressional Budget Office that they said proves Republicans are misinforming the public about the effects of health care reform.
CNN: Spokesman: Kennedy talking health care with Obama
Ailing Senator Ted Kennedy, trying to help push health care reform as he recovers at his Massachusetts home from brain cancer, is talking to President Obama about the legislation.
CNN: Bunning announces he won't seek re-election, takes shot at GOP
Sen. Jim Bunning, R-Kentucky, announced Monday he would not run for re-election in 2010, blaming GOP leaders for his campaign's struggle to gain traction and its poor fundraising performance over the last year.
First on the CNN Ticker: RNC commits nearly $1 million on health care campaign
The Republican National Committee will spend nearly $1 million on campaign activities over the next month in an effort to cast doubt on President Obama's proposal to reform health care, a GOP official tells CNN.
CNN: Obama to meet Thursday with professor, officer
A senior administration official said Henry Louis Gates Jr. and Sgt. James Crowley of the Cambridge, Massachusetts, Police Department will be visiting the White House Thursday.
CNN: Stepping aside, Palin vows to 'fight even harder'
As Sarah Palin handed over the Alaska governorship this weekend, the wear, tear and resentments of a year on the big stage were evident for the former GOP vice presidential candidate.
CNN: 'Don't ask, don't tell' to get Senate committee review
A key U.S. Senate committee will hold a hearing on the military's controversial "don't ask, don't tell" policy on gays and lesbians, according to Sen. Kirsten Gillibrand, a New York Democrat.
CNN: White House uses LinkedIn as a health care focus group
The White House seems to be giving all social networks an equal opportunity. During President Obama's weekly address (on YouTube and promoted on Twitter) he asked small business professionals to weigh into the health insurance reform debate on LinkedIn, a "professional" social network.
New York Times: Health Policy Now Carved Out at a More Centrist Table
On the agenda is the revamping of the American health care system, possibly the most complex legislation in modern history. But on the table, in a conference room where the bill is being hashed out by six senators, the snacks are anything but healthy.
New York Times: Dodd's Uneasy Dance With Drug Lobbyists
As Senator Christopher J. Dodd of Connecticut assumes a central role in the debate over health care, the pharmaceutical industry has helped finance efforts to bolster his image back home as he braces for a potentially bruising re-election contest.
Washington Post: S.C. Senator Is a Voice Of Reform Opposition
On the second floor of the Lexington Medical Center here, Burrell Best, 37, an electrical engineer, and his wife celebrated the birth of their second daughter and voiced fear about the government-run health-care plan being pushed by leading congressional Democrats: "I've just never been a government-takeover kind of guy."
Washington Post: Debate Focuses on A Satisfied Majority
With the Obama administration's top domestic priority struggling in Congress, supporters and opponents of the health-care proposals are focusing on the constituency that both sides agree has become pivotal to the debate: the majority of Americans who have health insurance and are generally satisfied with their care.
LA Times: Healthcare debate's next hurdle: abortion
With House leaders struggling to reach agreement on healthcare legislation, aiming toward a possible vote this week, a new hurdle has emerged: abortion.
NATIONAL
For the latest national news: www.CNN.com.
CNN: 'Multiple' failures led to Iraq electrocution, Pentagon says
A Green Beret sergeant was electrocuted in Iraq in 2008 because of failures by the U.S. military and a major defense contractor, which did not properly ground and inspect electrical equipment, according to a Pentagon report out Monday.
CNN: Source: Jackson's doctor gave drug authorities believe killed him
Michael Jackson's personal physician, Dr. Conrad Murray, administered a powerful drug that authorities believe killed the singer, a source with knowledge of the investigation confirmed to CNN on Monday.
CNN: 'Cash for clunkers' program under way
Federal authorities unveiled their $1 billion "cash for clunkers" plan Monday as a win for the environment, a win for automakers and a win for drivers who would like to trade up, but they acknowledged the program's impact is uncertain.
CNN: 7 in North Carolina charged with supporting terrorism
Federal authorities have charged seven men in North Carolina with supporting terrorism and conspiracy to commit murder abroad, the Justice Department announced Monday.
CNN: Suspect in Florida slayings to be extradited
One of seven suspects charged with murder in the deaths of a Florida couple will be extradited from Alabama to Florida to stand trial, authorities said Monday.
CNN: Co-pilot on fatal flight thought about not making trip
The co-pilot of a plane that crashed in Buffalo, New York, in February was feeling ill and had considered backing out of the flight, according to a cockpit voice recorder transcript released Monday by the National Transportation Safety Board.
CNN: U.S. students face second quarantine in China
A group of U.S. students touring China are gaining an experience they had not expected - a second round in quarantine following a positive test of the H1N1 flu virus, a chaperone for the group said.
CNN: Study: Better diabetes control pays off over decades
Regina Regazzi, a 38-year-old New Yorker, is one of the lucky ones. Found to have type 1 diabetes as a child, she has remained relatively free of complications and continues to lead a healthy, active lifestyle. In fact, this executive recruiter has even run several marathons.
CNN: Legendary choreographer Merce Cunningham dies
Choreographer Merce Cunningham, one of the most important figures in modern dance, has died at age 90, his dance company announced Monday.
New York Times: Jobless, and Willing to Help if a Hurricane Hits
Robert Tabler would rather be paid for his expertise in disaster management. But despite having a doctorate and much experience, Mr. Tabler could not find a job for most of the past year. So he worked for a time without pay at the Hillsborough County emergency operations center near his home in Tampa, Fla.
New York Times: In Tennessee Corner, Stimulus Meets New Deal
Critics elsewhere may be questioning how many jobs the stimulus program has created, but here in central Tennessee, hundreds of workers are again drawing paychecks after many months out of work, thanks to a novel use of federal stimulus money by state officials.
New York Times: In Study, Texting Lifts Crash Risk by Large Margin
The first study of drivers texting inside their vehicles shows that the risk sharply exceeds previous estimates based on laboratory research — and far surpasses the dangers of other driving distractions.
INTERNATIONAL
For the latest international news: http://edition.cnn.com/
CNN: In Havana, U.S. turns off sign critical of Cuban government
It was the U.S. government's version of the ticker in New York's Times Square, blasting Havana's main seaside strip with anti-Cuba slogans in 5-foot high crimson letters. It symbolized the tit-for-tat diplomatic row between Washington and Havana.
CNN: Obama seeks Iran response by September, Gates says
President Obama's offer to engage with Iran is not "open-ended," and he is "anticipating or hoping for" a response within the next two months, U.S. Defense Secretary Robert Gates said Monday.
CNN: Colombia: FARC arms traced to Venezuela
Shoulder-launched anti-tank weapons purchased by Venezuela have ended up in the hands of guerrillas, Colombian Vice President Francisco Santos said.
CNN: Nigeria: Scores die after battle with militants
As many as 150 people may have been killed as Islamic militants battled Nigerian government police and troops Sunday and Monday in the north-central part of the nation, officials said.
CNN: Britain hails 'success' of anti-Taliban push
A British-led military operation meant to clear the Taliban from parts of Afghanistan has succeeded, UK officials said Monday.
CNN: Saudi apologizes for TV sex boasts, reports say
A Saudi Arabian man who was arrested for bragging about his sex life on television has apologized for his comments while Saudi authorities discuss whether he should be charged with a crime, according to local media.
CNN: Contador – I will never admire Armstrong
Tour de France winner Alberto Contador has launched a stinging attack on Astana teammate Lance Armstrong after returning as a hero to his native town of Pinto near Madrid.
New York Times: In War and Isolation, a Fighter for Afghan Women
Everybody wants Pashtoon Azfar. Her government, American aid groups and her own colleagues, the midwives of Afghanistan, all want her to work for them, lead them, help them rebuild a health system from the rubble of war.
New York Times: Young Japanese Women Vie for a Once-Scorned Job
The women who pour drinks in Japan's sleek gentlemen's clubs were once shunned because their duties were considered immodest: lavishing adoring (albeit nonsexual) attention on men for a hefty fee.
New York Times: With Stubborn Unrest in Swat, Landowners Remain in Exile
Even as hundreds of thousands of people stream back to the Swat Valley after months of fighting, one important group is conspicuously absent: the wealthy landowners who fled the Taliban in fear and are the economic pillar of the rural society.
Washington Post: Iranian Leaders Urge Protections for Detained Protesters
Top Iranian leaders on Monday called for greater protection for opposition demonstrators arrested during this summer's protests after at least three were reported in recent days to have died in custody.
Washington Post: Another Rift Between Greece, Macedonia
Alexander the Great died more than 2,300 years ago. But his cult of personality is just starting to grip this tiny Balkan country.
Wall Street Journal: U.S. Woos Damascus by Easing Export Ban
The Obama administration has told Syria that it will work to ease U.S. sanctions against Damascus, as Washington intensifies its pursuit of détente with a longtime Middle East rival.
Wall Street Journal: Airports Queue to Fly to Cuba
U.S. airports are pressing the government to broaden the list of ports of entry allowed to handle flights to and from Cuba, even though the White House is proceeding cautiously with changes in travel policy.
BUSINESS
For the latest business news: www.CNNMoney.com.
CNNMoney: Stanford feels the heat in Texas jail
Allen Stanford, the Texas financier accused of a $7 billion fraud, should be transferred to another detention facility because there has been no air conditioning in the jail cell where he is being held, his lawyer said in a court filing.
CNNMoney: GDP: Don't believe the hype
This question seemed unthinkable to ask just a few months ago, but here goes: Did the economy actually grow during the past three months?
Washington Post: Foreclosures Are Often In Lenders' Best Interest
Government initiatives to stem the country's mounting foreclosures are hampered because banks and other lenders in many cases have more financial incentive to let borrowers lose their homes than to work out settlements, some economists have concluded.
Washington Post: Small Banks at Center of Overhaul Debate
While the country's biggest banks have taken much of the blame for the economic crisis, the fate of the Obama administration's efforts to overhaul regulation of the financial industry could rest in the hands of thousands of small local banks, which have remained out of the national spotlight.
Washington Post: SEC Moves To Limit Short Sales Of Stocks
The Securities and Exchange Commission on Monday announced a pair of measures that aim to quell concerns that speculators are driving down share prices through improper short selling.
Washington Post: Senator Urges Scrutiny of Ticketmaster Deal
A key lawmaker on Monday urged more scrutiny by regulators over a proposed merger between concert ticketing giant Ticketmaster and producer Live Nation, saying it presented "serious competition concerns."
In Case You Missed It
To watch the latest interviews and reporting: http://www.cnn.com/video.
CNN: Quarantined in China again
St. Mary's School teacher Scott Dewing tells CNN about his group's being under quarantine in China for a second time.
CNN: Taliban hard to uproot
Is the Taliban on the run? Or will its leadership feed back into a network of terror? CNN's Stan Grant reports.
Subscribe to the CNN=Politics DAILY podcast at http://www.cnn.com/politicalpodcast.
And now stay posted on the latest from the campaign trail by downloading the CNN=Politics SCREENSAVER at http://www.CNN.com/situationroom.