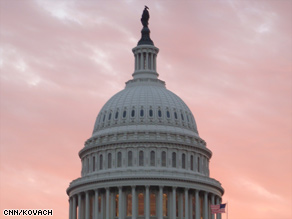 The CNN Washington Bureau's morning speed read of the top stories making news from around the country and the world.
WASHINGTON/POLITICAL
For the latest political news: www.CNNPolitics.com.
CNN: N. Korea confirms Bill Clinton arrival
Former U.S. President Bill Clinton landed in North Korea early Tuesday on a mission to negotiate the release of two American journalists imprisoned there since March, according to the country's state news agency and a CNN source.
CNN: White House steadfast on pledge of no middle-class tax increase
The White House shot down concerns Monday that middle-class families may face a tax increase in order to combat rising deficits and a struggling economy.
CNNMoney: Obama's tax promise: Too tall an order
The middle class may have to pay more in taxes. That was the media's takeaway from comments made Sunday by Treasury Secretary Tim Geithner.
CNN: Palin gives 'stirring' gun rights speech at NRA dinner, says group
She's gone Twitter-silent since leaving office last week – but former Alaska governor Sarah Palin has spoken out publicly for the first time since her resignation, according to the nation's largest gun rights group.
CNN: Clinton's trip to Africa her biggest yet
Secretary of State Hillary Clinton is embarking on her biggest international trip yet: Africa. Seven countries in 11 days. Issues as diverse as economic entrepreneurship and gender-based violence.
CNNMoney: Cash for Clunkers bill in Senate's hands
The popular Cash for Clunkers program faces extinction unless the Senate passes a bill approving additional funding.
CNN: McCain to vote against Sotomayor
After days of indecision, Sen. John McCain announced Monday he will oppose the nomination of Judge Sonia Sotomayor to the Supreme Court.
CNN: Bill Clinton: GOP 'at it again' in health care debate
It's apparently deja vu all over again for former President Bill Clinton.
CNN: Jury ends day of deliberations over former lawmaker
Jurors in the corruption trial of former U.S. Rep. William Jefferson of Louisiana ended their second day of deliberations without a verdict Friday, said a spokesman for the U.S. attorney's office in Alexandria, Virginia.
New York Times: Off the Bench, Souter Leaves Farmhouse Behind
When he retired from the Supreme Court in June, it was expected that Justice David H. Souter would return to his beloved family farmhouse in Weare, N.H., a rustic abode with peeling brown paint, rotting beams and plenty of the solitude he desired.
New York Times: Staying Tough in Crackdown on Immigrants
After early pledges by President Obama that he would moderate the Bush administration's tough policy on immigration enforcement, his administration is pursuing an aggressive strategy for an illegal-immigration crackdown that relies significantly on programs started by his predecessor.
Washington Post: Strategy On Flu Under Revision
The Obama administration is finalizing guidelines that would scale back when the federal government recommends closing schools in response to the swine flu pandemic, several people involved in the deliberations said Monday.
Washington Post: Dueling Public Interests In Policing Rescued Firms
Late last month, the Securities and Exchange Commission was poised to file suit against a subsidiary of Alabama-based Regions Financial for selling nearly $1 billion in troubled investments.
Wall Street Journal: White House Counsel's Job at Stake
Obama administration officials are holding discussions that could result in White House counsel Gregory Craig leaving his post, following a rocky tenure, people familiar with the matter said.
LA Times: Obama gives powerful drug lobby a seat at healthcare table
As a candidate for president, Barack Obama lambasted drug companies and the influence they wielded in Washington. He even ran a television ad targeting the industry's chief lobbyist, former Louisiana congressman Billy Tauzin, and the role Tauzin played in preventing Medicare from negotiating for lower drug prices.
Kansas City Star: Brownback: Kansas doesn't want Guantanamo detainees
Led by Kansas Republican Sen. Sam Brownback, national, state and local leaders came together in Leavenworth Monday to once again oppose transferring detainees from Guantanamo Bay, Cuba, to Fort Leavenworth, Kans.
NATIONAL
For the latest national news: www.CNN.com.
CNN: Arrest made in death of Nazi concentration camp survivor
A Bronx woman has been charged with murder and robbery in the death of an 89-year-old Nazi concentration camp survivor, and police said a man is still being sought in connection with the death.
CNN: 3 gay priests on short list for Episcopal bishop posts
Episcopal churches in California and Minnesota moved toward appointing gay bishops over the weekend, less than a month after the denomination lifted a self-imposed freeze on promoting openly gay clergy into the top ranks of the church.
CNN: Stimulus money pays fishermen to snare lost nets
When commercial diver Kenny Woodside takes to the depths, he enters a world of murky low light and dangerous currents.
CNN: Apnea, early starts blamed in Hawaii pilots' nap
A pilot's sleep disorder and a string of early mornings helped cause the crew of a commuter jet to fall asleep during a flight over Hawaii in 2008, federal investigators reported Monday.
CNN: Alumna sues college because she hasn't found a job
A recent college graduate is suing her alma mater for $72,000 - the full cost of her tuition and then some - because she cannot find a job.
New York Times: Income Loss Persists Long After Layoffs
Chuck Dettman said he had not really considered the notion back in 2001 that he and his friends in a job-search support group would never recover from being laid off.
New York Times: Oysters Are on the Rebound in the Chesapeake Bay
After decades of overharvesting of oysters in the Chesapeake Bay and many fruitless efforts to replenish them, scientists have re-established a significant population of the shellfish along the Virginia shore.
Washington Post: Va., N.Y. Districts Vie for 9/11 Case
The U.S. attorney's offices in Alexandria and Manhattan are embroiled in intense competition over the opportunity to prosecute Khalid Sheik Mohammed, the self-proclaimed mastermind of the Sept. 11, 2001, attacks, and his co-conspirators, according to Justice Department and law enforcement sources.
USA TODAY: New campaign aims to promote black child adoption
Rosemary Armstrong fondly recalls the first time she met her daughter Micayla, then 2, at her foster home.
Wall Street Journal: Buzz Kill? Critics Target Alcohol-Caffeine Drinks
State attorneys general and health-advocacy groups are urging the federal government to more closely regulate caffeinated alcoholic drinks, a small but fast-growing category popular among younger drinkers.
LA Times: Afghanistan ride-a-long with Gen. Stanley McChrystal
As Army Gen. Stanley A. McChrystal's helicopter flies over the steep mountains and deep valleys of Afghanistan, he gazes at a remote village below. Mud huts cling to the side of the peaks like barnacles. They are barely accessible by road.
INTERNATIONAL
For the latest international news: http://edition.cnn.com/
CNN: Protests in Iran as Ahmadinejad endorsed
Hundreds of Iranians took to the streets here Monday night, hours after the country's supreme leader endorsed President Mahmoud Ahmadinejad for a second term in office.
CNN: Israel defends Jerusalem evictions
Israel moved to defend itself in the face of international criticism Monday over its eviction of dozens of Palestinian families from a neighborhood of Jerusalem they have lived in for generations.
CNN: Australia: Alleged terrorist plot foiled
Four suspects accused of planning to carry out a terrorist attack on a military base in Australia were arrested in early morning busts across Melbourne on Tuesday, authorities said.
CNN: Three detained U.S. hikers share love of travel, learning
One is a freelance journalist who intended to cover elections in Iraq's Kurdistan region. Another also has been trying her hand at reporting, and the third is a friend who shared their love of travel.
CNN: Al Qaeda No. 2 slams Obama's first months in office
Al Qaeda's second-in-command has accused President Obama of supporting a Palestinian state that would do the bidding of Israel.
CNN: New NATO chief warns of Afghan 'terror Grand Central'
NATO will stay in Afghanistan "for as long as it takes," the military alliance's new leader said in Brussels, Belgium, Monday.
CNN: Mexican police arrest 34 drug cartel suspects
Mexican federal police say they arrested 34 men suspected of belonging to a ruthless drug cartel blamed for a rash of violence that left at least 18 federal agents and two soldiers dead since July 11.
CNN: Ahmadinejad may face bumpy 2nd term
Four years ago, Supreme Leader Ayatollah Ali Khamenei kissed Mahmoud Ahmadinejad on the cheek before he was sworn in as Iran's new leader.
New York Times: Fears of Fraud Cast Pall Over Afghan Election
Little more than three weeks before the presidential election, problems that include insecurity and fears of fraud are raising concerns about the credibility of the race, which President Obama has called the most important event in Afghanistan this year.
New York Times: Giant Particle Collider Fizzles
The biggest, most expensive physics machine in the world is riddled with thousands of bad electrical connections.
New York Times: Iraq Censorship Laws Move Ahead
The doors of the communications revolution were thrown open in Iraq after the American-led invasion in 2003: In rushed a wave of music videos featuring scantily clad Turkish singers, Web sites recruiting suicide bombers, racy Egyptian soap operas, pornography, romance novels, and American and Israeli news and entertainment sites that had long been blocked under Saddam Hussein's rule.
New York Times: New U.S.-Israeli Crime Ring Detailed
An American-Israeli crime ring conspired to defraud United States tax authorities of tens of millions of dollars for at least five years, according to Israeli and American court documents filed Monday.
BUSINESS
For the latest business news: www.CNNMoney.com.
CNNMoney: BofA to pay $33M fine over Merrill bonuses
The Securities and Exchange Commission filed charges Monday against Bank of America for misleading investors about billions of dollars in bonuses paid to top executives at Merrill Lynch following its purchase of the brokerage giant.
CNNMoney: TARP watchdog raids 2 banks
Federal agents in Florida on Monday raided two banks that last week scuttled a deal that would have qualified one of them for federal bailout funds.
New York Times: Keeping Their Eggs in Their Backyard Nests
As Americans struggle through a dismal recession, many are trying to safeguard themselves from what they fear will be even worse times ahead. They eat out less often. They take vacations closer to home. They put off buying new cars.
New York Times: New Leader Tries to Get Toyota Back on the Road
General Motors, Ford and Chrysler are not the only ones working through wrenching restructurings. Toyota is, as well, though with a much lower profile.
Wall Street Journal: Latest Starbucks Buzzword: 'Lean' Japanese Techniques
Starbucks Corp. built its business as the anti-fast-food joint. Now, the recession and growing competition are forcing the coffeehouse giant to see the virtues of behaving more like its streamlined competitors.
In Case You Missed It
To watch the latest interviews and reporting: http://www.cnn.com/video.
CNN: Wedding dance divorce
Is the wedding dance couple of YouTube fame headed for divorce already? Only if you believe in parodies, says Jeanne Moos.
CNN: Dog attacks own reflection
A dog named 'Rambo' crashes into its own reflection in the mirror. Jarrett Bellini has your Daily Distraction.
Subscribe to the CNN=Politics DAILY podcast at http://www.cnn.com/politicalpodcast.
And now stay posted on the latest from the campaign trail by downloading the CNN=Politics SCREENSAVER at http://www.CNN.com/situationroom.