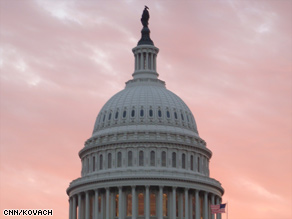 The CNN Washington Bureau's morning speed read of the top stories making news from around the country and the world.
WASHINGTON/POLITICAL
For the latest political news: www.CNNPolitics.com.
CNN: U.S. journalists head home from North Korea
Two U.S. journalists who had been detained by North Korea were traveling back to the United States with former President Clinton hours after being pardoned, a Clinton spokesman said.
CNN: Analysis: Clinton to North Korea - a matter of respect
Former President Clinton's trip to North Korea was the culmination of weeks of quiet diplomacy with Pyongyang and subtle public statements aimed at freeing American journalists Laura Ling and Euna Lee.
CNN: In post-presidency, Clinton shows no signs of slowing down
Nearly a decade has passed since Bill Clinton left the White House, but despite becoming a private citizen, the former president never left the public eye.
CNN: Senate Democrats optimistic on health care after Obama talk
After a "pep talk" from President Obama, Senate Democrats said Tuesday they believe Congress will pass a bipartisan health care bill this year.
CNN: Democrats accuse GOP of inciting mobs
The Democratic National Committee will amplify its charge that Republicans are responsible for "inciting angry mobs of a small number of rabid right wing extremists … to disrupt" town hall meetings in a new 65 second Web video that will release Wednesday morning.
CNN: Senate passage of cash for clunkers now likely
The Senate will okay new funding for the "cash for clunkers" program before leaving this week for the August recess, Senate leaders from each party predicted Tuesday, clearing the way for the surprisingly popular program to continue uninterrupted.
CNN: Senate begins final Sotomayor debate
The full Senate began deliberations Tuesday afternoon on the nomination of federal Judge Sonia Sotomayor to become the nation's first Hispanic Supreme Court justice.
CNN: Poll: Did Obama's reaction to Gates arrest hurt him?
A new national poll indicates that white and black Americans don't see eye to eye on last month's arrest of Harvard University professor Henry Louis Gates.
CNN: Read his lips: Does tax pledge put Obama on shaky ground?
"Read my lips: No new taxes." That famous phrase from George H.W. Bush came as he accepted his party's presidential nomination at the Republican National Committee convention in 1988.
CNN: White House launches counteroffensive over Drudge Report link
New president, old headline: the White House fired back at the Drudge Report Tuesday, part of a fresh "viral" pushback over what it called a "campaign of misstatements and outright falsehoods" on health care.
CNN: Commentary: More troops needed for Afghan war
CNN's Barbara Starr reported last week that Gen. Stanley McChrystal, the top U.S. commander in Afghanistan, is expected to ask the Obama administration for additional troops and equipment for conducting intelligence, surveillance and reconnaissance, as well as more military resources to deal with roadside bombs and explosives.
CNN: Stimulus debate rolls on in Virginia governor's race
When the Republican-controlled Virginia House of Delegates voted in April to reject $125 million in stimulus funding for unemployment benefits, they guaranteed that the ideological fight over the federal money would spill over into this year's closely-watched governor's race.
CNN: Sestak officially launches primary challenge
Rep. Joe Sestak officially declared his candidacy for the the Democratic Senate nomination in Pennsylvania Tuesday, setting up a primary season showdown with incumbent Sen. Arlen Specter.
New York Times: For Health Insurers' Lobbyist, Good Will Is Tested
For the insurance industry, long an opponent of health care reform, it was a striking change: with a new administration coming to Washington, insurers agreed to abandon some of their most controversial practices, like denying coverage to applicants with pre-existing medical conditions.
POLITICO: Democrats' break looking like a bad trip
Angry protesters shouted down Democrats at public events from Texas to Pennsylvania over the weekend, leaving the party only one real hope for getting its message out over recess: a backlash.
Washington Post: Leadership Vacancy Raises Fears About USAID's Future
As Secretary of State Hillary Rodham Clinton begins a seven-country African trip with a visit to Kenya, the main U.S. foreign aid agency is in limbo, entering its seventh month without a permanent director despite pledges by the Obama administration to expand development assistance and improve its effectiveness in poor countries.
Washington Post: Leahy Blocks Positive Report on Mexico's Rights Record
A key senator rejected a State Department plan to issue a report this week affirming that Mexico is respecting human rights in its war against drug traffickers, delaying the release of millions of dollars in U.S. anti-narcotics assistance, according to U.S. officials and congressional sources.
LA Times: Obama returning to Elkhart County, Ind., land of recession and rebound
He keeps coming back, as if magnetically drawn to some ore of truth here.
NATIONAL
For the latest national news: www.CNN.com.
CNN: At least 5 die in gym shooting near Pittsburgh
A shooting at an LA Fitness gym outside Pittsburgh, Pennsylvania, killed at least five people and wounded several others, a local official told CNN.
CNN: N.C. terror suspects had arms, ammo, FBI 'playbook,' agent says
Men arrested last week on suspicion of plotting a "violent jihad" overseas had weapons, thousands of rounds of ammunition and $13,000 cash in their home, an FBI agent testified in court Tuesday.
CNN: Ex-guards' statements implicate Blackwater founder in Iraq crimes
Two former Blackwater employees have made statements against Blackwater Worldwide and its founder Erik Prince, accusing the security company and its former CEO of murder and other serious crimes in Iraq, according to court documents filed this week.
CNN: Police: Driver in N.Y. wreck that killed 8 was intoxicated
The driver responsible for a head-on collision that killed eight people - including herself and four children - on the Taconic State Parkway north of New York City last week was drunk and impaired by marijuana, authorities said.
CNN: Accidents prompt summit on distracted driving
The Obama administration is calling together a wide range of officials next month to address how to end accidents caused by distracted motorists.
CNN: $126 million fraud lands former executive a 100-year sentence
The scope of the investor fraud perpetrated by convicted business executive Edward Okun may not compare to the massive ponzi scheme operated by Bernie Madoff, but his sentence handed down Tuesday does.
CNN: Naomi Sims, pioneering black model, dies at 61
Naomi Sims, one of the world's first black supermodels, has died at the age of 61 after a battle with breast cancer, according to her family.
CNN: Man arrested in connection with ex-boxing champ's slaying
A man has been arrested in connection with the July shooting death of former boxing champion Vernon Forrest, Atlanta police said Tuesday night.
New York Times: California Prisons Must Cut Inmate Population
A panel of federal judges ordered the California prison system on Tuesday to reduce its inmate population of 150,000 by 40,000 — roughly 27 percent — within two years.
USA TODAY: Homeland security chief: Flu will get jump on vaccine
Homeland Security Secretary Janet Napolitano said Tuesday that pandemic flu probably will flare up soon after schools open in the fall, before vaccine is available.
INTERNATIONAL
For the latest international news: http://edition.cnn.com/
CNN: Scientists study 'garbage patch' in Pacific Ocean
It is a problem of massive plastic proportions - a giant floating debris field, composed mostly of bits and pieces of plastic, in the northwest Pacific Ocean, about a thousands miles off the coast of California.
CNN: Official: Wreckage of missing Indonesian plane believed found
Authorities have identified what is believed to be the wreckage of a Merpati Nusantara Airlines plane that disappeared shortly after takeoff in eastern Indonesia over the weekend.
CNN: Indian police accused of torture
Police in India summarily execute prisoners, torture and threaten suspects and arrest people without reason, a leading rights group said Tuesday.
CNN: Protests as Sudan 'tight pants' trial delayed
Scores of protesters gathered outside a Sudanese courtroom Tuesday as the trial of a woman who faces 40 lashes for wearing clothes deemed indecent was postponed.
CNN: Iran confirms U.S. hikers arrested for 'illegal entry'
Iran confirmed Tuesday the arrest of three American hikers who crossed into the country from neighboring Iraq and said they have been charged with "illegal entry," a semi-official news agency reported.
New York Times: New Symbol of Unhealed Congo: Male Rape Victims
It was around 11 p.m. when armed men burst into Kazungu Ziwa's hut, put a machete to his throat and yanked down his pants. Mr. Ziwa is a tiny man, about four feet, six inches tall. He tried to fight back, but said he was quickly beaten down.
New York Times: Russian Subs Patrolling Off East Coast of U.S.
A pair of nuclear-powered Russian attack submarines has been patrolling off the eastern seaboard of the United States in recent days, a rare mission that has raised concerns inside the Pentagon and intelligence agencies about a more assertive stance by the Russian military.
New York Times: Abbas Urges 'New Start' at Fatah Conference
The mainstream Palestinian movement Fatah came together here on Tuesday for a landmark three-day gathering, its first in 20 years and its first ever on Palestinian soil.
BUSINESS
For the latest business news: www.CNNMoney.com.
CNNMoney: It's still cool to be cheap
Will this newfound culture of thrift soon be a distant memory?
New York Times: New York Seeks Millions in Tax From Lehman
Ever since Lehman Brothers filed for bankruptcy last September, creditors have been lining up to get their share, from a $233 million claim from a former employee for deferred compensation to one for $160 for a bounced check from the American Red Cross in Millburn, N.J.
New York Times: India Gets Caught Short as Sugar Prices Soar
Sanjay Gujar's family has raised sugar cane for generations. But last year, after sugar prices fell by more than 40 percent, he replanted his six acres here in the sugar bowl of India with bananas.
Washington Post: Bank Balances Shift With Rule Changes
A controversial change in accounting rules earlier this year has allowed banks to claim billions of dollars in additional earnings simply by tweaking their bookkeeping, greatly enhancing the appearance that the industry is returning to health.
In Case You Missed It
To watch the latest interviews and reporting: http://www.cnn.com/video.
CNN: 'Health Care In Focus' special
CNN's team of photojournalists explore the health care debate as seen through the eyes of real Americans.
CNN: Obama the joker
President Obama transformed into The Joker. CNN's Jeanne Moos reports not everyone is laughing.
Subscribe to the CNN=Politics DAILY podcast at http://www.cnn.com/politicalpodcast.
And now stay posted on the latest from the campaign trail by downloading the CNN=Politics SCREENSAVER at http://www.CNN.com/situationroom.