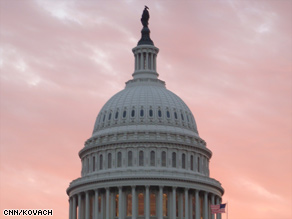 The CNN Washington Bureau's morning speed read of the top stories making news from around the country and the world.
WASHINGTON/POLITICAL
For the latest political news: www.CNNPolitics.com.
CNN National Report Card: President Obama
During his first 200 days in office, President Obama has acted on a wide range of issues, from the economy to terrorism, and addressed wars in Afghanistan and Iraq. Over the next 100 days, Obama's plans for health care reform and an energy "cap and trade" program hang in the balance.
CNN National Report Card: The media
President Obama has held four televised prime-time news conferences, sat for dozens of interviews and appeared on countless magazine covers. His constant media presence has caused some to ask if the president is overexposed, and if journalists have been too critical – or not critical enough – of his performance.
CNN National Report Card: Republican leadership
Decimated by the 2008 elections, the Republican Party has had to find a way to contend with minority status in both houses of Congress. The GOP's biggest challenge: to defy a far more popular president's broad an ambitious agenda without seeming obstructionist.
CNN National Report Card: Congress
Congress, controlled by Democrats, is debating health care reform legislation, and may vote on a bill by year's end after missing the original August deadline requested by President Obama.
CNN National Report Card: Your senators
As states across the country grappled with high unemployment rates, budget shortfalls and foreclosures, Congress passed the Obama administration's stimulus plan to provide some economic relief.
CNN National Report Card: Vice President Biden
Vice President Biden plays a main role in promoting the Obama administration's economic agenda. He's also caused the administration some embarrassment with several high-profile gaffes.
CNN National Report Card: Secretary of State Clinton
Hillary Clinton has traveled to Asia, Europe, the Mideast and Mexico, and administration officials say she plays a key role in directing policy on China, Russia and North Korea.
CNN National Report Card: Foreign affairs
President Obama inherited two wars and other global crises around the world. During his first 200 days, he has increased the number of U.S. troops in Afghanistan, and announced plans to withdraw most of the American military presence from Iraq by August of next year
CNN National Report Card: Health care
President Obama pushed for the passage of a health care reform bill by the August recess that would attempt to curb surging medical costs and provide coverage for uninsured Americans, but that deadline was pushed back amid concerns raised by Republican lawmakers and some fiscally conservative Democrats who say they're wary of its cost.
CNN National Report Card: The economy
Obama administration officials and Federal Reserve Chairman Ben Bernanke say the economy is showing signs of stabilizing. Yet unemployment in many states continues to rise, and there are few indicators to restore confidence in the broader economy.
CNN: Steele: Obama's first 200 days a reckless experiment
Friday marks President Obama's 200th day in office, and in most respects, his second hundred days as president have been worse than the first 100.
CNN: Senate confirms Sonia Sotomayor for Supreme Court
Judge Sonia Sotomayor, who rose from the housing projects of the Bronx to the top of the legal profession, made history Thursday when the Senate confirmed her to become the nation's first Hispanic Supreme Court justice.
CNN: Senate passes 'Cash for Clunkers' measure
The Senate voted Thursday night to extend the "Cash for Clunkers" program with an infusion of $2 billion.
CNN: Obama on Day 200: 'Incline is not as steep,' official says
If the White House was downplaying President Obama's first 100 days, it's downright ignoring the second hundred.
CNN: Jury hits ex-congressman with $470,000 forfeiture
The jury that convicted former U.S. Rep. William Jefferson on 11 counts of corruption said Thursday that he should forfeit almost half a million dollars in assets derived from criminal activity.
CNN: Analysis: Bill Clinton as a diplomatic fix-it man
It was a heartwarming sight: Laura Ling and Euna Lee landing on U.S. soil and being reunited with their families.
CNN: Ron Paul's son following in father's footsteps
The phrase "like father, like son" is ringing true for Texas Rep. Ron Paul.
CNN: Start spreading the news: Palin in New York
Sarah Palin, who has kept a relatively low profile immediately after stepping down as Alaska governor, stepped back into the limelight with a visit to the media capital of the country.
New York Times: With Jobs Data Due, Experts See Some Lift From Stimulus
Even as the Obama administration braces for another grim report about job losses on Friday, economists say that the president's $787 billion stimulus package has helped blunt the downturn in limited but discernible ways.
Washington Post: A $191 Million Question
He called her Princess. She called him Bubba. They got together whenever they could, sailing on the Chesapeake Bay, traveling to business conferences, taking long walks. They exchanged e-mails night and day.
Washington Post: Mortgage Giants' Revamp Disputed
The White House on Thursday played down internal discussions of creating a government-backed "bad bank" to take hundreds of billions of dollars in troubled loans off the books of mortgage-finance giants Fannie Mae and Freddie Mac.
Washington Post: UPS Employees Say They Were Forced to Lobby Against FedEx
In an increasingly bitter Washington battle between the nation's two largest shipping companies, some unionized UPS workers say they are being forced to write letters to their lawmakers in support of more stringent labor rules for arch rival FedEx.
Wall Street Journal: Doubt Raised on Gitmo Closing Date
The Obama administration's counterterrorism chief appeared to provide the first indication the administration may not make its January deadline for closing the prison at Guantanamo Bay in remarks Thursday that aimed to outline a new path for combating terrorism.
NATIONAL
For the latest national news: www.CNN.com.
CNN: Soldier's invisible war: Iraq vet charged with attempted murder
Army Spc. Thomas Delgado saved lives as a combat medic on the front lines in Iraq, earning a Purple Heart when a bomb rocked his vehicle during his nearly yearlong tour. Back home, he was sometimes assigned the role of insurgent during combat training at a mock Iraqi village in California.
CNN: Man accused of writing bad checks to Florida slaying victim
Police in Escambia County, Florida, questioned a man in connection with the July slayings of a couple known for adopting special-needs children, a spokeswoman said Thursday night.
CNN: 'Sixteen Candles,' 'Breakfast Club' director Hughes dead at 59
John Hughes, the producer, writer and director whose 1980s films such as "Sixteen Candles," "The Breakfast Club" and "Some Kind of Wonderful" offered a sharp-eyed look at teenagers and their social habits, has died, according to a statement from his representative. He was 59.
CNN: Airline exec: Pilot on fatal flight shouldn't have been flying
An airline executive whose plane crashed earlier this year said although the pilot was "a fine man by all accounts," had the airline "known what we know now ... he would not have been in that seat."
CNN: Husband of driver in fatal crash: 'I've never seen her drunk'
The husband of a woman who authorities say was impaired by marijuana and alcohol when she caused a head-on collision that killed eight people, including herself, has rejected claims of substance abuse by his wife.
CNN: Buy-American vs. safety makes for battle over military uniforms
U.S. troops routinely face the threat of roadside bombs while fighting insurgencies in Afghanistan. They need the most protective clothing the market can bear, and they're getting it - for now.
CNN: Illinois to ban texting while driving
Illinois will become the 17th state on Thursday to ban texting while driving, a safety worry that has caught the attention of the federal government.
New York Times: Another Hurdle for the Jobless: Credit Inquiries
Digging out of debt keeps getting harder for the unemployed as more companies use detailed credit checks to screen job prospects.
INTERNATIONAL
For the latest international news: http://edition.cnn.com/
CNN: Pakistani Taliban leader possibly killed by U.S.
Pakistani Taliban leader Baitullah Mehsud may have been killed in a U.S. drone attack, a U.S. official said Friday.
CNN: Los Zetas called Mexico's most dangerous drug cartel
The dead always tell a story. And in Mexico that story is the fight for the right to meet U.S. demand for illegal drugs - a war becoming more violent and ruthless, mostly because of one group.
CNN: Typhoon Morakot nears Taiwan
Typhoon Morakot bore down on Taiwan Friday, packing 89 mph (143 kph) winds and threatening to soak the entire island when it makes landfall Saturday morning, Taiwan's Central Weather Bureau said.
CNN: Clinton says trial shows Iran 'is afraid of its own people'
Iran's trial of more than 100 people who it has linked to post-election unrest is a "sign of weakness" and shows that the Islamic republic "is afraid of its own people," U.S. Secretary of State Hillary Clinton told CNN Thursday.
CNN: Pakistan launches global manhunt for Mumbai suspects
Pakistan has launched a global manhunt for 13 fugitives wanted in connection with last year's terror attacks on the Indian financial capital of Mumbai.
CNN: Sister: Journalists crossed into N. Korea
Two U.S. journalists pardoned and freed by North Korea did cross illegally into that country, the sister of one of the women said.
CNN: Police publish child porn clips to catch suspect
A suspected pedophile surrendered to police after German law enforcement published clips from videos of child pornography allegedly showing the man.
New York Times: Iraqis Freed by U.S. Face Few Jobs and Little Hope
One day in early February, after a year and a half in various American detention centers, detainee No. 318360 was handed a letter that he was to give to his mother.
New York Times: White House Struggles to Gauge Afghan Success
As the American military comes to full strength in the Afghan buildup, the Obama administration is struggling to come up with a long-promised plan to measure whether the war is being won.
Washington Post: Nicotine-Loving Iraqis Deride Smoking-Ban Plan
This is a country of frazzled nerves and nicotine, where deals are struck and conspiracy theories hatched in the smokiest of rooms.
Washington Post: In a Changing Somalia, Islamist Forces See Support Wane
After a decade of U.S. concern that Somalia could become a base for terrorists bent on launching attacks across the region, many analysts say that al-Qaeda's Somali sympathizers are at their weakest, and perhaps also at their most dangerous, point in years.
Washington Post: Worldwide Slump Makes Nigeria's Online Scammers Work That Much Harder
Online swindling takes dedication even in the best of times, the scammer said earnestly.
Christian Science Monitor: Chávez rages at US plan to boost antidrug ops in Colombia
South America's left-right ideological tensions are flaring once again, this time over a US military plan to beef up its presence in Colombia.
BBC: Georgians still displaced by war
Some 30,000 people remain displaced one year after the war between Russia and Georgia over the South Ossetia region, a leading human rights agency reports.
BUSINESS
For the latest business news: www.CNNMoney.com.
CNNMoney: Judging Obama's driving record
President Obama ended his first 100 days in office amid hopes that both General Motors and Chrysler Group might both still avoid bankruptcy. In his second 100 days, he created a new U.S. auto industry.
CNNMoney: Fannie Mae needs another $10.7B in federal aid
Fannie Mae, the government-controlled mortgage insurer, said Thursday that it needs another $10.7 billion from the Treasury Department to stay afloat.
In Case You Missed It
To watch the latest interviews and reporting: http://www.cnn.com/video.
CNN: Iraq refugee starts new life
BackStory's friend and CNN Baghdad security consultant, Hamdi, moves his family to the U.S. from Iraq.
Subscribe to the CNN=Politics DAILY podcast at http://www.cnn.com/politicalpodcast.
And now stay posted on the latest from the campaign trail by downloading the CNN=Politics SCREENSAVER at http://www.CNN.com/situationroom.