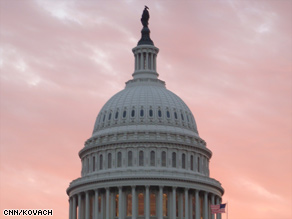 The CNN Washington Bureau's morning speed read of the top stories making news from around the country and the world.
WASHINGTON/POLITICAL
For the latest political news: www.CNNPolitics.com.
CNN: King: Will retailers deliver good news this week?
Interesting tests for President Obama on the world and domestic stages top the look at the week ahead, but the nation's political mood could be shaped just as much by the earnings reports from a few big retailers.
CNN: Obama in Mexico for North American summit
President Obama arrived Sunday evening in Guadalajara, Mexico's second-largest city, for a day and a half of talks with Mexican President Felipe Calderon and Canadian Prime Minister Stephen Harper.
CNN: Sotomayor takes oath, becomes Supreme Court justice
Sonia Sotomayor, who rose from humble roots in a Bronx, New York, housing project to a high-powered legal career, was sworn in Saturday as the 111th justice of the U.S. Supreme Court.
CNN: Durbin on town hall chaos — 'This is clearly being orchestrated'
The Senate's second-ranking Democrat slammed recent town hall protests Sunday as organized disruptions of the democratic process.
CNN: Dean on Palin's health care claims: 'She made that up'
Former Democratic National Committee Chairman Howard Dean told CNN Sunday that former Alaska Gov. Sarah Palin had deliberately made up charges that the Obama administration's health care bill would lead to euthanasia.
CNN: SOTU: I'm ready to battle Sestak 'toe to toe,' says Specter
Democrats are headed for a tough primary fight in Pennsylvania, Sen. Arlen Specter said Sunday, telling CNN he was ready to go "toe to toe" with primary opponent Rep. Joe Sestak.
CNN: Jones: U.S. believes Pakistani Taliban leader dead
The United States believes Pakistani Taliban leader Baitullah Mehsud was killed in a drone attack, the president's national security adviser said Sunday.
CNN: SOTU: Rice won't rule out troubleshooting role for Bill Clinton
U.S. Ambassador to the United Nations Susan Rice said that the Obama administration was pleased with the result of former President Bill Clinton's private mission that resulted in the release of American journalists Laura Ling and Euna Lee – and wouldn't rule out bringing him back on board in a more official role in the future.
CNN: Eunice Kennedy Shriver hospitalized
Eunice Kennedy Shriver, sister of President Kennedy, is in critical but stable condition in a Massachusetts hospital with her family at her side, her family said Friday.
New York Times: Effort to Rein in Pay on Wall Street Hits New Hurdle
A guaranteed bonus might strike many people as a contradiction in terms. But on Wall Street, banks have become so eager to lure and keep top deal makers and traders that they are reviving the practice of offering ironclad, multimillion-dollar payouts — guaranteed, no matter how an employee performs.
Washington Post: Key Democrat Feels the Heat After Voting for House Plan
"The war's on," says Rep. Baron P. Hill, and he's not talking about a conflict overseas, but a battle over health care in his own back yard, where thousands of people are trying to tell him what to do, some not so nicely.
Wall Street Journal: Opposition Emerges to House's Jet Spree
Bipartisan opposition is emerging in the Senate to a plan by House lawmakers to spend $550 million for additional passenger jets for senior government officials.
NATIONAL
For the latest national news: www.CNN.com.
CNN: Helicopter raised, victims identified after crash over Hudson
Investigators have raised the wreckage of the helicopter involved in Saturday's deadly mid-air collision over the Hudson River, but they were still looking for the small plane involved in the crash, authorities said Sunday.
CNN: 250 inmates hurt, 55 hospitalized after California prison riot
More than 250 inmates were injured in a riot that erupted overnight at the California Institution for Men in Chino, a spokesman said Sunday.
CNN: Death toll up to 8 in California police chase
The death toll climbed to eight in a crash tied to a police pursuit in central California, authorities said Sunday.
New York Times: Airspace Above Hudson a Highway With Few Signs
Steven J. Korotky, a flight instructor, called the uncontrolled Hudson River air traffic corridor a "tunnel," and a tight one at that.
New York Times: Seattle Paper Is Resurgent as a Solo Act
When The Seattle Times became this city's only surviving daily newspaper in March, even The Times itself could not muster much optimism about its chances.
New York Times: Mentally Ill Offenders Strain Juvenile System
The teenager in the padded smock sat in his solitary confinement cell here in this state's most secure juvenile prison and screamed obscenities.
New York Times: Breakfast Can Wait. The Day's First Stop Is Online.
Karl and Dorsey Gude of East Lansing, Mich., can remember simpler mornings, not too long ago. They sat together and chatted as they ate breakfast. They read the newspaper and competed only with the television for the attention of their two teenage sons.
Washington Post: Preparing for Swine Flu's Return
As the first influenza pandemic in 41 years has spread during the Southern Hemisphere's winter over the past few months, the United States and other northern countries have been racing to prepare for a second wave of swine flu virus.
Washington Post: Study to Seek Clues to Soldier Suicides
Doctors leading the largest study ever of suicide and mental health in the military are developing intensive soldier surveys that they hope will provide clues as to why suicide rates among Army personnel have grown dramatically in recent years.
INTERNATIONAL
For the latest international news: http://edition.cnn.com/
CNN: Official: Likelihood of Pakistani Taliban leader's death '90 percent'
The United States believes Pakistani Taliban leader Baitullah Mehsud was killed in a drone attack last week, President Obama's national security adviser said Sunday.
CNN: Kepler telescope makes quick discovery
NASA's Kepler space telescope has already made a discovery, and its science operations aren't even officially under way yet.
CNN: Millions displaced as typhoon slams into China
A deadly typhoon that slammed into China's coastal provinces and Taiwan over the weekend has displaced nearly one million people and left dozens missing, state-run media reported Monday.
CNN: China levels new accusations against Rio Tinto
China has leveled new allegations in the arrest of employees of one of the world's largest mining companies, saying Rio Tinto overcharged Chinese steel mills by $100 million over six years.
CNN: Report: Iranian prison chief dismissed, arrested
Authorities have fired and arrested the chief of an Iranian jail that was closed amid allegations of mistreatment of detainees held for protesting June's disputed election, Iranian media reported Sunday.
CNN: Iranian reformist demands investigation into treatment of detainees
A former Iranian presidential candidate is calling on one of the Islamic republic's most powerful clerics to approve a special committee to investigate alleged mistreat
ment of detainees arrested in the aftermath of the disputed presidential elections.
CNN: Reporter escapes Taliban death sentence
Zarghon Shah is a man who knows just how lucky he is to be alive.
CNN: Terrorists kidnap, torture boy to bully Iraqi policeman
Like many young boys, Khidir loves playing with toy cars and wants to be a policeman like his father when he grows up. But it was his father's very job that caused the tiny child to suffer the unimaginable.
New York Times: U.S. to Hunt Down Afghan Drug Lords Tied to Taliban
Fifty Afghans believed to be drug traffickers with ties to the Taliban have been placed on a Pentagon target list to be captured or killed, reflecting a major shift in American counternarcotics strategy in Afghanistan, according to a Congressional study to be released this week.
Wall Street Journal: Taliban Now Winning
The Taliban have gained the upper hand in Afghanistan, the top American commander there said, forcing the U.S. to change its strategy in the eight-year-old conflict by increasing the number of troops in heavily populated areas like the volatile southern city of Kandahar, the insurgency's spiritual home.
New York Times: Blow to Rights Campaign as China Detains Activist
China's nascent legal rights movement, already reeling from a crackdown on crusading lawyers, the kidnapping of defense witnesses and the shuttering of a prominent legal clinic, has been shaken by the detention of a widely respected rights defender who has been incommunicado since the police led him away from his apartment 12 days ago.
Washington Post: As Dubai's Glitter Fades, Foreigners See Dark Side
Herve Jaubert, a French spy who left espionage to make leisure submarines for the wealthy, was riding high.
LA Times: Manila's Hobbit House bar: Full of little people and a big love
Every night without fail, Jim Turner is there at the far corner of the bar, chain-smoking his Marlboros and sipping ice-cold San Miguel from the bottle, watching over the Little Ones.
BUSINESS
For the latest business news: www.CNNMoney.com.
CNNMoney: Wall Street: Vulnerable after the runup
Wall Street has spiked nearly 50% in less than five months - and that's both good and bad.
CNNMoney: The terrors of Craigslist
So is Craigslist a handy free alternative to newspaper classifieds — a sort of virtual flea market and community bulletin board — or is it a haven for criminals and creeps looking to rip you off or worse?
New York Times: An Online Market Flourishes in China
In the months leading up to his college graduation in June, Yang Fugang spent most of his days away from campus, managing an online store that sells cosmetics, shampoo and other goods he often buys from local factories.
Wall Street Journal: States End Up Losers in Gambling Pullback
States' revenue from casinos, slot machines and lotteries is falling for the first time in many of the 48 states that have grown to depend on gambling as a crucial source of income.
Wall Street Journal: Recession Puts a Kink in Operation That Uses Locks to Soak Up Oil Spills
The recession has left Lisa Gautier with an abundance of hair - 18,000 pounds, to be exact.
In Case You Missed It
To watch the latest interviews and reporting: http://www.cnn.com/video.
CNN: Gay rights in Asia
CNN correspondents examine the state of gay rights in China and India.
Subscribe to the CNN=Politics DAILY podcast at http://www.cnn.com/politicalpodcast.
And now stay posted on the latest from the campaign trail by downloading the CNN=Politics SCREENSAVER at http://www.CNN.com/situationroom.