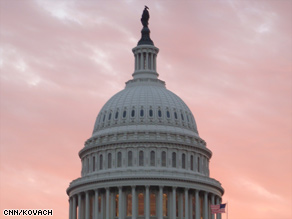 The CNN Washington Bureau's morning speed read of the top stories making news from around the country and the world.
WASHINGTON/POLITICAL
For the latest political news: www.CNNPolitics.com.
CNN: Failing to reform health care 'truly scary,' Obama says
President Obama complained Tuesday about opposition scare tactics against a proposed health care overhaul, but said failing to fix problems in the current system would be the scariest outcome of all.
CNN: House panel releases Rove, Miers documents
White House e-mails and transcripts of closed-door interviews with former Bush aides Karl Rove and Harriet Miers reveal involvement as early as May 2005 by Rove's office in the 2006 firings of nine U.S. attorneys.
CNN: Specter faces hostile audience at health care forum
A hostile crowd shouted questions and made angry statements Tuesday at a town hall meeting on health care in Pennsylvania led by Democratic Sen. Arlen Specter.
CNN: Faith groups launch campaign in favor of health care reform
Religious groups in favor of health care reform have launched a national campaign to offset the loud opposition to President Obama's plan to overhaul the nation's health care system, organizers announced.
CNN: Sanford defends expensive travel, denies divorce
South Carolina Gov. Mark Sanford defended his trips on expensive international flights on Tuesday and said that a state Senate probe into his foreign travel is driven by a politically-motivated "feeding frenzy."
CNN: Liberal groups continue to target Democratic senator
Liberal critics of Sen. Ben Nelson's position on health care reform sent out a new plea Tuesday asking for financial help in keeping a statewide television commercial that targets the Nebraska Democrat on the air.
CNN Poll: Majority have a favorable view of Sen. Kennedy
A bare majority of Americans have a favorable view of Sen. Edward Kennedy, D-Massachusetts, according to a new CNN/Opinion Research Corporation poll out Tuesday.
CNN: Obama condemns new restrictions on Nobel winner Suu Kyi
President Barack Obama Tuesday blasted the sentencing of Myanmar's opposition leader Aung San Suu Kyi to 18 more months of house arrest as a violation of "universal principles of human rights."
CNN: Brothers spar over health care reform
The dinner discussion at the next Woodhouse family gathering should be spirited – if Tuesday's face off between brothers Dallas and Brad is any indication.
New York Times: 2 U.S. Architects of Harsh Tactics in 9/11's Wake
Jim Mitchell and Bruce Jessen were military retirees and psychologists, on the lookout for business opportunities. They found an excellent customer in the Central Intelligence Agency, where in 2002 they became the architects of the most important interrogation program in the history of American counterterrorism.
New York Times: Napolitano Focuses on Immigration Enforcement
A day after President Obama announced that legislation to overhaul immigration laws would have to wait until next year, the secretary of homeland security played down the need for change in a speech here and took a tough stance on enforcing current immigration laws.
Washington Post: U.S. Ambassador Seeks More Money for Afghanistan
The United States will not meet its goals in Afghanistan without a major increase in planned spending on development and civilian reconstruction next year, the U.S. ambassador in Kabul has told the State Department.
Washington Post: Bill Proposed to Regulate Derivatives Trade
The Obama administration formally proposed legislation on Tuesday to regulate exotic financial instruments known as derivatives, the final piece of the broad rework of financial regulations to be delivered to Congress.
Washington Post: DynCorp Billed U.S. $50 Million Beyond Costs in Defense Contract
A Defense Department auditor testified Tuesday that DynCorp International billed the government $50 million more than the amount specified in a contract to provide dining facilities and living quarters for military personnel in Kuwait.
Wall Street Journal: A President as Micromanager: How Much Detail Is Enough?
In briefing President Barack Obama one day this spring, White House economist Jared Bernstein delved into such arcana as the yields on different forms of credit relative to the risk. Later, Paul Volcker pulled Mr. Bernstein aside. "Why would the president want to know that level of detail?" asked the former Federal Reserve chairman.
NATIONAL
For the latest national news: www.CNN.com.
CNN: Police search Las Vegas pharmacy in Jackson case
Police executed a search warrant at a Las Vegas pharmacy Tuesday morning in connection with the investigation into Michael Jackson's death, a federal drug agent said.
CNN: Plane lifted from Hudson; final 2 bodies recovered
Divers on Tuesday recovered the bodies of the final two of nine victims of Saturday's collision between a helicopter and small plane over the Hudson River, police said.
CNN: Soldier accused of being hit man for cartel
A U.S. soldier arrested in connection with the killing of a Mexican drug cartel member in El Paso, Texas, allegedly worked as a hit man, court records say.
CNN: Childless man released from child support debt
A Georgia man who spent a year in jail for nonpayment of child support - despite the fact he has no children - has been cleared of the debt, his attorney said Tuesday.
CNN: Eunice Kennedy Shriver dies at 88
Eunice Kennedy Shriver, the sister of President John F. Kennedy and a champion of the disabled who founded the Special Olympics, died Tuesday, the Special Olympics said. She was 88.
CNN: Madoff's finance chief pleads guilty to fraud, other charges
Frank DiPascali, formerly the finance chief at Bernard Madoff's investment advisory business, pleaded guilty in federal court in Manhattan on Tuesday to 10 charges including securities fraud and international money laundering.
Washington Post: 'A Recovery Only a Statistician Can Love'
The pile of economic data indicating that the worst of the recession is over just keeps growing. In the past few weeks, the government has reported that businesses last month shed the smallest number of jobs in nearly a year. The savings rate, after rising rapidly, held steady at levels not seen in at least five years. And from April to June, productivity surged to a six-year high.
Washington Post: Lying Low After a Layoff
For weeks after he was laid off, Clinton Cole would rise at the usual time, shower, shave, don one of his Jos. A. Bank suits and head out the door of his Vienna home - to a job that no longer existed.
USA TODAY: Oklahoma City defies recession
When an auto plant closes, it's usually bad news for the local economy.
INTERNATIONAL
For the latest international news: http://edition.cnn.com/
CNN: Costa Rican president sick with swine flu
Costa Rican President Oscar Arias has been diagnosed with the H1N1 virus, commonly known as the swine flu, the government said in a televised statement on Tuesday.
CNN: Report: Hundreds survive typhoon in Taiwan
Military rescue teams in Taiwan found hundreds of villagers stranded by Typhoon Morakot along the island's mountainous regions, media reported.
CNN: Woman throws mug at 'Mona Lisa'
Leonardo da Vinci's masterpiece the "Mona Lisa" was attacked with a mug earlier this month, but the world's most famous painting - protected by thick glass - emerged with its enigmatic smile undimmed.
CNN: Girl, 9, details rape in Congo to photographer
The young girl whispered in a hushed tone. She looked down as she spoke, only glancing up from her dark round eyes every now and then. She wanted to tell more, but she was too ashamed. She was just 9 years old when, she says, Congolese soldiers gang-raped her on her way to school.
CNN: Eastern Himalayas reveals abundance of new species
Over 350 new species including the world's smallest deer, a "flying frog" and a 100 million-year old gecko have been discovered in the Eastern Himalayas, a biological treasure trove now threatened by climate change.
CNN: Early results show major loss for Fatah party's old guard
Senior members of the Palestinian Fatah party appear to have suffered a serious upset in a vote to determine the party's key decision-making body.
CNN: China formally arrests Rio Tinto employees
Four employees of mining giant Rio Tinto have been formally arrested on charges of trade secrets infringement and bribery, China's state-run media reported Tuesday.
CNN: Colombian cartel head pleads guilty in Miami
A former kingpin for a Colombian drug cartel pleaded guilty Tuesday in U.S. District Court to charges of drug trafficking, obstruction of justice by murder and racketeering, federal officials said.
CNN: Peruvian police face charges from violent clash
Two Peruvian police generals face homicide charges and 15 officers face other criminal charges stemming from the June 5 clash between police and indigenous demonstrators that left at least 34 dead, a top state prosecutor told CNN.
New York Times: Shiites in Iraq Show Restraint as Sunnis Keep Attacking
Shiite clerics and politicians have been successfully urging their followers not to retaliate against a fierce campaign of sectarian bombings, in which Shiites have accounted for most of the 566 Iraqis killed since American troops pulled out of Iraq's cities on June 30.
New York Times: China's Incinerators Loom as a Global Hazard
In this sprawling metropolis in southeastern China stand two hulking brown buildings erected by a private company, the Longgang trash incinerators. They can be smelled a mile away and pour out so much dark smoke and hazardous chemicals that hundreds of local residents recently staged an all-day sit-in, demanding that the incinerators be cleaner and that a planned third incinerator not be built nearby.
New York Times: Chávez Loyalists Push to Close the Golf Courses
President Hugo Chávez's political movement has found a new target: golf.
Wall Street Journal: The Keeper of the Keys and the Mystery of the Bactrian Gold
After years of obscurity and a few months in jail, Ameruddin Askarzai is about to be recognized for helping save Afghanistan's gold. His role, in fact, was key.
Wall Street Journal: Money Sent Home by Latin American Expatriates to Drop
The amount of money Latin American expatriates send home is expected to drop by 11% in 2009, as the global recession shrinks job opportunities for immigrants.
BUSINESS
For the latest business news: www.CNNMoney.com.
CNNMoney: Stocks: The latest Fed bubble
The Federal Reserve has spent the past year cleaning up after a housing bubble it helped create. But along the way it may have pumped up another bubble, this time in stocks.
CNNMoney: Chevy Volt to get 230 mpg rating
The Chevrolet Volt, GM's electric car that's expected to go on sale in late 2010, is projected to get an estimated 230 miles per gallon, the automaker announced Tuesday.
In Case You Missed It
To watch the latest interviews and reporting: http://www.cnn.com/video.
CNN: Trapped on a plane
The Obama administration is getting involved after passengers get trapped on a tarmac in Minnesota. CNN's Brian Todd reports.
CNN: The Volt's massive gas mileage
The Chevy Volt, GM's new electric car, is projected to get 230 miles per gallon. CNNMoney.com's Chris Isidore reports.
Subscribe to the CNN=Politics DAILY podcast at http://www.cnn.com/politicalpodcast.
And now stay posted on the latest from the campaign trail by downloading the CNN=Politics SCREENSAVER at http://www.CNN.com/situationroom.