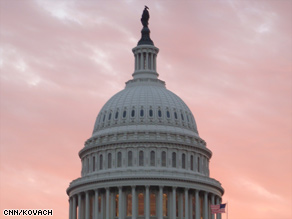 The CNN Washington Bureau's morning speed read of the top stories making news from around the country and the world.
WASHINGTON/POLITICAL
For the latest political news: www.CNNPolitics.com.
CNN: Economic uptick plays key role in health care debate
President Obama built his push for a sweeping overhaul of the health care system on the premise that reform is essential for economic recovery.
CNN: Fears fuel emotional health care protests
Beyond the noise of raucous crowds and angry protesters who have turned town hall meetings into shouting matches is genuine concern from ordinary citizens who are afraid that President Obama's health care proposals would only make things harder for them, experts say.
CNN: Republican senator hears health care concerns back home
It's the Republicans' turn to face the health care debate back home.
CNN: Congressman: Hate mail, Nazi graffiti follow health care protests
A Georgia congressman said Wednesday he's received death threats and found Nazi graffiti outside his office in the aftermath of heated protests about health care reform.
CNN Poll: Favorable view of Palin dipping
Americans appear to be souring on Sarah Palin, according to a new national poll.
CNN: Sanford: It's 'hard' living alone in governor's mansion
South Carolina Gov. Mark Sanford opened up about the state of his family on Wednesday — the first time he has done so since his wife, Jenny, moved out of the governor's mansion last week.
CNN: Al Qaeda could seek 'foothold' in Nigeria, Clinton warns during trip
U.S. Secretary of State Hillary Clinton on Wednesday visited Nigeria, warning it could be a target for al Qaeda.
CNN: Administration sets benchmarks to measure Afghanistan progress
The Obama administration is creating 50 benchmarks to measure success in Afghanistan at a time when the United States is struggling to beat back a virulent Taliban presence there, senior U.S. officials say.
First on the Ticker: House GOP targets Kagen in new ad
House Republicans are trying to pressure Rep. Steve Kagen, D-Wisconsin, to oppose his party's approach to health care reform in a new television commercial that begins airing this week in the Green Bay market.
CNN: Democrats use Palin, Gingrich to raise money
House Democrats feature former GOP vice presidential nominee Sarah Palin and former House Speaker Newt Gingrich in a new fundraising push that is doubling as a way to distribute talking points on the issue of health care reform.
CNN: Warrant issued for former Bill Clinton chief of staff
Bill Clinton's chief of staff when he was governor of Arkansas is expected to turn herself in after authorities issued a bench warrant for her arrest for allegedly smuggling contraband into a state prison, her attorney told CNN Wednesday.
CNN: Whistle-blower: Health care industry engaging in PR tactics
Wendell Potter knows a little something about the health care industry's practices and is not afraid of to speak out as the health care reform debate heats up around the country.
CNN: Obama presents 16 with Presidential Medal of Freedom
A pioneer, a preacher, an activist and an athlete were among 16 people who President Obama honored Wednesday with the Presidential Medal of Freedom, the nation's highest civilian honor.
CNN: Sen. Webb to meet with Myanmar leaders
Sen. Jim Webb will meet with leaders of Myanmar's military junta this week when he stops off in the reclusive country during a two-week, five-nation tour of Asia, his office announced Wednesday.
New York Times: Obama Injects Himself Into Health Talks, Despite Risks
In pursuing his proposed overhaul of the health care system, President Obama has consistently presented himself as aloof from the legislative fray, merely offering broad principles. Prominent among them is the creation of a strong, government-run insurance plan to compete with private insurers and press for lower costs.
New York Times: A Window Into C.I.A.'s Embrace of Secret Jails
In March 2003, two C.I.A. officials surprised Kyle D. Foggo, then the chief of the agency's main European supply base, with an unusual request. They wanted his help building secret prisons to hold some of the world's most threatening terrorists.
New York Times: Caution on Fighting Marriage Ban
One of California's leading gay rights groups, Equality California, said Wednesday that it would not seek to overturn the state's voter-approved ban on same-sex marriage next year, even as another group advocating for same-sex marriage said 2010 was the right time to go back to the ballot.
Washington Post: Cheney Uncloaks His Frustration With Bush
In his first few months after leaving office, former vice president Richard B. Cheney threw himself into public combat against the "far left" agenda of the new commander in chief. More private reflections, as his memoir takes shape in slashing longhand on legal pads, have opened a second front against Cheney's White House partner of eight years, George W. Bush.
Washington Times: Obama's health nominee advises Burger King
President Obama's nominee for surgeon general, whose job it is to help encourage Americans to get thinner and healthier, has been working part time as a scientific adviser to the fast-food giant that sells sandwiches like the Whopper and BK Triple Stacker.
Rothenberg Political Report: Nothing But Name-Calling
While President Barack Obama is trying to change the tone in Washington, Democrats and Republicans inside the Beltway can't resist calling each other names and needling one another.
NATIONAL
For the latest national news: www.CNN.com.
CNN: Feds to tour Michigan prison where Gitmo detainees could go
Federal officials will travel to Standish, Michigan, on Thursday to tour a state prison that could be used to house terror suspects detained at Guantanamo Bay, Cuba, U.S. government officials said Wednesday.
CNN: New airline passenger rules to start Saturday
Beginning Saturday, many air travelers will be asked their birth dates and genders when making airline reservations.
CNN: Record-setting denim donation to help homes hit by disasters
More than 33,000 items of old denim - jeans, hats and jackets - were sent to Washington in a recycling effort that will benefit disaster-struck homes, officials said.
New York Times: Patients Are Reminded of Aspirin's Risks
Cheap, ubiquitous aspirin has long been known for health benefits from basic pain relief to heart attack prevention. But after a new study this week provided tantalizing evidence suggesting that aspirin might increase survival chances for colorectal cancer patients, experts were quick to warn that the drug, a medicine cabinet staple, also had its risks.
Washington Post: Tighter Cellphone Laws Might Face Static
It is probably safe to assume that the last three things Tiffany DeGroft thought of that cloudy October morning were her boyfriend, her cellphone and the picket fence that would cause her death.
Wall Street Journal: 'Fastest Dying Cities' Meet for a Lively Talk
Here's an idea for saving Rust Belt cities: Tell bloggers and radio stations to stop calling your town a basket case.
Los Angeles Times: Why 'clunkers' program won't take some of the most polluting cars
Nearly 5 million of the nation's most polluting vehicles were quietly excluded from the popular "cash for clunkers" program after lobbyists for antique auto parts suppliers and car collectors persuaded the government to shut out cars built before 1984.
INTERNATIONAL
For the latest international news: http://edition.cnn.com/
CNN: World population projected to reach 7 billion in 2011
The world's population is forecast to hit 7 billion in 2011, the vast majority of its growth coming in developing and, in many cases, the poorest nations, a report released Wednesday said.
CNN: Brazilian TV host ordered killings, police say
Brazilian authorities say drug dealers and other hoodlums were dying to get on Wallace Souza's TV program. Literally.
CNN: Documents: Slain cartel member feared for his life
A Mexican man who was allegedly killed on orders from his own cartel believed they were hunting for him after he began working as an informant and was fearful for his life, according to court documents.
CNN: Geneva Conventions 'still relevant but better compliance needed'
As the defenders of a besieged Bosnian town prepared to retreat, the prisoners of war held captive in the local jail feared the worst.
CNN: Troops move to secure southern Afghanistan before vote
Hundreds of U.S. Marines and Afghan soldiers have moved into southern Afghanistan to protect citizens during upcoming elections, military officials said.
CNN: Harsh weather hampers Taiwan rescues
Torrential downpours, dense fog, rugged terrain and raging rivers have made rescue efforts in Taiwan increasingly difficult and dangerous in the wake of Typhoon Morakot.
CNN: International search under way after ship vanishes
An international search was under way Wednesday for a cargo ship that vanished after its crew reported they were hijacked - at least briefly - nearly two weeks ago.
CNN: Mystery ends in Australia WWII disaster
The Australian cruiser met the disguised German vessel in the waters off western Australia two years after the two became enemies in World War II.
CNN: FBI agent testifies in Mumbai terror trial
An FBI agent Wednesday testified in the Mumbai terror trial, Indian prosecutors said.
Washington Post: 'Raiding' Underlines Russian Legal Dysfunction
When three of Russia's finest lawyers agreed to represent the investment fund Hermitage Capital, they thought they were taking on a routine tax case.
Washington Post: Health-Reform Rhetoric Gets Personal for Britons
Sen. Edward M. Kennedy would be refused treatment for his brain tumor in England - at least according to one of the allegations lobbed at Britain's state-funded health-care service recently by critics of President Obama's proposed health-care reforms. Such claims have irked British health officials, who say they are misleading, exaggerated and sometimes just plain wrong.
Washington Post: In Afghanistan, A Test of Tactics
The new U.S. strategy for Afghanistan, as articulated in military headquarters and congressional hearing rooms, puts the emphasis not on killing Taliban fighters but on winning over the local people. But in this highly contested swath of Helmand province, Sgt. Anibal Paz's squad is likely to be ambushed before he has time to sit down for tea.
Los Angeles Times: Deadly contractor incident sours Afghans
Mirza Mohammed Dost stood at the foot of his son's grave, near a headstone that read, "Raheb Dost, martyred by Americans."
BBC: Lockerbie bomber 'to be released'
The Libyan man convicted of the Lockerbie bombing is likely to be freed on compassionate grounds next week, the BBC understands.
BUSINESS
For the latest business news: www.CNNMoney.com.
CNNMoney: Stocks sustain gains after Fed
Stocks sustained gains Wednesday after the Federal Reserve held interest rates near historic lows and signaled the economy has finally started to stabilize.
CNNMoney: JetBlue offers all-you-can-fly plan for $599
JetBlue Airways will offer an "all-you-can-jet" pass for $599 in which passengers can book an unlimited amount of flights within a one-month span, the airline said Wednesday.
CNNMoney: Goodbye local bank branch
Don't look now, but your local bank branch might be disappearing.
CNNMoney: The 401(k) makes a comeback
For the first time in a year, more workers increased the amount of money they put into their 401(k) accounts during the second quarter than decreased their contributions, according to a report issued Wednesday by a retirement fund manager.
Wall Street Journal: Fed Set to Trim Major Lifeline
The Federal Reserve, saying economic activity is "leveling out," on Wednesday sent its loudest signal yet that it's about to wean the economy off a major lifeline.
In Case You Missed It
To watch the latest interviews and reporting: http://www.cnn.com/video.
CNN: Pakistan Christians' tent city
CNN's Cal Perry visits displaced Christians living in a tent city in Islamabad, Pakistan.
Subscribe to the CNN=Politics DAILY podcast at http://www.cnn.com/politicalpodcast.
And now stay posted on the latest from the campaign trail by downloading the CNN=Politics SCREENSAVER at http://www.CNN.com/situationroom.